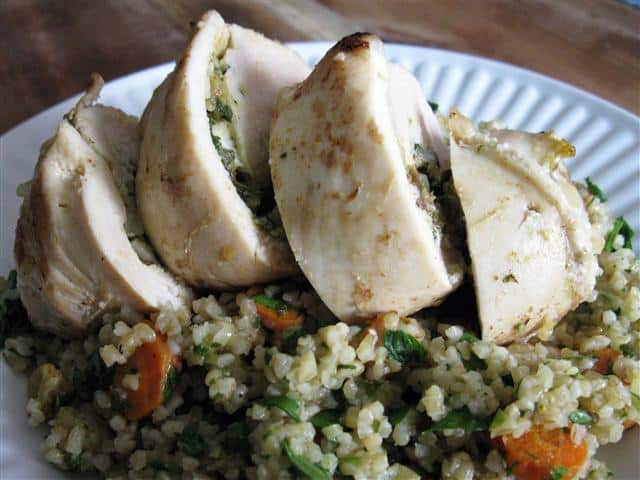 Chermoula is a marinade or sauce used in Moroccan and other North African cuisines; it is typically used on seafood, but also may be used to flavor chicken and other meats.*  Chermoula usually contains garlic, oil, herbs (frequently cilantro), lemon (I've seen both pickled lemon and/or lemon juice used), and spices (such as cumin, paprika, and/or cayenne pepper).  The bright, fresh flavors in chermoula add a vibrant, refreshing quality and punch of flavor to whatever dish it's used in. 
I made a few changes to the traditional chermoula to really make this lovely condiment my own.  I added golden raisins for a little sweetness and instead of cilantro I used a combination of fresh parsley and mint (because that's what I grow and have readily available).  Lastly, instead of preserved lemon (which I forgot to pick up at the market), I used both lemon zest and juice.  Feel free to adapt this recipe to suit your preferences or what you have on hand.
In this meal I used the chermoula in two different ways:  as a stuffing rolled up inside the chicken, and thinned out into a sauce to dress the pilaf.  Everything ended up being delicious; the chicken was tender and juicy and full of bright, fresh flavors that paired beautifully with the earthy, nutty flavor of the bulgur pilaf.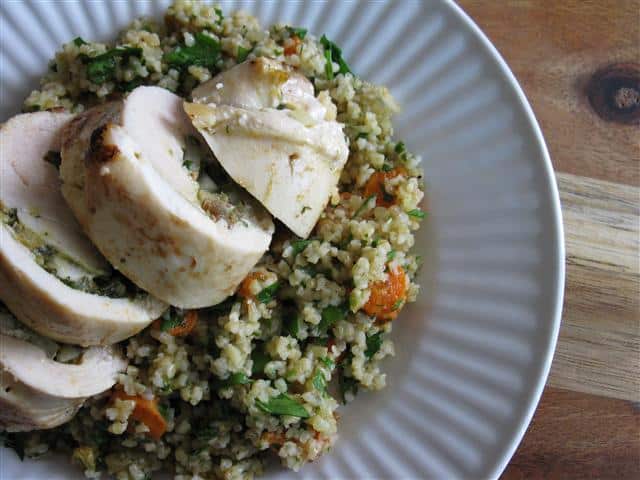 Golden Raisin Chermoula Chicken with Bulgur Pilaf 
(Yield:  4 servings)
2 large carrots, sliced into thin rounds
4 TB olive oil, divided
1/4 c golden raisins/sultanas
1 1/4 c chopped fresh parsley, divided
1/4 c chopped fresh mint
1 clove garlic, minced
1 small white onion, finely chopped
1 tsp lemon zest
3 TB lemon juice, divided
1/2 tsp sweet paprika
1/2 tsp cumin
1/8 tsp cayenne pepper (more or less to taste, depending on how spicy you like it)
4 (about 6 oz) chicken breast cutlets
1 c bulgur wheat
Salt and pepper
Preheat the oven to 425F.  Toss the carrot slices with 1/2 TB of olive oil and a dash of salt and pepper.  Arrange them in a single layer on a baking sheet and bake for 20 minutes, stirring halfway through.
Turn the oven down to 375F.  In a food processor, pulse the raisins about 10 times, or until roughly chopped.  Add 3/4 c chopped fresh parsley, the fresh mint, and 1 clove minced garlic, and pulse another 10 times, or until the entire mixture is finely chopped.  Transfer this mixture to a bowl and add the chopped onion, lemon zest, 2 TB lemon juice, 2 TB olive oil, paprika, cumin, cayenne pepper, and 1/8 each salt and pepper; stir to combine the chermoula. 
Reserve 1/4 c of the chermoula for the bulgur pilaf and divide the remaining chermoula into 4 equal portions; evenly spread each portion onto each chicken cutlet, then start at one end and roll up each cutlet, securing the seam with toothpicks.  Heat 1/2 TB olive oil in an oven-safe medium-sized pan over medium heat; add the rolled up chicken cutlets and cook for 3 minutes on each side or until they're golden brown.  Transfer the pan of chicken to the oven and bake for 15 minutes.  Allow the chicken to rest for 5 minutes after it's done cooking before removing the tooth picks and slicing it.
In a medium saucepan with a lid, combine 1 c bulgur wheat with 2 c cold water, 1/2 tsp salt, and 1/4 tsp pepper.  With the pot uncovered, bring the bulgur up to a boil and boil for 2 minutes, then cover the pot, turn off the heat, and let the bulgur stand for 10 minutes.  Transfer the reserved 1/4 c chermoula back to the food processor and add 1 TB olive oil, 1 TB lemon juice, and 2 TB water; pulse until everything is combined well and has a consistency similar to salad dressing.  Fluff the bulgur with a fork, then stir in the roasted carrots, 1/2 c fresh minced parsley, and the chermoula dressing.  Taste and season with salt and pepper as necessary.
To serve, arrange the sliced chicken on top of the bulgur pilaf.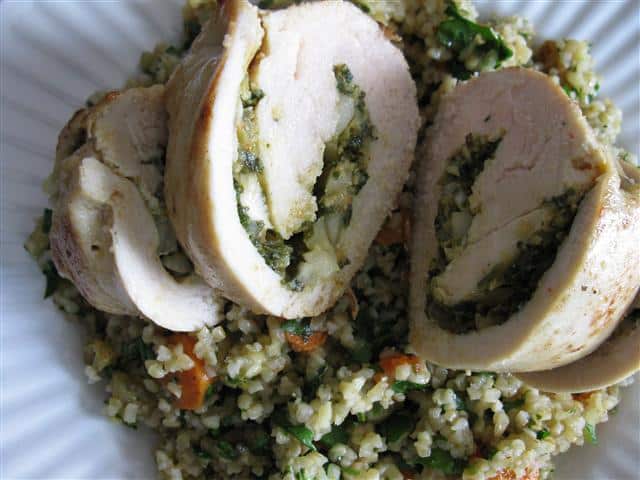 *Information in part from Wikipedia.