Today's giveaway is close to my heart. As many of you probably know, I've had the opportunity to immerse myself in Middle Eastern culture for most of my adult life (thanks to my Middle Eastern hubby), and I've come to fall completely in love with both Middle Eastern culture and cuisine.
I'm really excited to be giving away a few of my favorite Middle Eastern goodies today, and I hope that they'll soon become your favorites as well.
One lucky winner will get everything you see in this post, so let's get right to the good stuff…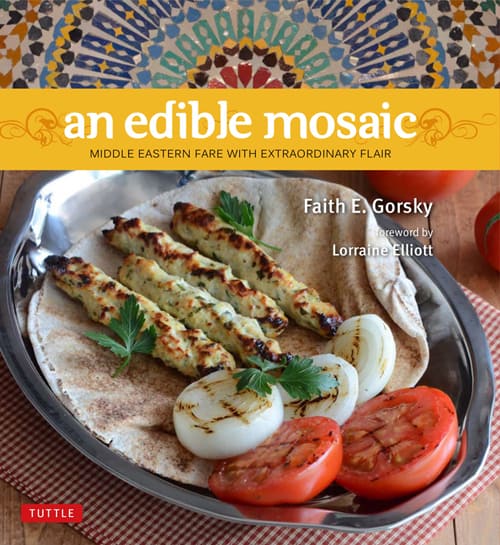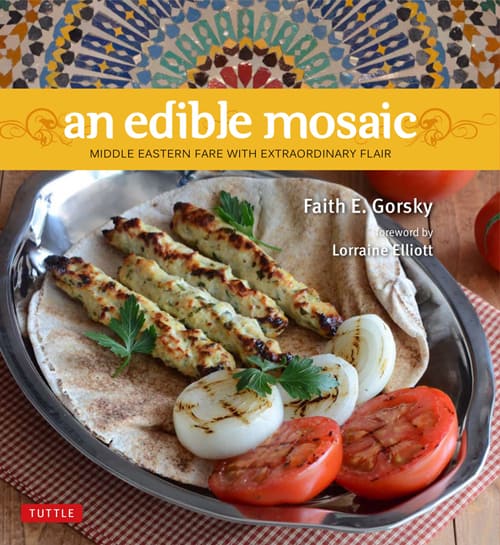 The first items included in the gift set are two signed copies (one for you, and one for a friend!) of my cookbook, An Edible Mosaic: Middle Eastern Fare with Extraordinary Flair. My book, which includes over 100 recipes mainly from the Levant area, features authentic Middle Eastern recipes I learned from my mother-in-law and a few of the stories and culture behind the recipes. It was important to me not only to keep the recipes authentic, but also to make the cuisine of the Middle East approachable by anyone, so in my book I took care to de-mystify ingredients and detail cooking procedures. This cookbook is perfect for any Middle Eastern food-lover or cookbook collector.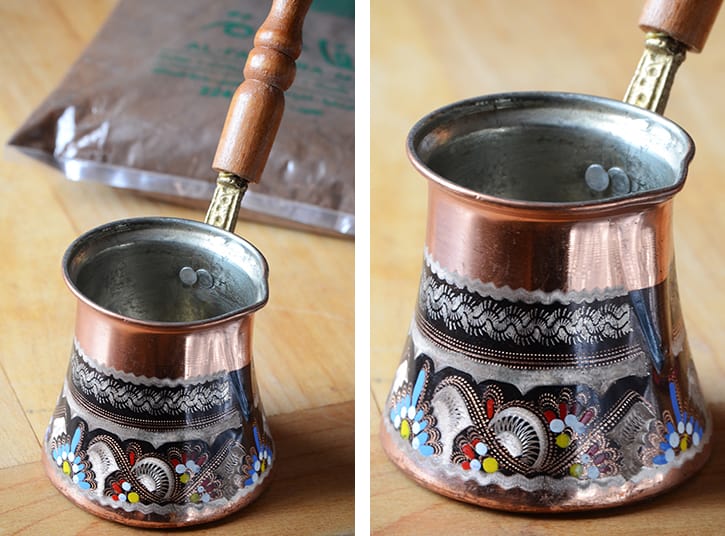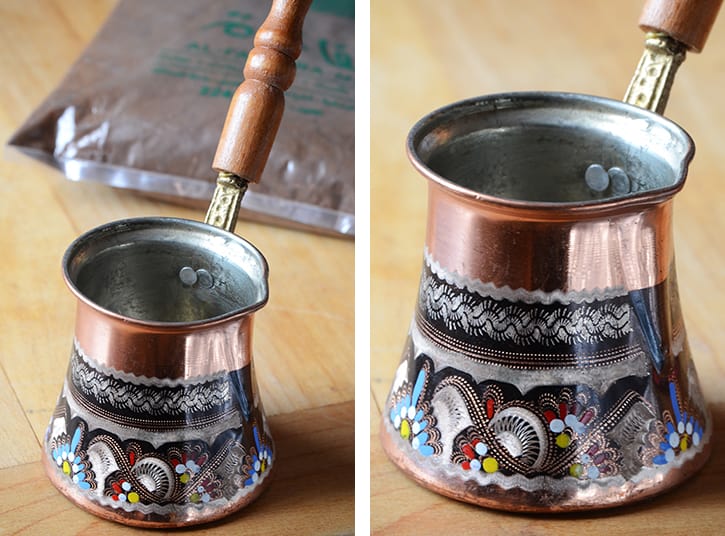 I found this beautiful Turkish coffee pot at a flea market in Kuwait. It's lovely and I've never seen one with this design before. As tempted as I was to hoard it for myself (really!), I thought it would make a nice addition to my giveaway.
I'm also including a one-pound bag of Turkish coffee that I purchased from my favorite coffee and nut shop not far from where my husband and I live in Kuwait. It has a deep, rich coffee flavor with a touch of cardamom, and if brewed right, is smooth as velvet.
Tip: If you aren't sure how to brew Turkish coffee, check out the recipe on page 139 of my cookbook.

One of my favorite whole grains, roasted green wheat (known as freekeh), is an ancient grain with a uniquely nutty, smoky flavor. It goes nicely as a side dish with chicken, lamb, or beef, but paired with veggies, it's also hearty enough to stand on its own as a vegetarian meal (I find that the earthiness of mushrooms are particularly nice with freekeh). Make it into a warm pilaf, cold salad, casserole, or new grain for stuffing your favorite bird.
Tip: Check out the recipe for Roasted Green Wheat with Chicken on page 90 of my cookbook!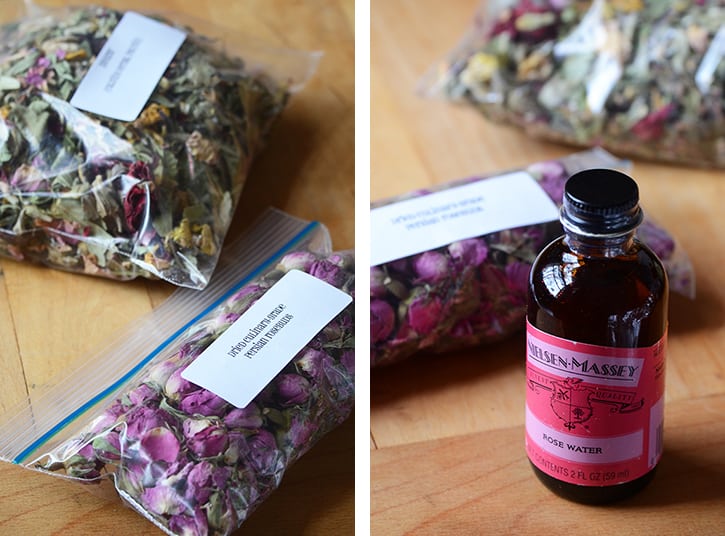 Floral flavors like rose and orange blossom are common flavorings in Middle Eastern cuisine. They're mostly used in sweet recipes, but can also occasionally be found to finish off a savory dish. I'm including a bottle of rosewater, a bag of dried culinary-grade Persian rosebuds, and a bag of a relaxing herbal tea blend known as zhourat.
Rosewater Tip: Use the rosewater to make a few different recipes from my cookbook: Clotted Cream on page 25, Scented Sugar Syrup on page 28, Layered Apricot and Milk Pudding on page 120, Lebanese Nights on page 121, Butter Cookies on page 123, Rose and Orange Blossom-Scented Milk Pudding on page 127, Rice Pudding on page 129, Rose and Pistachio Ice Cream on page 131, Grape Syrup Drink on page 134, and Rose Syrup Punch on page 136.
Dried Rosebuds Tip: Use these to garnish desserts like the top of pudding or cake, or a platter of cookies. Or if you're feeling adventurous, use as a garnish for a sweet and savory Moroccan tagine.
Zhourat Tip: Brew this the same way you would brew any loose leaf herbal tea. I use 1 tablespoon of tea with 6 to 8 ounces of water.
I think of spices as the heart and soul of Middle Eastern cuisine. Knowing what spices to use and when to use them is an art form; so often just a touch of a certain spice can be the secret ingredient that transforms an ordinary dish into extraordinary. Included in the giveaway are the following spices: mahlab, za'atar (thyme spice mix), ras al hanout (a Moroccan spice mix), Middle Eastern 8-spice mix, chicken spice mix, meat spice mix, and turmeric.
Za'atar Tip: Use za'atar to make Thyme-Spiced Flat Pies on page 37 of my cookbook, or serve labneh (yogurt cheese) topped with a sprinkle of za'atar and a drizzle of olive oil along with fresh flatbread for dipping.
Turmeric Tip: Add turmeric to your favorite curry our soup recipe, or use it to make the yellow rice (or mixed white and yellow rice) on page 61 of my cookbook. I also shared the full recipe for my Saffron Rice with Golden Raisins and Pine Nuts (which you can make using turmeric instead of saffron, if you prefer) on my blog here.
Mahlab Tip: I think I probably talk about mahlab more than any other single spice on my blog, so if you've been reading my blog for a while, you're probably already familiar with it. If not, mahlab is a spice that comes from the dried kernel from sour black cherry pits. It has a beautiful sweet aroma that's a cross between cherries and almonds, and a pleasantly nutty, slightly bitter taste. A little bit of this gem of a spice goes a long way, so be sure you don't overdo it, but just a touch added to the right dish is the perfect secret ingredient. I like to use a bit of mahlab in anything I make with cherries (like my Dried Cherry Sauce, 3-Minute Easy Cherry-Chocolate Sorbet, and Caramelized Brussels Sprouts with Dark Cherry Sauce and Hazelnuts), and I've also started using a touch of mahlab in sweets I make with dried cranberries (like Cranberry-Chocolate-Almond Thumbprint Cookies and Dark Chocolate-Coated Cranberry Cake Bites). More recently, I've also began using mahlab in my sweet yeasted bread recipes, like Cinnamon Buns. Also, mahlab is one of the spices in my recipe for Cake Spice Mix on page 29 of my cookbook…and Cake Spice Mix is used to make Date-Filled Cookies (Ma'amoul) on page 118 of my cookbook. If I had to choose just one favorite spice, it would be mahlab, hands-down.
I picked up these pretty little metal containers at Souk al Mubarakiya in Kuwait (which you can see a picture of here). I was told that they're traditional in Kuwait for keeping sweets like candy or cookies. In this giveaway, I'm including the silver and gold-colored containers that are shown in the photo above.
And there you have it! Everything will go to one winner – I hope you enjoy these things as much as I do!
To participate in this giveaway, leave a comment on this post telling me what your favorite Middle Eastern food is.
For extra entries, you can do any of the following (please leave a separate comment for each):
You do not need to have a blog to enter this giveaway. I am willing to ship to anywhere in the world, so this giveaway is open to anyone anywhere. This giveaway ends on December 17, 2013 at 11:59 PM EST. Once the giveaway ends, the winner will be randomly chosen and notified via email. The winner will have two days to respond with their mailing information, otherwise a new winner will be randomly chosen. Good luck to all!
Disclosure: Tuttle Publishing provided two copies of my cookbook for this giveaway, and I'm providing all other items. As always, opinions are my own. This post contains Amazon affiliate links to products I believe in, which means that even though it doesn't cost you anything extra, I will receive a small amount of money from the sale of these items, which helps me keep this site alive – thank you for helping to support An Edible Mosaic!