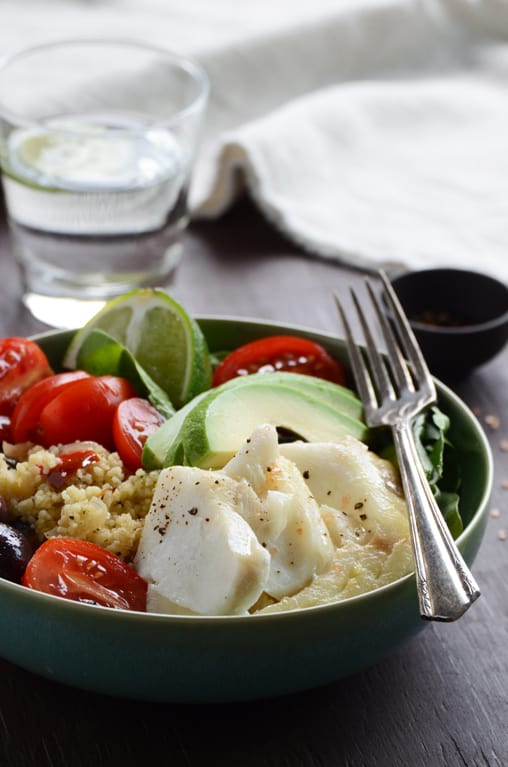 I know this might look like a real recipe, but it really isn't. Yes, it's food, and yes, it's satisfying and delicious. But you can swap out any of the ingredients for a customized version, no recipe required.
Take a closer peek into this bowl of goodness…
For this salad, I started with a hefty layer of baby spinach lining the bottom of the bowl. Added some roasted veggie couscous, sautéed fish (cod, in this case), baby plum tomatoes, avocado, and a couple olives. Fresh lime, sea salt, and black pepper made the perfect dressing for something that needs so little adornment to be perfect.
I used baby spinach because I always have it on hand. (It's so versatile! I love it in everything from a smoothie, an omelet, a side dish wilted with some garlic and olive oil, or a salad like this.) Any greens you like or have on hand are great though. After I add the greens, I like to play with the other veggies I use…sometimes carrot, snap peas or snow peas, cucumber, red pepper, or leftover grilled corn make their way into the bowl, but tomatoes are my favorite this time of year. Avocado is something I always try to add since it's full of heart-healthy fats.
Sometimes I switch the couscous salad for bulgur wheat salad or barley salad. Fish (any kind really…salmon is also great) lends itself wonderfully to this salad, or if I have leftover chicken or beef on hand, they're also fine in the mix. If I'm in a vegetarian kind of mood, I'll skip the meat and instead add beans, nuts, egg, or tofu.
The olives are another great source of healthy fat, but they're also a fun thing to add to a salad since they provide a burst of flavor. Depending on the other things that I'm putting together in my salad, instead of olives I might use a small handful of crumbled feta or goat cheese, a couple slices of sharp cheddar, or a small handful of dried fruit.
And there you have it. Not really a recipe, but definitely worth making anyway. Do you have a favorite non-recipe recipe?