This post has been a long time coming. It's a bit of a break from my normal type of post, but I think you'll find it interesting. Plus, it's really close to my heart, so if you have time, I'd really appreciate it if you could take a few minutes to read it. Grab a drink and settle in. ;)
I'm originally from Buffalo. Hearing that, you're probably thinking: (1) too much snow, (2) the Bills seriously suck, and (3) best chicken wings ever. If that's what ran through your head, you are, in fact, right on all three counts. (And in good company because I completely agree.)
Speaking of too much snow, Buffalo has been hammered lately. Even though I don't live there anymore, I still have friends and family there and it's hard not to worry about them when this happens…I've been through it so many times myself and I know what a challenge it makes daily life. I was away at college for the first time in 2000, and I remember that November vividly. On the Monday before Thanksgiving, we got a lake effect snowstorm that suspended itself over the Buffalo area and dumped an obscene amount of snow on us in a 24 hour period. The problem was that the storm wasn't moving as anticipated, so people had no time to get to a safe place; before we knew what was happening, it was already too late. Buses full of kids got stuck on the roads, people slept at their offices, and vehicles on the thruway were literally stranded there for days with minimal (if any) food and water, a limited amount of gas (so no heat), and cell phones that were at the mercy of however much they were already charged. It was scary.
I was safe in my dorm room, but the problem was, it was the end of the semester and the campus was getting ready to shut down. Given the situation, I probably could have stayed, but by Wednesday – the day before Thanksgiving – the dorm was pretty much cleared out and I was out of food. I didn't have many great options, and I made what I realize was a foolish choice (it happens…I was young) and decided to drive home.
What should have been a 40 minute drive literally took me about 6 hours. I stayed off the thruway and kept to the designated snow escape route roads, but it was hell. I passed countless abandoned cars on the sides of the roads. People were digging out their homes, shoveling their driveways and their roofs, trying to find somewhere to put all that snow. Others were walking to grocery stores for sustenance. There were lots of people out, but only a few vehicles actually trying to travel the roads as I was.
My car got stuck in the snow so many times I lost count. Despite cranking the heat, I was freezing the entire trip and shaking from being scared out of my mind. But the thought of spending Thanksgiving alone in an empty dorm away from my family with no food literally broke my heart; in my mind, I had no other choice.
The best of humanity shone through on that car ride home. The kindness shown to me by strangers left a lasting impression on me that I'll never forget.
Every single time my car got stuck during that car ride home, there was someone right there to dig me out (and it happened probably at least 50 times). On most roads I could barely move faster than crawl-speed. There were a lot of people out, and passersby who were shoveling or walking to the store asked me if I needed food or water. One guy added a few gallons of gas to my tank. An elderly lady asked me if I need a place to stay. Buffalo isn't called The City of Good Neighbors for nothing, but this was above and beyond anything I could have imagined.
I got home and wept, not just out of relief at making the journey safely, but also out of gratitude for the kindness shown to me.
Until you've been in a situation like that, you have no idea how it feels to have that kind of help; it's like I started drowning and instantly 100 hands reached out to me with their own life raft.
They helped me without a second thought of the sacrifice they were making or the ramifications it would have on them.
They did what they did without hesitation, with their whole hearts, like it was the most natural thing in the world for them to do.
They helped me did for no other reason than because they could.
So, what does this story have to do with anything?, you ask.
You may already know that my husband Mike is from the Middle East. His dad is Palestinian, his mom is Syrian, he was born in Kuwait, his family moved to Syria when Iraq invaded Kuwait in 1990, and then later he moved from Syria to Jordan to go to college. He has enriched my life to no end by sharing his rich culture with me.
Rolled Spiced Date Cookies from 10 Mid-East Inspired Sweet Treats.
Mike and I lived in Syria for a while after we got married, and we had the chance to visit a few more times after that. The Syria I got to experience back then was nothing like the Syria that exists now. Mike and I used to walk the streets alone at night without fear. We made friends with random taxi drivers, laughed with vendors at the old market, and broke bread with neighbors, friends, and old friends who were so close and dear that they may as well have been family.
At that time, the people of Syria were living and dying and living some more; they were passing their time and spending their lives the way I witnessed people in my own hometown living. They existed as a community, with the mindset that if someone needs help, you help. Not only because it might be you who needs help next, but because you can. Because it's the right thing to do. (I talk more about the beautiful nature of the Syrian people in this post.)
The last time Mike and I were in Syria was March 2011, and it was basically right before things took a real turn for the worse. About a year later, Mike's parents, brother, and sister-in-law left Syria for Jordan, right before their home of 20 years was blown up. They were some of the lucky ones; they actually had a place to go and were able to get out in time. So many Syrians have not been so fortunate.
There's a deep ache in my heart when I think of Syria now. Her kind-hearted, generous people desolate, broken, and dying; her land ravaged and marred. No one deserves that kind of fate.
It doesn't matter what your personal beliefs – religious or political – are. You can call it karma, the golden rule, good deeds, paying it forward, or random acts of kindness. The bottom line that I think we can all agree on is just one simple idea: if another person needs help, we help.
That brings me to the project that's been an outpouring of all the love I have for Syria: this little e-cookbook, 10 Mid-East Inspired Sweet Treats: Contemporary Twists on Classic Treats. I'm a bit embarrassed to say that I had the idea for this project over two years ago; through many different circumstances that have slowed it down, this e-book has finally come into being and I couldn't be more proud. I wanted it to be a worthy tribute to Syria, and as perfect as I could make it. The recipes have all been tested and re-tested, and re-tested again. I worked hard to set a mood and tell a story through my photos. And I included anecdotes and bits and pieces of my time in the Middle East to paint a fuller picture.
I hope this little e-book gives you glimpse into the heart of Syria.
There are 10 recipes in this e-book and I developed them all specifically for this purpose; none of them are found on my blog or in my cookbook. (Update Nov. 29, 2014: My sweet friend Lorraine of Not Quite Nigella devoted a post to this e-book project to help raise awareness. She shared the recipe for my Creamy Rose and Orange Blossom Scented Pudding Pops on her blog; be sure to head over and check it out because I don't plan on posting any recipes from this e-book on my blog. Thank you so much for your support, Lorraine!) Some of the recipes are classic Middle Eastern desserts, like Warbat bil Ashta (Flaky Pastries with Cream Filling), Medloua (Layered Pudding Pastry Cake), and Ma'arouta (Rolled Spiced Date Cookies). Others are based on classic Middle Eastern flavor combinations, such as Cardamom-Spiced Mocha Truffles (which was inspired by Turkish coffee with cardamom) and Coconut Mousse with Vanilla Bean Syrup (which I dreamed up while thinking about the classic Arabic pudding called Layali Lubnan, meaning "Lebanese Nights"). Some recipes are my own creation entirely with a wink and a nod to something I had or saw in the Middle East. I am proud of each and every recipe though.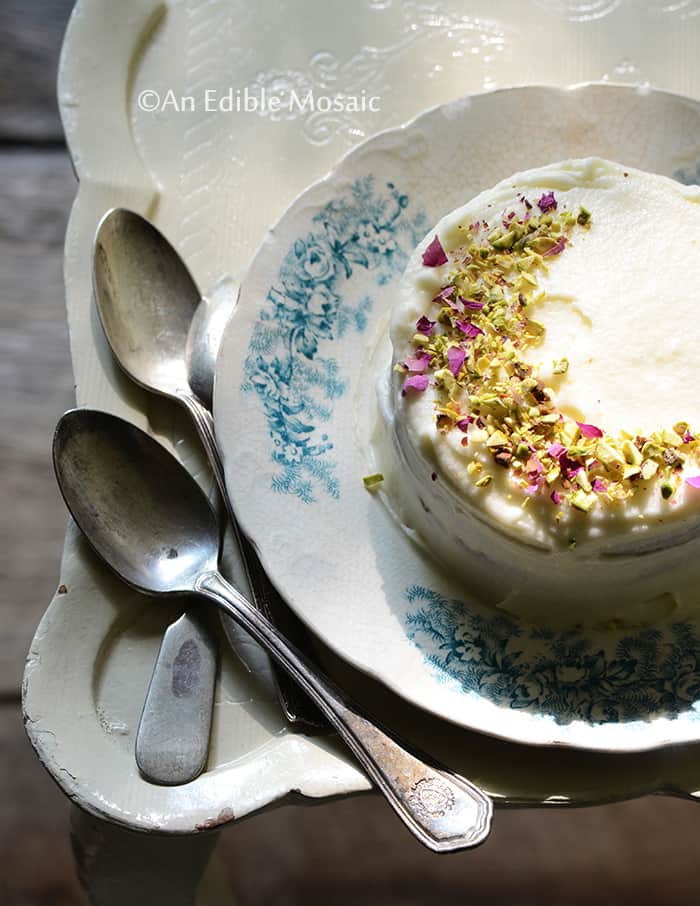 Tiny Triple-Layer Pistachio Rose Cake with Honeyed Buttercream from 10 Mid-East Inspired Sweet Treats.
With my whole heart, I dedicate this little e-book to Syria. To her people and history. To her cuisine and culture. To her past and future. May she see better days ahead, and until then, may the enjoyment of Syrian food keep her memory alive in our hearts.
Not only am I dedicating this e-book to Syria in spirit, but I will also be donating every single cent of profit I make from this e-book for the first year (from today through November 23, 2015) to helping the children of Syria get essential supplies, medicine, and clean water through UNICEF.
According to UNICEF,
6.5 million Syrian children have been affected by a brutal conflict that began more than three years ago. 2.8 million children are no longer in school and more than 1 million are living as refugees in neighboring countries. For these children, what's at stake isn't politics. It's their future. Having already lost their homes, schools and communities, their chances of building a future may also soon be lost.

UNICEF has been on the ground since the conflict began, helping to mobilize the largest humanitarian operation in history. UNICEF is working closely with partners to immunize more than 20 million children in the region following a polio outbreak; provide 10 million people with safe drinking water; and education, physical protection, psychological support and winter clothes to refugee children.
10 Mid-East Inspired Sweet Treats: Contemporary Twists on Classic Treats is only $4. Please, if you can help, do it. Buy a copy. Read it, pore over the pretty pictures, read the moving stories. Immerse yourself in it for just a brief moment. Make a sweet treat for your family from my e-book and keep Syria in your thoughts and prayers as you enjoy it with your loved ones.
I think it was Ronald Reagan who said "We can't help everyone, but everyone can help someone." Buying an e-book for $4 might seem like such a small thing, but that's the point. $4 probably won't break anyone (I can't even count how many times a week I spend that on a cup of coffee and don't even bat an eye), and if enough people do it we can make a big difference. (Please note that because of the nature of this project, all sales are final.)
Please, just do what you can to help. Maybe that's not buying a copy, but instead sending an email to a few friends and encouraging them to buy copies. Anything you can do is appreciated.
Let's help together.
xo, Faith