With food blogging, there are some recipe posts that never see the light of day for whatever reason.
It could be that the recipe still needs a bit of tweaking, or maybe it's that the photos aren't stellar. Or maybe it's just me being picky, lol. Whatever the reason, these are the dishes that usually don't make it to the blog, but I thought they'd make a fun blog post, especially now at the end of the year when it's time to reflect back.
Here are a few dishes that just didn't make the cut…
Aqua Fresca
I made this recipe in late spring, but waited too long into the summer to blog it, and at that point I had already seen like a million similar recipes! (Well, no, not really a million, but enough recipes to make me feel like another would be unnecessarily redundant.) I love it though; it's super refreshing and perfect on a hot day.
Beef Bourguignon
This was Julia Child's recipe that I made with a few minor adjustments, and it is absolutely incredible. I was going for a French bistro look in the photos, and although I think the photos are ok, they aren't exactly what I had in mind. I was still willing to blog it though. Actually, I meant to blog this recipe several times, but the post kept getting pushed back because other more pressing posts kept coming up, and finally I said to heck with it…it's just not meant to be! No worries though, if you Google "Julia Child's Beef Bourguignon" you'll get a ton of results for the recipe (and it is absolutely worth making!).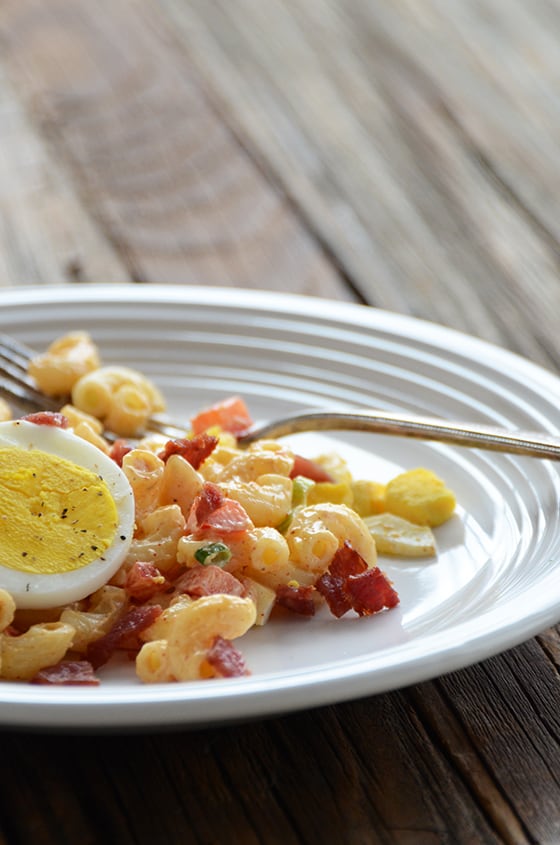 Bacon and Egg Macaroni Salad
This salad was good…really good, in fact. It's a creamy mayo-based pasta salad with turkey bacon, hard-boiled eggs, a couple veggies, and a super flavorful dressing thanks to the addition of things like olive oil, lemon juice, Dijon mustard, hot sauce, sweet paprika, and garlic powder. The issue was that no matter how many times I looked at these photos hoping to change my mind, I really just couldn't get on board with them. Looking at them now, I know the pictures aren't terrible…maybe this is just a case of me being picky, but either way, this salad did not make it to the blog.
Creamed Cabbage
I am totally in love with this recipe and truthfully, I could eat it for lunch five days a week and be a happy girl. There are two reasons why this dish never made it to the blog though: 1) I feel like the photos don't do the dish justice, and 2) the recipe uses a touch of all-purpose flour (to thicken up some milk and give this dish a creamy texture), and I wanted to remake it into a grain-free dish. I am still planning to work on this recipe, remaking it grain-free and retaking the photos, so hopefully you'll see this one on the blog at some point.
Flourless Peanut Butter Chocolate Chip Cookies
These cookies were delicious, and I thought the photos were decent. I was all set and ready to blog it, and then I just felt like there were too many flourless peanut butter cookie recipes out there…does the world really need another? I'm going to go out on a limb and say probably not…but they were tasty nonetheless. And I promise you, if I come up with a more unique take on this ubiquitous recipe, I will share it.
Jacques Torres' Chocolate Chip Cookies
There are no words to describe how amazing these cookies are. I wasn't planning on blogging them…actually, I only made them because one day I was dying for chocolate chip cookies and I wanted to branch out from my normal recipe for chocolate chippers. I found this recipe online and made them (the only tweak I made was to add a little sprinkle of sea salt on the cookie tops before baking), and then decided to snap a few pictures because they were just so pretty. But since the recipe is Jacques Torres' and is already available all over the internet, I didn't see any need to post it on my blog. (But if you like chocolate chippers, I highly recommend Googling the recipe and making these cookies!)
The list could go on for at least another half dozen recipes, but that's probably enough. :)
Food Bloggers: How do you decide which recipes don't make it to your blog?
Non-Food Bloggers: What sort of recipes would you like to see more of in the upcoming year?
Happy (almost) New Year's Eve, everyone!