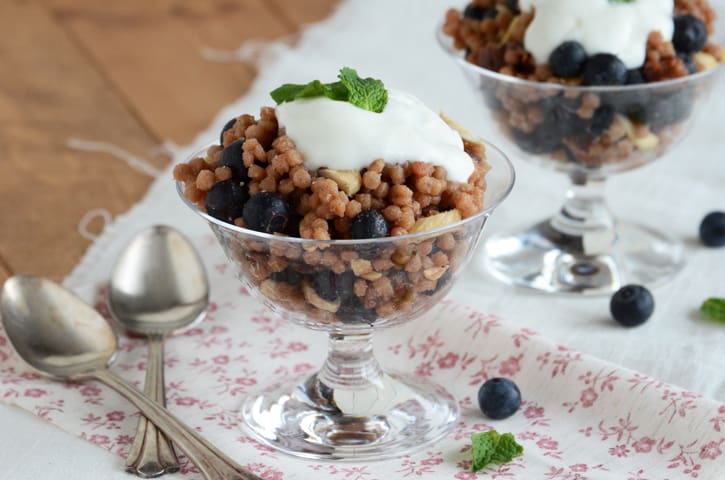 When we're on vacation Mike has an anti-cell phone policy – he likes us to leave our phones in the hotel room when we leave in the morning.  His idea is that not only does this give us a nice little break from work, but it also lets us focus on having fun and spending time together.  Yup, my hubby is thoughtful like that. 
But what happens when people email me and I have urgent business to attend to?  ;)  (Not to mention when people email Mike, which actually is urgent…sometimes.) 
The first night that Mike and I were recently on vacation, we got back to our hotel room and I found 30-something new emails in my inbox, 14 of which required same-day responses.  Ugh.  The anti-cell phone policy was good in theory but fell flat on its face in practice.  Guess that just happens sometimes. 
Anyway, while we were on vacation, the fabulous people at Bob's Red Mill emailed me asking if I was interested in some recipe development.  I've never come across a Bob's Red Mill product that I didn't love and wasn't of the highest quality (and I've tried dozens of their products), so I was thrilled to be working with them again.  
The product I worked with was Whole Wheat Pearl Couscous; I made two recipes, this breakfast pilaf and an Indian-spiced tomato soup.  This pilaf is fantastic; it's sweet but not too sweet, scented of vanilla and cinnamon, and has a lovely nutty flavor from the almonds and whole wheat couscous.  And of course it's as healthy as it is delicious.  :) 
Vanilla-Berry Whole Wheat Couscous Breakfast Pilaf 
Serves 4  
1 1/2 cups water
3 tablespoons honey
1 1/2 tablespoons coconut oil
1 (3-inch) cinnamon stick
1 teaspoon vanilla bean paste
1/4 teaspoon salt
1 cup Bob's Red Mill Whole Wheat Pearl Couscous (Israeli Couscous)
1/2 cup Bob's Red Mill Dried Tart Cherries
2 cups fresh blueberries
1/4 cup slivered almonds, toasted in a dry skillet
2 tablespoons Bob's Red Mill Golden Flaxseeds, ground
1/2 cup plain, unsweetened yogurt (optional, for topping)
Fresh mint leaves (optional, for garnish) 
Add the water, honey, coconut oil, cinnamon stick, vanilla bean paste, and salt to a medium saucepan; bring to a boil, then add the couscous and dried cherries.  Bring back up to a boil, then cover, turn heat down to low, and simmer until all the water is absorbed, about 20 minutes.  Turn heat off, cool to room temperature, then fluff with a fork.  Stir in the blueberries, almonds, and ground flaxseed, and then transfer to 4 individual serving dishes.  Top each with 2 tablespoons of yogurt and garnish with fresh mint leaves if desired. 
The generous people at Bob's Red Mill offered to give away a prize pack containing all three of their products that I used in this recipe… 
The Prize Pack of Bob's Red Mill Products:  Whole Wheat Pearl Couscous, Dried Tart Cherries, & Golden Flaxseeds 
You don't need to have a blog to enter this giveaway!  To participate, you can do any or all of the following; please leave a separate comment for each so I can count it as another entry:  
Leave a comment here letting me know what your favorite healthy breakfast is.
Leave a comment here telling me what your favorite unhealthy, once-in-a-while-splurge breakfast is.  (Pancakes?  Waffles?  Maybe even *gasp* French pastries?)  I'm not here to judge, people…a grilled croissant slathered with Nutella is mine.  :)
"Like" me on Facebook and leave a comment here letting me know.  (Or let me know if you're already a Facebook fan.)
Follow me on Twitter and leave a comment here letting me know.  (Or let me know if you're already a Twitter follower.)   
Follow me on Pinterest and leave a comment here letting me know.  (Or let me know if you're already a Pinterest follower.) 
This giveaway ends Sunday, April 15 at 9PM EST; after that the winner will be randomly chosen and notified by email.  Good luck to all!   
Disclaimer:  I received the Bob's Red Mill products that were used in this recipe for free, and Bob's Red Mill is also providing the prize pack for this giveaway.  As always, opinions stated are my own.