A Shelf of Favorites in My Cookbook Collection
***First I have to say, Happy Mother's Day to all the mothers…wishing you a wonderful day!***
Now that you've realized your passion and have turned it into a book proposal, it's time to find a publisher.  (Of course you can choose to self-publish, but that's a whole separate discussion.)
Grab a cup of coffee or a snack and settle in…this post is another long one!  :)
You can either look for a literary agent to represent you or you can submit your own proposal to publishers; there are pros and cons to both so don't discount one way too quickly.  If you want to find an agent to represent you, the basic con is that the agent will be taking a fee; typically, about 15% of money you get from a book deal that he/she lands you.  But there are quite a few pros:  the agent, who is knowledgeable about the industry, fills in the gap between you and the publisher.  He or she will typically submit your proposal to several publishers (and they have more contacts than you would; also, some publishers only accept proposals from agents and other publishers don't accept proposals from new authors), negotiate your contracts (and they can usually get you more money than you would get if you were unrepresented), deal with other legal formalities, handle your PR, and then get you more work.
I don't want to sway you one way or the other; whether or not you decide to hire an agent is a decision that only you can make.  And there is one last factor to consider:  be sure to choose an agent that you're comfortable working with, since you'll have a pretty personal relationship with him/her.  In the end I decided to submit my own proposal to publishers…that being said, I am now looking for an agent to represent me.   :)
(If you want to find an agent, to help you get started, here is an alphabetical list of literary agents that tells which genres each agent works with.  LiteraryMarketPlace.com is also a useful resource, but you'll need to register if you want to use the site; registration is free and gives you access to basic information, but for more detailed information you have to pay to become a subscriber – I'd stick with free registration and look for other free resources at first.)
Here's how I got my book deal …
I decided, at least at the beginning, to submit my proposal directly to relevant publishers (basically any publisher I could find that was accepting unsolicited cookbook proposals from new authors) and see what happened.  Like I mentioned at the end of my first installment, I spent the Fourth of July holiday in 2010 working on my book proposal (using the book proposal structure I shared in my second installment).
[Side Note:  While I was working on my book proposal – almost done with it, actually – my computer crashed for the second time in my life.  (The first time it crashed I was working on a thesis for the law review write-on competition during law school…definite proof that Murphy's Law is in fact real, or at least evidence that we can call our worst fears into existence.)  After my initial moment of frenzied panic, I realized that I had backed up my work (emailed it to myself) the night before so I hadn't lost that much.  The moral of the story is to be careful – save your work!  I recommend saving it in at least two different places (such as different drives on your computer, external drives, or even your email), but three is better.  And I like to have an updated paper copy too, in case all else fails.]
So that was July 2010 – a frenzy of proposal-writing and submitting.  And after I submitted my proposal I waited…and waited…and waited some more.  And then I got my first letter back.
It was, in the nicest, most professional tone, a rejection letter.
And then another.
And another.
This went on for some time and I continued sending my proposal out.
The holidays rolled around…Thanksgiving, Christmas, New Year's.
It was a cold Friday in January when I got a call from an editor at Tuttle.  (I was practically shrieking and jumping up and down when I saw the name TUTTLE on my caller ID.  But I collected myself, answered the phone, and had a pleasant conversation with the editor who called.)  We chatted, made small talk, laughed.  He asked me to tell him about myself…what I did, what my hobbies were, what my training was in, why I wanted to write a cookbook, what I wanted to write it about.  Basically, my life story in a nutshell.  I told him everything.
(Now I have to tell you, at that point I was planning to write a cookbook based on the content of my blog – updated classic American fare interspersed with a sprinkling of international favorites in general, and in particular a few Middle Eastern dishes that I had grown to love; actually, my whole proposal was written around that.)
As the editor and I were talking, the topic of travel came up and I mentioned that my hubby and I were planning a 40 day trip to the Middle East (my fourth trip to the area since getting married!) to visit his family in upcoming March and April.  The editor's ears perked up; I could hear the excitement in his voice as he asked me about the Middle Eastern foods I enjoyed eating and making.
The editor told me that they probably weren't interested in my proposal as written, but if I was willing to rework my proposal into a Middle Eastern-based cookbook he had a good feeling they might be interested in publishing it.  I was practically jumping through the roof.
He asked for an updated Table of Contents and six sample recipes along with photographs, and I set to work immediately.  That was sometime around the end of January 2011.
Luckily, Mike had just given me a brand new camera the month before for Christmas (my first DSLR!).  You've heard the expression owning a Steinway does not a concert pianist make?  Yeah, the same concept applies to cameras.  I had to learn my way around the features of my new camera in a hurry, but then time and practice were my best teachers.  My photography improved, photo by photo, because it had to.
So, I developed a new Table of Contents, wrote up recipes for six of my favorite Middle Eastern dishes (recipes that I make all the time, like Fattoush and Muhallibieh), and photographed them.  A month went by and by that time Mike and I were getting ready to leave for our trip; the editor told me they'd have an answer for me when I got back, but to learn as much as I could about Middle Eastern cuisine while I was over there.  So I did.
I spent as much time as I could in the kitchen with my mother-in-law (and that's really saying something because Arabic women spend a HUGE amount of time in the kitchen).  We made Ma'amoul, Kibbeh, and all manner of rice dishes (like Sayadieh, Maqluba, and Kebseh).  I learned the secret to perfectly stuffing vegetables for things like Kousa Mahshi, how to make homemade Khul Toofah (apple cider vinegar), and what was traditionally served when guests arrived unexpectedly (Ahweh, which usually refers to coffee brewed in the Turkish style, along with sweets like Barazek or Graybeh).  We went to my favorite market in Damascus – Souk al Hamidiya – and had Aima'a, a specialty Syrian ice cream at Bakdash Ice Cream Parlor.  We visited street vendors and ate Shawarma Dajaj washed down with tangy, refreshing Leban Ayraan.  We walked the streets of Midan and sampled their world-renowned sweets like Atayef, Knafeh, and Harissa.  We enjoyed every moment of that trip to the fullest.
Mike and I got back and I was greeted with the best news possible – Tuttle wanted to publish my book!!
And that's it, in a nutshell.  That is how my book deal came to be.  For those of you with the spark of a book idea burning in your heart, I hope this post gives you inspiration.  If it can happen to me, it can certainly happen to you.  Truly.
If you choose to publish your book the way I did (and submit your own proposal to publishers), here's what you should do:
Make a spreadsheet (I use Microsoft Excel) to keep track of the following information (I put each of the following in its own cell across the top row):  publisher name; publisher website; submission format (i.e., by mail or by email); send attention to (name); postal and/or email address; other means of contact (e.g., phone number, fax number, etc.); specifications/requirements; self addressed stamped envelope required with submission (yes or no); timeframe for response; submission date; notes; response.
Look for publishers that accept unsolicited proposals from new authors.  A good place to start is with published books that are similar to the book you want to publish; make note of who published similar books and go online to see if they accept unsolicited proposals from new authors.  (If you're trying to find cookbook editors and publishers in particular, this list on Book Marketing and Book Promotion is a great resource.)
Write your proposal, keeping in mind specific requirements that each publisher may have.
Write your cover letter or query letter.  You might remember from my second installment, a query letter is a letter asking a publisher or literary agent for permission to send them the book proposal; unless the publisher or agent specifies that they want a query first, you can typically include your book proposal right along with a cover letter that essentially functions as a query letter.  Done this way, the cover letter should briefly describe your book, your background (focusing on what qualifies you to write the book), and then ask the publisher or agent to read your attached proposal.  Tailor the letter to each publisher or agent you send it to (make sure to lookup a specific contact person's name and title or call to get the information, instead of addressing the letter "To Whom It May Concern"), but be sure it's written succinctly and concisely.  Format this letter as you would a formal business letter:  single-spaced with two-line feeds between each paragraph.  Here are a few resources on writing a query letter:  Query Letters, How to Write a Query Letter, Query Letters to Literary Agents About Book Proposals, and Sample Query Letter.
Below is a sample cover letter that I wrote for a publisher who did not require a query letter, so in effect the cover letter acted as both query and cover letter to the proposal.  (Note that this letter was for my initial book proposal, not the book deal that I ended up getting.)  I'm including this sample to give you an idea of how to write a cover letter; however, you should re-write it in your own words and fill in your own information.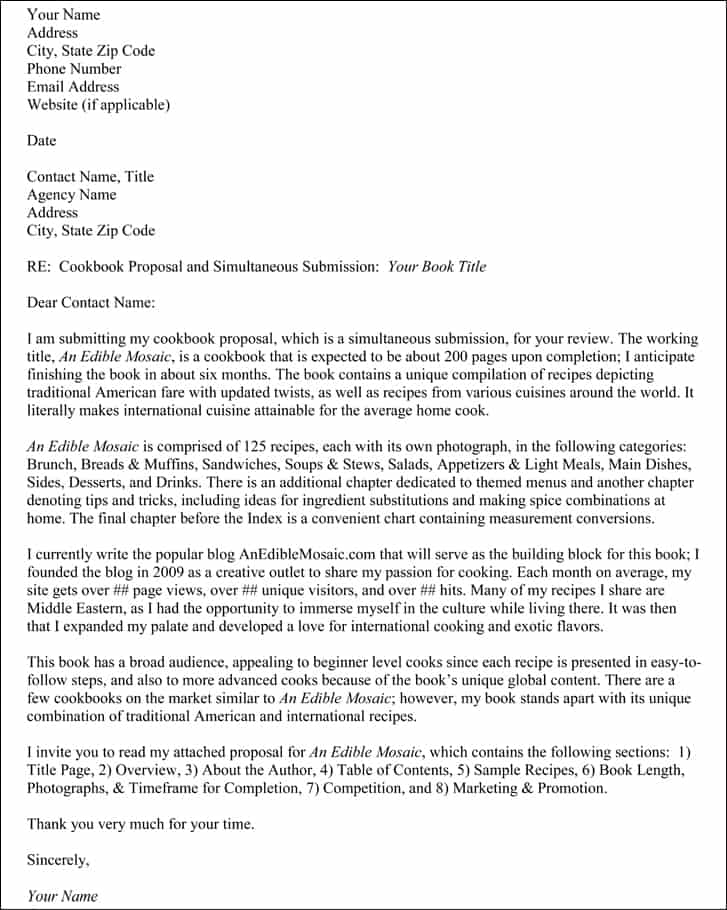 Sample Cover Letter That Functions as a Query Letter – Read the Paragraph Above for More Information 
Hope you enjoyed reading my story and are now more knowledgeable on how to publish a book.  Stay tuned for Part 4:  Your Contract, in Plain English.
If you missed it, here's my first installment, Writing a Book, Part 1:  Finding Your Story; and here's my second, Writing a Book, Part 2:  Writing Your Book Proposal. 
For more info on my book, please take a look at My Book page.