This pretty little Za'atar and Caramelized Onion Zucchini Galette with Goat Cheese is a great way to class up zucchini.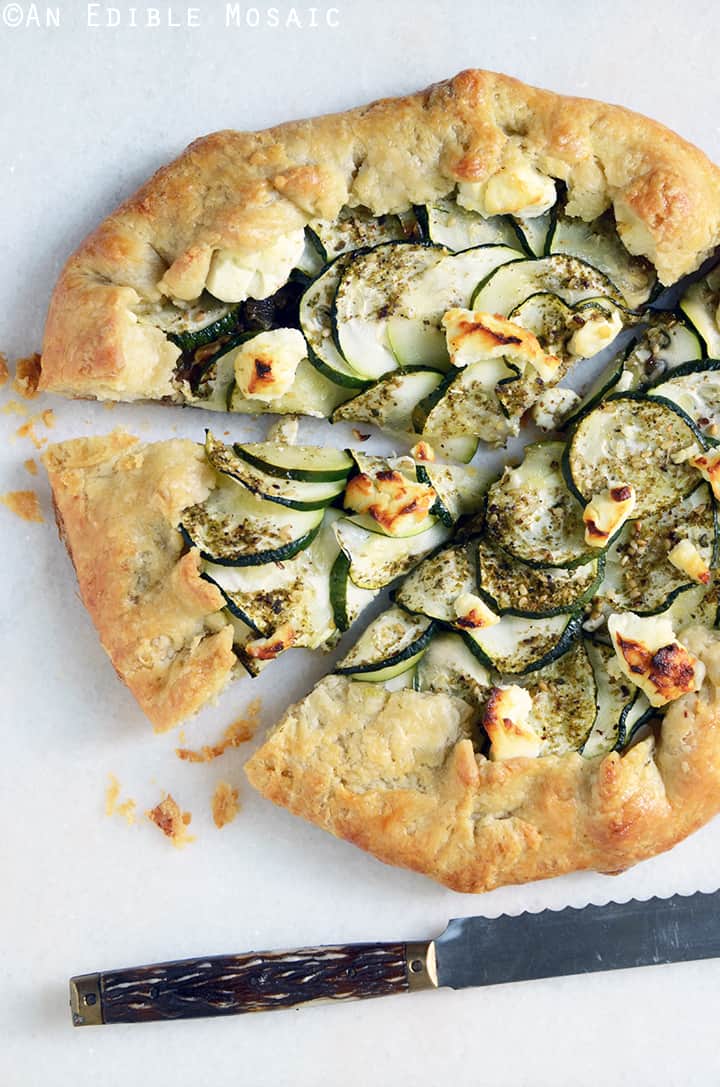 Even when it's rustic (read: food blogger slang for a fine mess), anything with pie crust (called pâte brisée) just feels classy. And humble as it is, zucchini deserves a chance in the limelight.
Here I start with the flakiest butter crust and top it with layer after layer of flavor: caramelized onions, aromatic with garlic and thyme; fresh, peak-season zucchini; a tangy Middle Eastern spice mix called za'atar that boasts thyme and sumac, among other things; and lastly goat cheese. There's a lot going on, but it marries well, yielding a yummy little treat with a well-balanced flavor profile that works perfectly for a summer appetizer or side dish.
I'm sharing this recipe over on DB's site, Crazy Foodie Stunts. I had the pleasure of meeting DB in person at the Food & Wine Conference in Orlando last month, and he subsequently invited me to guest post. I was thrilled and a little intimidated because DB is a whiz in the kitchen, focusing on restaurant-caliber dishes at home with interesting flavor profiles (check out his Mozzarella Ice Cream with Tomato Jam and Candied Basil and Duck Confit Agnolotti with Wild Mushroom Sauce…amazing!), and I knew I'd have to share something really special.
(Side Note About the Food & Wine Conference: This was actually the first food blogger conference I've ever been to; Isabel from Family Foodie had invited me to teach a workshop on food photography with Julius from Droolius, and I was honored and pretty excited – although nervous too – about giving a workshop. But our workshop ended up going really well and being a lot of fun! Julius is really talented and energetic, so it was great seeing him in action and getting to work with him. And of course the food at the conference was fabulous and the venue was breathtaking. Having the opportunity to meet so many incredible people was a great experience.)
Back to this galette. I definitely think it's something special and does a good job showing that zucchini can really shine. Head over to Crazy Foodie Stunts to check out the full recipe for my Za'atar and Caramelized Onion Zucchini Galette with Goat Cheese!
Be sure to check out Crazy Foodie Stunts, and follow him on social media so you don't miss the fun! He's on Facebook, Google+, Pinterest, Twitter, and Instagram.