As part of the Foodbuzz Tastemaker Program, I recently received some Pace Picate Sauce. This sauce is much smoother than salsa (but with a similar flavor), which makes it better for using in recipes than dipping with chips. It brings a bright, zesty flavor that I thought would be very nice in a southwest-style mac 'n' cheese.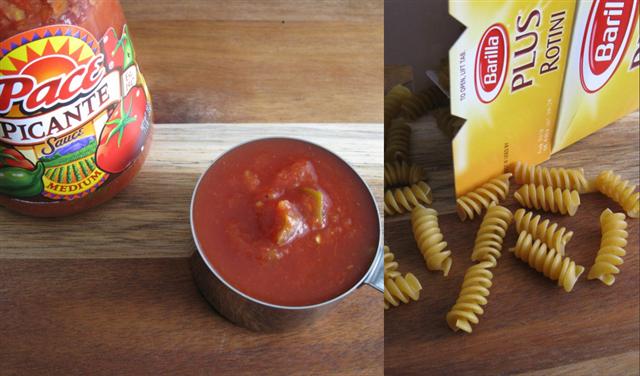 This dish is easy to customize. Use any color bell pepper you like. If you don't like beans, you can use another kind of protein, such as ground beef/turkey/chicken or grilled chicken breast. If you want to spice up the heat level, add hot sauce, cayenne pepper, or cook a hot pepper along with the bell pepper.
Stovetop Southwest Mac 'n' Cheese
(Yield: 6-8 servings; this makes a huge skillet of mac 'n' cheese)
8 oz multigrain rotini pasta (or any pasta you like)
3 TB olive oil, divided
2 TB butter
1 medium-large onion, diced
1 large bell pepper, diced (I used green but you can use any color)
1 clove garlic, minced
2/3 c frozen corn
1 (15 oz) can black beans (or any beans you like)
1/4 c all-purpose flour
2 1/2 c reduced-fat milk
1/2 c Pace Picante Sauce (plus more for garnish if desired)
1 tsp each Worcestershire sauce* and Dijon mustard
1/2 tsp each cumin, chili powder, and salt
1/4 tsp black pepper
About 8 oz cheese, shredded (I used a combination of Sharp White Cheddar and Colby)
Minced fresh cilantro or parsley (optional, for garnish)
*Omit the Worcestershire sauce to make this vegetarian.
Cook the pasta to just under al dente according to the package directions and set aside (the pasta will finish cooking later in the sauce).
In a large skillet, heat 2 TB of oil over medium heat; add the onion and pepper and sauté until softened (about 6 to 8 minutes). Add the garlic and frozen corn and sauté another 2 to 3 minutes, until the corn is thawed. Stir in the black beans and shut off the heat for now.
In a medium-sized saucepan over medium heat, melt the butter with the remaining 1 TB oil. Whisk in the flour and let it cook for a minute or two. Slowly whisk in the milk, then add the Pace Picante Sauce, Worcestershire sauce, Dijon mustard, cumin, chili powder, salt, and pepper. Let this mixture come up to a simmer (stirring frequently), then shut off the heat and whisk in the cheese.
To the skillet of sautéed veggies, add the pasta and cheese sauce. Stir to coat everything and cook on low heat for a couple minutes to heat everything up and finish cooking the pasta.
Serve garnished with more Pace Picante Sauce on top, with a sprinkle of fresh minced cilantro or parsley.