About the Book
Culture and cuisine intertwine in this collection of over 100 authentic Middle Eastern recipes!
In An Edible Mosaic: Middle Eastern Fare with Extraordinary Flair, Faith includes over 100 authentic Middle Eastern recipes that are streamlined just a bit for the way we cook today. Faith demystifies unique ingredients and uses cooking techniques that anyone can follow.
Recipes for Falafel, Hummus, Stuffed Grape Leaves, and Chicken Shawarma are classic favorites, and easy-to-follow directions make more complex recipes like Kibbeh, Maqluba (Upside-Down Rice Casserole), and Ma'amoul (Date-Filled Cookies) manageable for home cooks.
With an emphasis on healthy foods (beans and legumes are staples just as much as meat is, vegetables are always abundant, and healthy fats like olive oil are commonplace), Middle Eastern cuisine offers something for everyone!
You can find it for sale on Amazon and Barnes & Noble.
Some of the Recipes From the Book
An Edible Mosaic Video
This video showcases a bit of Middle Eastern culture and history because it's so closely related with the cuisine. Photos are from Faith's trip to Amman, Jordan and Damascus, Syria in March 2011.
Table of Contents
Cooking Tips and Techniques
Basic Cooking Tools
Buying the Right Middle Eastern Ingredients
Chapter 1: Basic Recipes
Chapter 2: Breads and Pies
Chapter 3: Salads
Chapter 4: Vegetables and Rice
Chapter 5: Light Meals
Chapter 6: Beans and Lentils
Chapter 7: Chicken and Seafood
Chapter 8: Beef and Lamb
Chapter 9: Desserts
Chapter 10: Drinks
Take a Peek Inside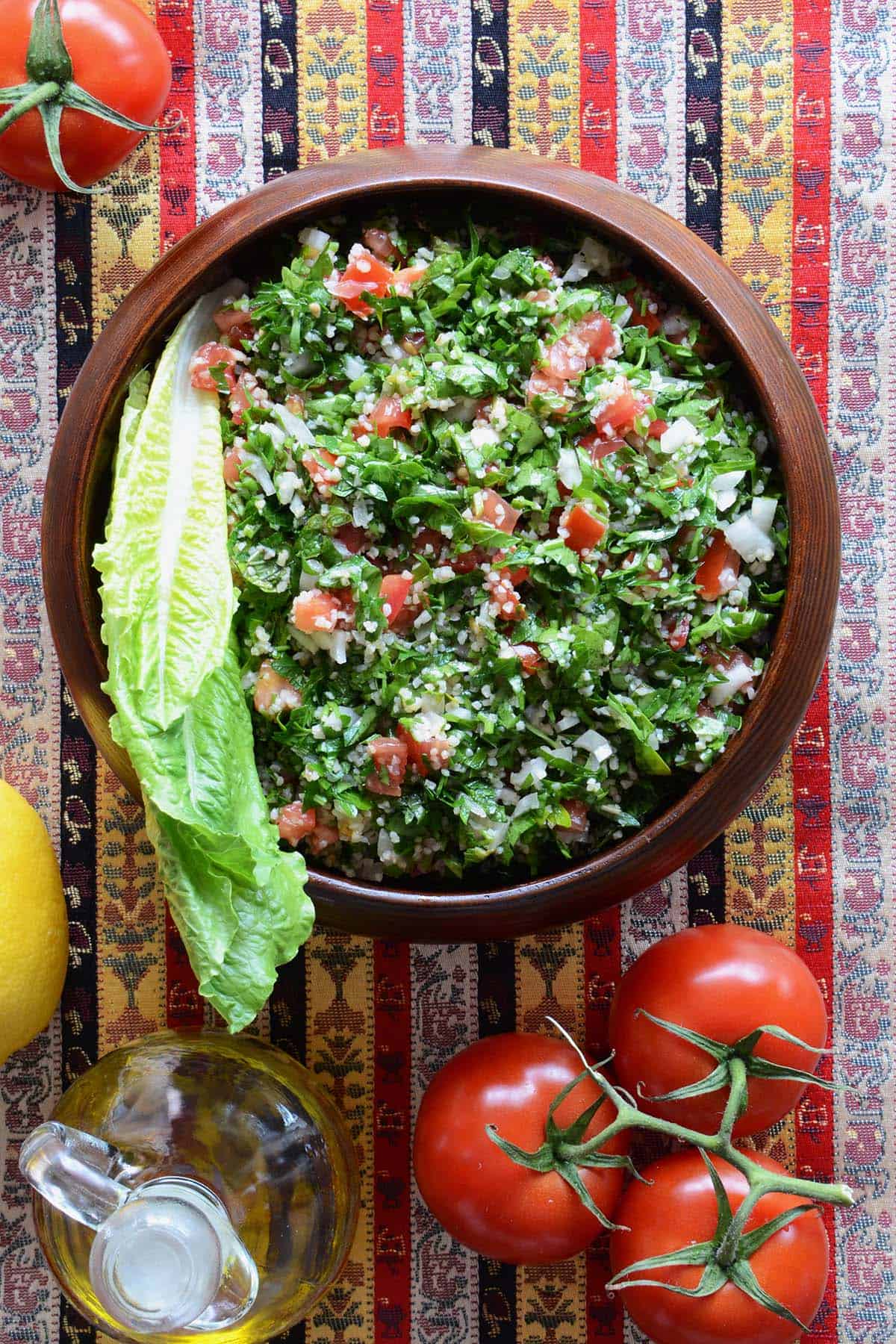 The Story Behind An Edible Mosaic Cookbook
Middle Eastern cuisine elevates food from bodily sustenance to an art form lying at the epicenter of gatherings with family and friends.
Growing up on classic American fare, it wasn't until after Faith married that she had her first experience with the exotic flavors of the Middle East.
After marrying, Faith spent a significant amount of time living and traveling in Syria and Jordan. There she discovered not only a love of the food and culture, but also a love of cooking. Luckily, Faith's Syrian mother-in-law Sahar, who happens to be a master at Middle Eastern cuisine, was willing to teach her.
And hence, this cookbook, which was a labor of love on all parts, was born.
Special Thanks
A special thank-you to the lovely Lorraine Elliott of Not Quite Nigella for writing the foreword!