This satisfying Red Lentil Soup Recipe is easy to make, requires minimal ingredients, and has rich, deep flavor and creamy texture. It's a delicious first course to a larger meal, or it makes a perfect lunch.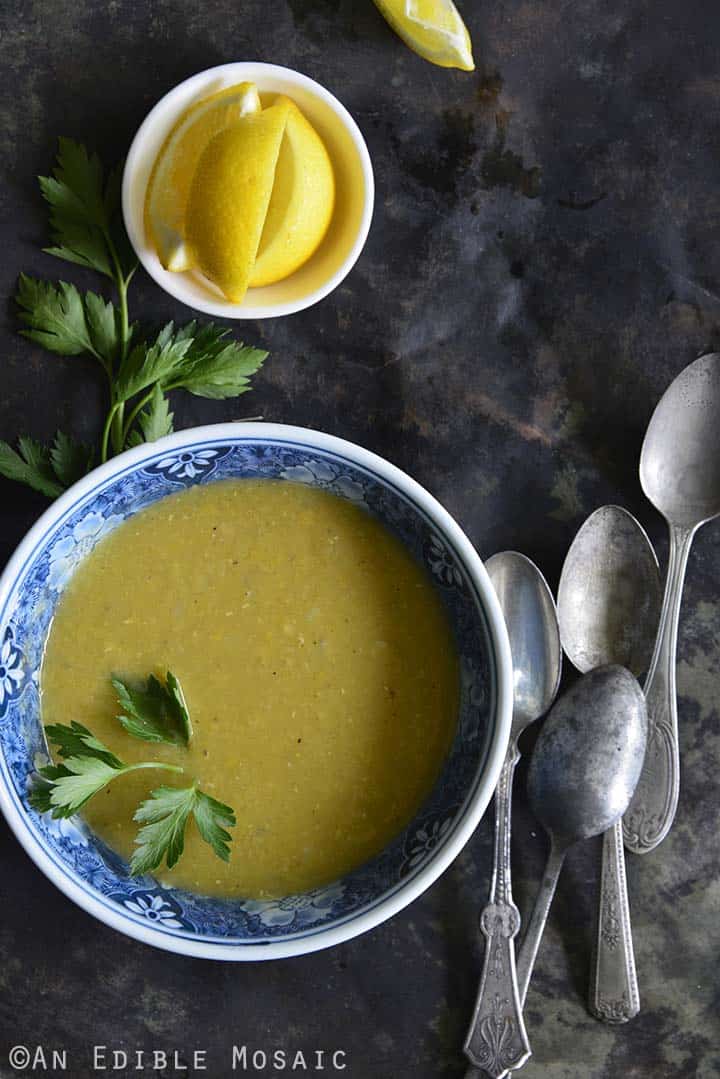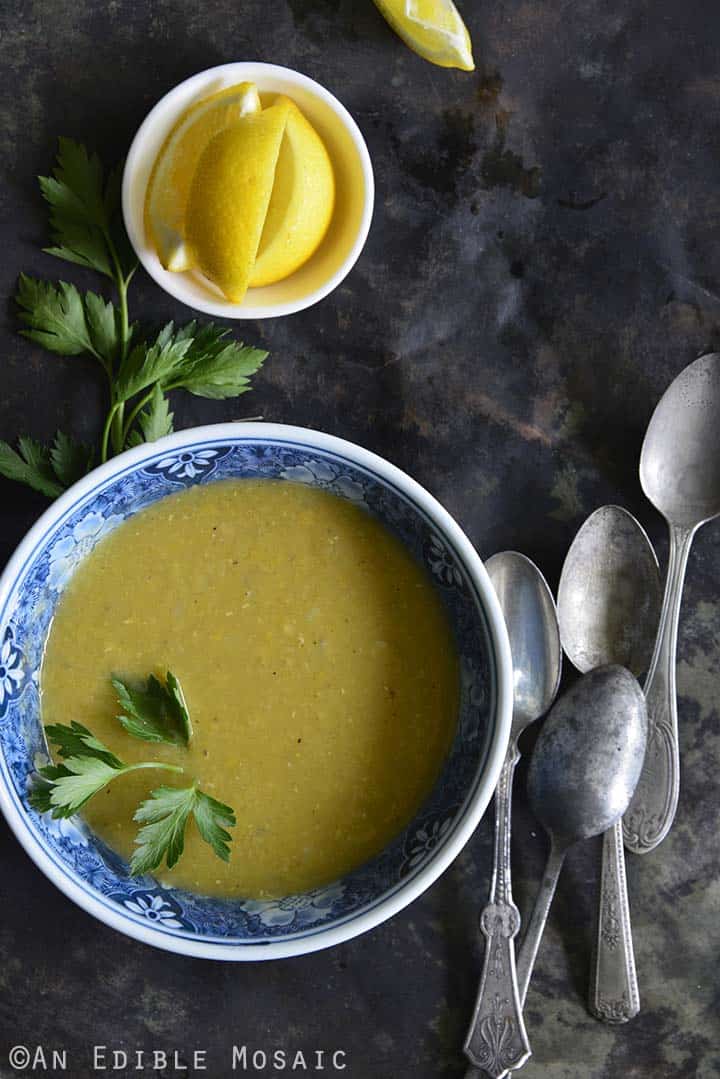 I wanted to write a post about Ramadan earlier (since it's already the 16th day!), but time has been flying by. (Update: I wrote and originally published this post on the 16th day of Ramadan in 2009.)
Red Lentil Soup is very popular during Ramadan. It's hearty and delicious, and serves as the perfect tool to whet your appetite.
There are many different versions of Red Lentil Soup. You can add beef, chicken, or other veggies like carrots and celery. This is the most basic version, but don't let that fool you! This easy soup has rich flavor and creamy texture.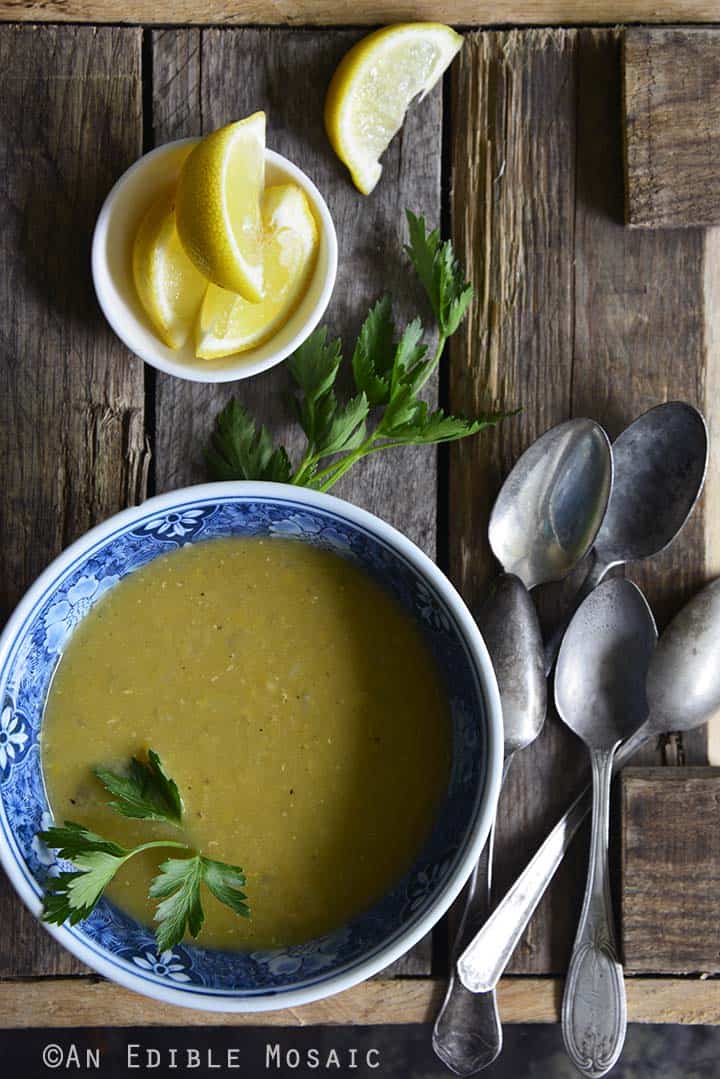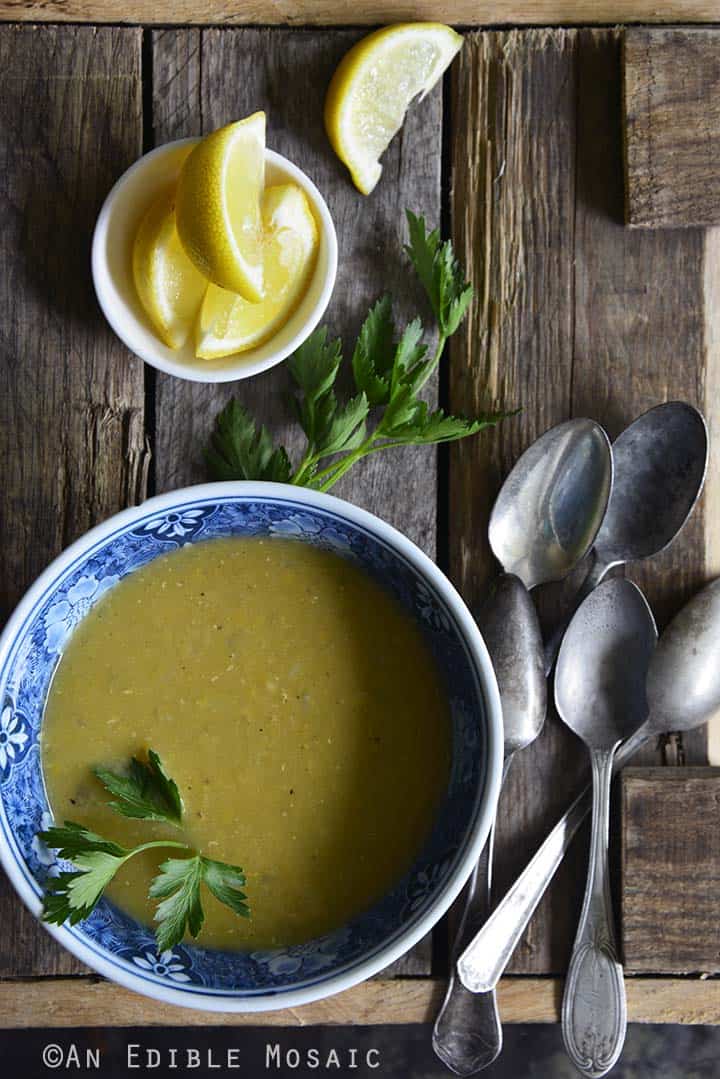 What is Ramadan?
Ramadan (the Islamic holy month of fasting) is also a time for prayer, reflection, and giving charity. During Ramadan, fasting is done from sunrise to sunset to teach you patience, discipline, and empathy for others who aren't as fortunate.
Each day the fast ends with prayer followed by a meal called iftar.
I lived in different areas of the Middle East (Jordan, Syria, and Kuwait), and I had the incredible experience of participating in Ramadan. Despite being hungry and thirsty, it was a truly wonderful time.
During Ramadan, in the Middle East towns come alive at night, and it's very celebratory. Special meals and sweets are served. People gather together to break bread after sundown, and it leads to hours of talking and laughing and feasting.
What Do You Eat During Ramadan?
After not eating all day during Ramadan, there are a few typical foods that you break the fast with and then a big meal is eaten.
How to Break the Fast
Each day during Ramadan, the fast is typically broken broken with dates and a sip of water. But be careful not to drink too much water or you'll be too full to eat, and trust me, that would be a shame after not eating all day!
The First Course
After eating one or two dates, you move on to the first course, which is typically some kind of soup, such as Red Lentil Soup. (As you can imagine, meals during Ramadan usually involve several courses.)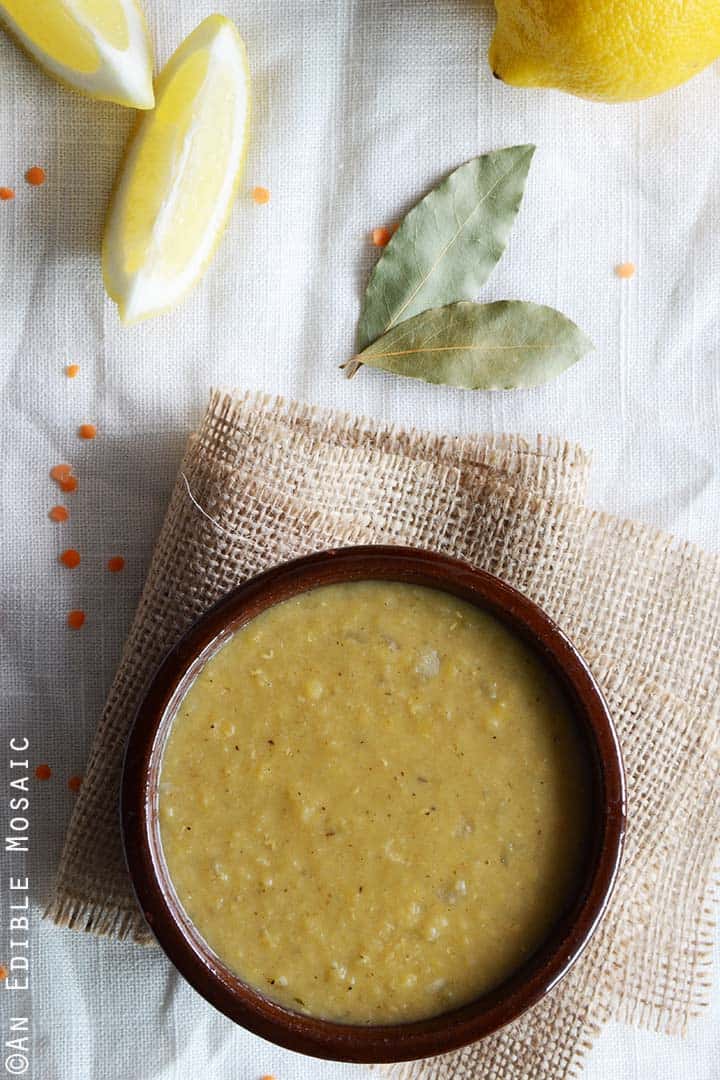 The Main Course
Then comes the main course, which can be a pretty elaborate spread. The main course is similar to a large Sunday supper or sometimes even a holiday dinner. It may include several different dishes of meat, rice, potato, and/or vegetables. Think something along the lines of roasted chicken and vegetables with mashed potatoes and gravy, and then add pot roast, then add candied sweet potatoes, then add green bean casserole. You get the idea.
The good thing about this is that once you make a feast like this, you probably won't have to cook again for at least another two or three days (depending on how big your family is), thanks to leftovers.
Coffee and Dessert
After the main course comes the coffee, and not just any coffee, but rich, dark, almost velvety Turkish coffee (which is so incredibly delicious!). But of course the idea of having coffee alone is simply unheard of, and so there must be sweets.
The sweets of Ramadan are really something to be desired. Traditionally, Ma'amoul are served, which are the most amazing date-filled cookies with a flaky pastry crust that literally melt in your mouth.
What Foods Do You Avoid During Ramadan?
There are certain foods that are usually avoided during Ramadan, such as salty foods that make you very thirsty (such as Shakriya) and foods that make you bloated (like Hummus or Falafel).
Once the holy month ends, it tradition to have a meal that includes some of these foods!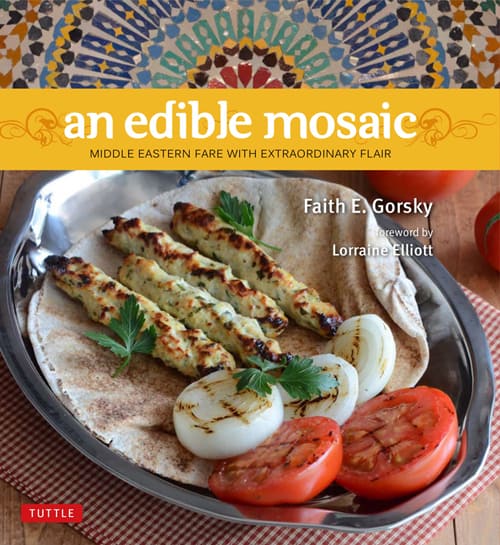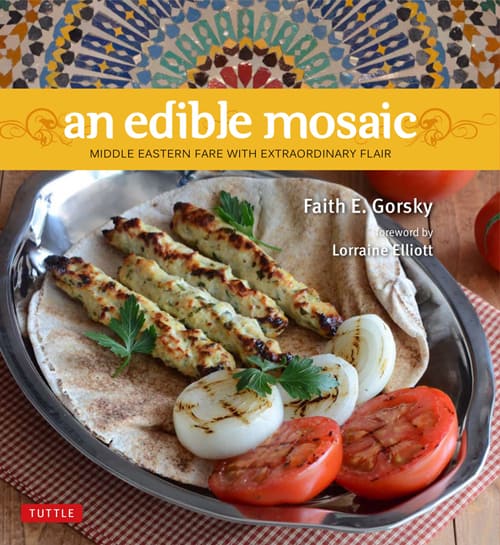 My Cookbook: An Edible Mosaic
Check out my Middle Eastern cookbook An Edible Mosaic for more authentic recipes and cultural tidbits that I picked up during my time spent living in the Middle East.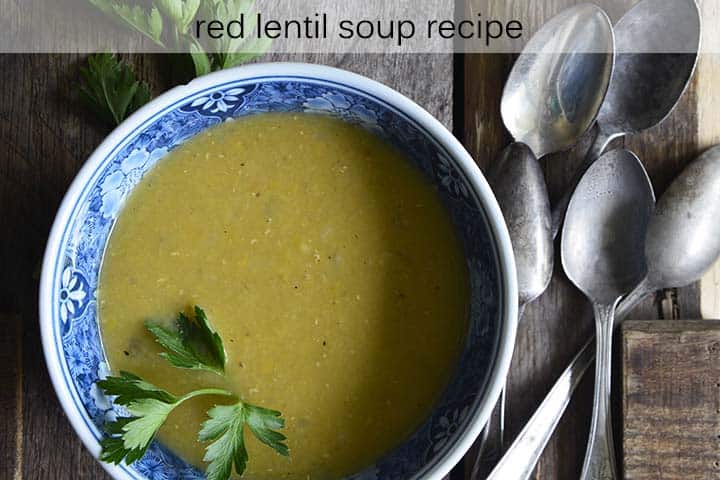 Red Lentil Soup Recipe
This Red Lentil Soup is a masterpiece. I learned to make it from my ex-mother-in-law Sahar when I lived in the Middle East.
The recipe starts by sauteeing onion in olive oil, which creates a flavorful base. Sahar always used chicken bouillon cubes to add richness and depth of flavor, but I like to use chicken stock. Of course, feel free to use vegetable stock for the vegan version of Red Lentil Soup.
Spices are minimal here; just a bay leaf, cumin, and black pepper. You can add salt to taste, depending on how salty your stock is.
This soup is served with a couple wedges of fresh lemon to squeeze on top, which brighten up the flavor immensely.
All in all, I think you'll be surprised at how delicious this soup is, despite its simplicity!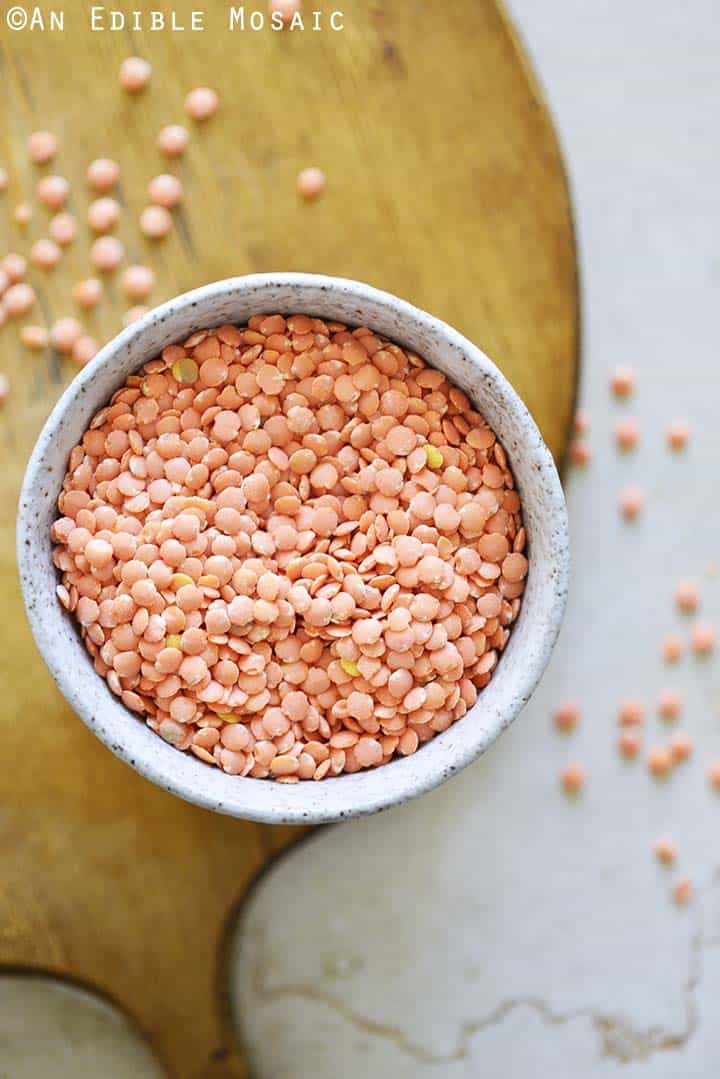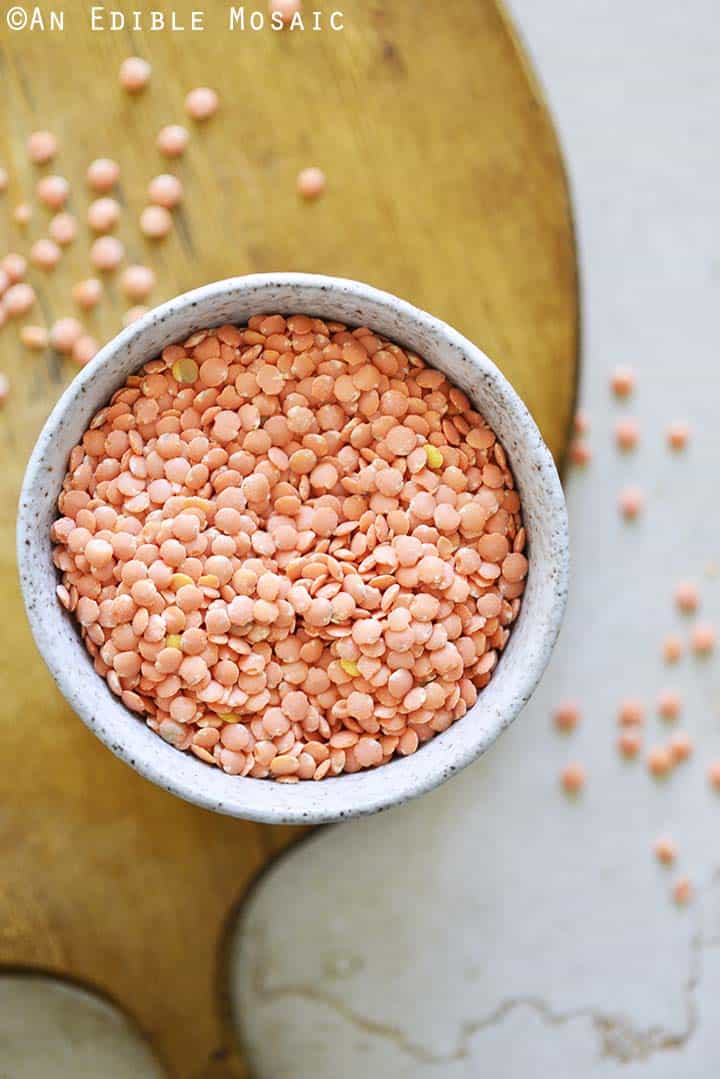 Do Red Lentils Need to be Soaked Before Cooking?
No, red lentils don't need to be soaked before making this Red Lentil Soup Recipe.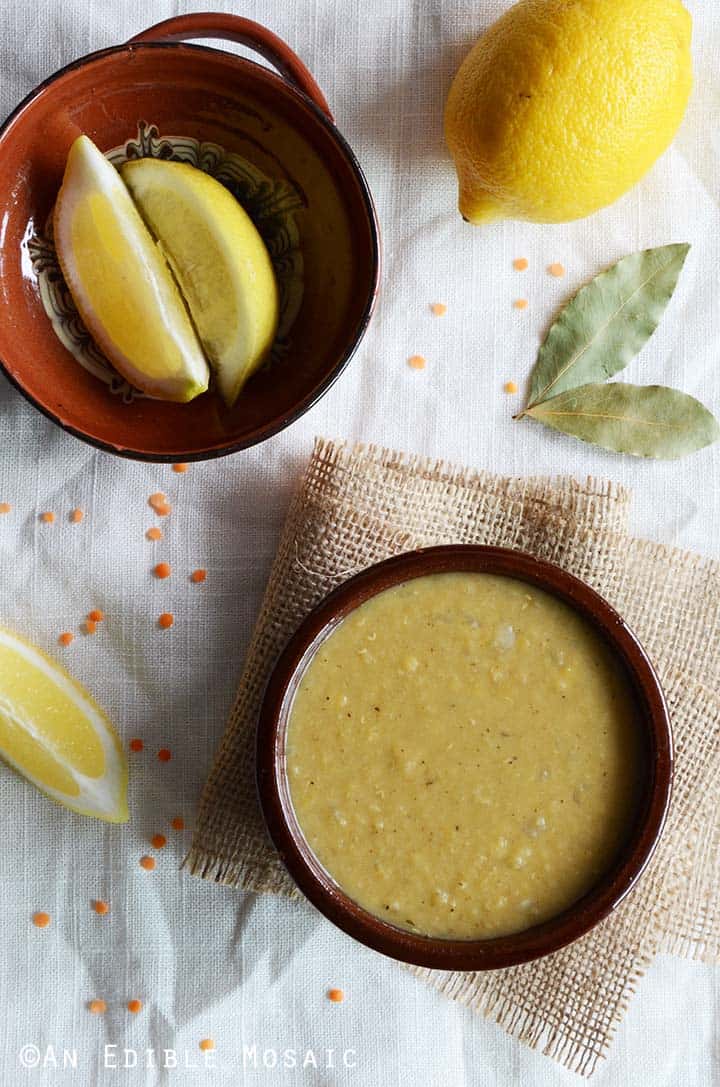 More Recipes to Try During Ramadan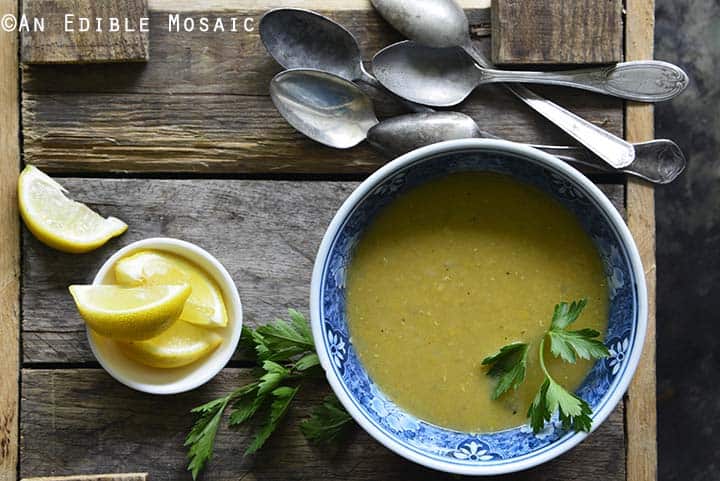 Let's Connect


Did you make this recipe? Please rate it and leave a comment below. You can also tag @anediblemosaic on social media.
To stay up-to-date, follow me on Facebook, Instagram, Pinterest, and Twitter!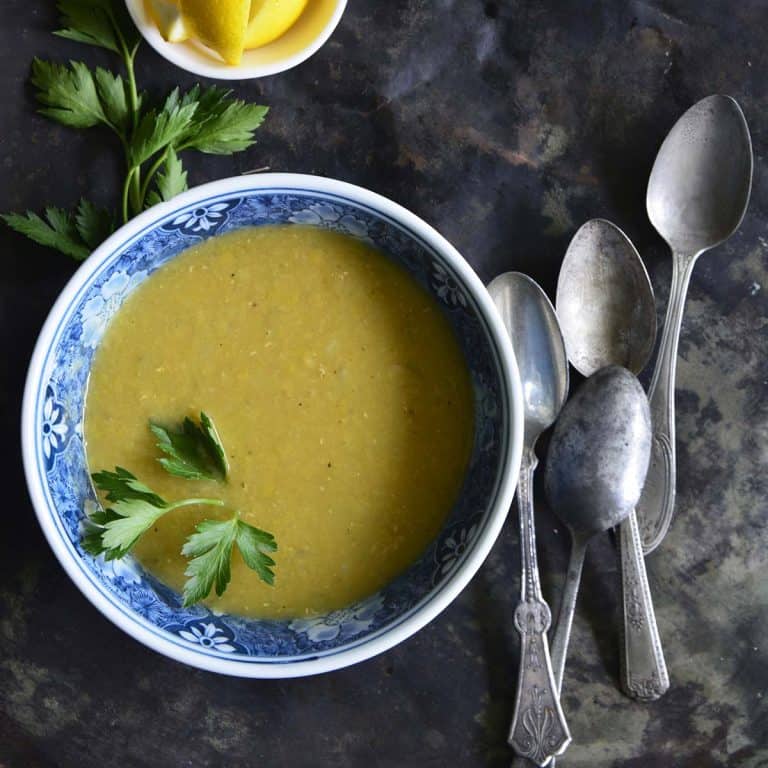 Red Lentil Soup Recipe
This satisfying Red Lentil Soup Recipe is easy to make, requires minimal ingredients, and has rich, deep flavor and creamy texture. It's a delicious first course to a larger meal, or it makes a perfect lunch.
Instructions
Heat the oil in a saucepan over medium heat. Add the onion and sauté until slightly softened, about 5 minutes.

Add the lentils, bay leaves, cumin, black pepper, and chicken stock. Cover the pot and bring the soup up to a rolling boil, then turn down the heat and let it boil gently for 30 minutes, stirring occasionally, and adding a splash of water if necessary.

Taste the soup and add salt and pepper as desired.

Serve along with fresh lemon wedges to squeeze on top, garnished a sprig of fresh parsley if desired.
Faith's Tips
Storage: Store leftover Red Lentil Soup covered in the fridge for up to 5 days. This reheats well on the stovetop or in the microwave. You may need to add a splash of water to thin it out when reheating.
Vegan Version: For the vegan version, use vegetable stock instead of chicken stock.
Nutrition
Nutrition Facts
Red Lentil Soup Recipe
Amount Per Serving
Calories 269
Calories from Fat 54
% Daily Value*
Fat 6g9%
Cholesterol 5mg2%
Sodium 263mg11%
Potassium 674mg19%
Carbohydrates 36g12%
Protein 17g34%
Vitamin A 37IU1%
Vitamin C 4mg5%
Calcium 45mg5%
Iron 4mg22%
* Percent Daily Values are based on a 2000 calorie diet.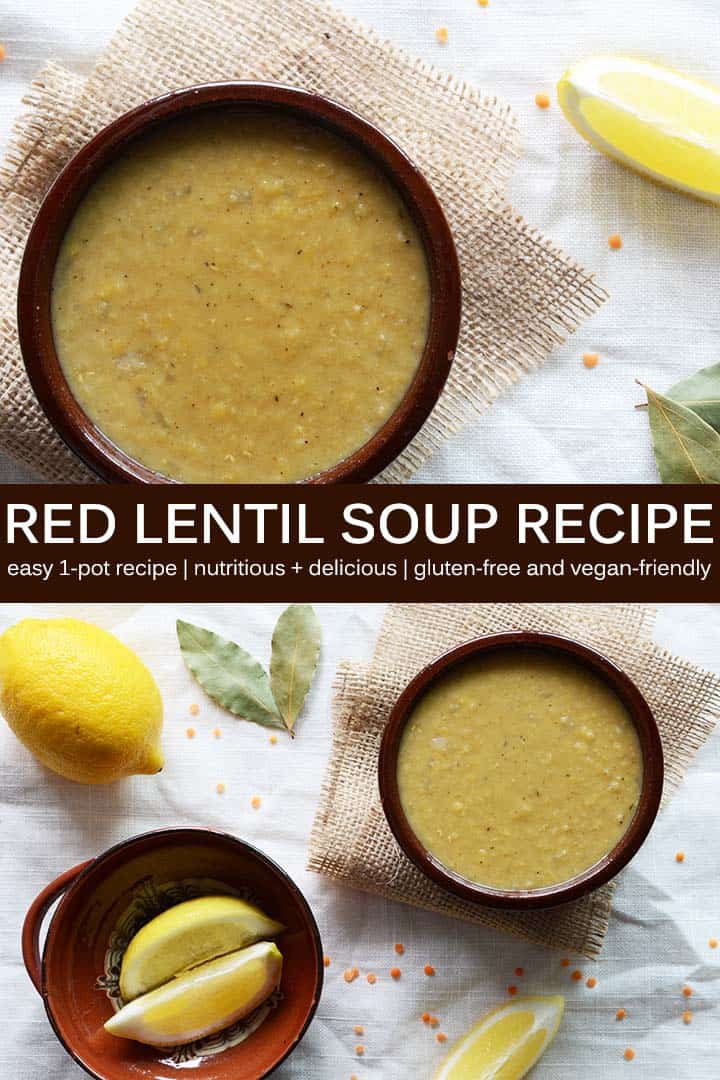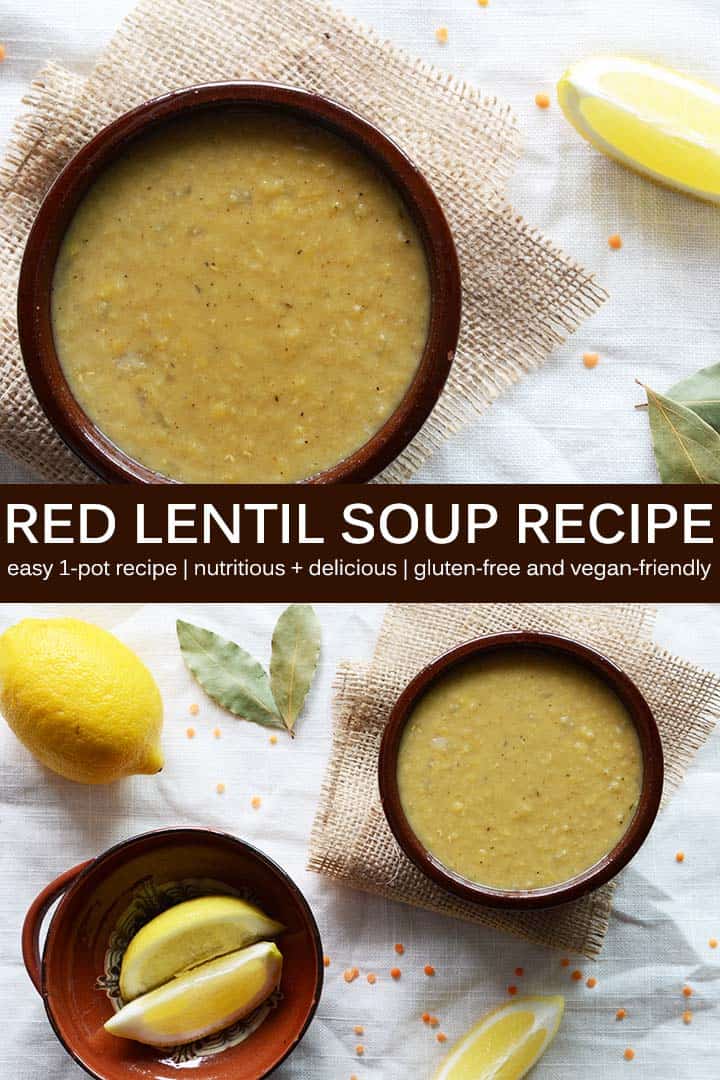 This post was first published on An Edible Mosaic on September 6, 2009. It was updated with more information on April 19, 2021.