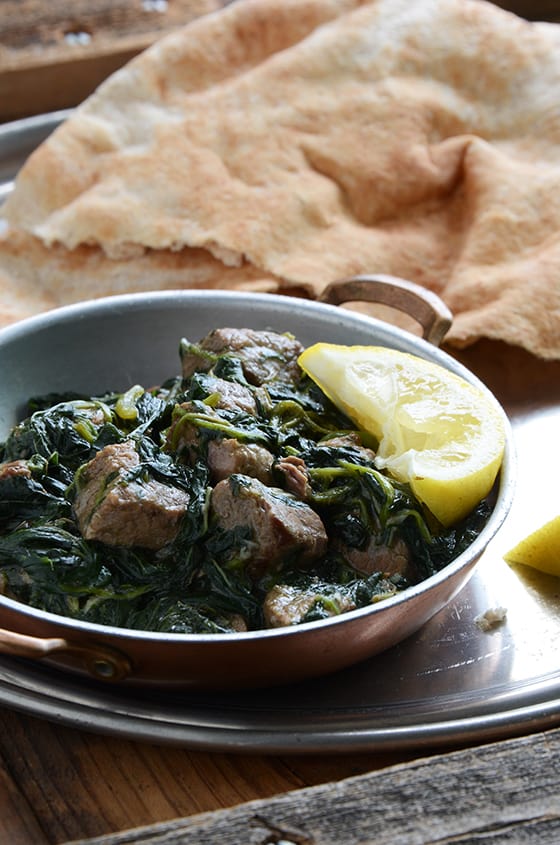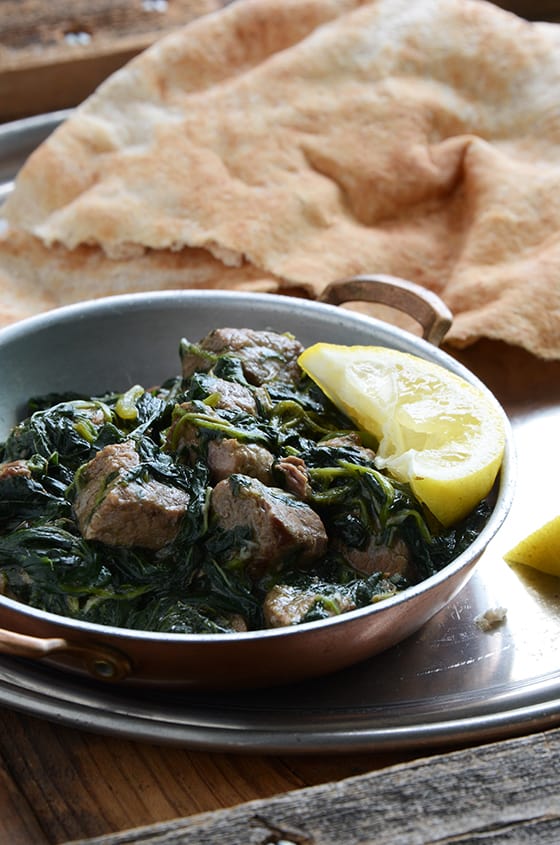 If you're a long-time reader of my blog, you know I try to be as transparent with my readers as possible, so I'm going to give it to you straight on this: I can't even begin to tell you how disgusted I was when I first tried Molokhia in the Middle East.
The flavor wasn't bad – it's earthy, sort-of like spinach, flavor-wise.
But texturally, it's something else altogether.
Meaning, it's slimy as heck.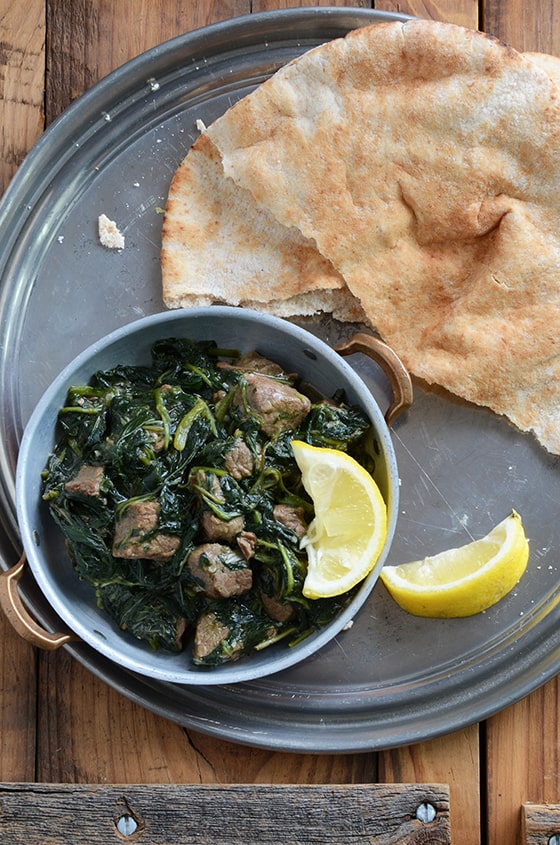 Sort-of like okra, but even more slimy and mucosal than okra, especially if it's made into soup like this. When you go to take a spoonful, it just seems to move as one unit. But surprisingly the flavor really grows on you. After having this meal three or four times in the Middle East, I was hooked and it became something I craved even home in the U.S.
If you're not familiar with it, it's commonly known in the Arab world that Molokhia hails from Egypt and was the food of royalty, as Molokhia literally translates to "for royalty". In English, Molokhia can be found called Jew's Mallow, Jute Mallow, Green Mallow, or Nalta. I buy it frozen (which I much prefer over dried) from a local Middle Eastern grocery store.
Molokhia is frequently minced very, very small and made into soup, which is served with either chicken or red meat like beef or lamb, and eaten spooned over rice. This recipe is different altogether – waraq means "leaves" and the leaves are left whole instead of being minced. I like it made with tender, slow-cooked beef. Serve it with fresh lemon for squeezing on top and flatbread (khubz) to scoop it up. (I share a recipe for Middle Eastern flatbread in my cookbook!)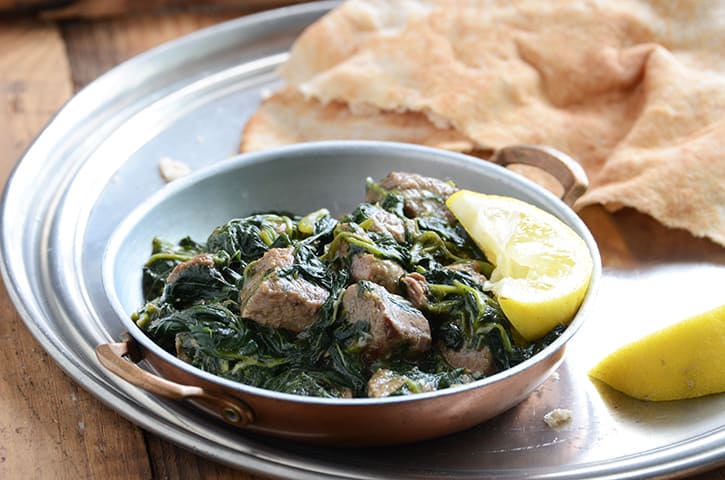 Molokhia Waraq
Prep time:
Cook time:
Total time:
Ingredients
4 tablespoons olive oil, divided
1½ lbs beef (or lamb) stew meat
2½ cups beef stock
2 (14 oz/400 g) bags frozen molokhia waraq, thawed (not drained)
1½ teaspoons coarse kosher salt (more or less to taste)
4 large cloves garlic, crushed using a mortar and pestle or grated on a microplane
Fresh lemon wedges, for serving
Fresh Middle Eastern flatbread (khubz), for serving
Instructions
Heat 2 tablespoons olive oil in a 5-quart pot over medium-high heat; add half the meat and sear, cooking about 2 minutes per side. Transfer the seared meat to a bowl and cook the remaining meat the same way.
Add the beef back into the pot along with the beef stock (the stock should just cover the meat). Bring to a boil over high heat, then cover the pot, turn the heat down to simmer, and cook until the meat is tender and the liquid is evaporated, about 1 hour to 1 hour 15 minutes.
Turn the heat up to medium and stir in the thawed molokhia waraq and the salt; cook until there isn't any liquid in the bottom of the pot, about 5 to 10 minutes, stirring occasionally.
Heat the remaining 2 tablespoons olive oil in a small skillet over medium-low heat; add the garlic and cook 1 minute, stirring constantly. Stir into the molokhia.
Transfer the molokhia to a serving bowl and serve with fresh lemon wedges to squeeze on top and fresh flatbread to scoop it up.
Disclosure: This post contains Amazon affiliate links to products I believe in, which means that even though it doesn't cost you anything extra, I will receive a small amount of money from the sale of these items, which helps me keep this site alive – thank you for helping to support An Edible Mosaic!