Photo (taken by yours truly) of Fried Eggplant with Garlic and Parsley Dressing from my cookbook, An Edible Mosaic: Middle Eastern Fare with Extraordinary Flair.
Of all the recipes in my cookbook, this one has the most personal story attached to it.
The first time I had this dish was in Zabadani, a rural area north of Damascus in Syria. My husband and I were staying with his family in their country home for a few days, and another family had come to visit. Of course a feast was in order.
My mother-in-law (whose name is Sahar, but I call her Mom in Arabic) and the other ladies were bustling around all day making a whole slew of different dishes; out of everything, this dish was by far my favorite. It was at that moment that my mother-in-law realized that my husband and I truly were perfect for each other. You see, my hubby hates eggplant in any form and my mother-in-law has always hoped he'd marry someone who loves it!
As I sat there ignoring almost every other dish on the table and gushing about this simple eggplant dish, she sat there beaming. Reliving that memory in my mind is what makes this dish so meaningful for me.
I know it might not look like anything special, but as Sahar says, this dish is a classic example of Syrian food at its finest. Just a couple simple, fresh ingredients come together to create something that is so much greater than the sum of its parts.
Head over to check out my recipe for Fried Eggplant with Garlic and Parsley Dressing (Batinjan Mekleh) on Evelyne's blog, Cheap Ethnic Eatz.  (Thank you so much for the lovely feature, Ev!) And P.S., she's giving away a copy of my cookbook, be sure to enter the giveaway!
I wanted to share a few photos I took while in Zabadani so you can get a feel for the setting when I first had this dish. Like all of Syria, this area is breathtaking…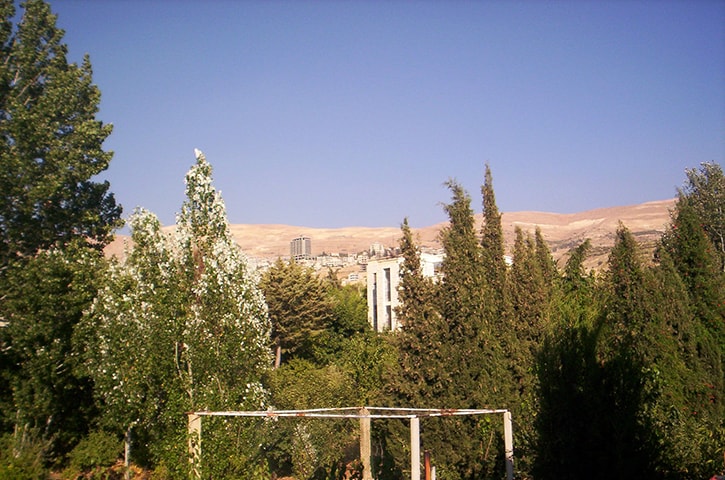 Please keep Syria and her people in your thoughts and prayers!