First up in our fancy homemade Valentine's Day meal are the cute little drinks and the salad. The two are tied together through strawberry slices, which are perfect for Valentine's Day since they look just like sweet little hearts.
The Strawberry Spritzers are so easy to make that it isn't even really a recipe…and for very little effort you get something that is absolutely adorable! I made a caramelized onion dressing to serve with the salad (because I also use caramelized onion for the pasta and beef recipes), but you could make it even easier and use your favorite prepared salad dressing…I think anything with a balsamic vinegar base would be fantastic since the strawberry/balsamic combo is delicious!
With the drinks and the salad out of the way, stay tuned because I'll be posting the recipes for blush pasta and individual beef roulades soon! Don't forget to check out All Through the Year Cheer...Brandy is hosting our Valentine's Day event and she made some incredible looking cookies! ;)
Strawberry Spritzers
(Yield: 2 servings)
1 liter sparkling strawberry-flavored water (or any flavored sparkling water you like)
A handful of strawberries, washed, hulled, and sliced
Pour the sparkling water into glasses and float the strawberry slices in the water.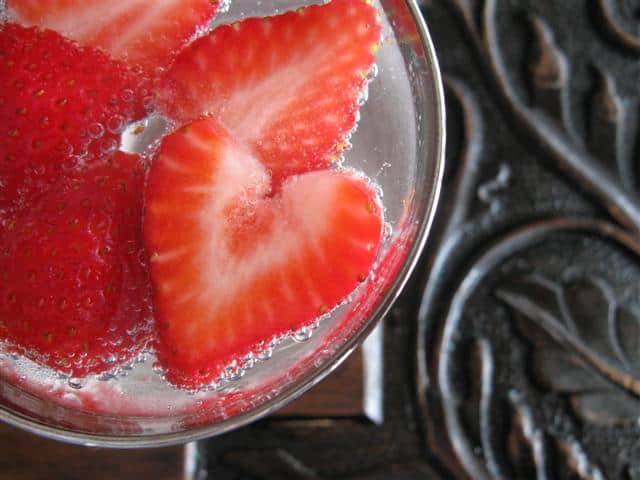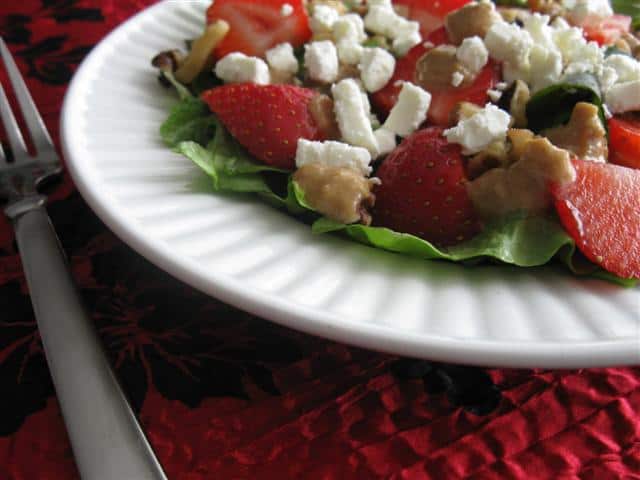 Savory Strawberry Salad
(Yield: 2 first-course servings)
1 oz goat cheese, crumbled
¼ c chopped walnuts, toasted
About 1 c strawberries, washed, hulled, and sliced
About 3 c lettuce (I like to use red or green leaf), washed, dried, and torn into bite-sized pieces
Caramelized Onion Dressing (see recipe below; or you can use any dressing you like)
Caramelized Onion Dressing:
¼ of a very large onion, thinly sliced
2 TB olive oil, divided
1 TB balsamic vinegar
1 teaspoon Dijon mustard
Salt and pepper
To make the dressing: In a small pan, heat 1 teaspoon of oil over medium-high heat until the oil starts to ripple, then add the onion and a pinch of salt, and stir to coat the onion with the oil. Cook until the onion starts to soften and turn color (stirring occasionally). Lower to the heat to medium-low and cook (stirring occasionally) until the onion is a rich caramel color. You can add a splash of water at any point in the process if the onions start to stick to the pan too much. In a blender or food processor, puree the caramelized onion with the remainder of the dressing ingredients; add a splash of water to thin out the dressing until it reaches your desired consistency (it should have a creamy texture).
Arrange the lettuce on two salad plates then top with the strawberries, goat cheese, and walnuts. Drizzle the dressing on top (you will have extra dressing).