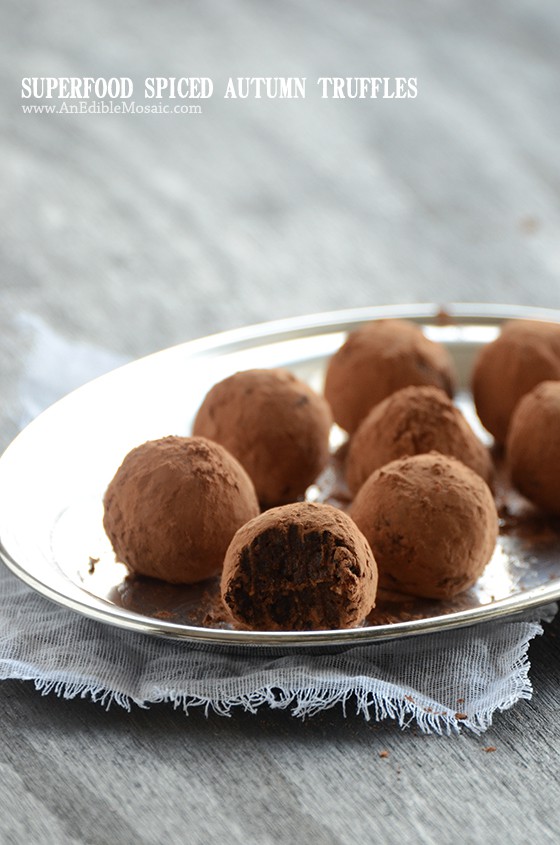 Look…they look like fudge inside!
If you're trying to avoid regular (read: sugar-coma-inducing) candy, this recipe will be your saving grace on Halloween night.
Halloween at my mom's house is like a free-for-all when it comes to sugar. She always has an insanely huge amount of candy on hand for giving away to kiddos trick-or-treating. She fills a stockpot (which is about four times as big as my normal big soup pot!) to the point of overflowing, and then it's a frenzied dash for stuffing your bag (and your face) with candy.
It is so hard to avoid that evil pot of temptation.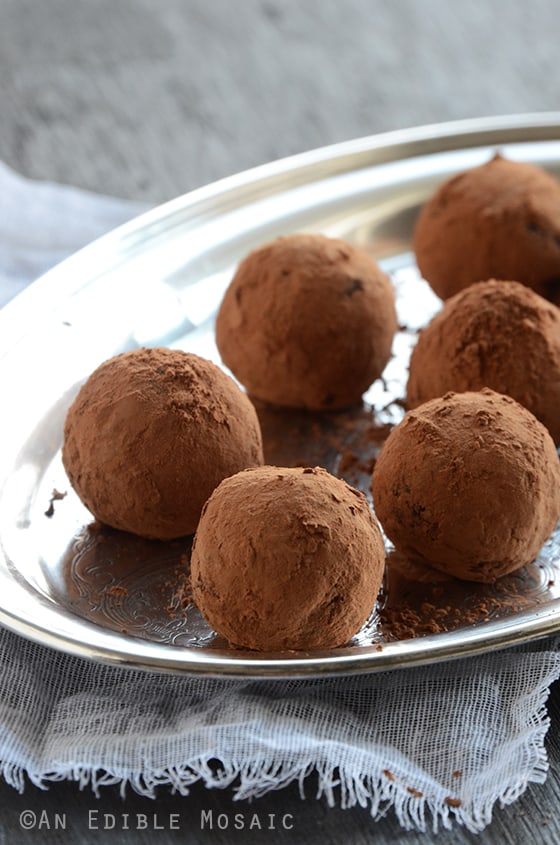 This year when I show up to help her pass out candy I will be armed with these little lovelies. They're deliciously decadent in a healthy way…just take a look at their superfood roster of ingredients.
About the sweetness level of these truffles….I generally don't like my sweets too sweet; instead, I aim for a balance of flavors, which I think is really achieved in this recipe. (Plus, if I'm trying to make something healthier it stands to reason that it shouldn't be cloyingly sweet.) That being said, I know that the subtle sweetness in this candy won't be sweet enough for some people (ahem, Hi Mom!). But no problem – taste the dough before you roll it out into truffles to see if it's sweet enough for you. If not, feel free to add stevia (or your favorite powdered sweetener) to taste. (I don't recommend adding a liquid sweetener like maple syrup or honey because that will change the consistency of the truffles and may prevent them from setting properly.)
Superfood Spiced Autumn Truffles
Ingredients
Truffles:
8 pitted Medjool dates (about 4 oz), chopped (about ⅔ cup chopped, lightly packed)
4 tablespoons roasted unsalted sunflower seeds
2 tablespoons pumpkin puree (canned is fine; look for solid-pack pumpkin, not pumpkin pie filling)
1 tablespoon cocoa powder
1 tablespoon flaxseed meal
1 teaspoon vanilla
1 teaspoon coconut oil, melted
½ teaspoon ground cinnamon
¼ teaspoon ground nutmeg
⅛ teaspoon ground ginger
1 pinch ground cloves
1 pinch salt
Topping Ideas:
Chopped nuts, such as walnuts, almonds, or pistachios
Seeds, such as sunflower seeds or sesame seeds
Unsweetened shredded coconut
Cocoa powder
Melted dark chocolate (if you want to dip the truffles)
Instructions
Pulse together all ingredients (except toppings) in a food processor until it comes together to form a ball.
Scoop the dough into 1 tablespoon-sized truffles, roll into balls, and then coat in any topping(s) you like.
Store the truffles in an airtight container up to 2 weeks in the fridge.
Notes
Flaxseed Meal: Flaxseed meal is just ground flaxseed; if you don't have flaxseed meal on hand, you can grind your own.