Gingerbread Caramel Candy is a fun and festive twist on classic soft and chewy caramel candy. If you're looking for homemade soft and chewy caramel recipe with no corn syrup, this is the recipe for you and it's easier to make than you might think!
I have a family member who is absolutely crazy about my homemade soft and chewy caramels. (I won't mention names to protect the innocent, but she's a certain 15-year-old sugar fiend, lol!).
My homemade caramel is usually only a special treat for the holidays. This year I decided to spice things up with Gingerbread Caramel Candy! This aromatic soft and chewy caramel is warmly spiced with maple-y caramel notes and buttery richness.
A lot of people have asked me for a homemade soft caramel recipe that doesn't use corn syrup. The reason many caramel recipes use corn syrup is because it helps prevent crystallization. In my Gingerbread Caramel Candy I use cream of tartar instead of corn syrup and it works like a charm.
All About Caramel
Caramel can be a bit tricky to make, so I wanted demystify the process a bit. It's actually not hard to make, it just takes a little practice. Before you know it you'll be making perfect soft and chewy caramel in any flavor you fancy (I suggest Gingerbread Caramel Candy for all the festive feels!).
What is Caramel?
Caramel is basically burned sugar. When sugar is cooked to 340F, it caramelizes and turns a deep amber color and takes on a rich, complex flavor.
Ingredients in Caramel
When we think of caramel, we're usually thinking of soft and chewy caramel. The basic ingredients for soft and chewy caramel are sugar and heavy cream.
I like to use cream of tartar for improved texture and to help prevent crystallization.
Also, I find that a touch of salt balances out the sweetness.
Do You Have to Use Corn Syrup When Making Soft Caramels?
A lot of recipes for soft and chewy caramel use corn syrup because it helps give the candy the right texture and helps prevent crystallization. In fact, I have a recipe for Salted Caramels on my blog that uses corn syrup!
However, after a bit of testing I discovered corn syrup isn't absolutely necessary. I use a little bit of cream of tartar in this recipe instead of corn syrup, and the result is perfectly soft and chewy caramel candy.
Can You Substitute Honey for Corn Syrup in Caramel?
In caramel recipes that call for corn syrup, people often ask if they can use honey instead. Not only will the flavor be different, but you also run the risk that your caramels won't set properly.
For more information on when to use corn syrup, see David Lebovitz's article When To Use (Or Not Use) Corn Syrup.
Do Homemade Caramels Need to be Refrigerated?
This recipe for Gingerbread Caramel Candy keeps well at cool room temperature (about 72F).
I individually wrap my caramel pieces in parchment paper and store them in a container in my pantry for up to 1 month.
If it's really hot in your kitchen and you need to store these in the fridge, I recommend letting them warm to room temperature before serving for the best texture.
How to Make Soft and Chewy Caramel
There are two basic steps to making soft and chewy caramel:
Caramelize sugar.
Add butter and/or heavy cream.
Any other add-ins for flavor and improved texture are subsequent to these two main components. For example, in this Gingerbread Caramel Candy recipe I add warm gingerbread spices and a hint of molasses.
How to Caramelize Sugar
As easy as it is to make caramel, I want to talk about the method for caramelizing the sugar, because there are two different ways to do it.
The first way to caramelize sugar is to cook it alone (without added water) gently until it caramelizes.
The second way to caramelize sugar is to cook it with water.
The benefit of adding water to sugar when making caramel is that it's harder to scorch the caramel because the water slows down the caramelization process. However, this is also the downside of adding water to sugar when you're making caramel. It takes a bit longer because the sugar won't caramelize until the water evaporates out.
Gingerbread Caramel Recipe
You won't believe how much this Gingerbread Caramel Candy actually tastes like gingerbread! Warm gingerbread spices marry perfectly with the complexity of caramel, and these are perfectly soft and chewy.
What Does Gingerbread Taste Like?
Gingerbread cookies, cakes, etc. are sweets that are usually warmly spiced with ginger, cinnamon, cloves, and other spices. Gingerbread items may be sweetened with honey or sugar and frequently have molasses and/or brown sugar.
Spices in Gingerbread
Many gingerbread recipes include a blend of the following spices:
More Gingerbread Recipe Inspiration:

Did you make this recipe? Please rate it and leave a comment below because I love hearing from you! You can also tag @anediblemosaic on social media. To stay up-to-date FOLLOW ME on Instagram, Twitter, and Facebook. Xoxo, Faith
Gingerbread Caramel Candy (Homemade Chewy Caramel Recipe No Corn Syrup)
Gingerbread Caramel Candy is a fun and festive twist on classic soft and chewy caramel candy. If you're looking for homemade soft and chewy caramel recipe with no corn syrup, this is the recipe for you and it's easier to make than you might think!
Print
Pin
Rate
Servings:
20
pieces of caramel
Instructions
Line a 9 by 5-inch loaf pan with a piece of parchment paper.

Sift together the ginger, cinnamon, nutmeg, cloves, and black pepper and set aside.

Add the sugar, cream of tartar, salt, and water to a medium saucepan over medium heat. Cook until the sugar caramelizes; it should be a golden amber color. To help the sugar dissolve, you can gently swirl the pan, but don't stir. If sugar crystalizes along inside the pan, you can use a wet pastry brush to brush it down.

Once the sugar is amber-colored, turn off the heat and stir in the butter.

When the butter is melted in, stir in the cream, molasses, and spices until combined.

Carefully pour the caramel into the prepared pan and let it cool to room temperature before cutting (at least 4 hours, but overnight is best).

Carefully cut the caramel into 20 pieces with an oiled knife, wrap each in parchment paper, and store in an airtight container at room temperature for up to 1 month.
Helpful Tips
This recipe makes 20 pieces of caramel. Each serving is 1 piece of caramel.
After wrapping these caramels in parchment paper,

store them in an airtight container at room temperature for up to 1 month.
Nutrition
Serving:
1
caramel
|
Calories:
109
kcal
|
Carbohydrates:
20
g
|
Fat:
3
g
|
Saturated Fat:
2
g
|
Cholesterol:
10
mg
|
Sodium:
16
mg
|
Potassium:
13
mg
|
Sugar:
20
g
|
Vitamin A:
115
IU
|
Calcium:
3
mg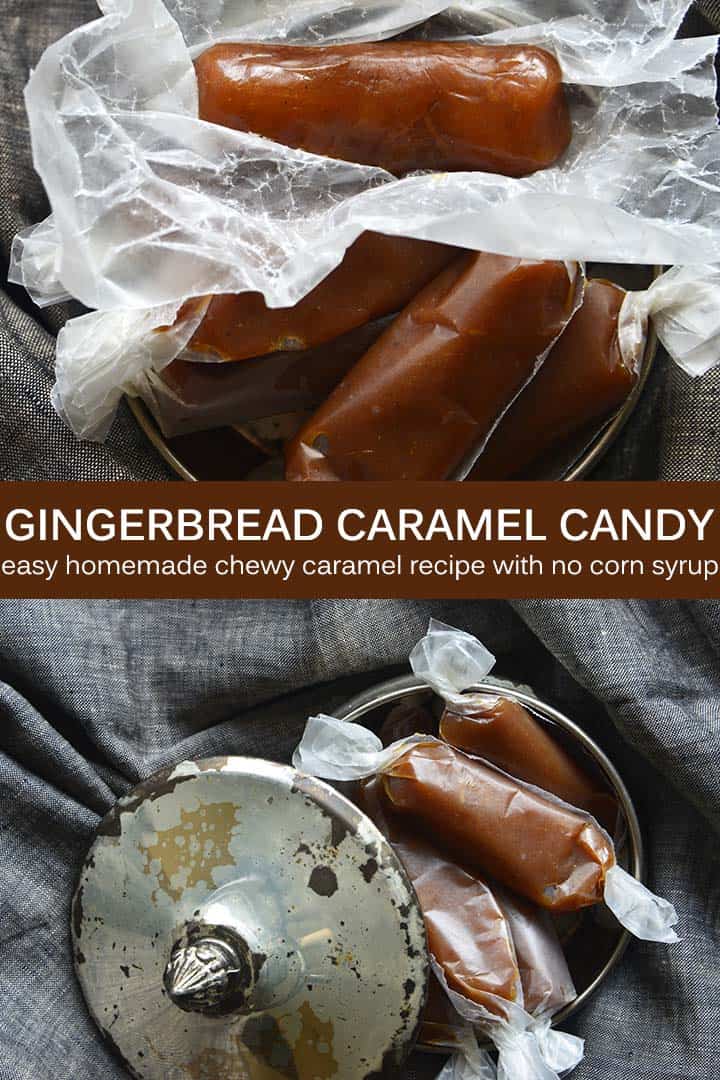 This post was first published on An Edible Mosaic on December 17, 2018. I updated it with more information on December 18, 2020.
Disclosure: This post contains Amazon affiliate links to products I believe in, which means that even though it doesn't cost you anything extra, I will receive a small amount of money from the sale of these items. Thank you for helping to support An Edible Mosaic!