You'll find something for everyone at your next party with these 10+ Summer Side Dish Recipes for Your Next BBQ, Potluck, or Picnic; and bonus, they can all be made ahead!
With the unofficial start to summer just a week away, now is the perfect time to start thinking about summer side dishes! No matter what meat you're grilling or protein you're serving up, there's sure to be a variety of side dishes to go along with it. Everything from potato salad to pasta salad, and green salad to coleslaw. And let's not forget baked beans and fruit salad! I have a side dish or two that gets made for just about every summer gathering, but I also usually like to try a couple new things as well. Side dishes are the fun part of the meal!
Do you have a go-to summer side dish recipe that you're known for?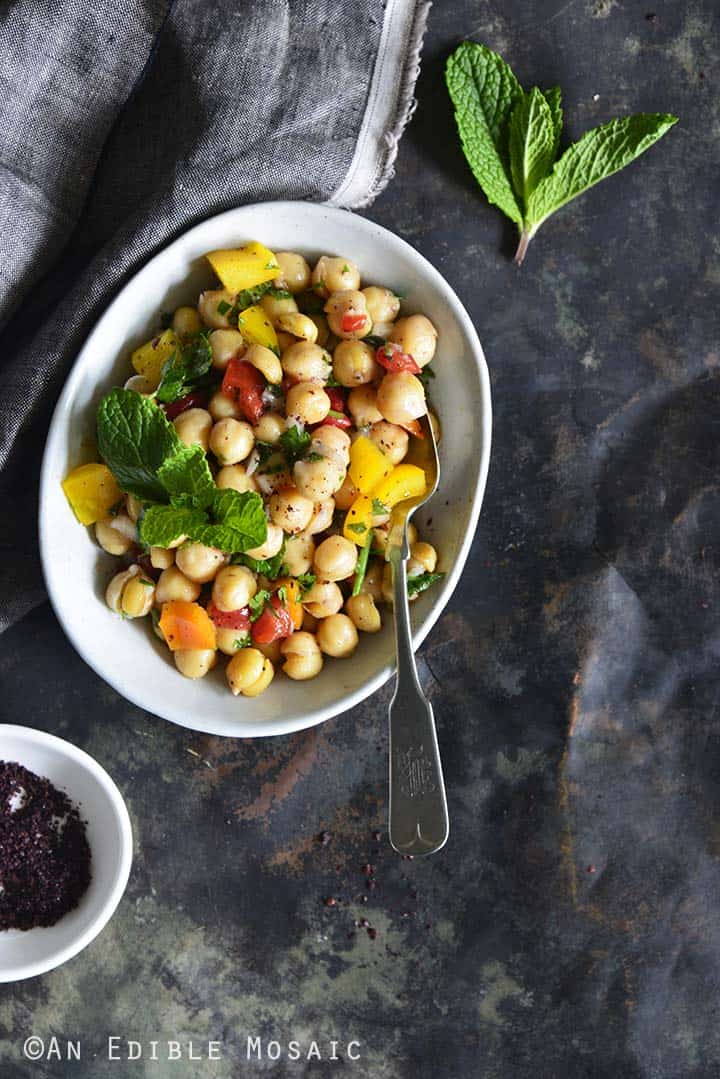 I love bean and lentil-based salads for summer gatherings. They're full of nutrition, and they don't get soggy as they sit like a garden salad (or other leafy green salad) could. This salad has a pleasant tang from sumac, sweetness from honey, and brightness from the secret ingredient – fresh mint!
Make Ahead:
Wait to add the fresh parsley and mint until serving.
When I want coleslaw, this is my go-to. It features a creamy dressing that isn't heavy; mayo is balanced with apple cider vinegar, honey, and Dijon mustard. Two kinds of cabbage, dried tart cherries, a little onion, toasted walnuts, and crumbled blue cheese round out the dish, making it a very balanced flavor profile. Next time you're throwing burgers on the grill, serve them up with this.
Make Ahead:
Hold off on adding the cherries, walnuts, and blue cheese until right before serving.
For those of us who crave pasta, but don't want the carbs that go along with pasta, this salad is perfect. A variety of veggies – roasted asparagus, fresh cherry tomatoes, celery, and red onion – stand in for pasta (and I think they're more exciting than pasta anyway!). And let's not forget the cheese, pepperoni, banana peppers, and quick homemade Italian-inspired dressing to really help this salad pack a punch of flavor!
Make Ahead:
This salad can be made entirely ahead without any modifications.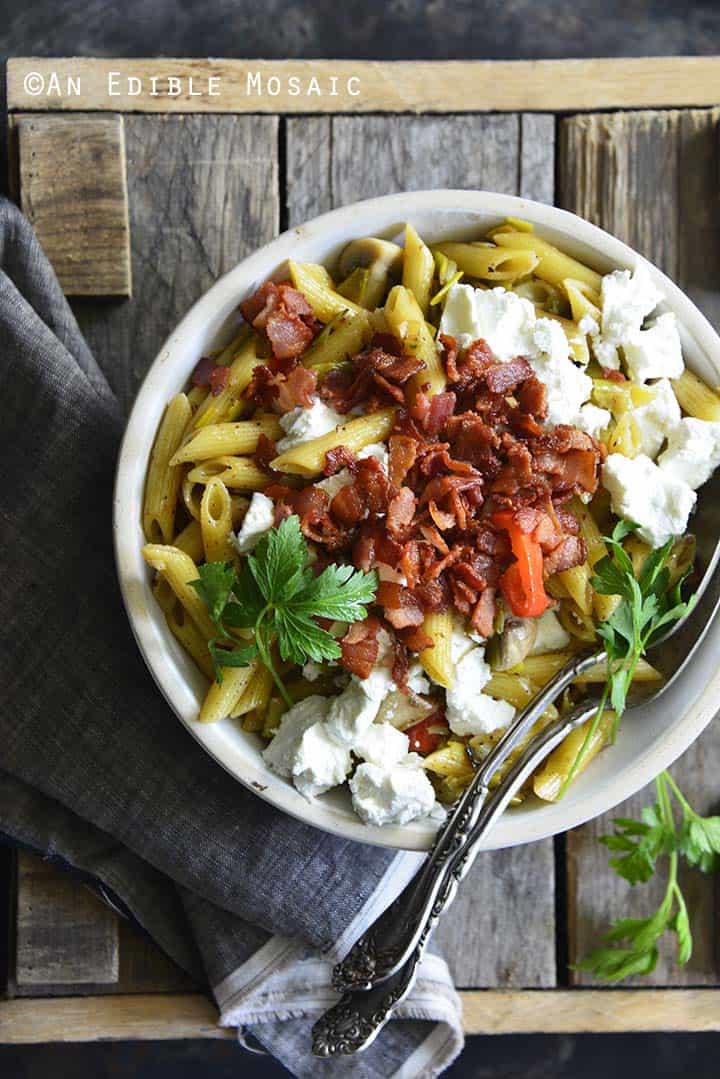 I don't eat pasta often, but if I'm going to eat pasta salad, this is the one I would choose. Bacon, leek, button mushrooms, red bell pepper, and garlic provide the base flavors, and al dente pasta and dry white wine are added and allowed to cook so the flavors can marry and the wine can reduce. Served with crumbled goat cheese on top, it looks pretty elegant.
Make Ahead:
Wait to add the crumbled goat cheese on top until just before serving. This salad can be reheated to serve it warm, or served at room temperature.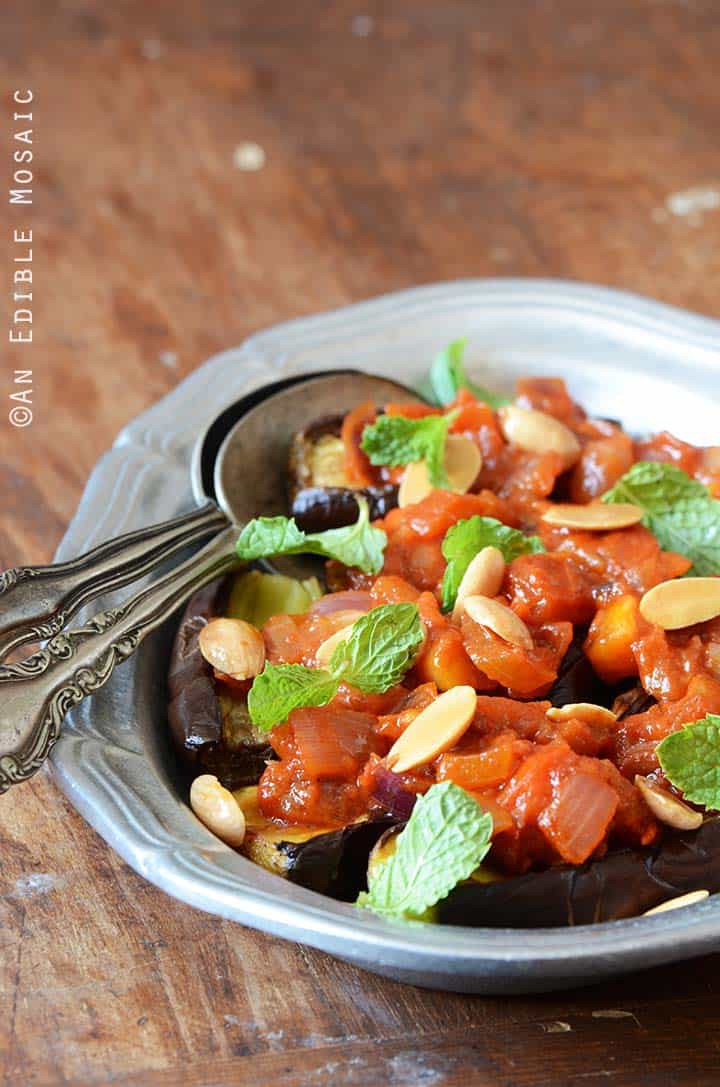 This simple dish features oven-roasted eggplant, but in the throes of summer's heat you can grill the eggplant instead (bonus, it adds a lovely subtle smokiness). Most of the flavor in this dish comes from an easy tomato compote. Toasted almonds and fresh mint complete the dish.
Make Ahead:
This dish can be served warm or at room temperature. The various components can be made up to 3 days ahead and stored separately in the fridge, and then assembled right before serving. To reheat the eggplant before serving, you can briefly throw it on a hot grill, in a hot oven, or in a skillet on the stovetop. Reheat the tomato compote in a saucepan on the stovetop or in the microwave.
If you want to get your greens in, this is the salad to do it! Roasted zucchini adds great flavor, kale is perfect because it doesn't wilt as easily as other greens, and green peas add little bursts of natural sweetness. There are a few other green things thrown in the mix to keep things lively. I'm telling you, if you have people who say they "aren't a salad person", let them try this one!
Make Ahead:
You can roast the zucchini and mix the kale with its vinaigrette up to a day in advance (store them separately in the fridge). Right before you want to serve, assemble the salad and serve along with the creamy za'atar dressing to drizzle on top.
Spanakopita is a savory Greek pastry usually made from spinach and phyllo dough. I made a potato salad spin-off of that that; potatoes are lightly dressed in a lemon, olive oil, and garlic-based dressing. Toasted pine nuts and crumbled feta add a couple classic spanakopita components, and fresh dill takes it to the next level.
Make Ahead:
Wait to stir in the dill and top with the feta and pine nuts until right before serving.
Growing up in the Northeast, every single summer gathering involved Boston Baked Beans. They were a specialty of both my grandfather and my mom, and everyone always went crazy for them. If you're familiar with Boston Baked Beans, you know how long they usually take to make; it's at least a day-long affair. The other thing is, most recipes feed an army (with enough for leftovers). My version is different in a few ways: 1) it's scaled down to feed just 6 (but it's easy to double if you're feeding a crowd), 2) it cooks up in mere 2 hours 30 minutes instead of taking all day, 3) it's vegan (but still has great depth of flavor thanks to a couple secret ingredients), and 4) it has quite a bit less sugar than a lot of classic recipes (because it really doesn't need more to have great, balanced flavor). Paired with literally anything you can pull off the grill – hot dogs, burgers, steak, or chicken – this is the quintessential summer side dish.
Make Ahead:
No modifications needed!
This green bean-based salad is a fun twist on a classic slaw! The dressing is a sweet and tangy combination of fresh lemon, olive oil, and honey, and the pièce de résistance is fresh cherries. Full of color, textures, and sweet/savory flavor, I could eat this salad as-is for lunch.
Make Ahead:
You're good to go, no modifications required!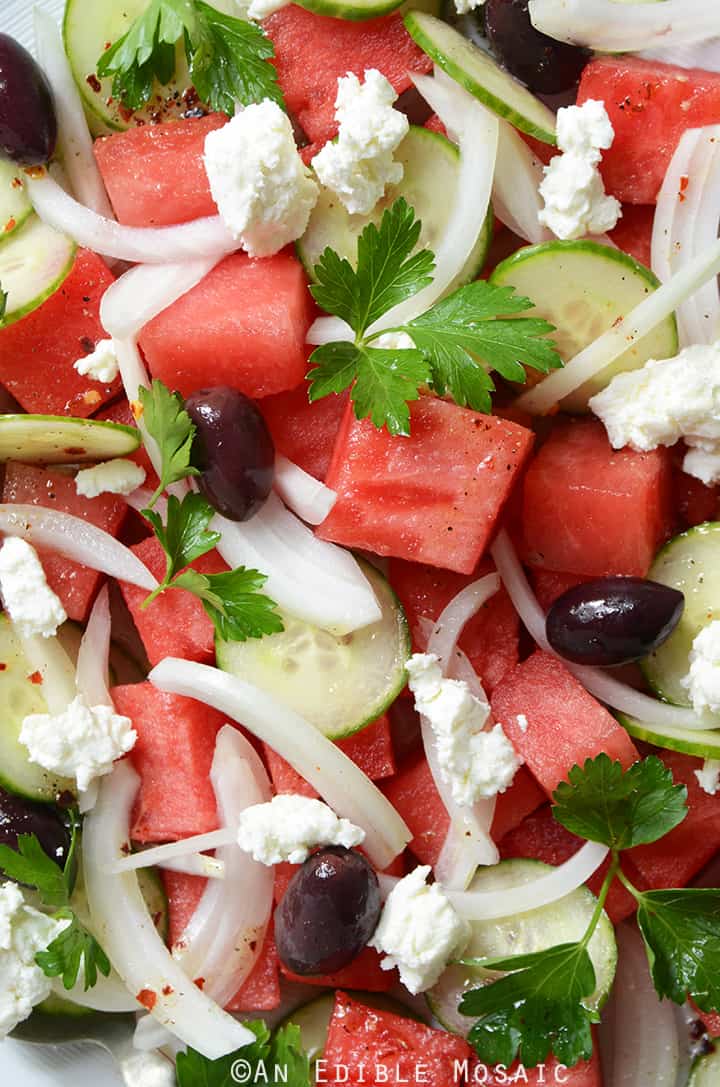 If you've never tried watermelon in a savory salad, you're in for a real treat. Here the sweetness of watermelon is balanced with the saltiness of goat cheese and olives and a hint of spice in a quick vinaigrette featuring both honey and crushed red pepper flakes.
Make Ahead:
You can make this salad up to 2 hours ahead (adding everything except the cheese), and keep it refrigerated until serving. Right before serving, sprinkle the cheese on top.
Other Delicious Summer Side Dish Inspiration: