Here are over 15 of the best easy summer side dishes that are perfect for your next BBQ, potluck, picnic, or even just a summer weeknight meal!
If you're looking for fresh new ideas for summer side dishes, this post is for you. These easy summer side dishes are great for quick weeknight family dinners at home, or for family reunions, parties, and potlucks. No matter what meat you're grilling or protein you're serving up, there's sure to be a variety of side dishes to go along with it and I have you covered.
I have a couple classic side dishes that I make for just about every summer gathering, but I usually like to try a couple new things as well. Side dishes are the fun part of the meal!
In this article you'll find recipes for everything from potato salad to pasta salad, and green salad to coleslaw. And let's not forget corn on the cob, baked beans, and fruit salad! There's inspiration from cuisines around the world with dishes like Russian Potato Salad and Mediterranean Bean Salad.
Additionally, many of these summer side dishes are special diet-friendly. You'll find gluten free recipes, as well as side dishes that are vegan, low carb, and keto. And a lot of these recipes can be made ahead of time so they're ready and waiting for you!
Do you have a go-to summer side dish recipe that your friends and family ask you to bring to every gathering? Feel free to share in the comments below.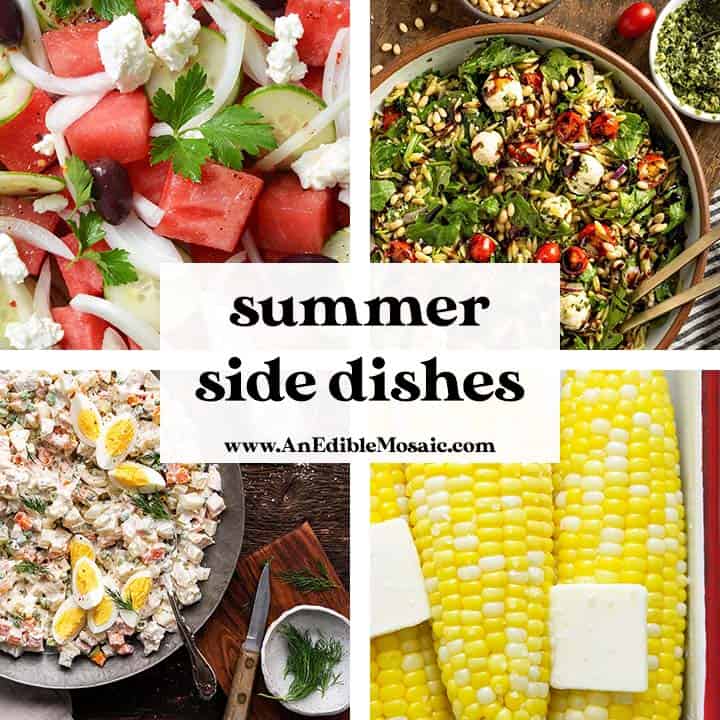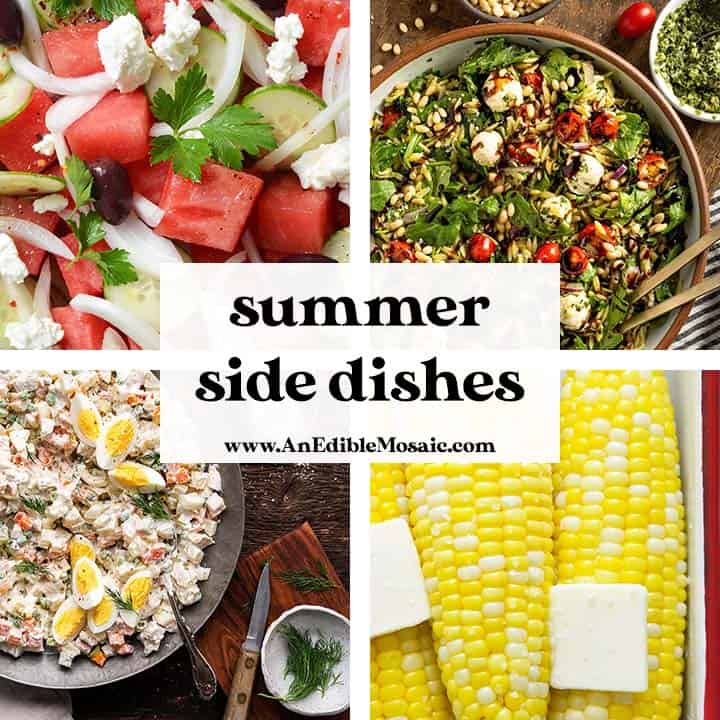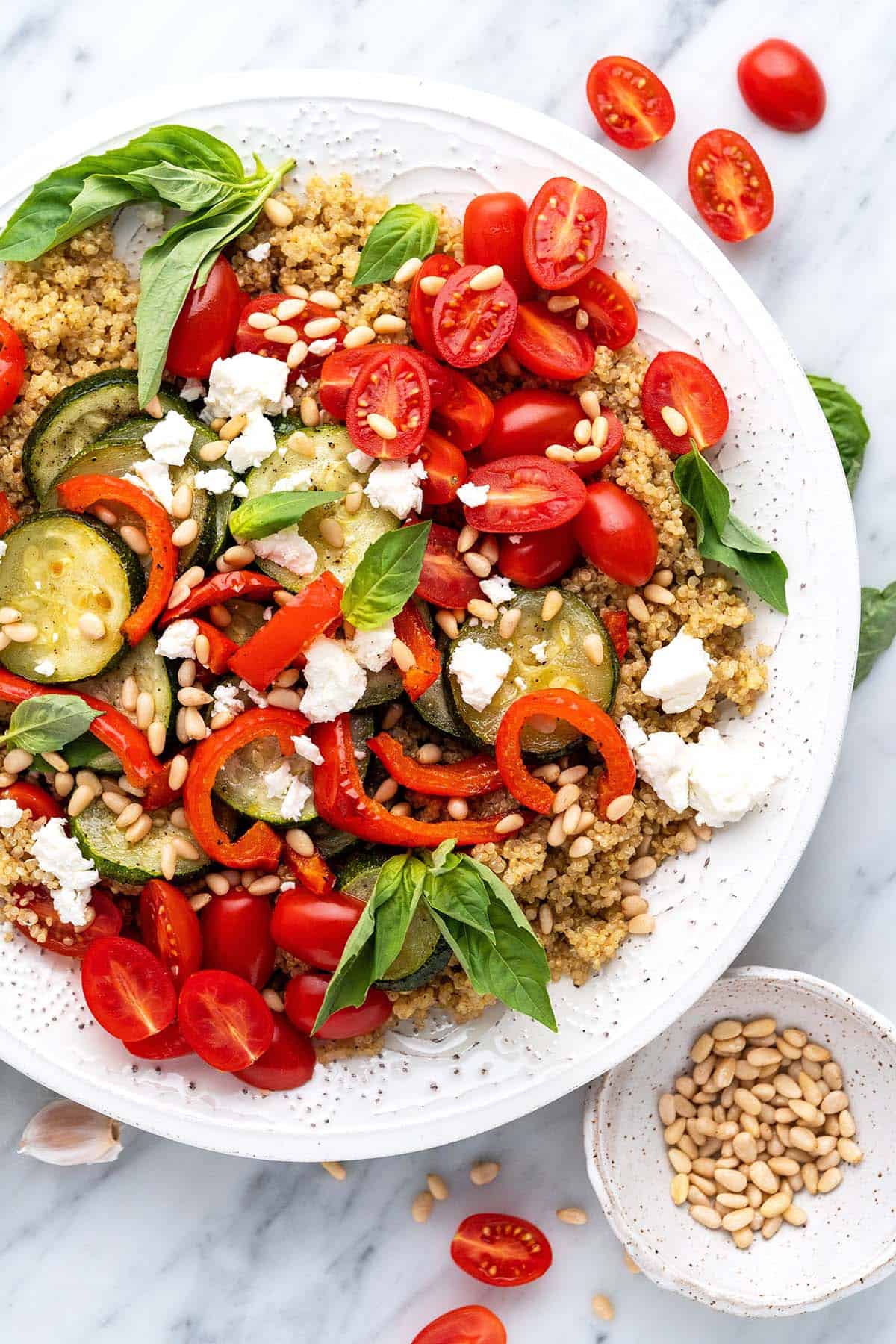 This salad is nutrient-dense and satisfying enough to stand alone as a main dish. Quinoa bumps up the protein and it's full of flavor thanks to sundried tomato vinaigrette, feta, pine nuts, and fresh basil.
Pro Tip: Make a double batch of the sundried tomato vinaigrette because it even makes regular salad greens feel special.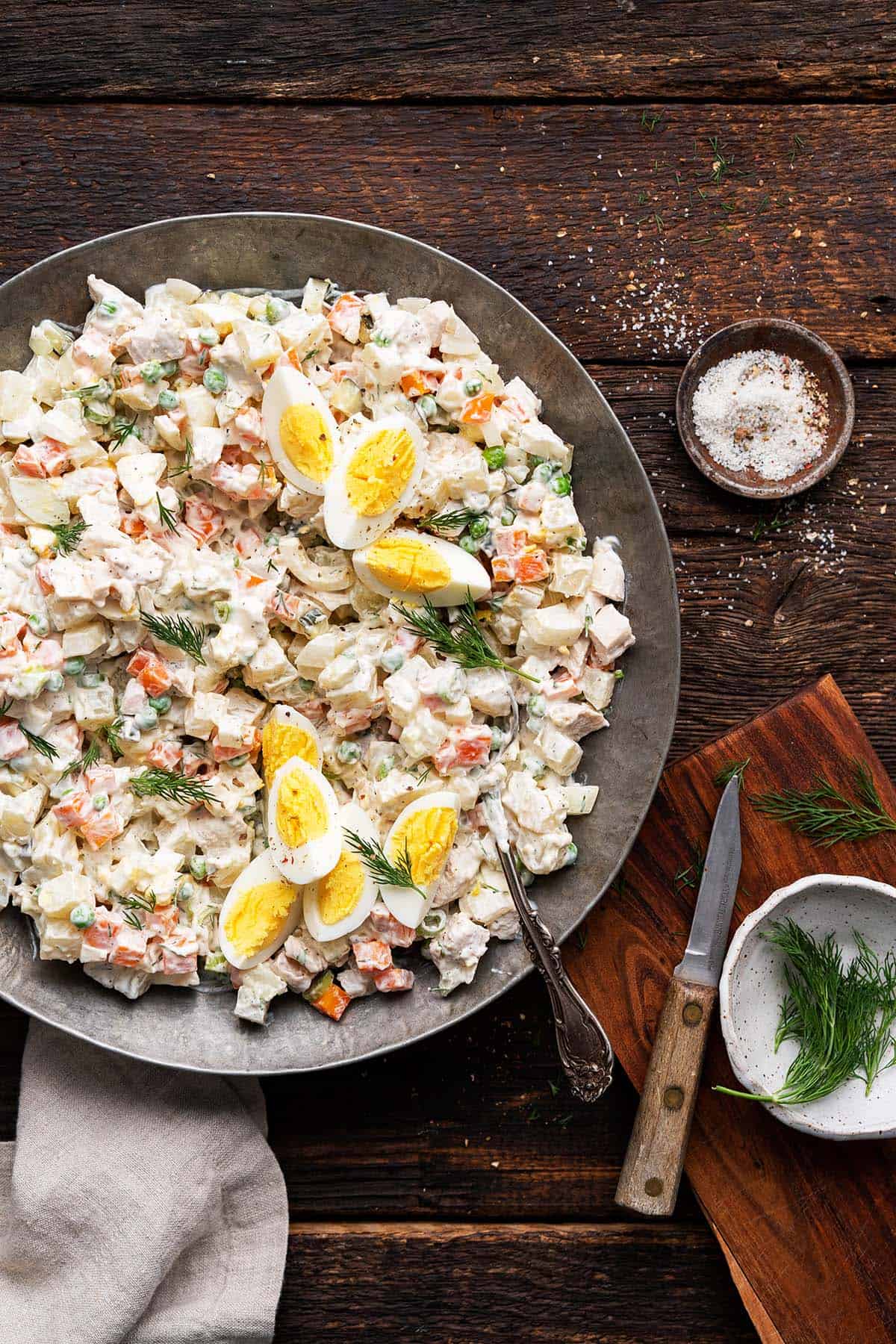 This is the potato salad that everyone will ask you for the recipe for! With a creamy herb dressing, tender potatoes, carrots, peas, hard-boiled eggs, tangy pickles, and sweet onion, it's a perfect harmony of flavors and textures.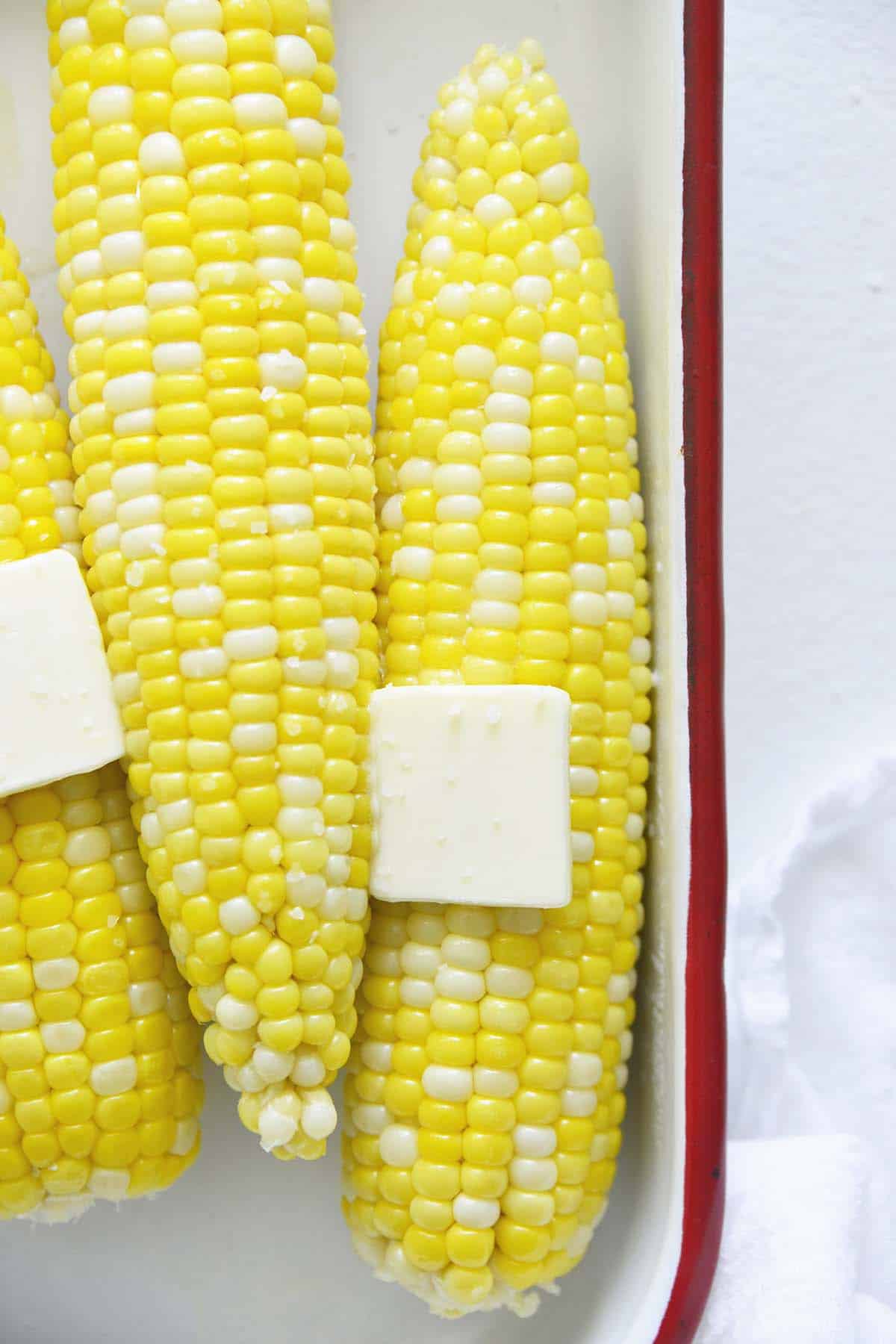 This staple summer side dish couldn't be easier to make. And corn comes out juicy and flavorful every single time when you cook it in the microwave (and bonus, there's virtually no cleanup)! Top it with butter and a sprinkle of salt and you have summertime perfection.
These simple marinated heirloom tomatoes capture the flavor of summer. Garden fresh tomatoes soak in a bright, bold marinade of olive oil, vinegar, fresh garlic, and oregano. These flavorful tomatoes make a great salad or sandwich topping that looks beautiful and tastes even better!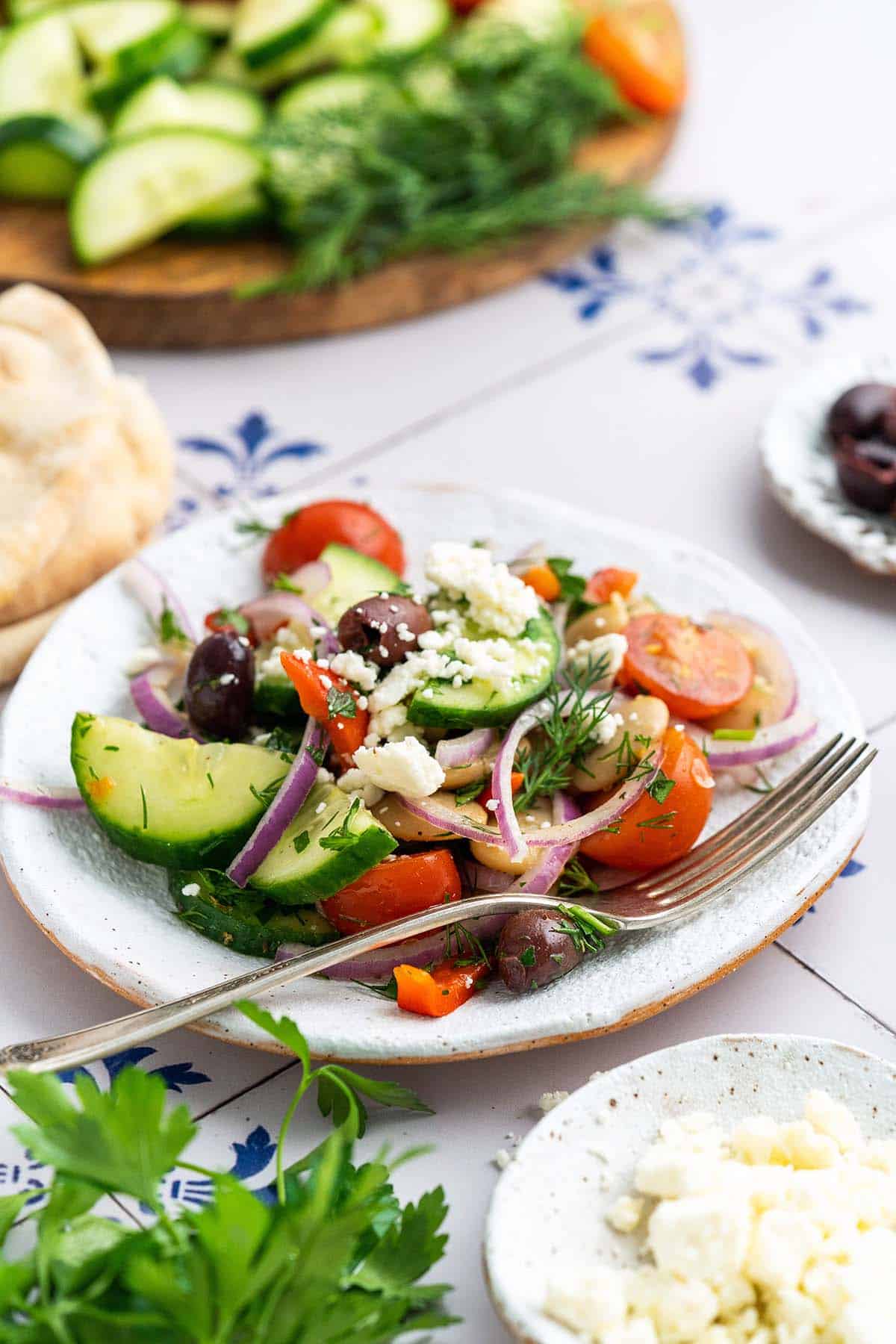 I love bean and lentil-based salads for summer gatherings. They're full of nutrition, and unlike leafy green salads, bean salads don't get soggy as they sit. This salad is full of bold flavors like garlic, dill, lemon, and feta that brighten up the flavor of canned beans.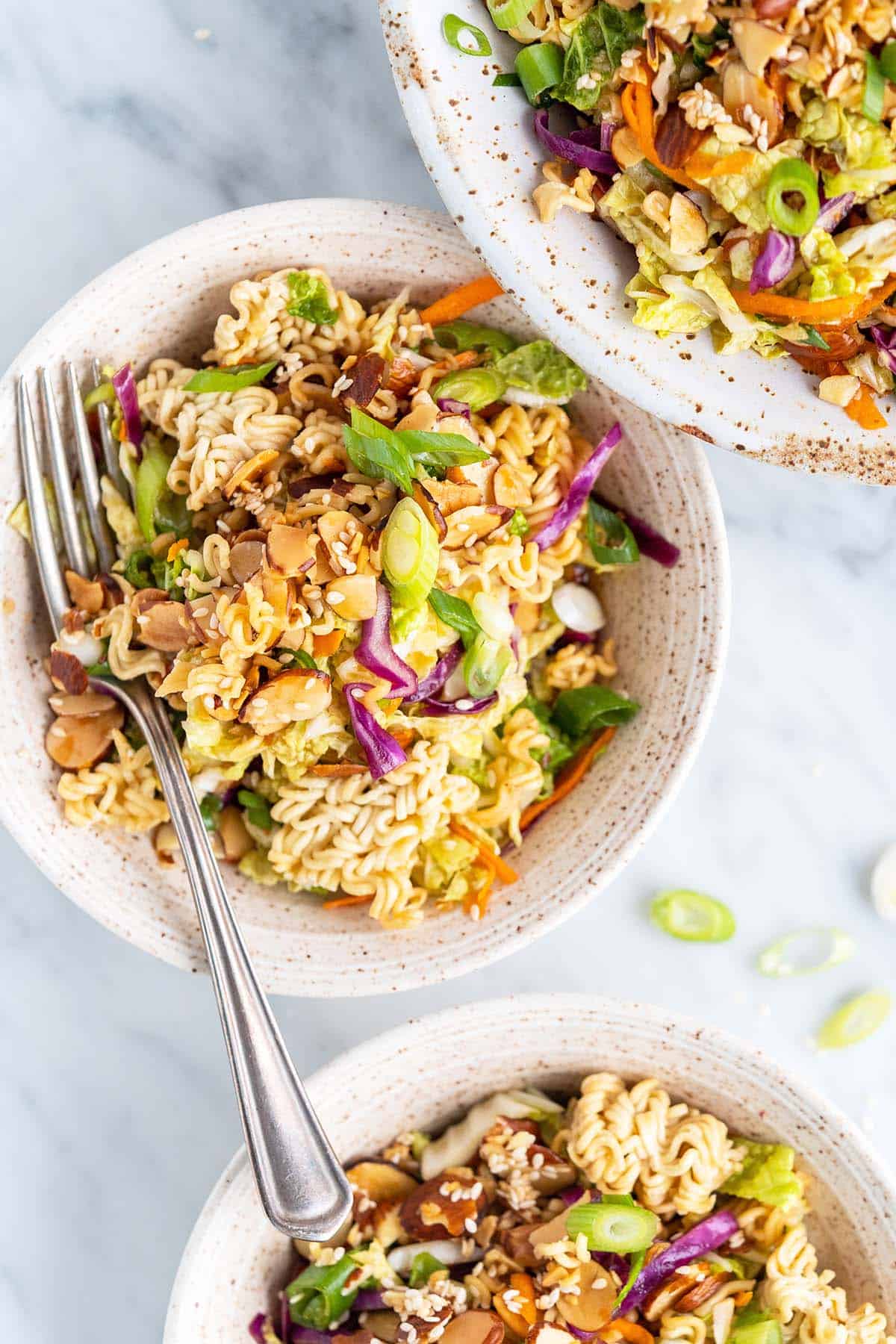 Toasted ramen noodles, crunchy nuts, two kinds of cabbage, and a sweet and savory dressing make this salad something truly special. When I bring this dish to a potluck, without a doubt it's the one thing that disappears first off the buffet table!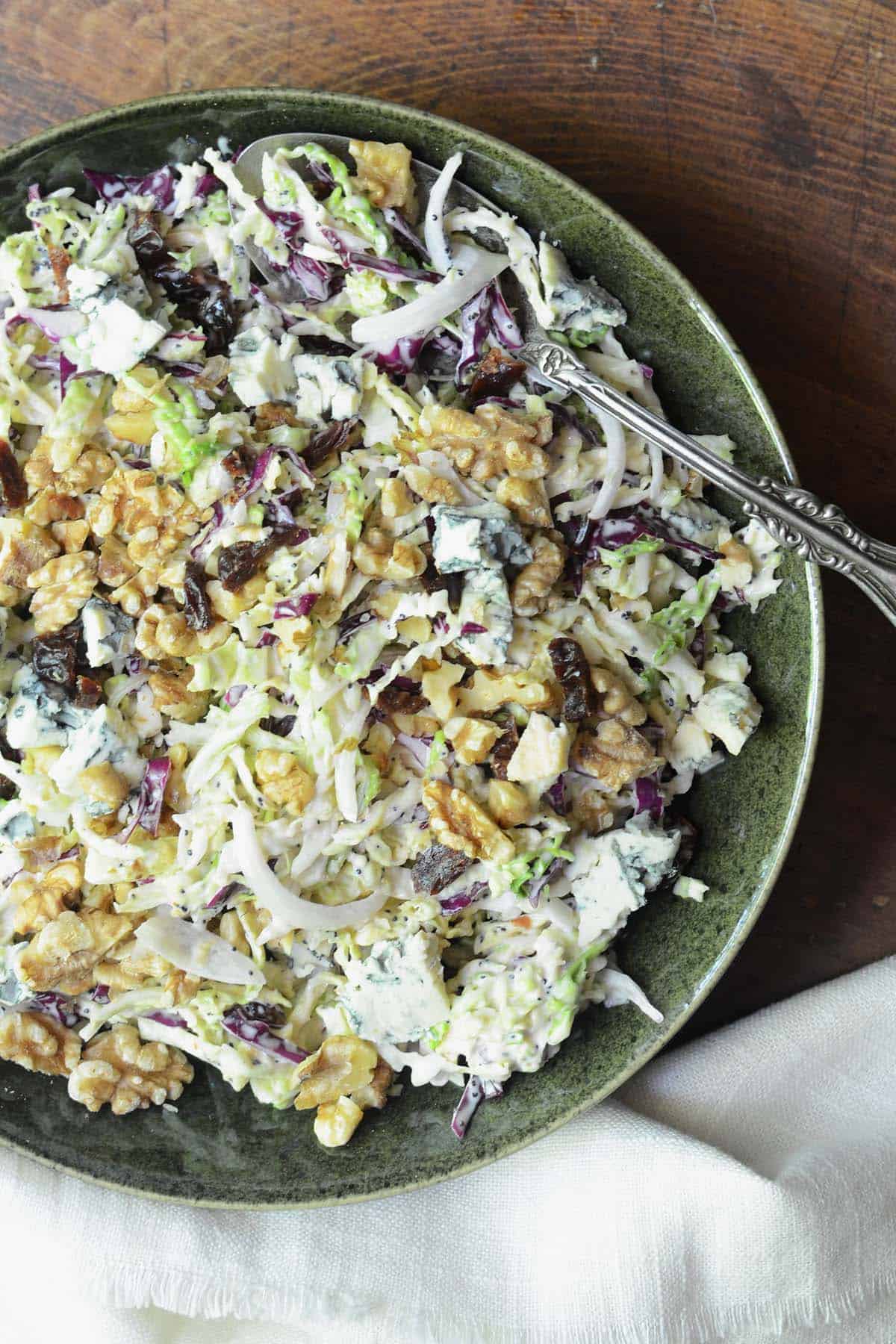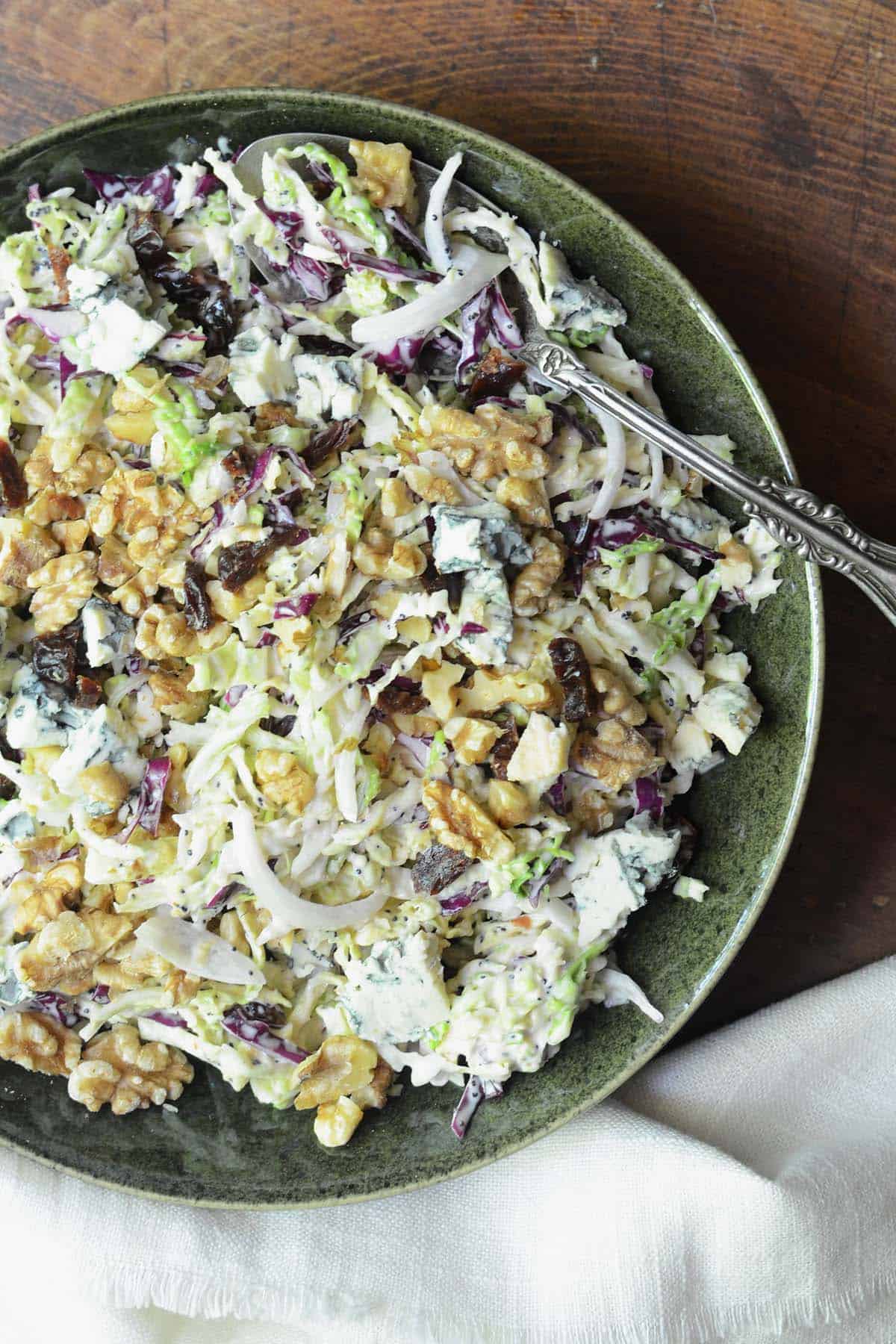 This summer salad is a prime example of how looks can be deceiving. It doesn't look like anything special, but dare I say I think it might be the best slaw-type salad of my life!
When I want coleslaw, this is my go-to. It features a creamy dressing that isn't heavy; mayo is balanced with apple cider vinegar, honey, and Dijon mustard. Two kinds of cabbage, dried tart cherries, a little onion, toasted walnuts, and crumbled blue cheese round out the dish, giving it a very balanced flavor profile.
This fancy slaw pairs really well with grilled steak or chicken. And the next time you're throwing burgers on the grill, elevate the whole meal by serving them up with this salad.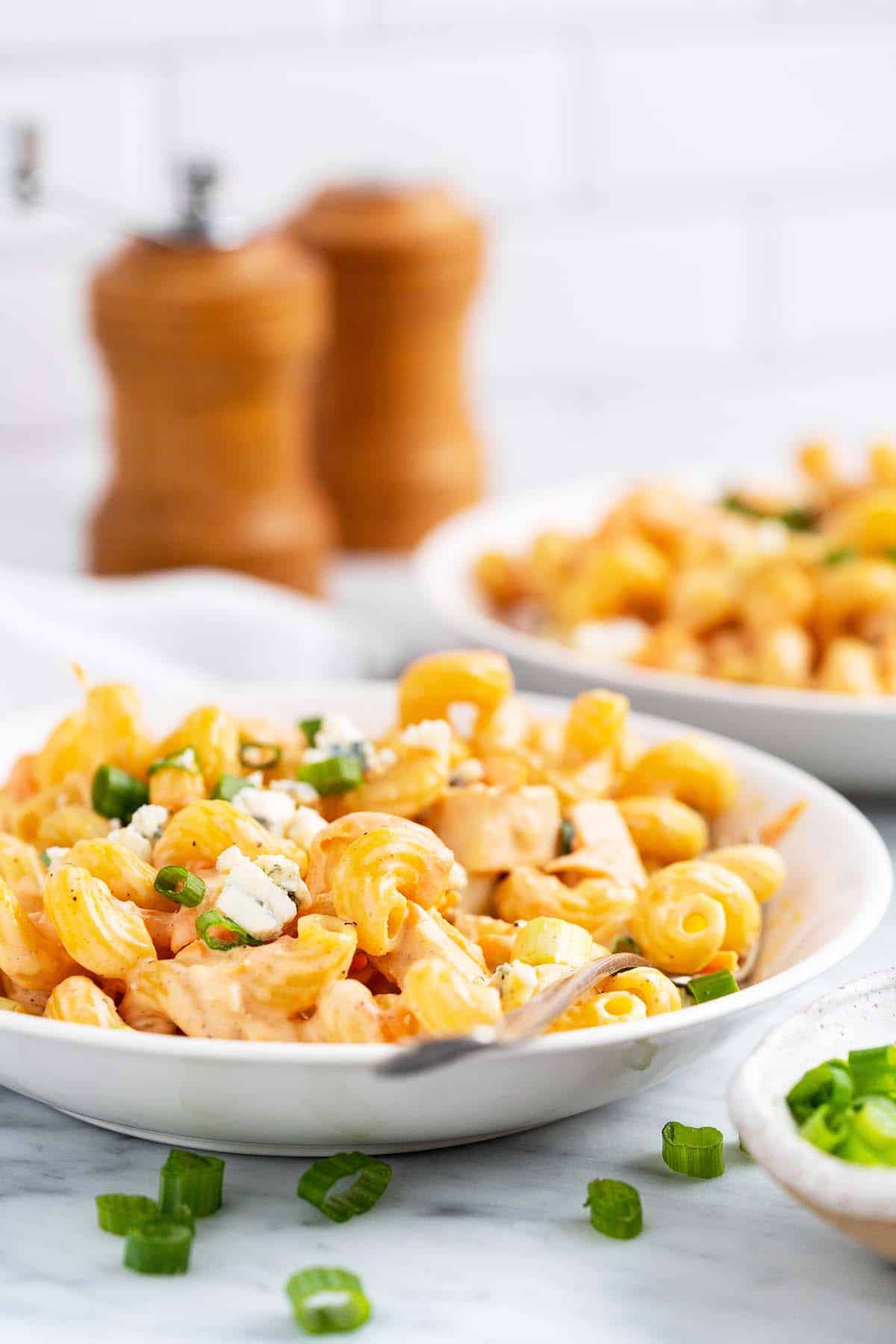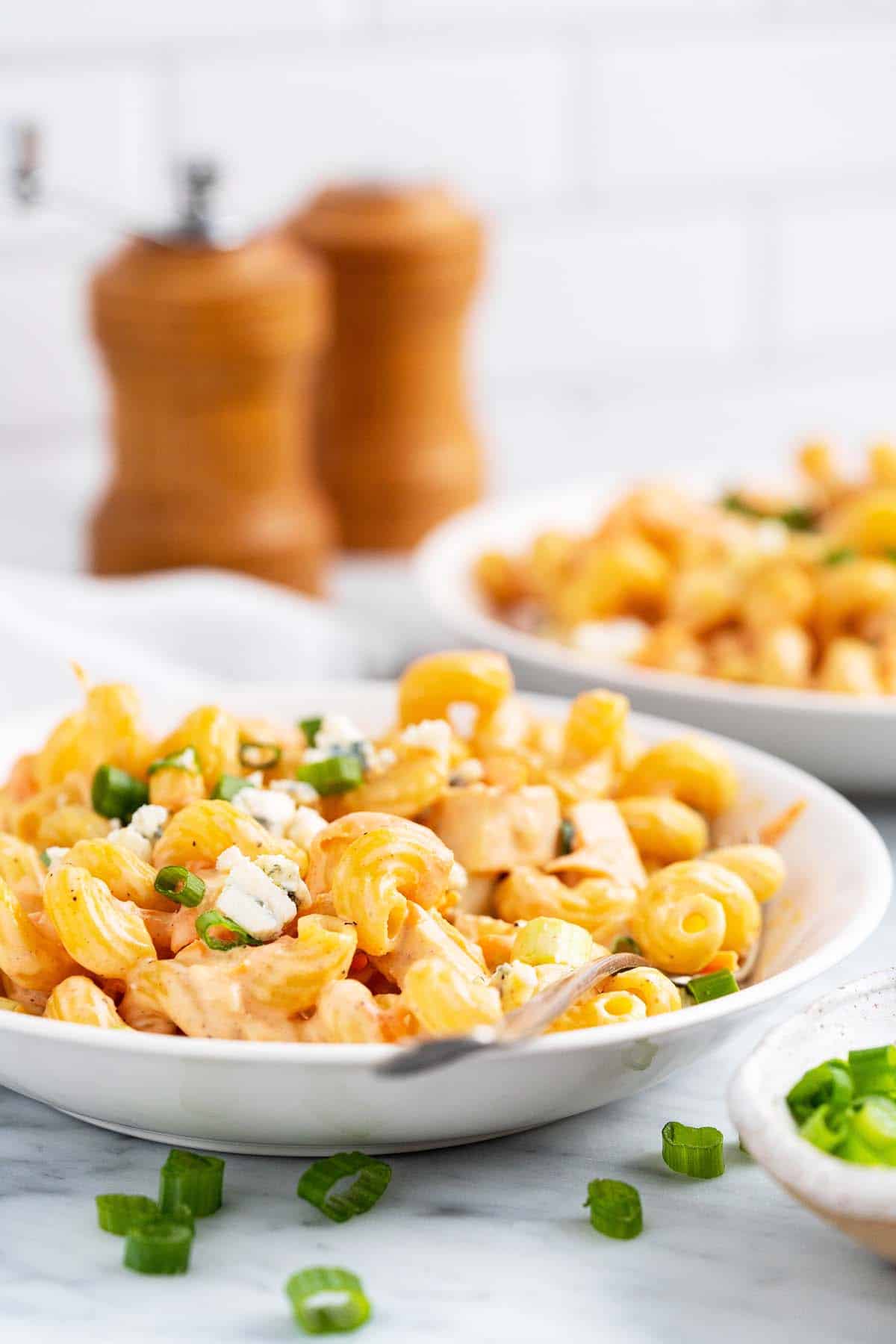 Here we combine chopped rotisserie chicken with pasta, celery, carrot, scallion, and blue cheese with a creamy, zippy sauce. Feel free to make this pasta salad a day or two ahead because the best part is that this crowd-pleasing summer side dish is even better the next day!
Broccoli salad is the perfect choice if you want a veggie-heavy side dish that doesn't taste like you're just sitting down to a bowl of vegetables! With a creamy, flavor-packed dressing, crispy bacon, nutty pepitas, savory cheddar cheese, a touch of red onion, and loads of broccoli, this salad has it all. And it's naturally gluten free, low carb, and keto!
For those of us who crave pasta, but don't want the carbs that go along with pasta, this salad is perfect. A variety of veggies – roasted asparagus, fresh cherry tomatoes, celery, and red onion – stand in for pasta. (I think they're more exciting than pasta anyway!)
And let's not forget the cheese, pepperoni, banana peppers, and quick homemade Italian-inspired dressing to really help this salad pack a punch of flavor!
This no-fuss chimichurri potato salad has no mayonnaise and is full of fresh herbs and garlic with a little bit of heat from the red pepper. It's an easy to prepare side dish that is perfectly delicious warm, cool, or at room temperature!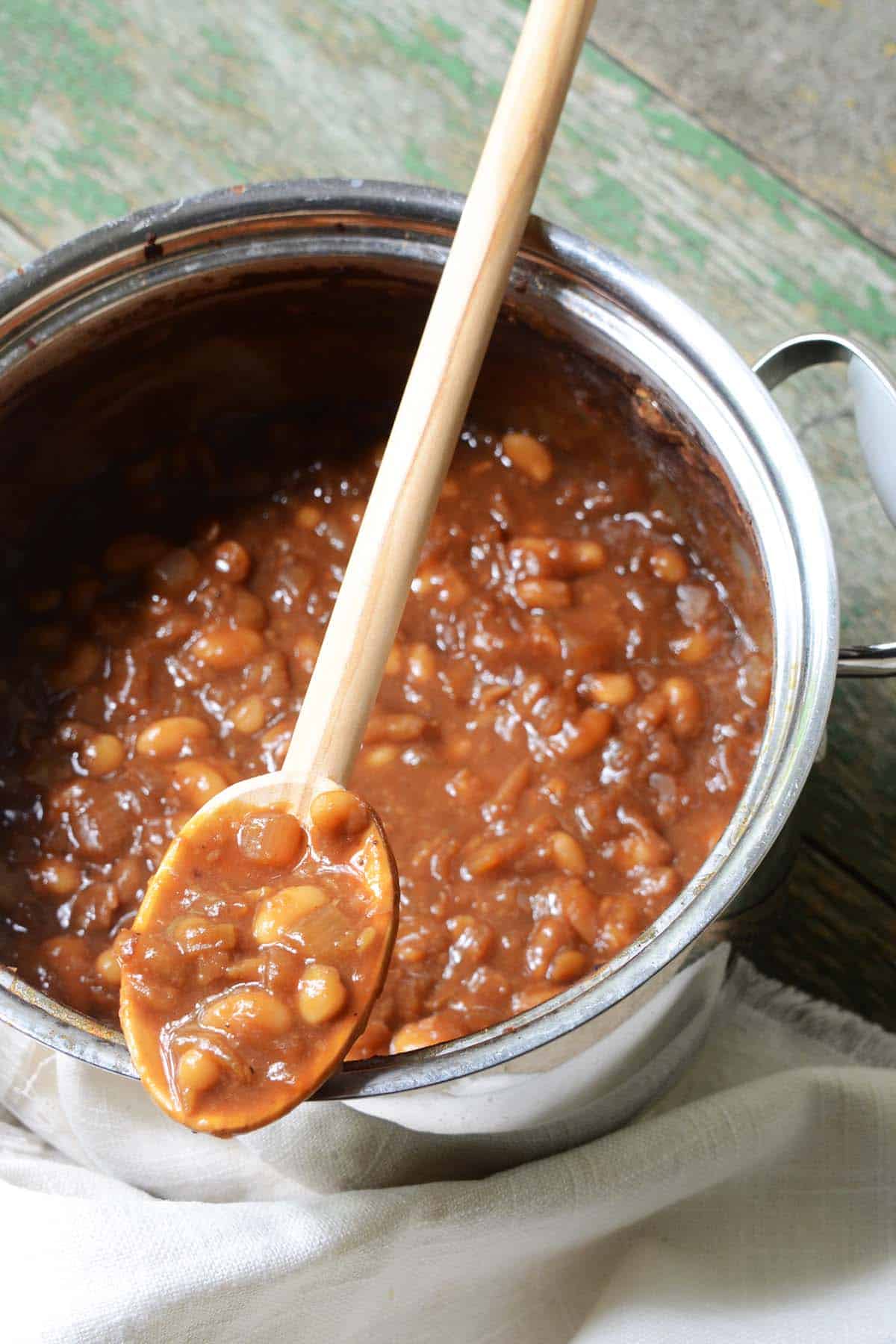 Growing up in the Northeast, every single summer gathering involved Boston Baked Beans. They were a specialty of both my grandfather and my mom, and everyone always went crazy for them.
If you're familiar with Boston Baked Beans, you know how long they usually take to make. It's at least a day-long affair! The other thing is, most recipes feed an army (with enough for leftovers).
My version is different in a few ways:
It's scaled down to feed just 6 (but it's easy to double if you're feeding a crowd).
It cooks up in mere 2 hours 30 minutes instead of taking all day.
It's vegan (but still has great depth of flavor thanks to a couple secret ingredients.
It has quite a bit less sugar than a lot of classic recipes. (Because it really doesn't need more sugar to have great, balanced flavor!)
Paired with literally anything you can pull off the grill – hot dogs, burgers, steak, or chicken – this is the quintessential summer side dish.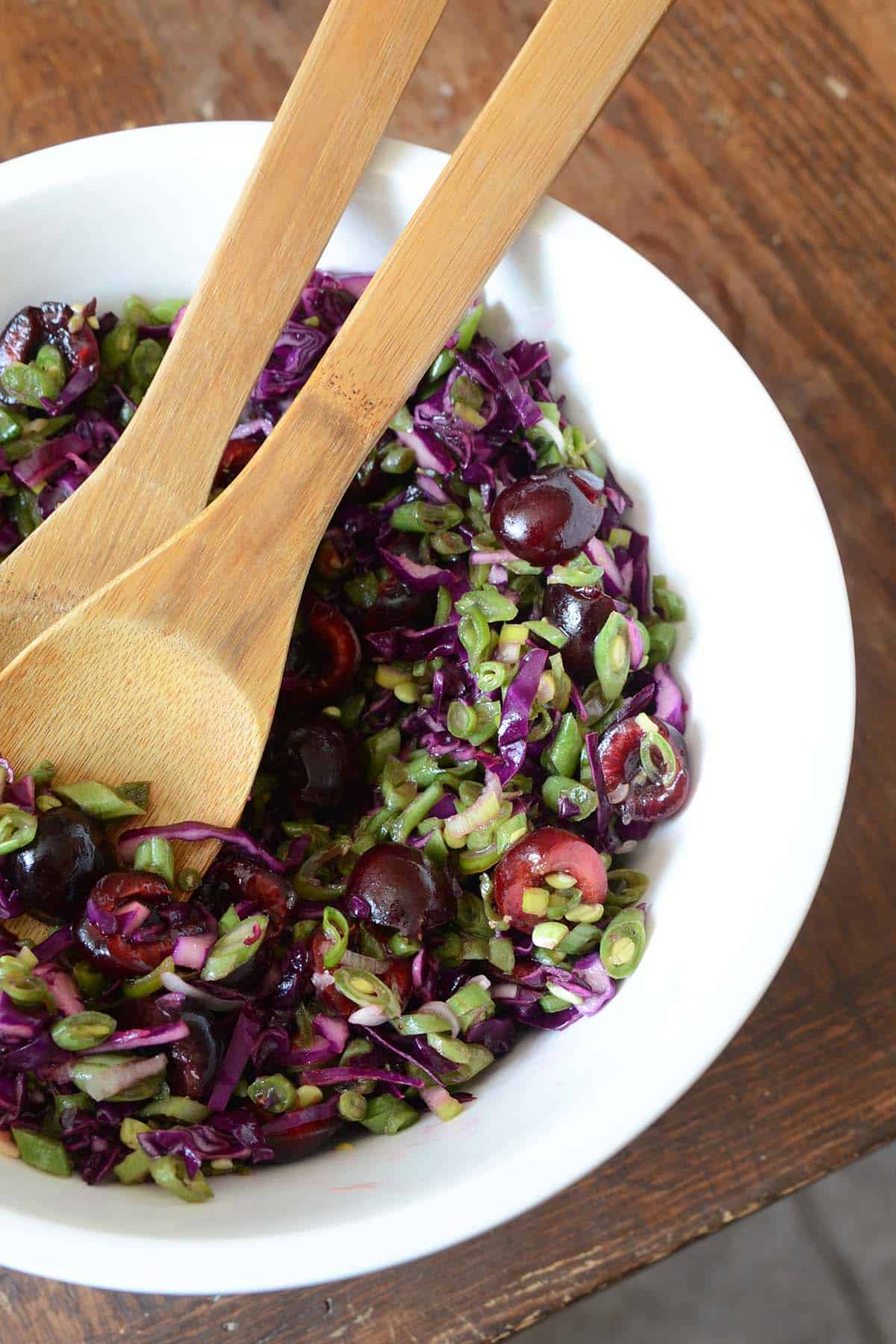 This paleo green bean-based salad is a fun twist on a classic slaw! The dressing is a sweet and tangy combination of fresh lemon, olive oil, and honey, and the pièce de résistance is fresh cherries. Full of color, textures, and sweet/savory flavor, I also like to eat this salad as-is for lunch.
The rich, velvety dressing for this easy salad is a mixture of yogurt and mayo, so it's lighter than most without sacrificing creamy texture. Garlic, dill, goat cheese (or feta cheese), and fresh herbs elevate the flavor of the humble cucumber into an easy dish that's truly special.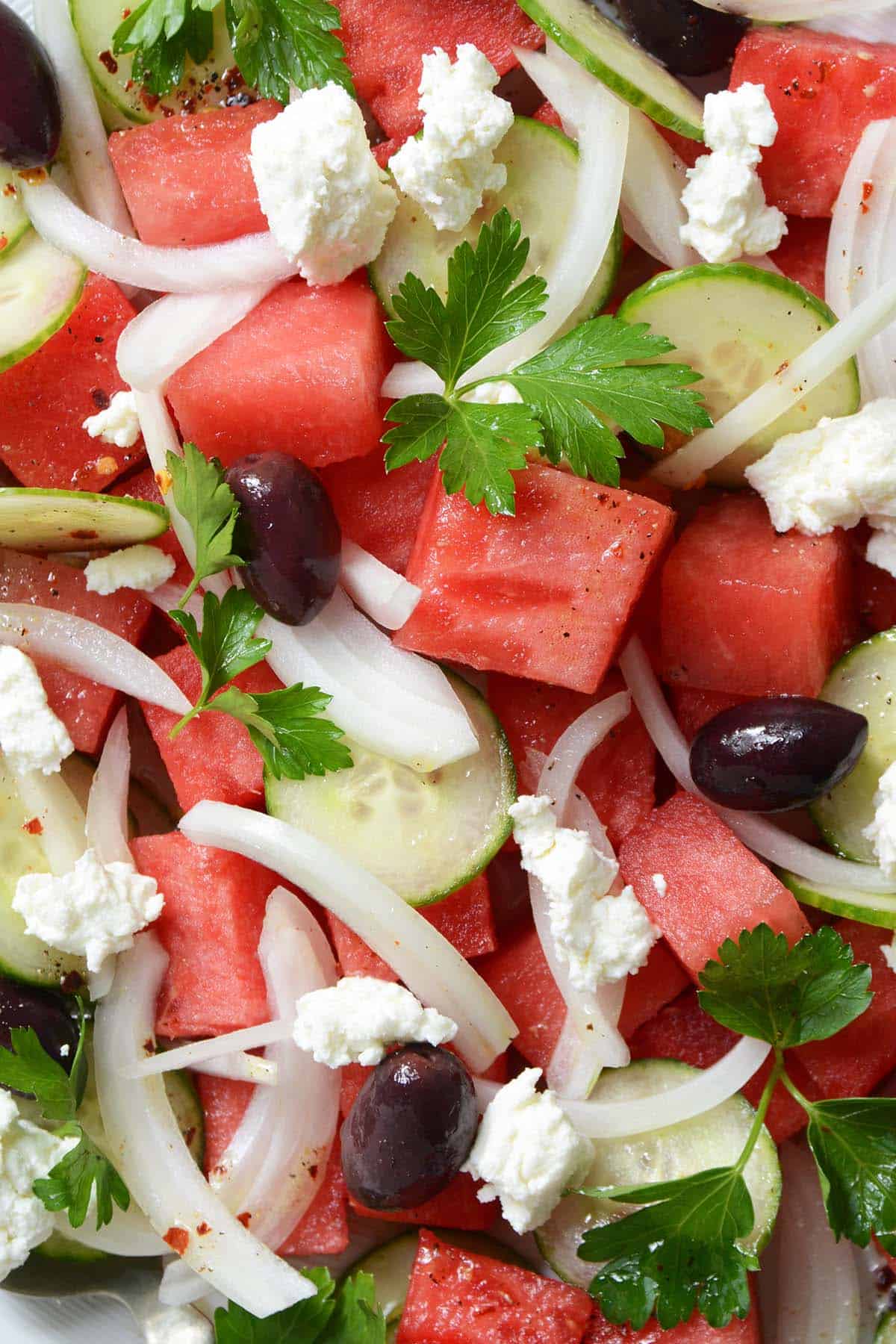 If you've never tried watermelon in a savory salad, you're in for a real treat. Here the sweetness of watermelon is balanced with the saltiness of goat cheese and olives, and a hint of spice in a quick vinaigrette featuring both honey and crushed red pepper flakes.
You can make this salad up to 2 hours ahead (adding everything except the cheese), and keep it refrigerated until serving. Right before serving, sprinkle the cheese on top.
Caprese inspired pasta salad features fresh summer tomatoes, bright basil, creamy mozzarella, zippy pesto, and a tangy balsamic glaze. This makes a great summer lunch, side dish, or potluck dish-to-pass.
Summer Potluck Desserts
I couldn't resist including just a couple of my favorite summertime desserts in this list of summer side dishes! Any of these sweet treats would be the perfect option to bring to a summer BBQ or potluck:
Nana's Pineapple Delight (Pineapple Bars Recipe) - This is an heirloom recipe passed down to me from my dad's mom. My Nana made these delicious frosting-topped fruity bars in a flaky crust for every summertime family gathering!
The Best Chewy Brownies - Because we all need a go-to recipe for amazing brownies this side of a box mix, right? And no one I know can resist a brownie on a dessert buffet table.
Funfetti Cookies - These are really, really good sugar cookies and you can deck them out with whatever type of sprinkles you fancy (red, white, and blue for the 4th of July!).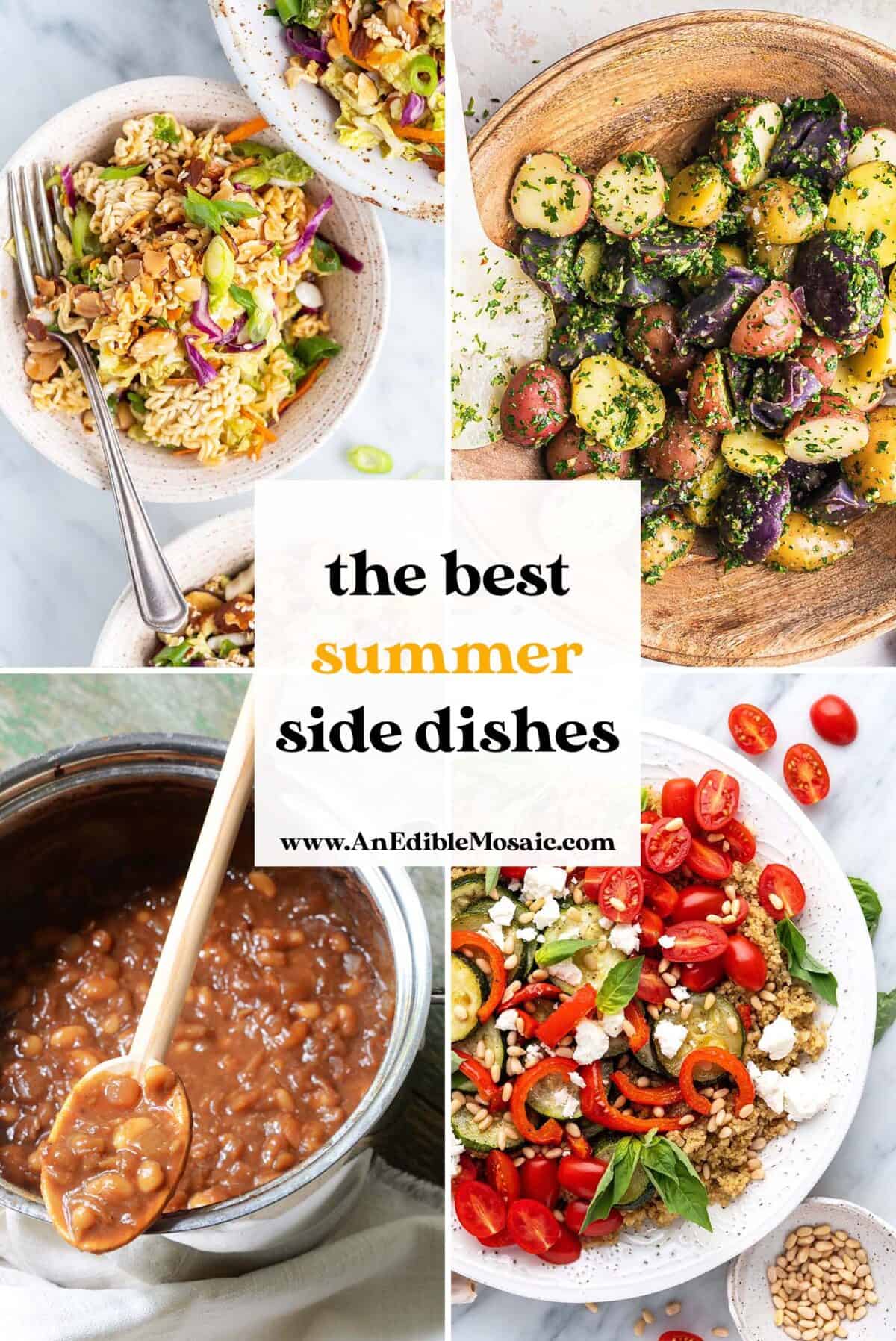 Let's Connect


Did you enjoy this post? Please let me know in the comments below. You can also tag @anediblemosaic on social media.
To stay up-to-date, follow me on Facebook, Instagram, Pinterest, and Twitter!
This post was first published on An Edible Mosaic on May 21, 2018. I updated it with more information on July 12, 2023.