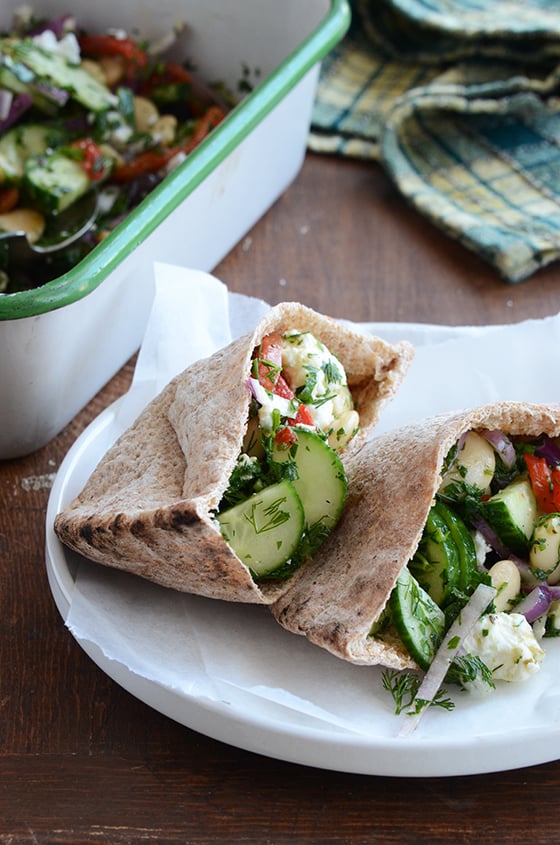 I'm a big fan of bold flavors.
Raw onion.
Fresh dill.
Kalamata olives.
Feta.
Garlic (although that's not in this recipe).
Which means I have to carry around a travel-sized toothbrush and matching miniature tube of toothpaste. (Wait, what? You mean your purse isn't likewise equipped?)
The alternative would be to steer clear of aforesaid flavors, and that I just cannot do. (Although, admittedly, I think this is a little weird because I avoid spicy-hot flavor like it's the plague, even though it's also bold; anyway, back to topic.)
Or I could just avoid talking to people after eating bold flavors. But that isn't always an option. And besides, I like to freshen up (so to speak) for myself after eating these foods.
Maybe the best idea yet it to just eat bold-flavored dishes like this salad in the comfort of my own home where I can use my regular toothbrush, lol.
In all seriousness, this salad is fantastic; the bold flavors meld together perfectly for a very satisfying dish. I think it would be perfect for a summer potluck or a side dish for any number of things, like grilled chicken, steak, or even shrimp.
My favorite way to eat this salad though? Make a batch and eat it stuffed inside a whole wheat pita for lunch all week long.
Notice when you use bold-flavored ingredients, you don't need to use a ton of them; a mere 1/2 cup of feta and 1/4 cup of kalamata olives go into this salad. With these flavors, a little goes a long way and you can eat a bit less and still feel satisfied; basically, it's minimal effort cooking. In fact, kalamata olives are one of Cooking Light's Top 20 Ingredients for Quick Cooking.
Greek-Flavored Butter Bean Salad
Yield:
Serves 6 as a side dish or about 4 as lunch
Ingredients
Dressing:
3 tablespoons extra-virgin olive oil
2 tablespoons fresh lemon juice
½ teaspoon honey
½ teaspoon Dijon mustard
½ teaspoon dried oregano
¼ teaspoon salt
¼ teaspoon black pepper
Salad:
1 (16 oz/450 g) can butter beans (preferably no-salt-added), rinsed and drained
½ English cucumber (or 2 Persian cucumbers), halved and thinly sliced
½ medium red onion, thinly sliced
1 roasted red bell pepper, thinly sliced (homemade or store-bought)
½ cup (30 g) chopped fresh flat leaf parsley
¼ cup (15 g) chopped fresh dill
10 whole pitted kalamata olives (about ¼ cup/50 g)
½ cup (75 g) crumbled feta cheese
Instructions
Whisk together all ingredients for the dressing and set aside.
Combine all ingredients for the salad in a large bowl; stir in the dressing.
Serve or keep covered in the fridge until serving.