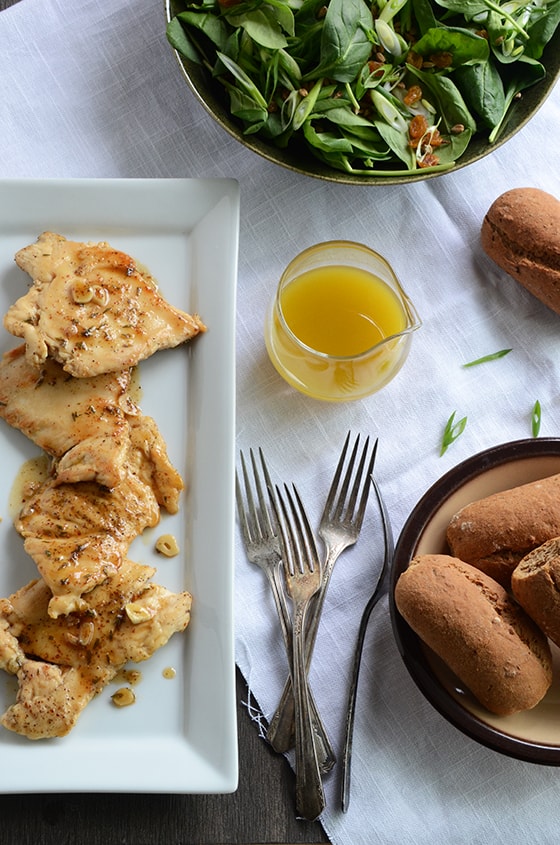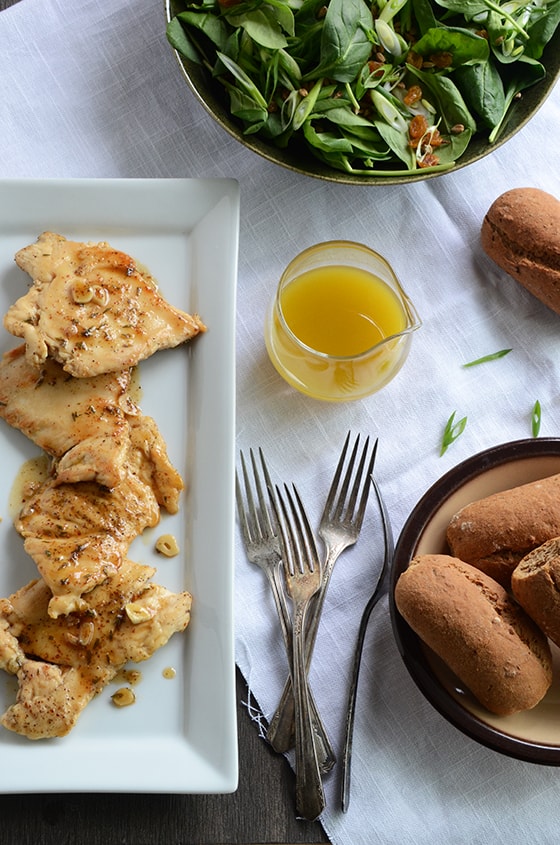 There's something about this meal (or maybe it's my photos of this meal) that screams '70's to me. (Which is a little weird since I wasn't even born yet in the '70's, but I think I'm remembering episodes of The Brady Brunch, which I used to watch like it was my job when I was growing up…I was convinced I was Jan and my younger sister was a combo of both Marcia and Cindy, lol.)
This meal reminds me of one of my favorite meals from that time of my life: my mom's Honey-Dijon Chicken. Maple stands in for honey here, and garlic and fresh herbs add dimension. My mom's dish used to take a while to cook since she used bone-in chicken; made with boneless, skinless chicken breast cutlets, this dish comes together in less than 15 minutes, making it perfect for weeknights.
Add a green salad and some crusty multigrain rolls to round out the meal and keep cooking time to a minimum.
Maple-Mustard Glazed Chicken
Prep time:
Cook time:
Total time:
Ingredients
2 teaspoons olive oil
4 (6 oz/170 g each, for a total of 1½ lbs or 680 g) chicken breast cutlets
¼ teaspoon salt
¼ teaspoon ground black pepper
¼ cup (65 ml) low-sodium chicken broth (or water)
¼ cup (65 ml) maple syrup
2 teaspoons chopped fresh thyme
2 medium garlic cloves, thinly sliced
1 tablespoon apple cider vinegar
1 tablespoon stone-ground mustard
Instructions
Heat a large skillet over medium-high heat; add the oil and swirl to coat. Season the chicken on both sides with the salt and pepper.
Add the chicken to the hot skillet and cook until browned and cooked through, about 4 minutes, flipping once. Transfer the chicken to a plate and set aside for now.
Add all remaining ingredients to the pan; bring to a boil, using a wooden spoon to scrape up any brown bits. Cook until the sauce is starting to thicken, about 4 minutes.
Add the chicken back to the pan and cook 2 minutes more until the chicken is warm and the liquid is syrupy.
Serve.