The flavor of this classic beet Borscht recipe is bright and complex, beautifully sweet and sour. The natural sweetness from beets and carrots balance a splash of vinegar added at the end. Beef makes it hearty and filling, and potato and hint of tomato paste add depth and thicken the broth slightly.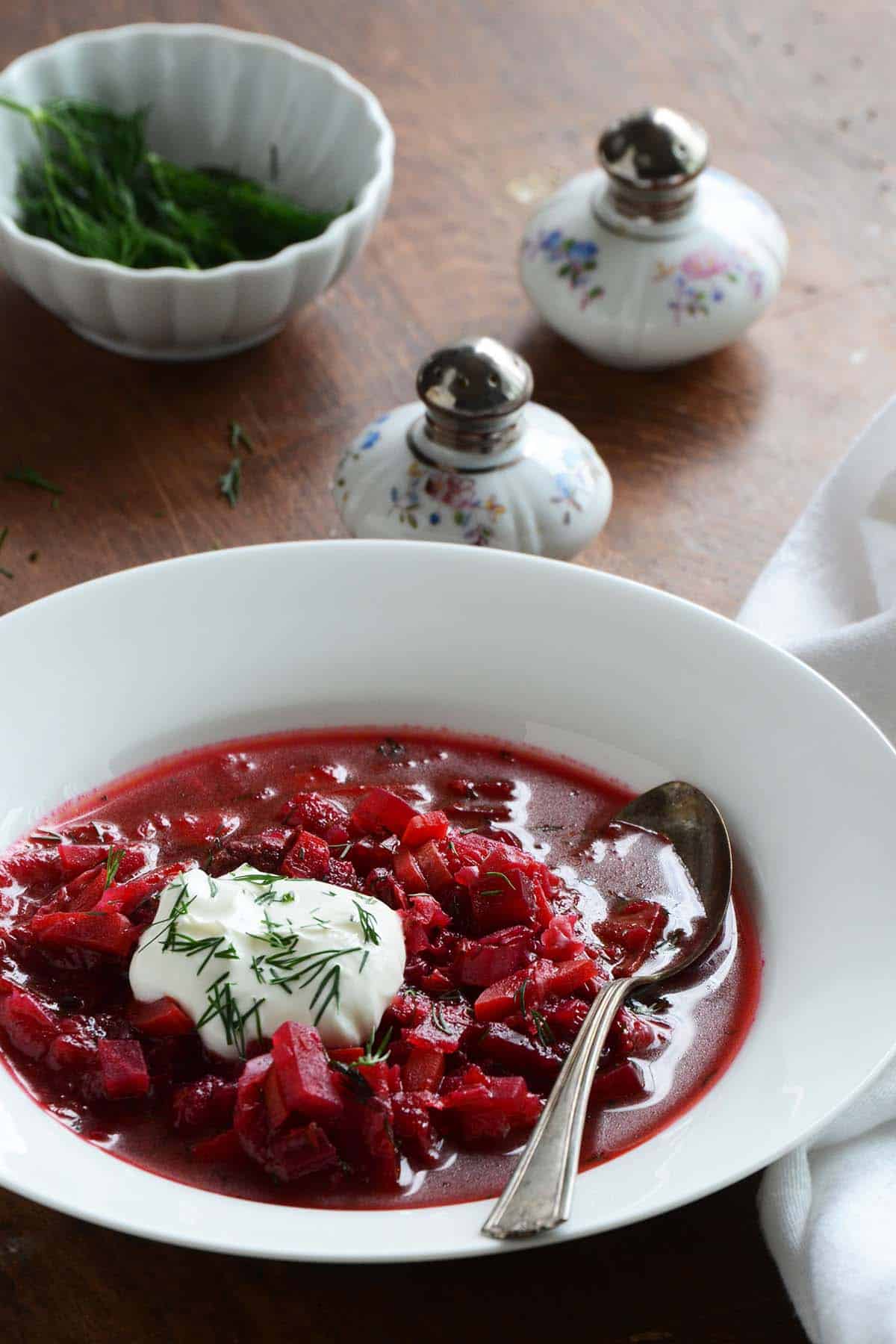 Until I made this soup, I have never had Borscht in my life, which is strange because my dad has Russian roots. But what's even stranger is that I had been craving this soup for a good month before I caved in and made it!
Me and beets go way back, so Borscht is a natural fit for me. I love how beets stain everything in this soup with their lovely deep red color. No matter what's in your spoonful, it looks like beets.
Of course the beets also stain your cutting board and your hands, but no matter, it doesn't last long. Wear it like a badge of honor for making this glorious soup.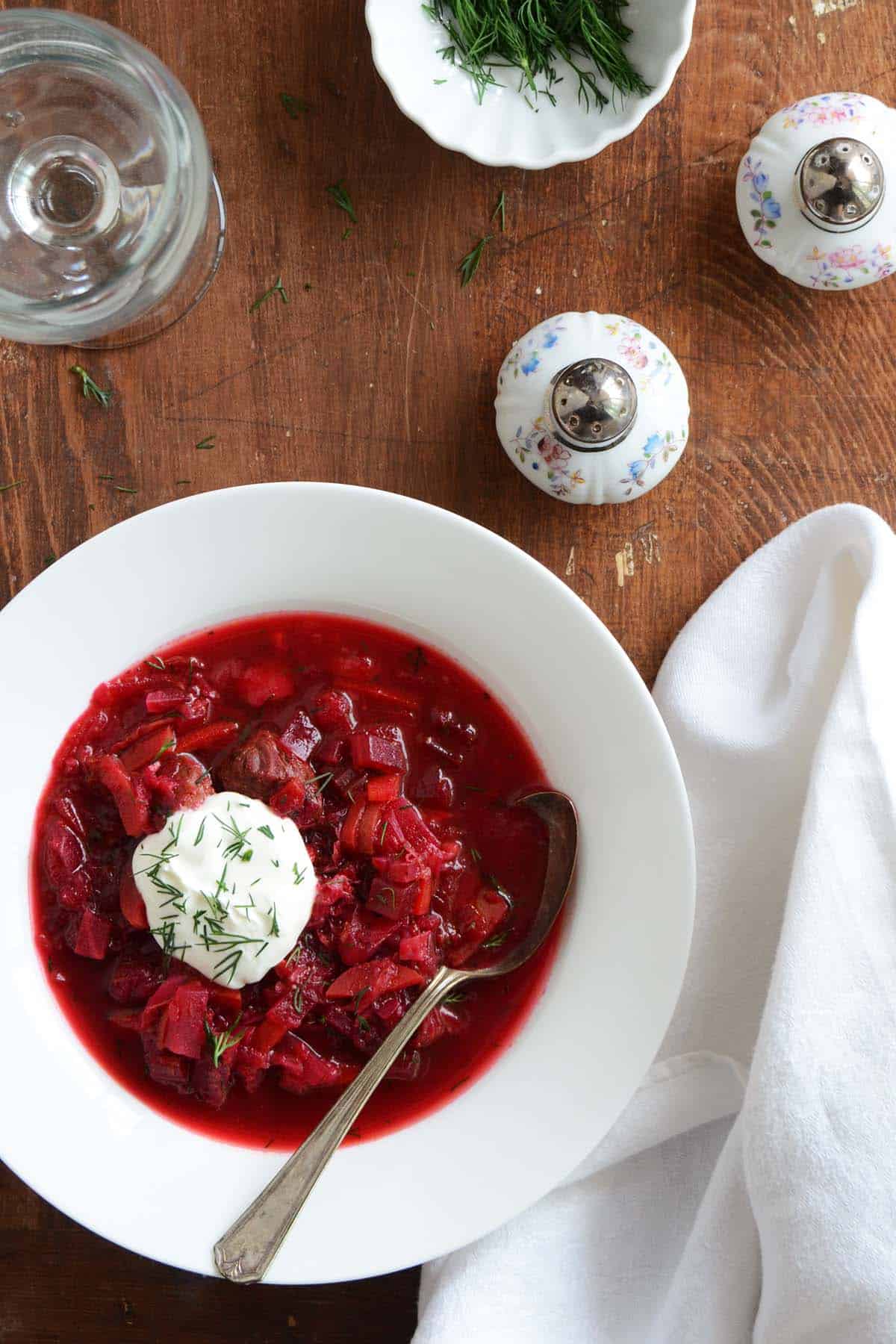 Are Beets Nutritious?
Not only is this hearty soup delicious, but it's chock full of nutrition, starting with beets!
Beetroots, commonly just called beets, are a nutritious vegetable that are low in calories but packed with nutrients.
Beets are full of vitamins and minerals, including B vitamins, iron, manganese, copper, magnesium, and potassium.
Beets Nutrition Information
According to the USDA Nutrition Database, a 100g serving of beets has the following nutrition information:
43kcals
1.61g protein
.17g total fat
9.56g total carbohydrates
2.8g fiber
6.76g sugars
Health Benefits of Beets
Beets may help with chronic inflammation associated with a number of diseases, such as cancer, heart disease, and liver disease. This is because beets contain pigments called betalains that may contain antioxidant and anti-inflammatory properties.
Beets can significantly lower blood pressure and help improve circulation. The body converts nitrates from beets into nitric oxide, which helps relax and dilate blood vessels. This results in improved circulation.
Additionally, nitric oxide increases blood flow to the brain, which may result in better brain function. Even further, nitrates may help enhance athletic performance by making the body's mitochondria – which are responsible for energy production on a cellular level – more efficient.
Read more about the health benefits of beets on HealthLine and Health.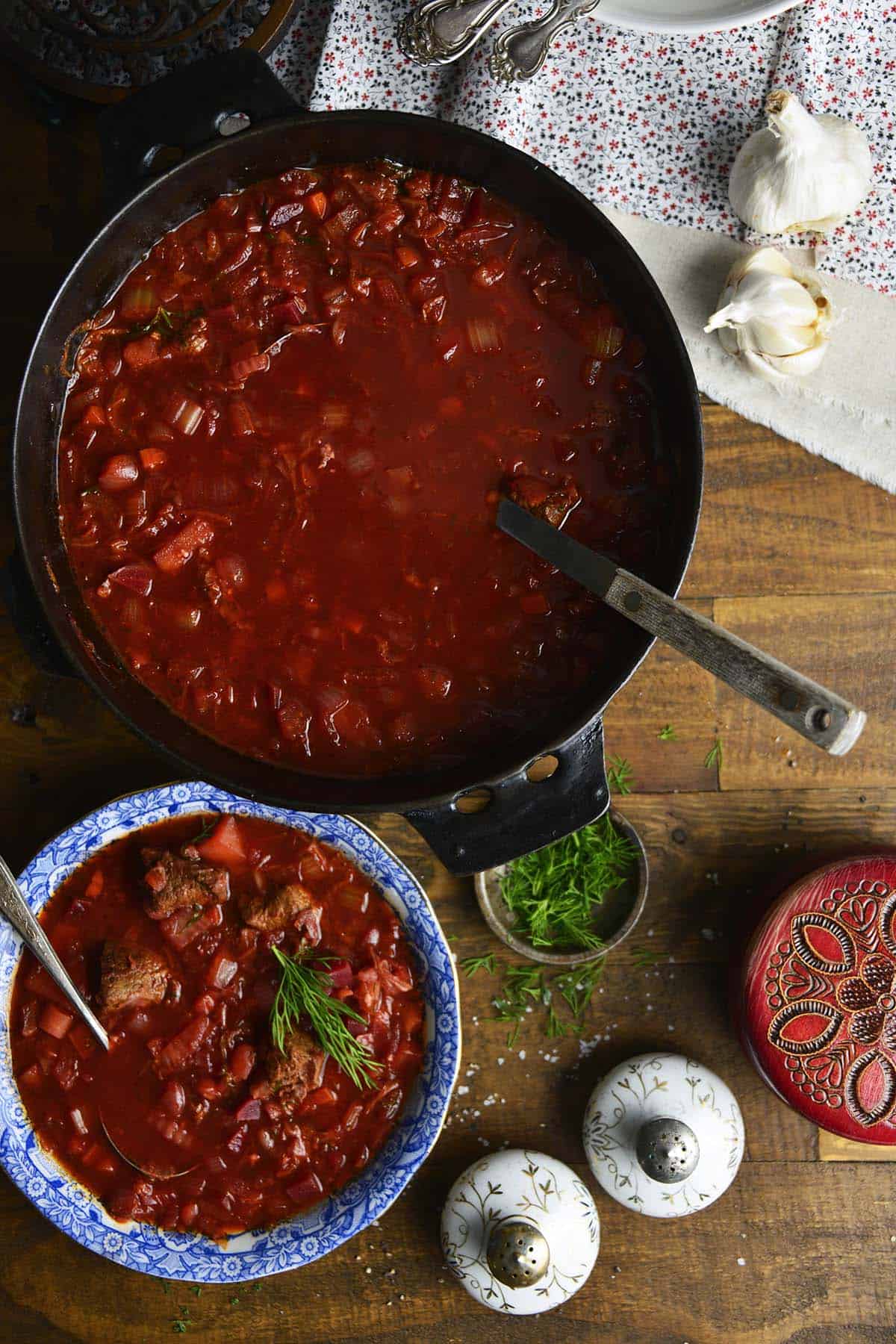 Beet Soup aka Beetroot Soup
Can You Put Beets in Soup?
A common question is whether you can put beets in soup. The answer to that is, yes, beets are a wonderful addition to soup!
They add gorgeous color (they'll even stain the broth red), tons of nutrition, and delicious subtly sweet, earthy flavor. They are a key component of this Borscht recipe.
What is Beet Soup Called?
According to Encyclopedia Britannica,
Borsch, also spelled Borscht, Borsht, or Bortsch, [is the] beet soup of the Slavic countries. Although borsch is important in Russian and Polish cuisines, Ukraine is frequently cited as its place of origin.

Encyclopedia Britannica
I've heard that the common spelling Borscht is the Yiddish spelling.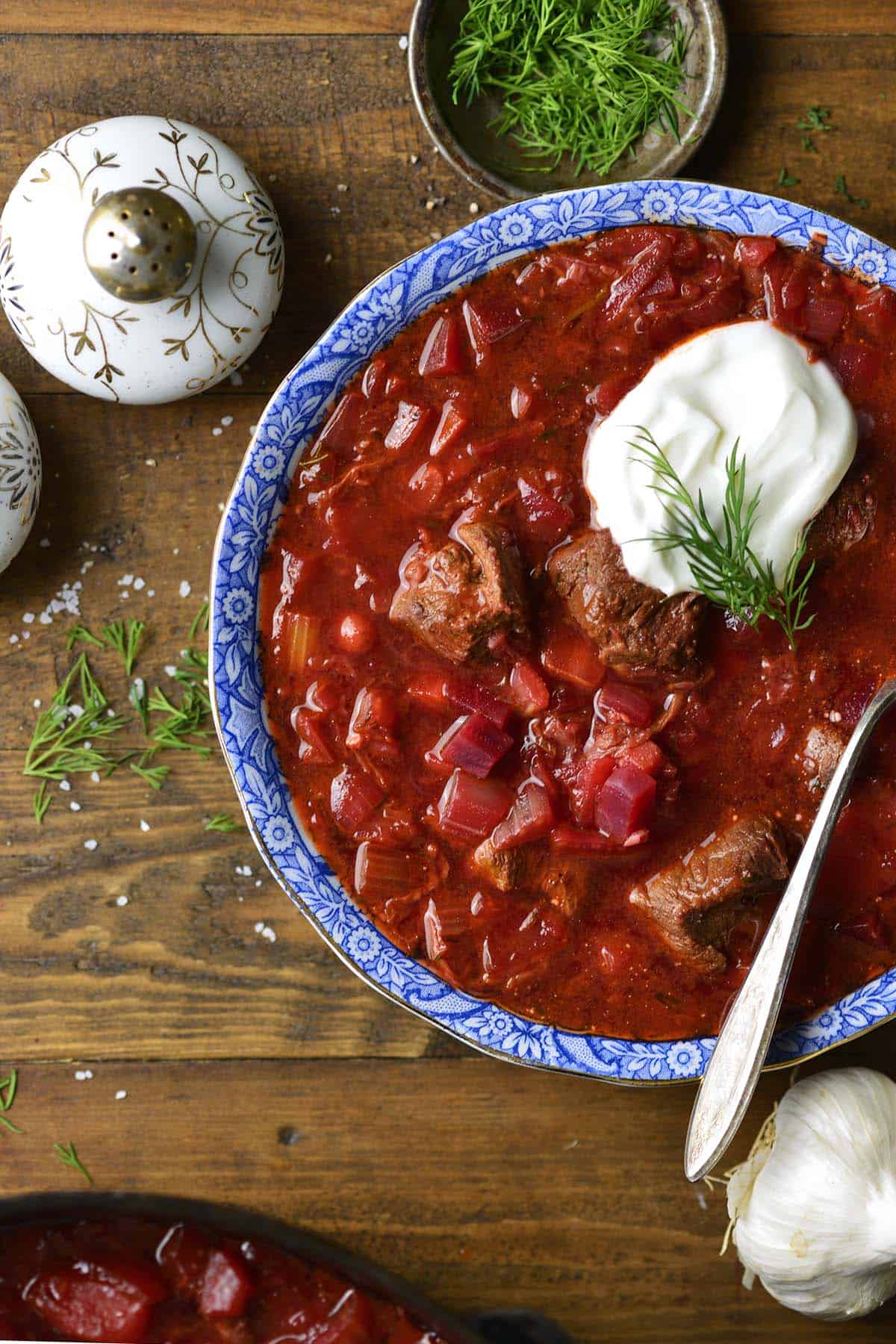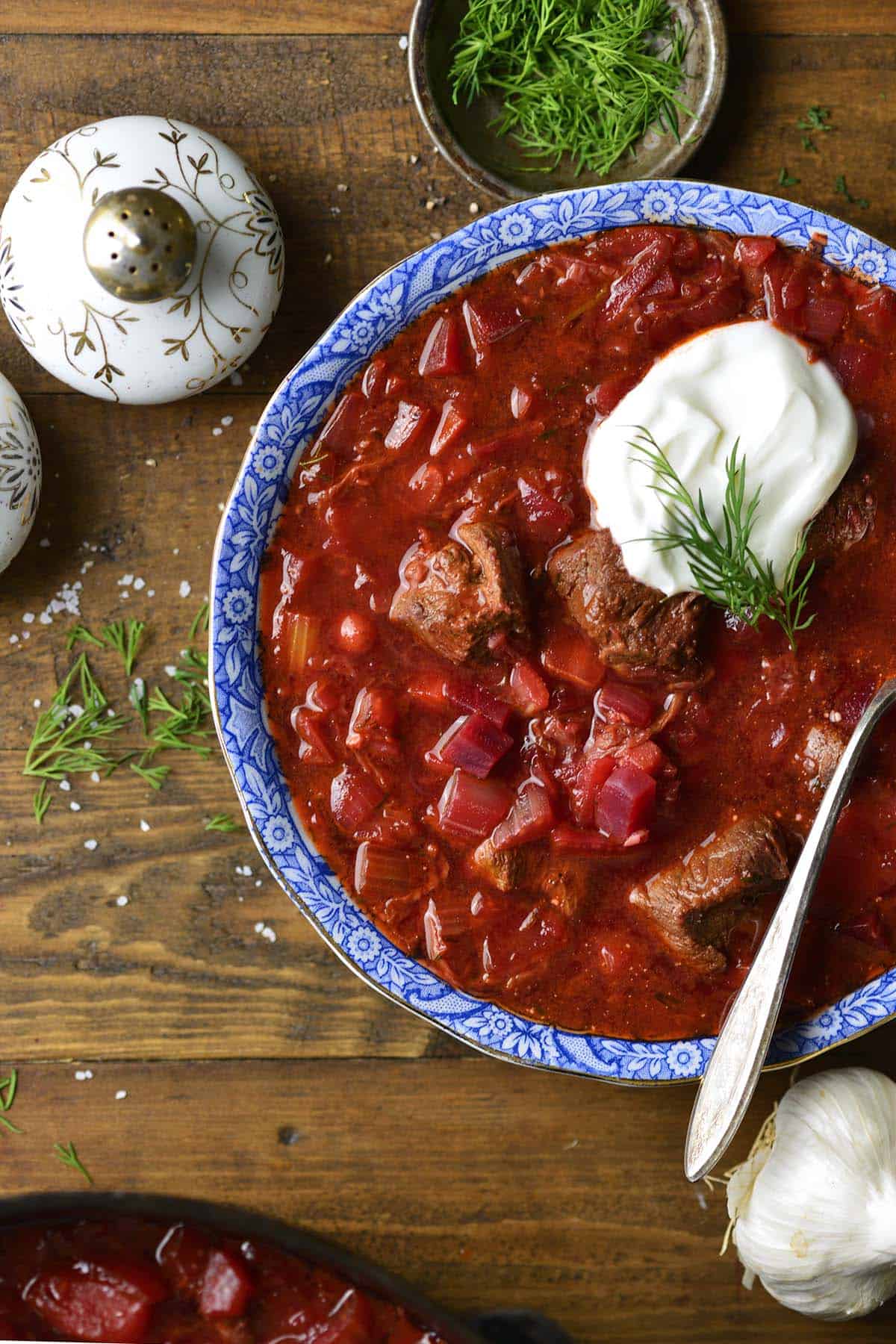 Beet Soup as a Delicious and Nutritious Meal
This soup is so hearty it really doesn't need meat to be filling. You can omit the meat if you like, but be sure to use a super flavorful stock. The potato disintegrates into the broth, acting as a slight thickener along with a touch of tomato paste.
The flavor of this soup is bright and complex, beautifully sweet and sour. The natural sweetness in beets and carrots provide the perfect offset for a generous splash of red wine vinegar or apple cider vinegar added at the end of cooking.
I think celeriac is a more traditional addition than celery in this soup. However, I went with celery because it's what I had on hand. (And I'm not claiming that this version is authentic – it's my own rendition – but it is delicious, and it definitely will be what I make for years to come when a Borscht craving hits.)
Fresh dill and a dollop of sour cream are the perfect finishing touches.
Pro Tip: For the paleo version of this soup, omit the sour cream when serving. Some people consider potato paleo, and some don't; do what's best for you.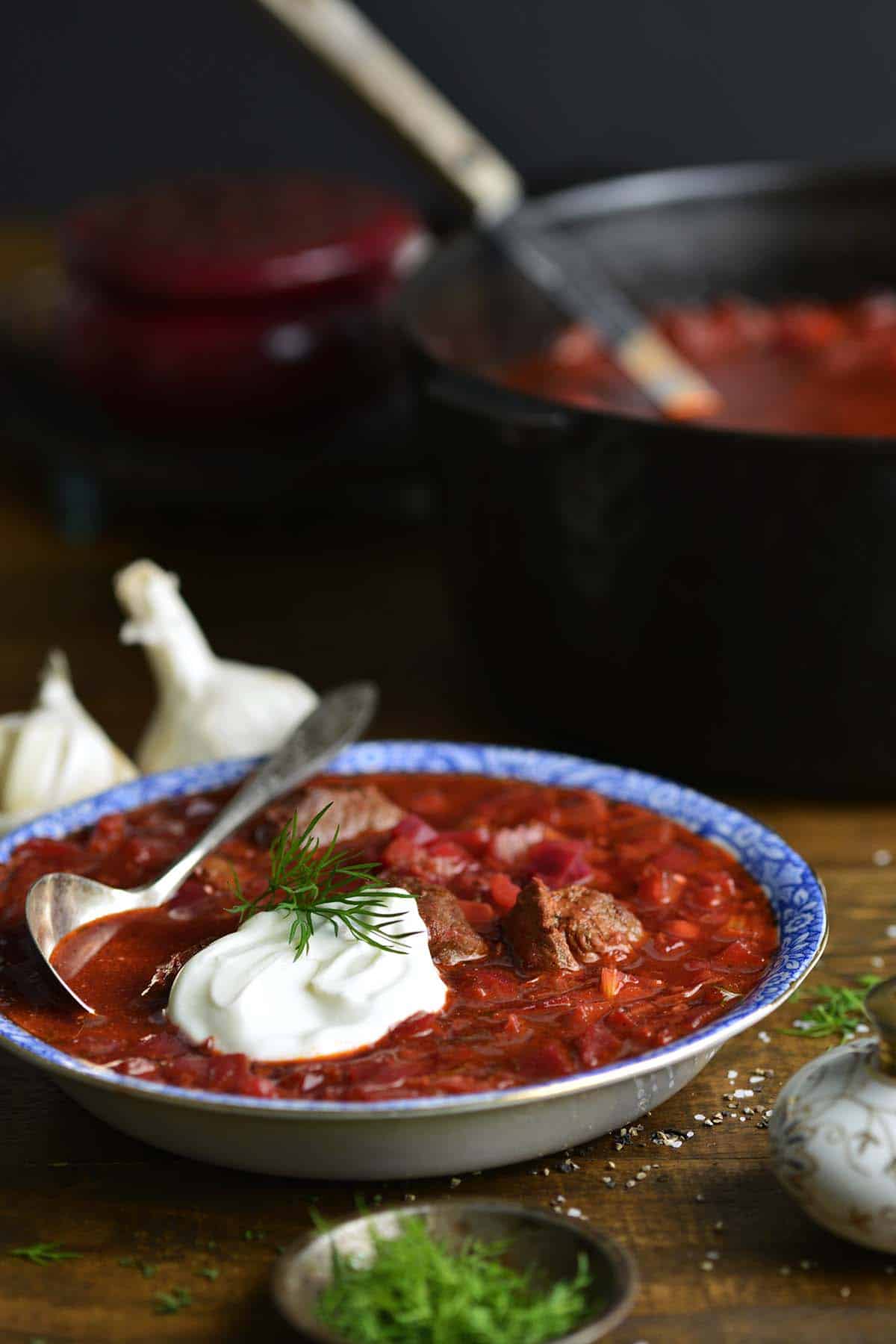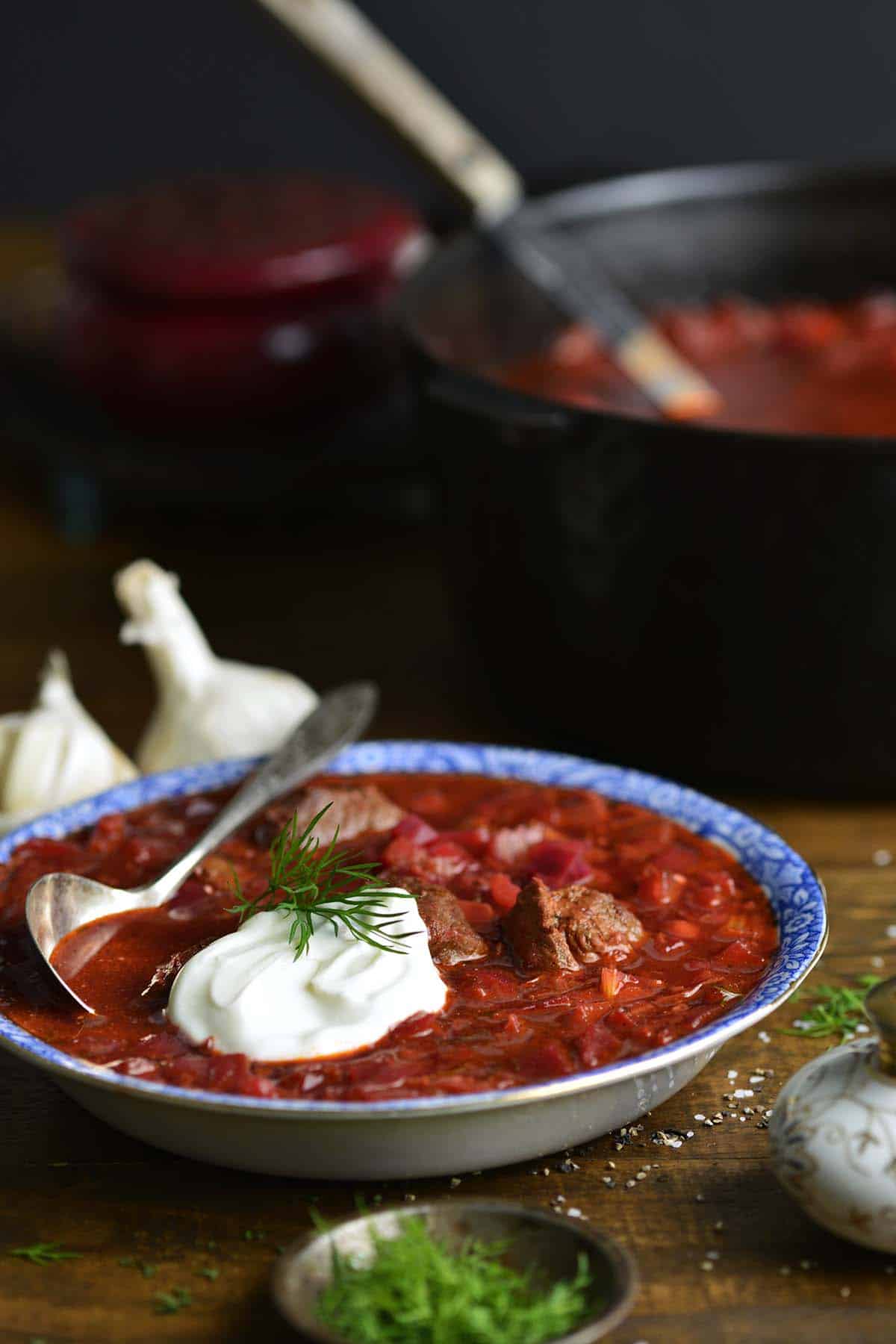 All About Classic Borscht Soup
What is Borscht?
According to Wikipedia:
Borscht derives from an ancient soup originally cooked from pickled stems, leaves and umbels of common hogweed (Heracleum sphondylium), a herbaceous plant growing in damp meadows, which lent the dish its Slavic name. With time, it evolved into a diverse array of tart soups, among which the beet-based red borscht has become the most popular. It is typically made by combining meat or bone stock with sautéed vegetables, which – as well as beetroots – usually include cabbage, carrots, onions, potatoes and tomatoes. Depending on the recipe, borscht may include meat or fish, or be purely vegetarian; it may be served either hot or cold; and it may range from a hearty one-pot meal to a clear broth or a smooth drink. It is often served with smetana or sour cream, hard-boiled eggs or potatoes, but there exists an ample choice of more involved garnishes and side dishes, such as uszka or pampushky, that can be served with the soup.

Wikipedia
Traditional Borscht Recipe and How to Make It
Borscht Ingredients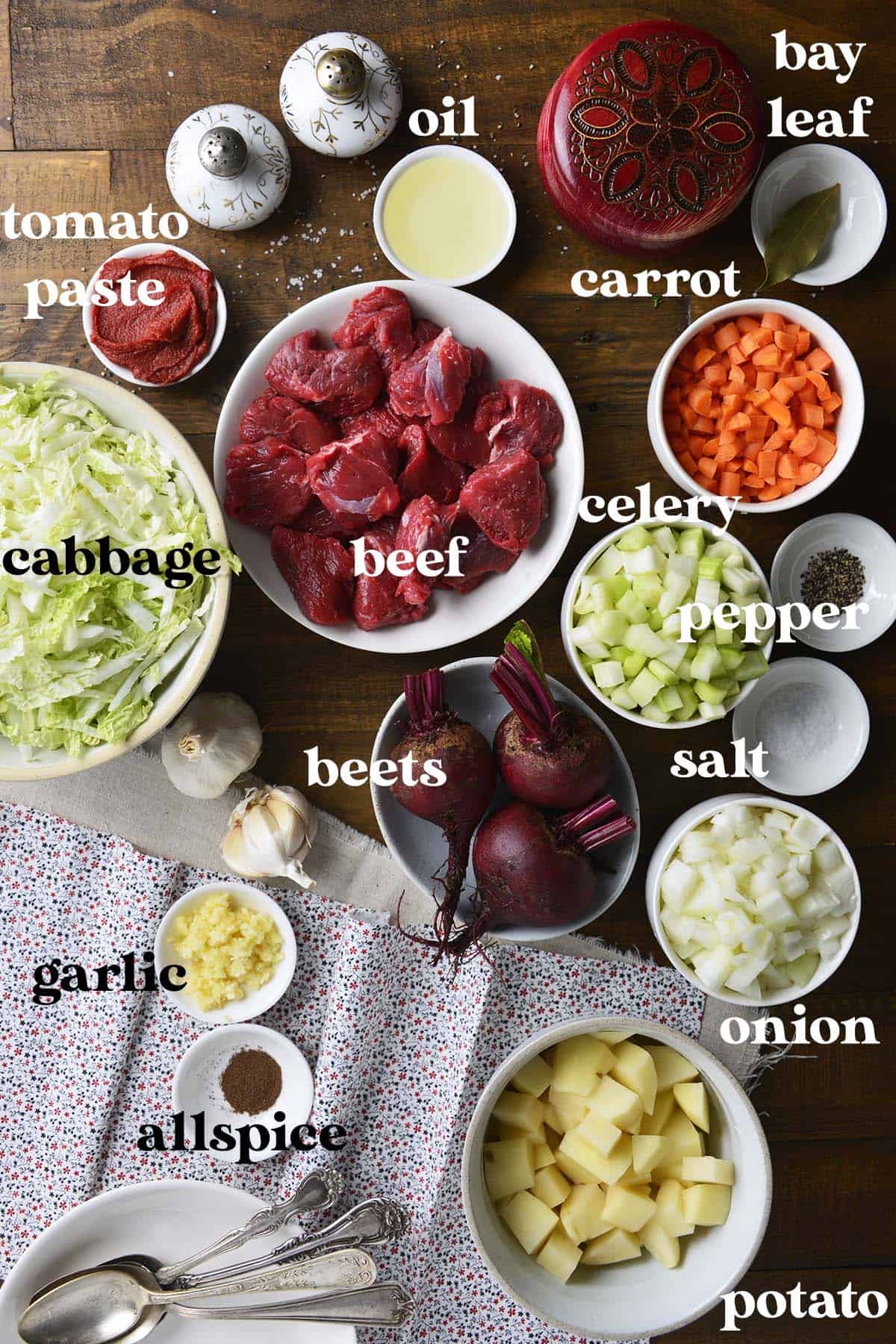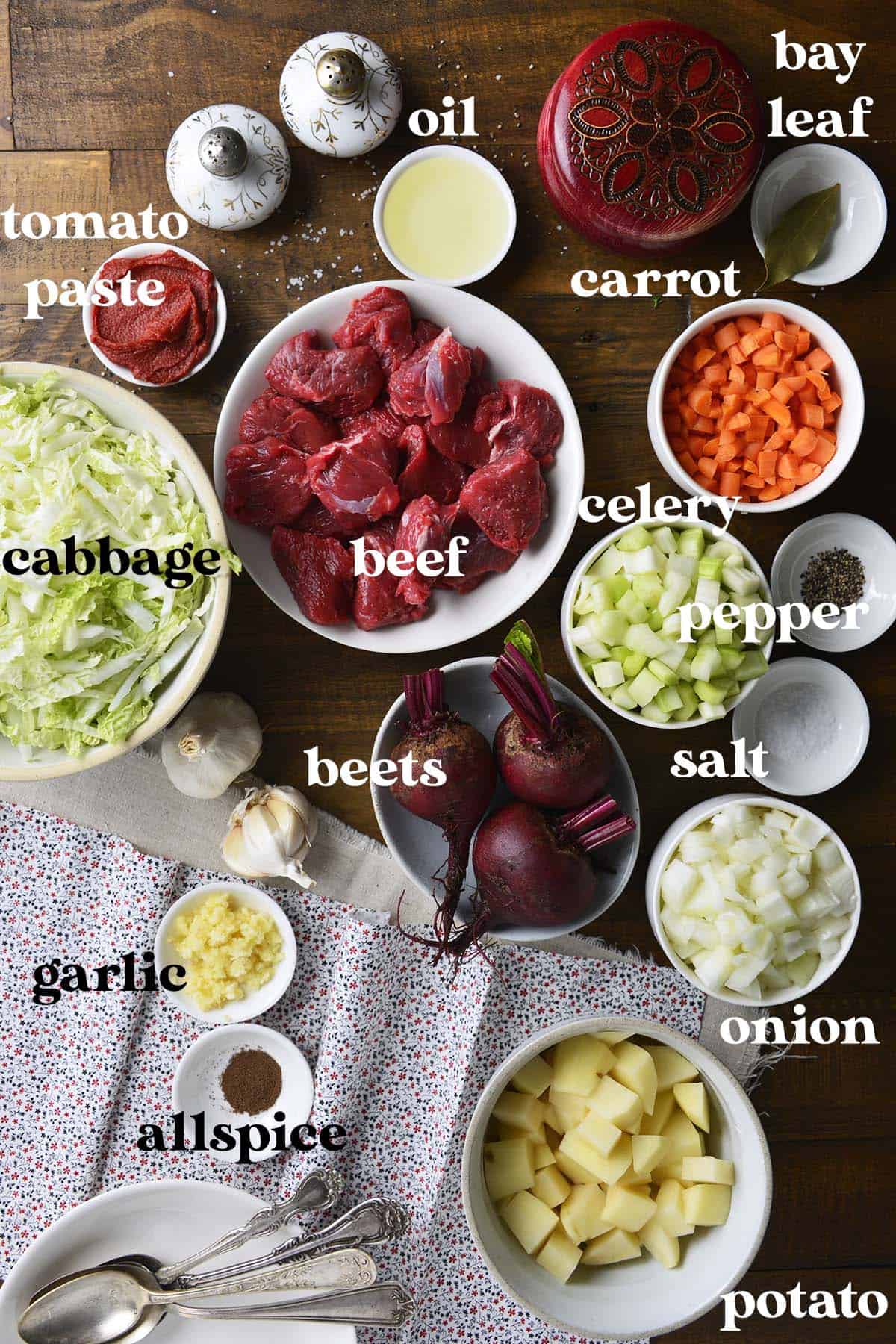 It's likely that the common version of this beet soup that we know today likely came from Ukraine. Traditionally, this soup includes:
Boiled meat or bone broth
Beet
Cabbage
Carrot
Parsley root
Potato
Onion
Tomato
Additionally, it may also include beans, tart apple, turnip, parsnip, celeriac, zucchini, bell pepper, and/or tomato paste.
Secret Ingredient in Borscht


Similar to my Zupa Ogórkowa (Polish Dill Pickle Soup Recipe), the "secret ingredient" in this Borscht soup is allspice! We only need a little bit for depth of flavor and complexity.
How to Make Borscht
Here are the general instructions, which are as easy as making any soup:
Boil the meat and/or bones (usually beef or pork) to make stock.
Chop the vegetables.
Because of the different cooking times required, the vegetables are usually cooked separately from the meat, and then added into the stock once they're tender.
In this recipe, we first sear the meat and then boil it until nearly tender.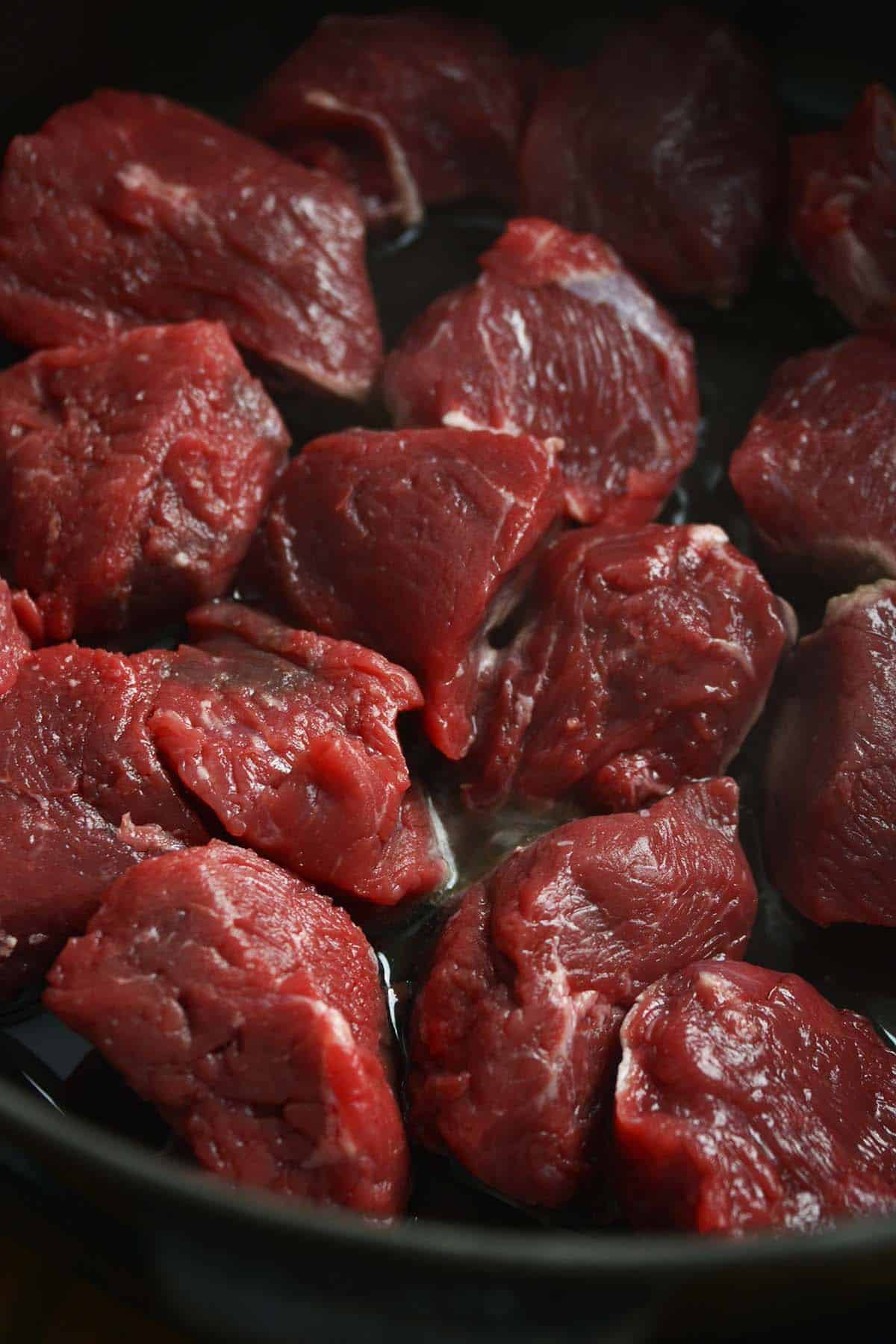 Then we add the vegetables to the soup during the last 30 minutes that the beef boils, so everything will finish cooking at the same time.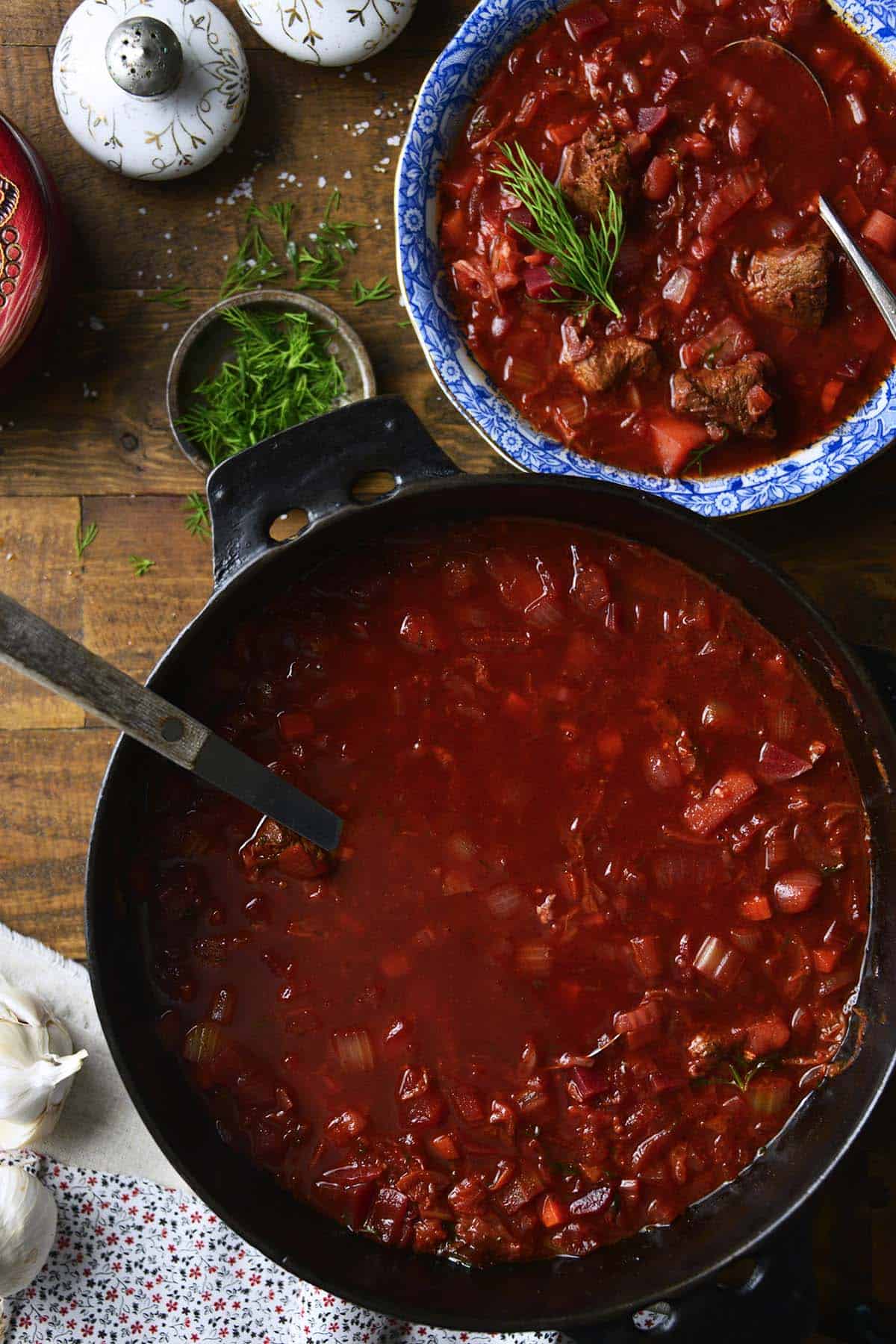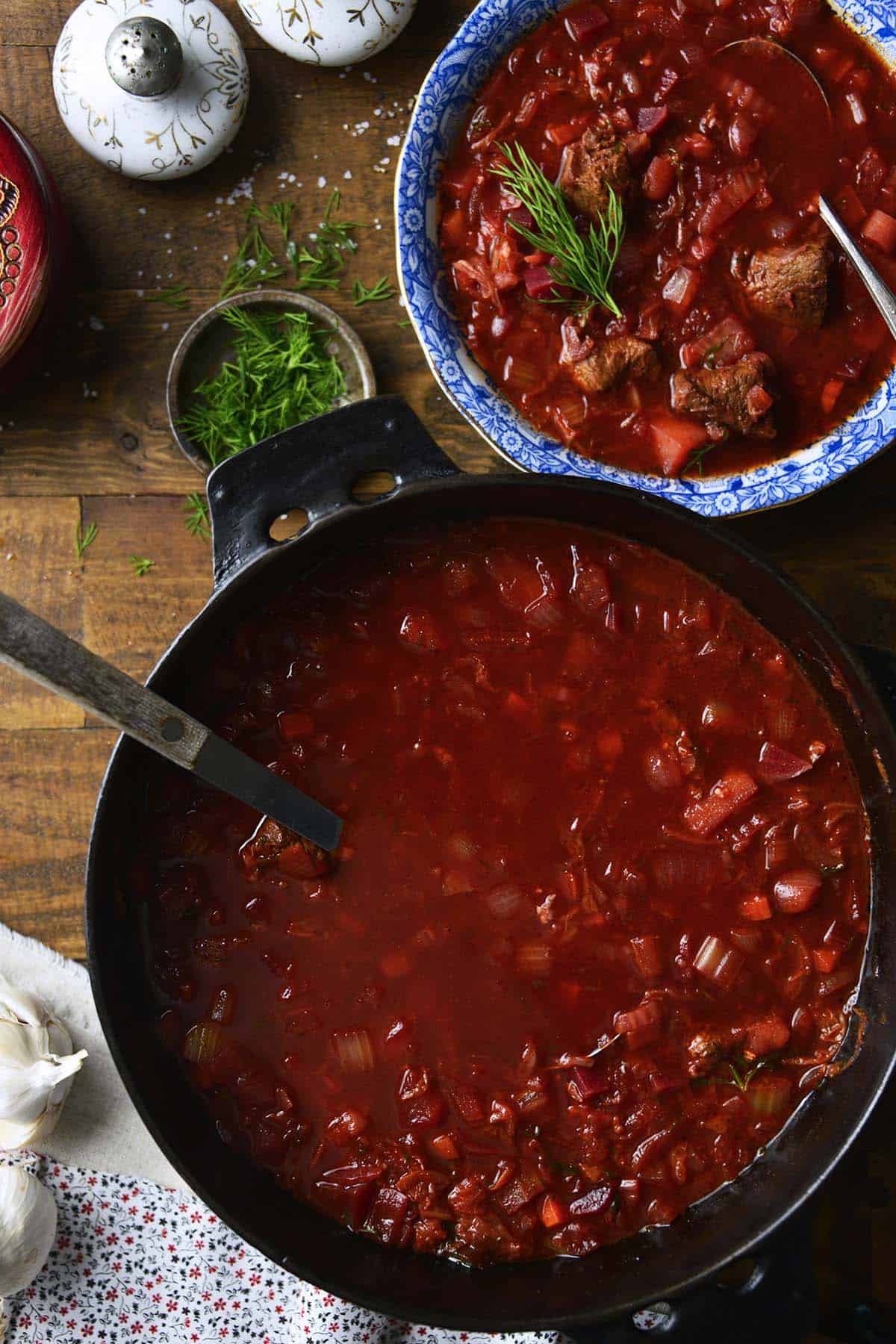 Different Types of Borscht
Vegetarian Borscht
For vegetarian Borscht, you can use vegetable stock instead of meat stock. Additionally, you can add mushrooms instead of meat if desired.
Borscht with Meat
A non-vegetarian Borscht recipe may contain beef or pork, or beef or pork stock.
Borscht Without Beets
Red Borscht contains beets, which stain the entire soup red. There are also several versions of Borscht that don't contain beets. The common trait they share is a tart flavor.
For example, green Borscht may contain tart-flavored sorrel, spinach, chard, nettle, and/or dandelion greens.
Another example is white Borscht, which contains a fermented mixture of rye flour or oatmeal and water.
Cold Borscht
Cold Borscht uses different vegetables, and usually has some kind of dairy added, such as sour cream, kefir, and/or buttermilk. Here's my recipe for cold beet soup.
Regional Borscht Variations
There is much debate over the origin of Borscht, most notably between Ukraine and Russia.
Many different regions of Eastern Europe showcase their own variation of this recipe, and I'm sharing a few of them here. You can read more about the different types of Borscht on Wikipedia.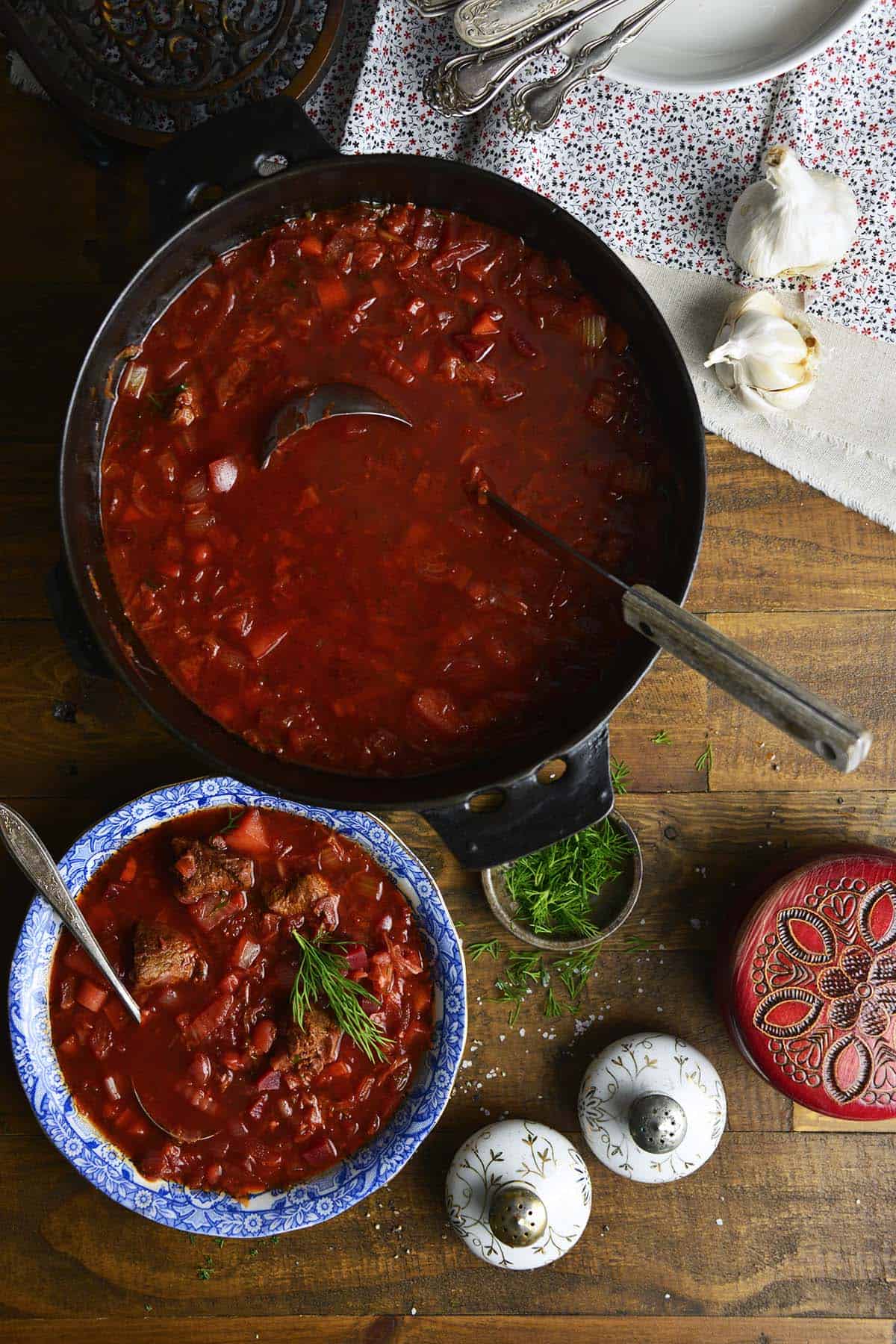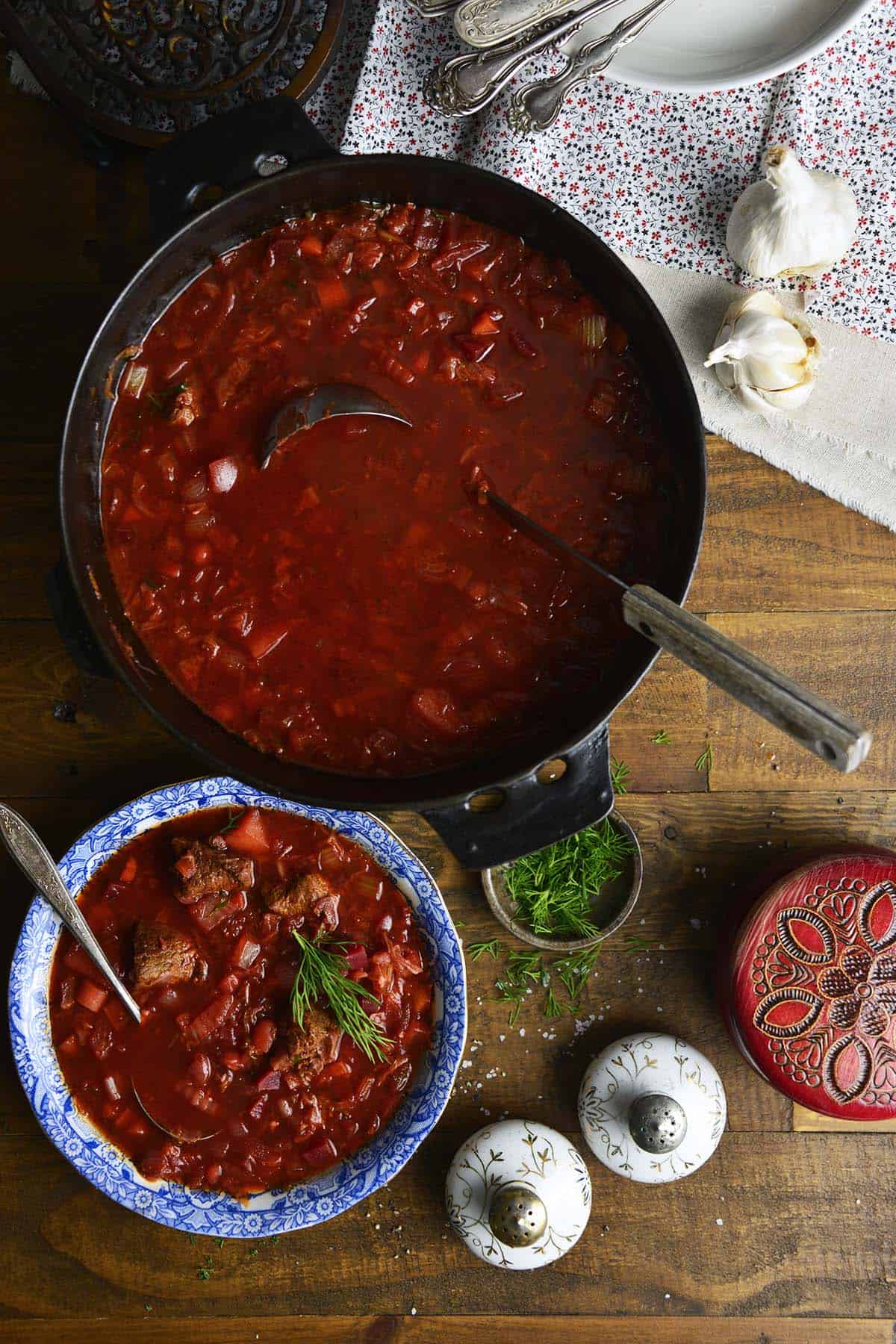 Ukrainian Borscht
The soup that we commonly refer to as Borscht is probably closest to standard Ukrainian Borscht. It typically contains boiled meat or bone broth, cabbage, beet, carrot, onion, sometimes potato, and tomato or tomato paste. However, there are many regional variations of this dish.
Polish Borscht
Polish clear red Borscht is called Barszcz Czysty Czerwony, and is made with strained meat and vegetable stock, strained mushroom broth, and fermented beetroot juice (known as kvas).
Alternatively, there is a Polish clear Borscht recipe typically served during the Polish Christmas Eve supper. This version is made from fish stock instead of meat stock, and the mushrooms are reserved as filling for ear-shaped dumplings, which are served with the soup.
Russian Borscht
The Ukrainian version of this soup is also popular in Russian cuisine. However, there are many regional variations of this dish in Russia. According to Wikipedia, the following are regional Russian variations of this soup:
Moscow: Contains pieces of beef, ham, and Vienna sausages
Siberian: With meatballs
Pskov: Made with dried smelt from the local lakes
Monastic Lenten: Contains marinated kelp instead of cabbage
Russian Navy: Cut the vegetables into square or diamond-shaped chunks instead of julienning them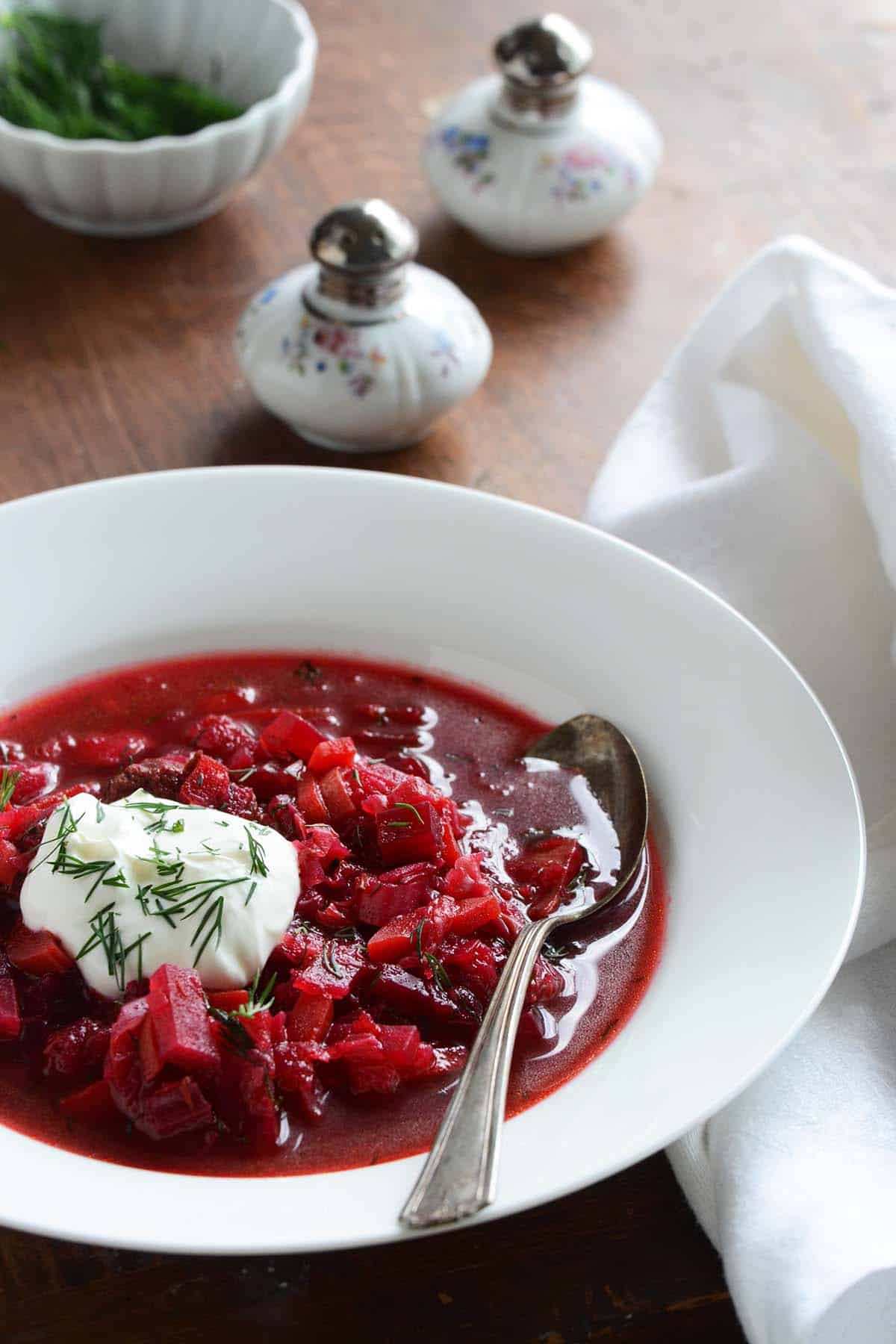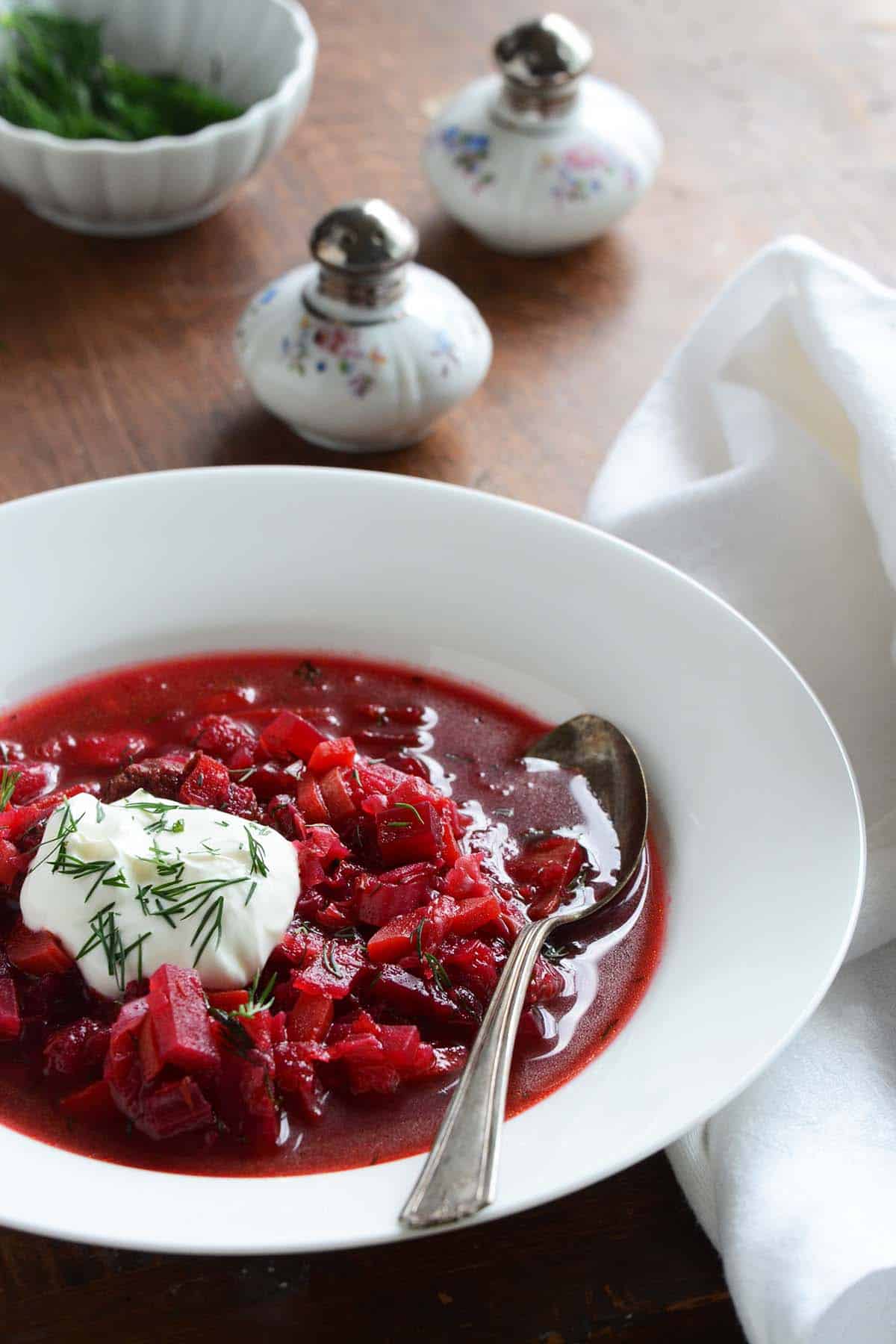 More Delicious Beet Recipes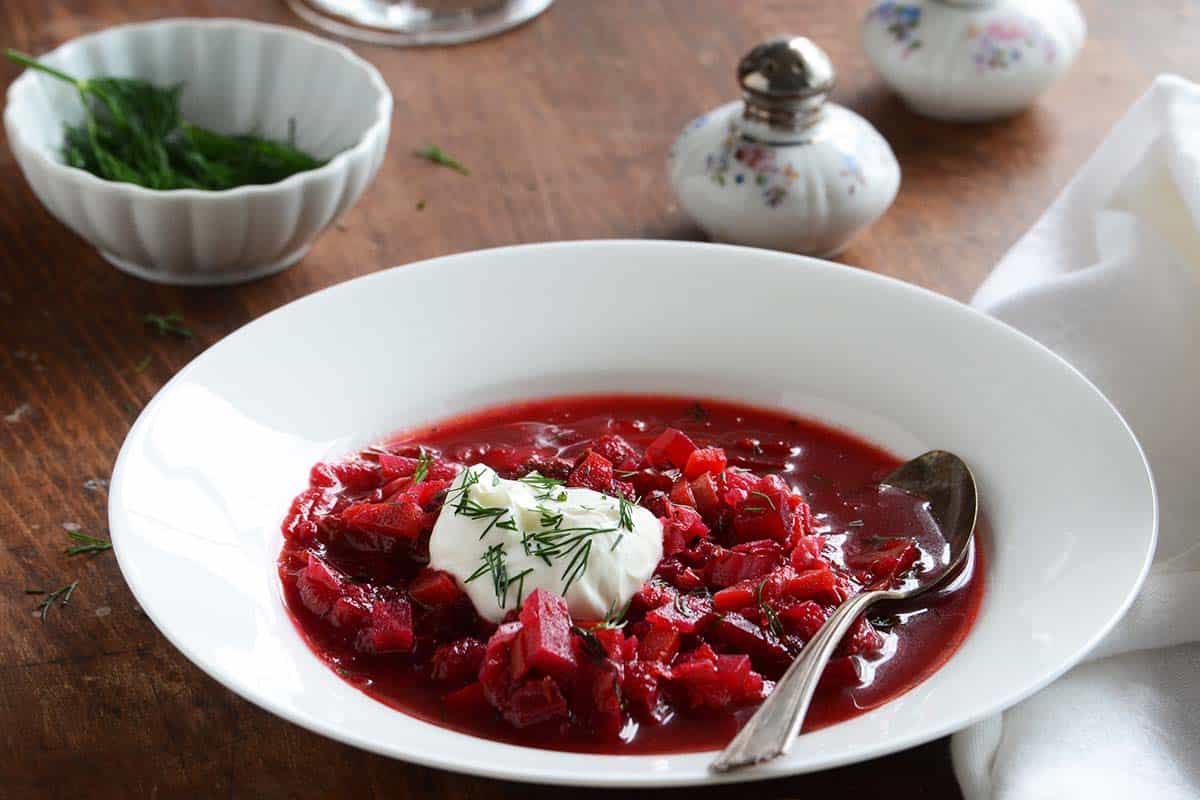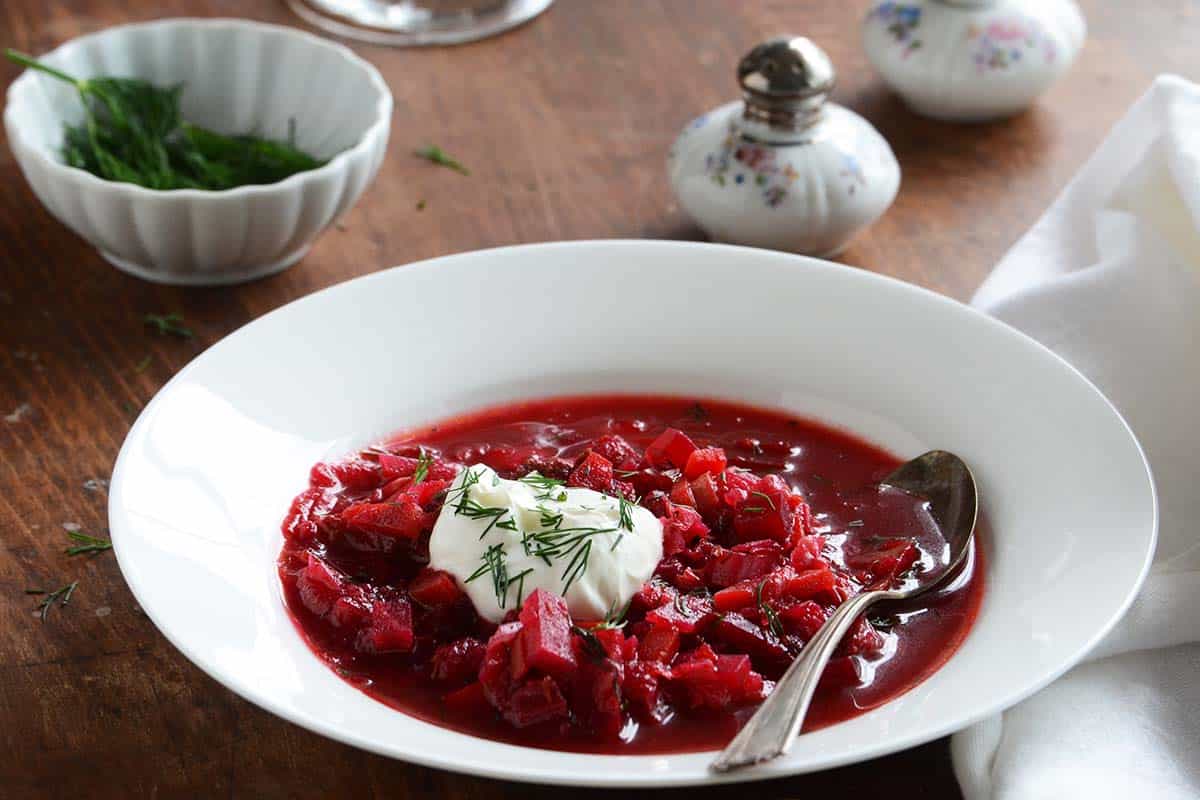 Let's Connect


Did you make this recipe? Please rate it and leave a comment below. You can also tag @anediblemosaic on social media.
To stay up-to-date, follow me on Facebook, Instagram, Pinterest, and Twitter!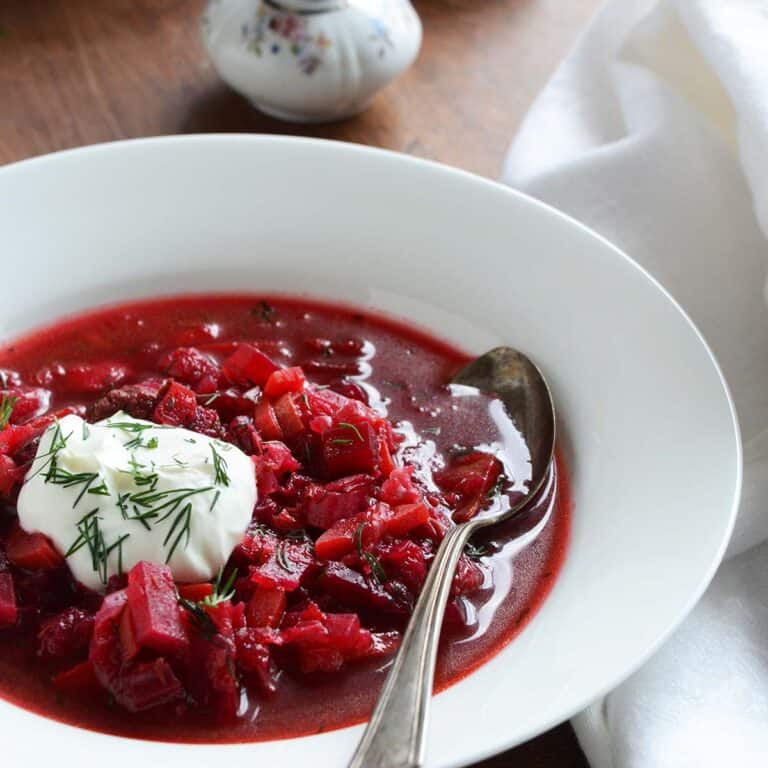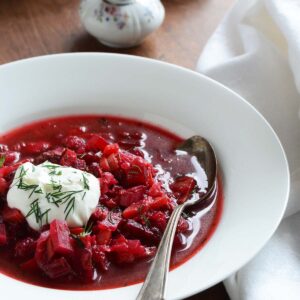 Classic Borscht Recipe
The flavor of this classic Borscht recipe is bright and complex, beautifully sweet and sour. The natural sweetness from beets and carrots balance a splash of red wine vinegar added at the end. Beef makes it hearty and filling, and potato and hint of tomato paste add depth and thicken the broth slightly.
Ingredients
2

tablespoons

light olive oil

or avocado oil, vegetable oil, or canola oil

1

pound

beef stew meat

1

bay leaf

8

cups

low-sodium beef broth

divided

1 ¾

pounds

beets

(roots only; use the greens for something else), scrubbed and trimmed

4

medium carrots

finely chopped

3

large celery ribs

diced

1

large onion

chopped

1

large starchy potato

such as Russet, scrubbed and chopped

½

pound

Savoy cabbage

thinly sliced into shreds (about 5 cups shredded)

4

large cloves garlic

minced

½

teaspoon

coarse kosher salt

use a bit less if using fine salt

¼

teaspoon

black pepper

¼

teaspoon

allspice

3

tablespoons

tomato paste

6

tablespoons

red wine vinegar

or apple cider vinegar (more or less to taste)

¼

cup

chopped fresh dill

plus more for garnish if desired

Sour cream

for garnish (optional)
Instructions
Heat the oil in a 5-quart pot over medium-high heat; once hot, add the meat in a single layer and cook until browned on both sides, about 4 minutes, flipping once. (You might need to do this in 2 batches so you don't overcrowd the pan.)

Add the bay leaf and 4 cups (.95 L) beef broth, and bring to a boil. Cover the pot, turn heat down to simmer, and cook 1 hour, stirring occasionally.

While the beef cooks, chop all the vegetables. For the beets, shred ⅓ of the beets and finely chop the remaining ⅔. Add the finely chopped beet to the pot; bring back up to a boil, then cover the pot and cook 10 minutes.

Add the shredded beet, carrot, celery, onion, potato, cabbage, garlic, salt, black pepper, allspice, tomato paste, and remaining 4 cups beef broth. (The vegetables should be just covered with liquid; you can add water if you need more liquid to cover them.) Cover the pot and bring it back up to a boil, then turn the heat down to simmer and cook until the vegetables are tender, about 30 minutes.

Add the vinegar, then turn off the heat and stir in the dill. Taste and add additional salt and pepper as desired.

To serve, ladle the soup into bowls; top with a dollop of sour cream and a sprinkling of fresh dill.
Faith's Tips
The Vegetables: For the vegetables for this recipe, I use organic beets, carrots, and potato, and give them a good scrub before using. I don't peel them because the skin holds a lot of nutrition. (Beets Tip: Look for smaller beets since their skin is more tender.) The potato sort-of melts right into the soup so you will be left with little bits of potato skin, which I didn't mind at all; however, if you prefer, you can peel the potato.
Paleo Version: Omit the sour cream when serving. Some people consider potato paleo, and some don't; do what's best for you.
Storage: Store leftovers in an airtight container in the fridge for up to 4 days.
Nutritional Information: The nutrition information for this recipe was calculated without the optional sour cream garnish.
Nutrition
Nutrition Facts
Classic Borscht Recipe
Amount Per Serving
Calories 293
Calories from Fat 81
% Daily Value*
Fat 9g14%
Cholesterol 47mg16%
Sodium 1037mg45%
Potassium 1822mg52%
Carbohydrates 28g9%
Protein 27g54%
Vitamin A 7498IU150%
Vitamin C 30mg36%
Calcium 88mg9%
Iron 5mg28%
* Percent Daily Values are based on a 2000 calorie diet.