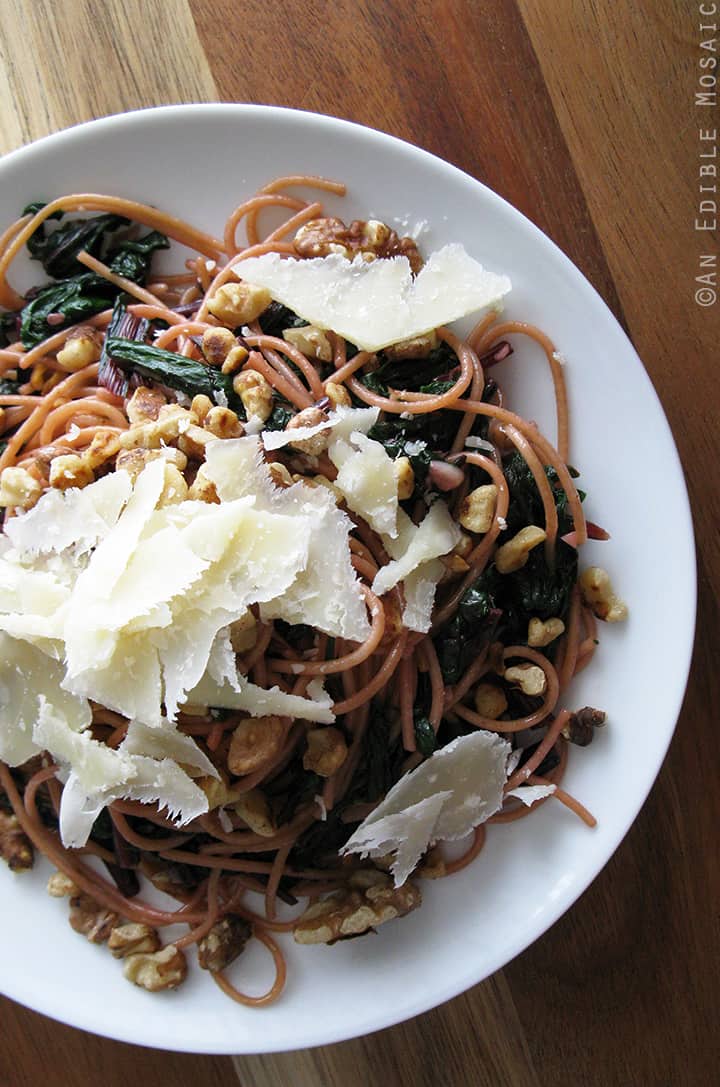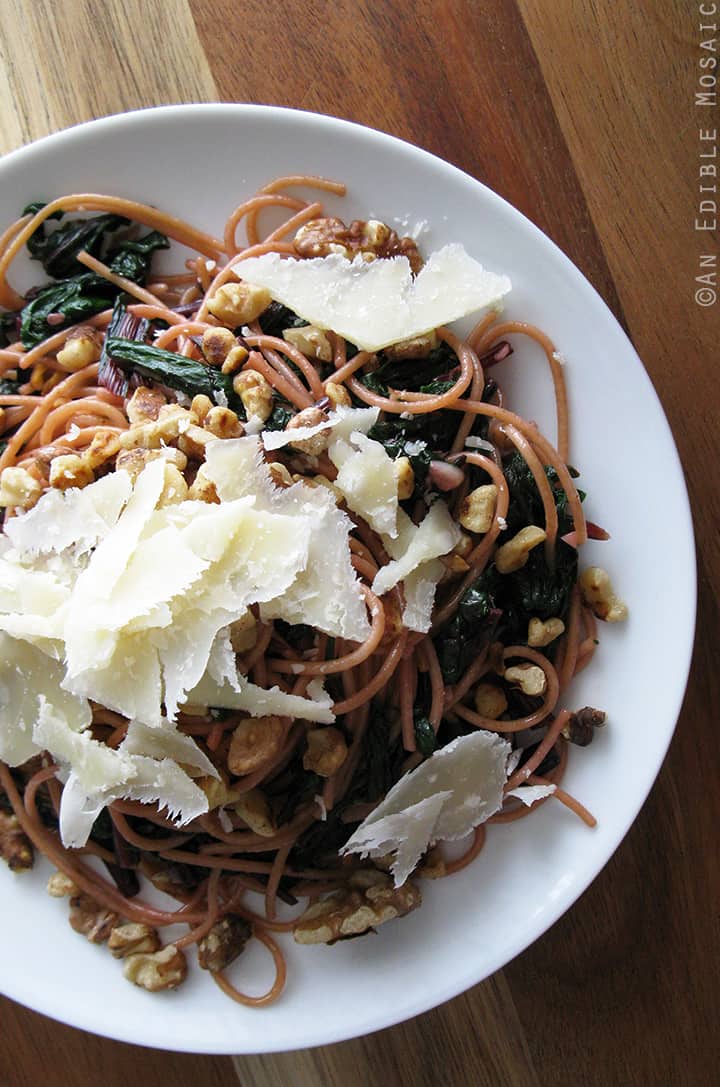 Funny story about this pasta…the other day my friend Brandy (none other than the mastermind behind the beautiful blog Nutmeg Nanny) and I were talking on the phone. We happened to both post Marzipan Hearts within two days of each other without knowing beforehand what the other was posting, and Brandy called me to let me know. She asked what I was posting next, jokingly saying that she'll be sure to post the same thing. I started laughing and told her that my next post will be for Beet Greens Pasta. She laughed too, and I promised her it's not as off-putting as it sounds (in fact I swear to you all, it is absolutely delicious)! So Brandy, this post is for you, gorgeous!
This is one plate of pasta that sure is easy on the eyes. (Isn't it pretty how the beet greens give the pasta an ever-so-slight pinkish tinge?) It's also one of those nourishingly delicious meals that you feel like you would eat at a spa for lunch after spending the morning pampering yourself. And I love how short the ingredient list is…when each ingredient packs a punch, you can keep the ingredient list to a minimum without sacrificing flavor. So why not pamper yourself at home?
A Note on the Greens: I used beet greens in this recipe because that's what I had on hand. Feel free to use any greens you like, such as spinach, collard greens, or Swiss chard.
Beet Greens Pasta with Walnuts and Parmesan Cheese
Prep time:
Cook time:
Total time:
Pamper yourself for lunch with this flavorful, nourishing meal that gives you the spa treatment at home.
Ingredients
2 oz whole wheat spaghetti (or any pasta you like)
1 tablespoon olive oil
Greens from 3 medium-sized beets, stems removed and chopped (about 3 cups chopped)
¼ cup water
1 large clove garlic, minced
2 tablespoons chopped walnuts, toasted
Fresh shaved Parmesan or Parmigiano-Reggiano cheese
Salt and pepper
Instructions
Cook the pasta to al dente according to package directions; drain and set aside.
In a medium skillet with a lid, heat the oil over medium heat. Once hot, add the beat greens, water, and a pinch of salt and pepper; cover the skillet and cook until the greens are wilted, about 2 to 3 minutes. Add the garlic and sauté uncovered until the liquid is evaporated, about 1 to 2 minutes. Toss the greens into the pasta.
Serve topped with walnuts and fresh shaved cheese.