Packed with vegetables and layered with flavor, this Vegetarian Borscht is a delicious, hearty, and nutritious meal.
I'm a beet lover from way back. One of my favorite vegetable side dishes that my mom used to make growing up was boiled beets, served with butter and salt. They were so good!
If you enjoy beets, you will love Borscht! Not only is it flavorful and delicious, but it's so pretty. All the vegetables and the broth turn a beautiful deep red color thanks to the beets.
Vegetarian Borscht Soup Video
What Do Beets Taste Like?
Beets have an earthy, sweet flavor. Because of their natural sweetness, I like to balance the flavor of beets. A touch of salt and some kind of acid, such as fresh lemon juice, are a great pairing with beets!
What Does Borscht Taste Like?
The flavor of beets is predominant in Borscht soup. It has an earthy sweetness, which is balanced with acid from fresh lemon juice or red wine vinegar.
Don't forget to season your Borscht with salt, which helps create a balanced flavor profile.
Is Borscht Eaten Hot or Cold?
There are several different types of Borscht, and some are eaten hot (like this Vegetarian Borscht recipe), and other variations are eaten cold.
I have another recipe for Borscht that includes meat, and it's served hot.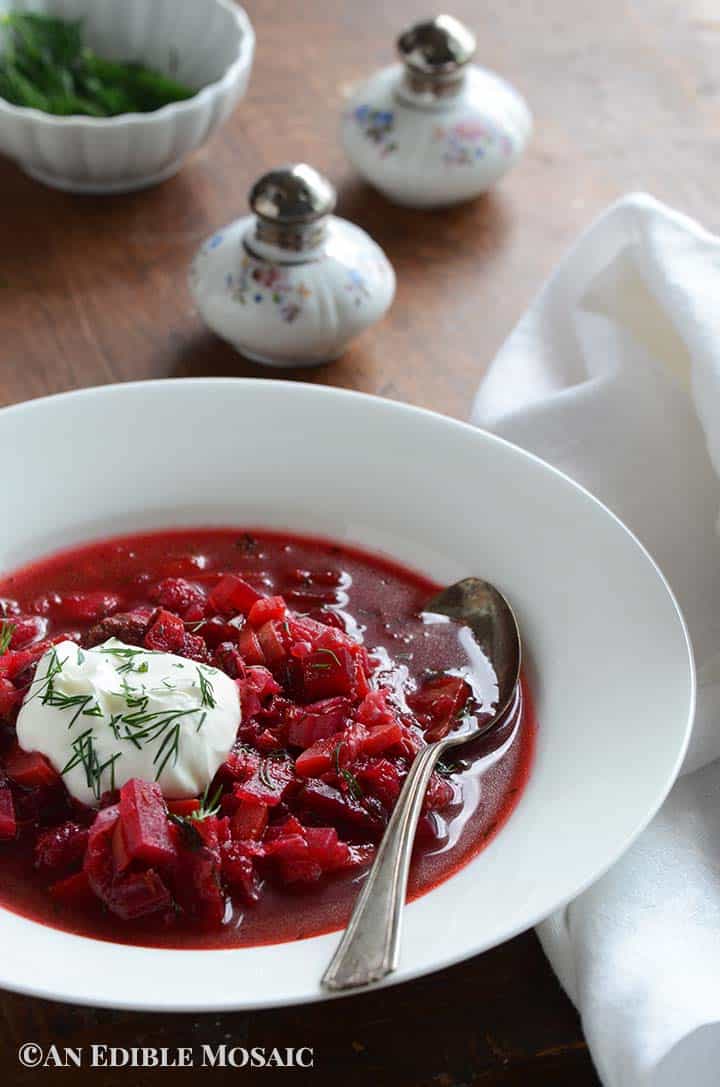 Above: Borscht Soup with Meat
Additionally, I have a recipe for Polish Cold Beet Soup (Chłodnik) that's a refreshing version of Borscht, and perfect for cooling down with during warm weather.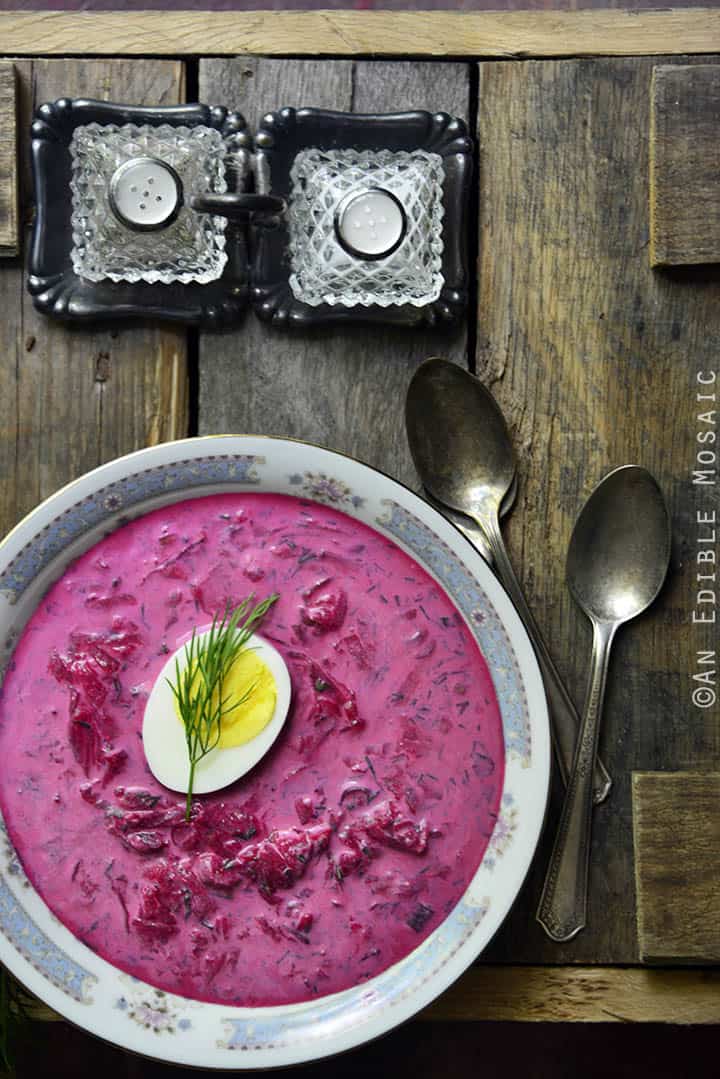 Above: Polish Cold Beet Soup (Chłodnik)
Is Borscht Russian or Ukrainian?
Like so many foods, there is a lot of nationalism pertaining to Borscht, with multiple different countries claiming to be the origin. There are several different and very interesting points on this debate. For instance, when Borscht was invented, the area of the Ukraine that it's said to be from was part of Russia at that time.
I've frequently heard it said that what we think of as Borscht soup originated from the Ukraine.
Is There a "T" in Borscht?
The letter T that Western countries put at the end of the word Borscht is actually not in the original word. The word in Russian and Ukrainian is better transliterated as Borsch (without the T).
However, the characters of Russian and Ukrainian languages are different than English letters. Characters in these languages make a sound of a few different letters put together - i.e., they sound like words, not letters - similar to the sound of characters in the Arabic language, and unlike the English language where our letters stand alone. The characters at the end of the word Borsch and have a similar sound to T, hence the reason for the transliteration Borscht.
Vegetarian Borscht Recipe
If you like beets, you're going to love Borscht! I like to think of Borscht soup as a celebration of beets. However, in addition to beets, this soup is loaded with a variety of other vegetables, including cabbage, onion, carrot, and I also add celery.
I add a single starchy potato to my Vegetarian Borscht Recipe. The potato disintegrates into the soup, and gives the broth a rich, velvety texture. A little bit of tomato paste also adds volume to the broth.
To keep this soup vegetarian, I used vegetable stock. Be sure to use a rich, flavorful vegetable stock! Additionally, if keeping this dish vegetarian isn't a concern, feel free to use chicken or beef stock.
More Beets Recipes to Try: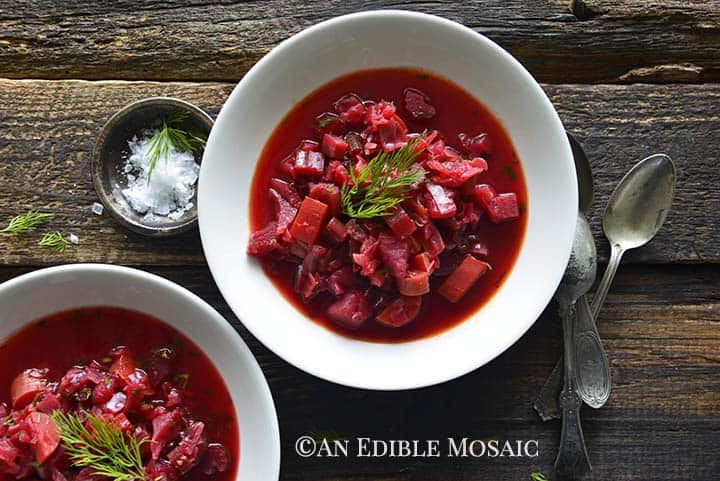 Did you make this recipe? Please rate it and leave a comment below because I love hearing from you! You can also tag @anediblemosaic on social media. To stay up-to-date FOLLOW ME on Instagram, Twitter, and Facebook. Xoxo, Faith
Vegetarian Borscht Recipe
Packed with vegetables and layered with flavor, this Vegetarian Borscht recipe is a delicious, hearty, and nutritious meal.
Ingredients
3

medium beets

about 1 pound beets

2

tablespoons

olive oil

1

large onion

diced

4

large cloves garlic

minced

2

quarts

vegetable stock

6

cups

thinly chopped red cabbage

4

medium carrots

sliced

4

large celery ribs

diced

1

starchy potato

such as Russet, peeled and diced

3

tablespoon

tomato paste

1

teaspoon

salt

¼

teaspoon

black pepper

¼

teaspoon

allspice

3 to 4

tablespoons

fresh lemon juice

3

tablespoons

fresh chopped dill

plus more for garnish
Instructions
For the beets, peel them and trim off both ends. Dice 2 beets and shred 1 beet, keeping the chopped beet separate from the shredded beet (because they get added at different times).

Heat the oil over medium heat in a 5-quart pot. Once hot, add the onion and garlic and cook until fragrant, about 5 minutes, stirring frequently.

Add the stock and cabbage and bring it up to a boil. Cover the pot and turn the heat down slightly so it doesn't boil over, and cook 10 minutes.

Add the diced beet. Bring back up to a boil, cover the pot, and turn the heat down slightly so it doesn't boil over, and cook 10 minutes.

Add the shredded beet, carrot, celery, potato, tomato paste, salt, black pepper, and allspice. Bring back up to a boil, cover the pot, and turn the heat down slightly so it doesn't boil over, and cook until the vegetables are tender, about 30 minutes.

Remove from the heat and stir in the lemon juice and dill.

Taste and add additional salt and lemon juice if desired.

Serve along with fresh lemon wedges and more dill on top.
Faith's Tips
Vinegar is a common addition to Borscht. However, I use lemon juice because I wanted to keep this soup Passover-friendly without any modifications. Of course you could use red wine vinegar if you prefer, or look for a vinegar that's certified kosher for Passover to use instead of lemon juice. If you are making this soup for Passover, be sure that your vegetable stock is kosher for Passover if you're not using homemade vegetable stock.
Sour cream is a delicious topping for this soup.
To make this soup a full meal and keep it vegetarian, you can serve it topped with poached egg or hard-boiled egg.
If keeping this soup vegetarian isn't a concern, you can use chicken or beef stock instead of vegetable stock.
Nutrition
Nutrition Facts
Vegetarian Borscht Recipe
Amount Per Serving (2 cups)
Calories 100
Calories from Fat 27
% Daily Value*
Fat 3g5%
Sodium 1081mg47%
Potassium 455mg13%
Carbohydrates 18g6%
Protein 2g4%
Vitamin A 5173IU103%
Vitamin C 38mg46%
Calcium 45mg5%
Iron 1mg6%
* Percent Daily Values are based on a 2000 calorie diet.
Disclosure: This post contains Amazon affiliate links to products I believe in, which means that even though it doesn't cost you anything extra, I will receive a small amount of money from the sale of these items. Thank you for helping to support An Edible Mosaic!