Do you ever get a really weird craving? One of the most random food cravings I get every so often is for beets.
(Side Note: The last time a beet craving hit I made Borscht; all I can say is that if you think you don't like beets, make this soup.)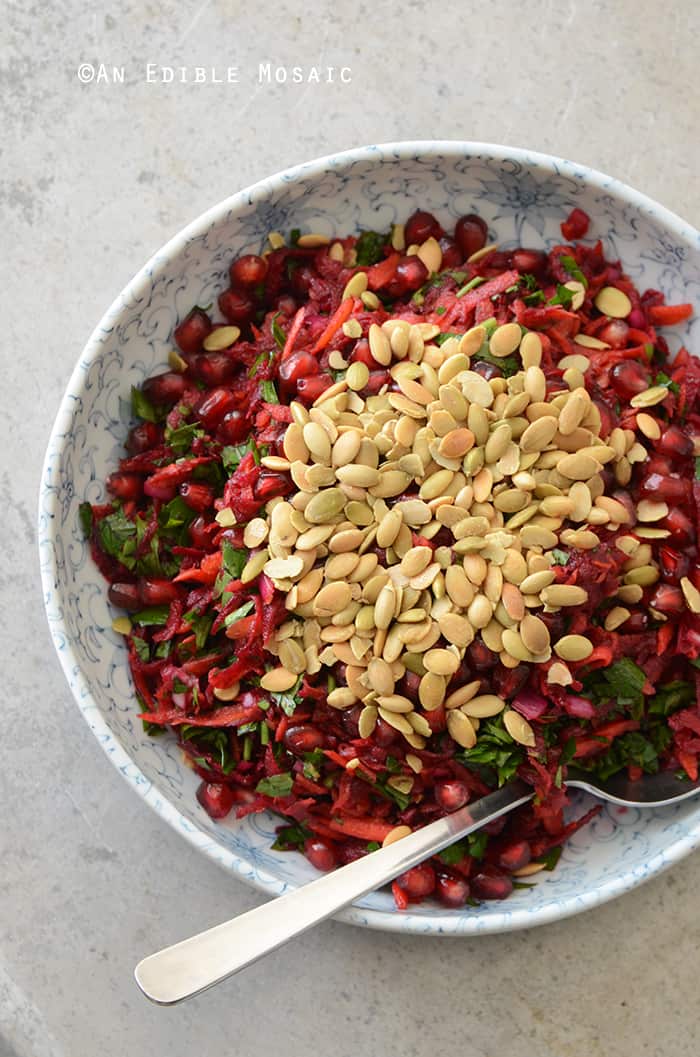 Gorgeous, jewel-toned, deep crimson-colored beets are my favorite. Earthy, but so sweet, they're almost like candy. Unlike candy, beets provide fabulous antioxidant, anti-inflammatory, and detoxification support. Beets are rich in betalain pigments (which help your body eliminate toxins) and are a good source of folate, potassium, manganese, and copper. They're also low in calories, high in fiber, and contain vitamin C, vitamin B6, and iron. They are fabulous for purifying the blood and detoxing the liver. (You can read more about the health benefits of beets on The World's Healthiest Foods.)
Eating beets raw is the best way to maximize their health benefits, and of course it's the easiest way to prepare them (double win!), so I kept the beets raw in this salad.
Be sure you don't skip the pomegranate arils (which are rich in antioxidants and may help prevent heart disease; read more about pomegranate on WebMD) and pumpkin seeds (which are a great source of several vitamins and minerals, like vitamin B3 and zinc; read more about pumpkin seeds on LiveStrong). Plus, the pom arils add a lovely sweet pop of flavor and the pumpkin seeds add a nice nutty crunch, making this a completely satisfying salad.
Beet and Carrot Salad with Pomegranate and Pumpkin Seeds has just a few fruits and veggies, but it packs a huge punch of flavor in addition to the obvious nutritional benefits. If you want to detox (or just like eating healthy), but don't want to be restricted to nibbling on leafy greens, this salad is the way to go.
With the holiday season coming to a close, go ahead and indulge tonight, but think about this salad tomorrow. ;)
Happy New Year's Eve!
Beet and Carrot Salad with Pomegranate and Pumpkin Seeds
Yield:
2 lunch-sized or 4 side dish-sized servings
Ingredients
Dressing:
1 small red onion, diced small
1½ tablespoons balsamic vinegar (or fresh lemon juice)
1½ tablespoons pomegranate molasses
1½ tablespoons extra-virgin olive oil
½ teaspoon salt
¼ teaspoon ground black pepper
Salad:
1 large beet (preferably organic), scrubbed and shredded
2 medium carrots (preferably organic), scrubbed and shredded
1 cup chopped organic fresh flat-leaf parsley
½ cup pomegranate arils
¼ cup unsalted toasted pumpkin seeds
Instructions
Stir together all ingredients for the dressing and set aside so the flavors can blend while you prep the veggies.
Stir the beet, carrot, and parsley into the dressing, and then transfer to a shallow bowl. Sprinkle the pomegranate arils and pumpkin seeds on top. Serve.
Notes
Peeling the Beet and Carrots: You can peel the beet and carrots if you prefer; I like to buy organic veggies and give them a good scrub and leave the peel on to maximize nutrient intake.