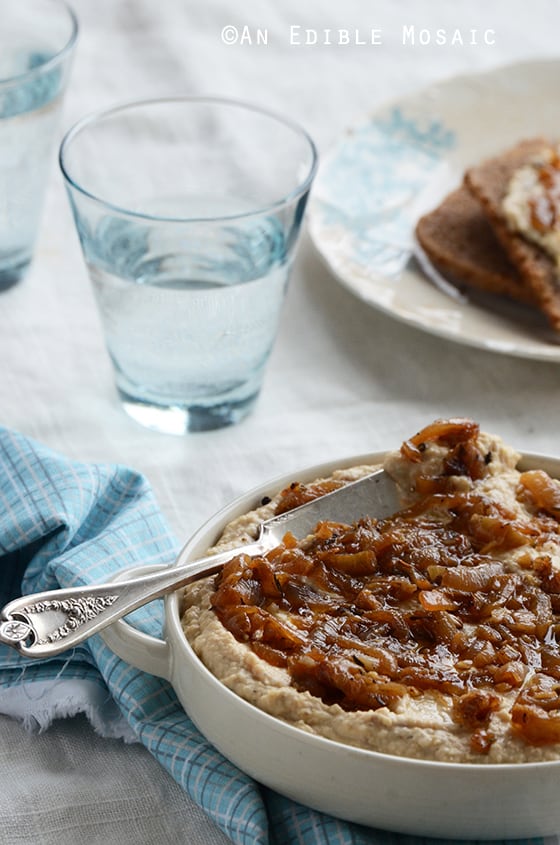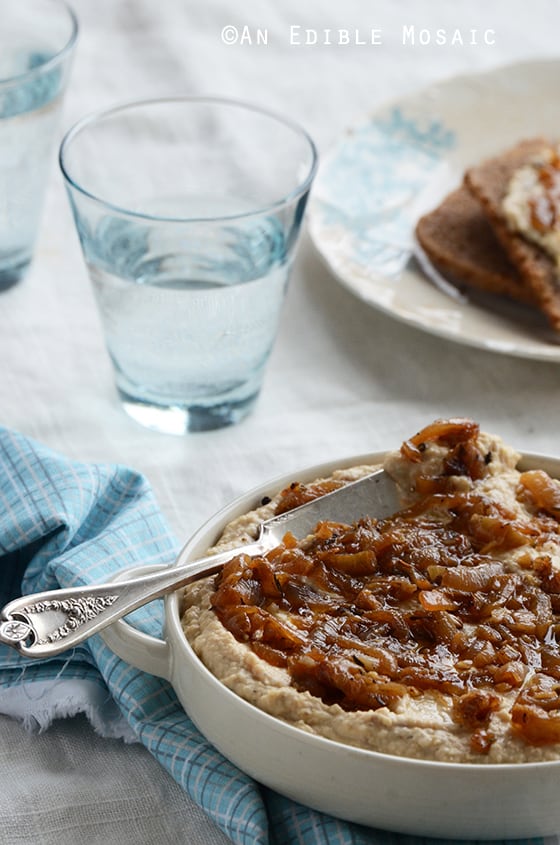 I've been finding myself making fusion-type dishes more frequently lately. To name a few, Indian-spiced burgers with tamarind chutney and fresh mint, rolled up in hot naan instead of being sandwiched between a bun…Greek-flavored enchiladas, with garlicky marinated chicken, feta, tomato sauce, and beautiful briny Kalamata olives…boeuf Bourguignon served pot pie-style, enrobed in a melt-in-your-mouth tender, flaky pastry crust.
Up until recently, I never saw the allure of fusion foods. I thought in order for something to be worth eating, it had to be authentic. Oh, how wrong I was. Sometimes the best food marriages are from places that are worlds apart. Why not take the best of both worlds and combine them in one mind-blowing dish?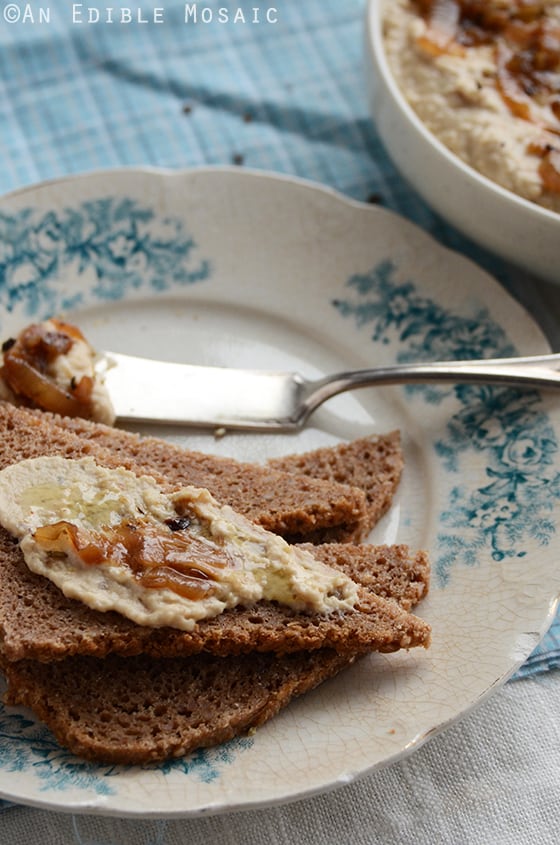 This spread was inspired by the idea of an affair between Middle Eastern hummus and French onion soup. Somewhere in between the two, this spread combines the flavor notes of that soup – sweet, soft, complex caramelized onion and bright thyme – with the blissfully creamy texture and slight twinge of tangy flavor that is hummus. They make quite the pair, really.
And although it's also wonderful cold, served warm, this spread is out-of-this-world.
What are some of your favorite fusion-type dishes?
Warm Caramelized Onion + Chickpea Spread
Prep time:
Cook time:
Total time:
Yield:
Yields about 2 cups of spread, or about 8 servings
Ingredients
1 tablespoon butter
1 tablespoon olive oil
1 large onion, halved and thinly sliced into half-moons
½ teaspoon salt, divided
¼ teaspoon black pepper
3 large cloves garlic, minced
½ teaspoon dried thyme leaves
1 (16 oz/450 g) can chickpeas, peeled if you want a super creamy consistency
3 tablespoons tahini
2 tablespoons fresh lemon juice
3-5 tablespoons hot water
Fresh cracked black pepper, for topping (optional)
Instructions
Heat the butter and oil in a medium-large skillet over medium heat; when the butter is melted, add the onion, ¼ teaspoon salt, and pepper. Cook until the onion is deep caramel in color, about 15 to 20 minutes, stirring occasionally. Add a splash of water or turn the heat down a little at any time if the onion or the pan starts to get too dark. Once the onions are caramelized, add the garlic and thyme and cook 1 minute more, stirring constantly.
While the onions caramelize, pour the chickpeas along with their liquid into a medium saucepan; bring to a simmer over medium heat, and then drain off and discard the liquid.
Pulse the chickpeas in a food process a few times. Add the tahini, lemon juice, and remaining ¼ teaspoon salt, and pulse a few times. Add the water one tablespoon at a time with the food processor on, and continue processing until you achieve your desired consistency. Pulse in ¾ of the caramelized onion (you can process it until completely smooth or leave it with some texture), reserving ¼ for topping. Taste and season with additional salt and pepper as desired.
Transfer the spread to a shallow dish and top with the reserved caramelized onion. Serve warm with a generous sprinkling of fresh cracked black pepper on top, if desired.
Notes
Serving Suggestion: I served this spread with thinly sliced whole-grain bread; thinly sliced French bread would also be delicious, and so would pita chips.