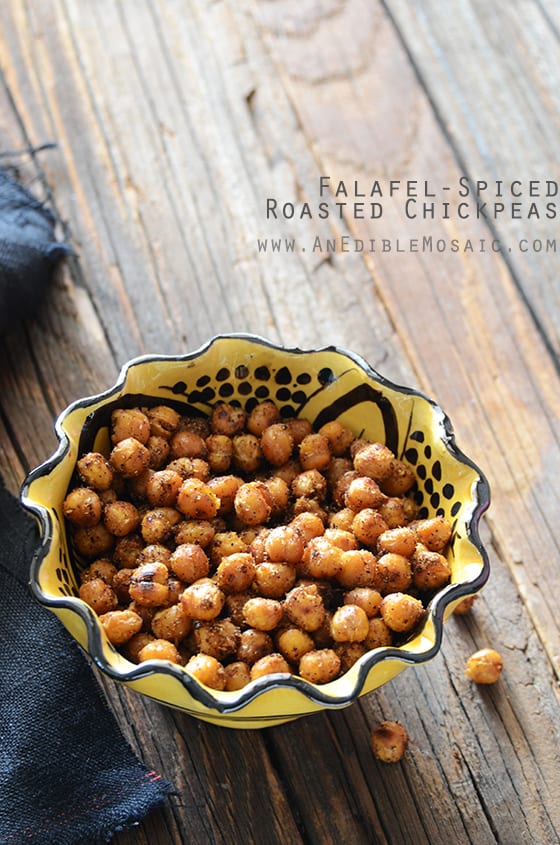 I remember the first time I bit into fresh falafel.
Mike and I were in Amman, Jordan on our honeymoon, out and about just strolling along arm-in-arm, the way you'd expect people on their honeymoon to do. We passed a guy frying up falafel on a street corner; simultaneously, Mike's stomach growled and I inhaled deeply, asking what that amazing smell was.
You know we had to stop and get some.
As we happily burned our tongues on the steaming hot fritters, I told my new husband that this was something I needed in my life. Frequently.
Something I learned later as I spent more time in the Middle East and became more of a falafel connoisseur is that falafel is commonly made either with chickpeas (called hummus in Arabic) or fava beans (called foul). I realized that I much prefer falafel made from chickpeas (which incidentally, are a pantry must-have, according to Cooking Light, and I couldn't agree more!).
Characteristics of great falafel are not only the signature blend of spices used, but also a fritter that's crisp outside and pillowy inside. And they should be eaten so fresh that steam pours out of them when broken in half.
Falafel from my cookbook.
I went through quite a bit of testing when I was developing a recipe for falafel for my cookbook, but the resulting falafel is so worth the effort if you want perfect falafel. Good falafel in the Middle East is usually as easy to come by as a good bagel is in Manhattan, so naturally, no one here makes falafel at home.
But the thing I've noticed about living in Kuwait is that it is a little harder to come by good falafel in general (falafel here doesn't hold a candle to the falafel I had in Syria and Jordan), and it's even harder to find good falafel made of chickpeas in particular. And I'll be honest, I don't always feel like frying up a batch. Sooo, enter the next best thing; or at least something that is delicious in its own right and falafel-esque.
If you haven't tried roasting chickpeas yet, give it a try…it's a fun new way to enjoy them. I like how they get crispy outside, but stay chewy inside (reminiscent of falafel!). They make a seriously addictive snack, but they're also great as a salad topper, soup garish, or sprinkle for roasted veggies.
Falafel-Spiced Roasted Chickpeas
Prep time:
Cook time:
Total time:
Ingredients
1 (16 oz/450 g) can chickpeas, rinsed and drained well
1 tablespoon olive oil
½ teaspoon cumin
½ teaspoon coriander
½ teaspoon garlic powder
½ teaspoon onion powder
½ teaspoon paprika (you can use sweet, hot, or smoked to vary the flavor)
¼ plus ⅛ teaspoon salt
Instructions
Preheat the oven to 400F.
Line a baking tray with paper towels and pour the drained chickpeas on top. Pat well to dry and then remove the paper towels.
Add the oil and all spices and toss to completely coat the chickpeas.
Make sure the chickpeas are spread in an even layer on the baking tray, and roast until golden and crisp outside, about 30 to 40 minutes, tossing a couple times.
Cool slightly, and then serve warm or at room temperature (do not cover them or they will lose their crispness faster). Note that these are best served within about an hour of making them so that they stay crisp.
Disclosure: This post contains Amazon affiliate links to products I believe in, which means that even though it doesn't cost you anything extra, I will receive a small amount of money from the sale of these items, which helps me keep this site alive – thank you for helping to support An Edible Mosaic!