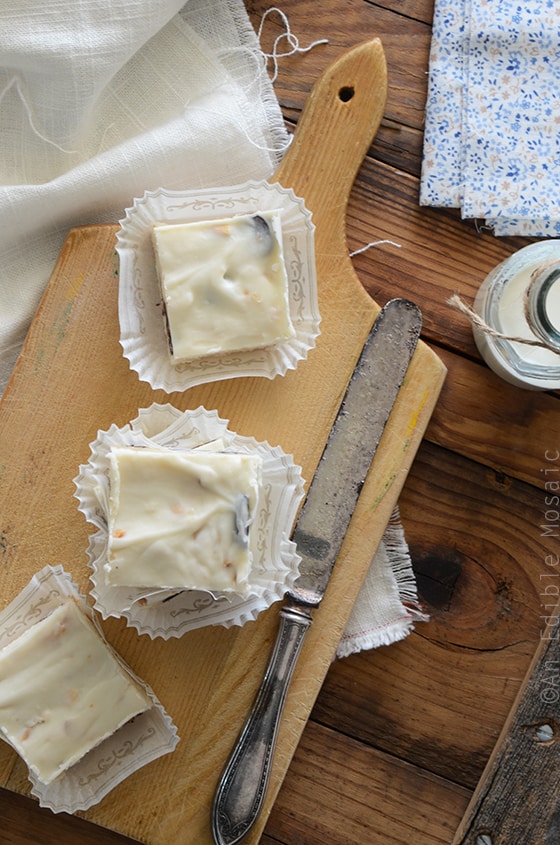 I don't know about you, but I'm a little hard-pressed to find a dessert that's suitable for Easter outside of carrot cake, lemon bars, or orange chiffon cake. And of course all the cutesy little bunny and egg-topped cupcakes and cookies.
There's nothing wrong with any of those things (in fact, I die over a good slice of carrot cake!), but I don't know…I like to mix things up a little.
If you're the same way, this fudge will definitely keep things interesting.
(And if you're a traditionalist and always serve exactly the same thing on holidays, I get that too…but try this fudge some other time because if you're a cake batter fan, I guarantee you'll swoon. And then maybe add it to your Easter dessert table next year. ;) )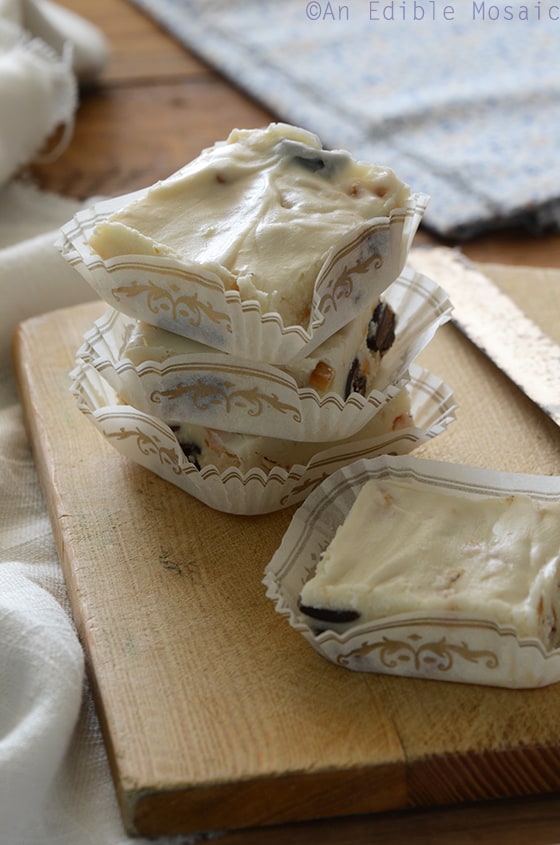 The paper wrappers are some of my favorites! I got them in Little Italy NYC last time Mike and I were there.
Until a couple years ago, I had no idea how they got the "cake batter flavor" into boxed cake mixes. After some experimenting, I think I've discovered their secret: a sneaky little mix of vanilla, almond, and butter flavors, and if you want to go the Funfetti route, rainbow sprinkles too (but I'll leave that for another time). This little trio of extracts is a sure cake-batter-flavor-maker every time.
I wanted to share an Easter-appropriate dessert with you and fudge came to mind because in my family, fudge is an all-holiday treat. As I was rooting around in my pantry for flavor inspiration, I found this trio of cake batter flavorings and I knew which direction I wanted to go with my fudge.
And then – just because I could – I went deluxe. (For me, it's like not turning a Croque Monsieur into a Croque Madame by adding a glorious runny-yolked fried egg…if given the choice, I will usually choose to gild the lily, lol.) Here deluxe meant adding a few tasty mix-ins like dark chocolate, toasted coconut, and toasted almonds. Pure bliss in a fudgy cake batter-flavored base, and pretty elegant as far as fudge goes.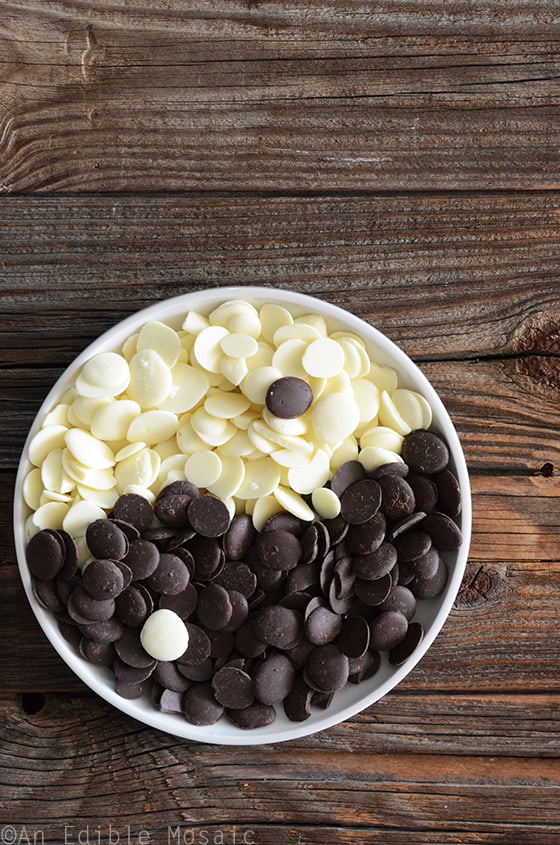 One thing I want to mention about this fudge though – it is sweet and rich. Funny story, Mike took a platter of it to work so we could share some of it with his colleagues. (We can't eat a pan full of fudge alone, people! This batch is big.) Anyway, I cut the fudge into little squares and put each one in a cupcake liner for easy grabbing and portion control. Later when I asked Mike what people said about the fudge he told me, "They liked it, but they said it's rich and sweet, and they had trouble eating more than one piece." I had to laugh because fudge is by nature rich and sweet, and I have yet to come across anyone who tries to eat more than one piece at a sitting. Those piggies, lol. But be warned, this fudge is rich and sweet and should be limited to one piece per sitting. ;)
Now for those of you who are wondering which brands I use for each extract, here they are: vanilla – Nielsen-Massey (I get the big bottle because it's such a bargain!); almond – Simply Organic; and butter – Watkins. And I used Chocoley for both the white chocolate and dark chocolate.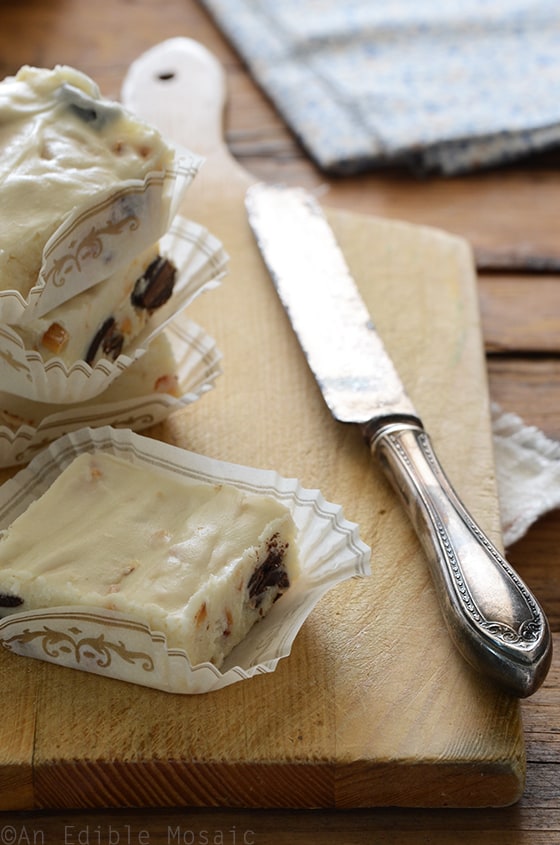 Deluxe Cake Batter Fudge
Yield:
1 (9 by 13-inch) pan of fudge, or about 60 (2-inch) pieces of fudge
Ingredients
1 (14 oz/400 ml) full-fat canned coconut milk, chilled in the fridge overnight
3 lbs (1.36 kg) Chocoley White Chocolate, coarsely chopped
2½ teaspoons pure vanilla extract
1 teaspoon pure almond extract
1 teaspoon butter extract
1 pinch fine sea salt, pulverized into powder using a mortar and pestle (optional, to help cut the sweetness of the white chocolate)
1 cup (140 g) Chocoley Dark Chocolate, coarsely chopped
1 cup (60 g) unsweetened flaked coconut, toasted and cooled
1 cup (115 g) slivered almonds, toasted and cooled
Instructions
Once the coconut milk has chilled overnight, open the can from the bottom and drain off the thin, watery liquid. Scoop the waxy portion into a large bowl and beat with a handheld electric mixer until smooth. Set aside for now.
Line a 9 by 13-inch baking dish with 2 pieces of parchment paper so that the paper hangs over all 4 sides (so the fudge can easily be lifted out of the pan).
Melt the white chocolate until smooth in a microwave or double boiler, and then cool slightly. Slowly drizzle ½ cup of the melted chocolate into the whipped coconut cream mixture while whisking constantly, and then slowly drizzle in another ½ cup. Once 1 cup of the melted white chocolate mixture has been incorporated into the whipped coconut cream, add the remaining melted white chocolate and stir until smooth. Stir in the 3 extracts and the sea salt.
Cool the white chocolate mixture until lukewarm, and then fold in the dark chocolate, coconut, and almonds.
Pour the mixture into the prepared pan and spread it out evenly. Cool to room temperature, then cover the dish with plastic wrap and refrigerate overnight before cutting and serving.
Once chilled overnight, cut the fudge into 1 or 2-inch squares; store it stacked in single layers between wax paper in a sealed contained in the fridge.
Let the fudge sit at room temperature for 10 minutes before serving.
Disclosure: I received the chocolate that I used in this recipe for free from Chocoley. I did not receive compensation for this post and I was under no obligation to review the product; as always, opinions stated are my own. This post contains Amazon affiliate links to products I believe in, which means that even though it doesn't cost you anything extra, I will receive a small amount of money from the sale of these items, which helps me keep this site alive – thank you for helping to support An Edible Mosaic!