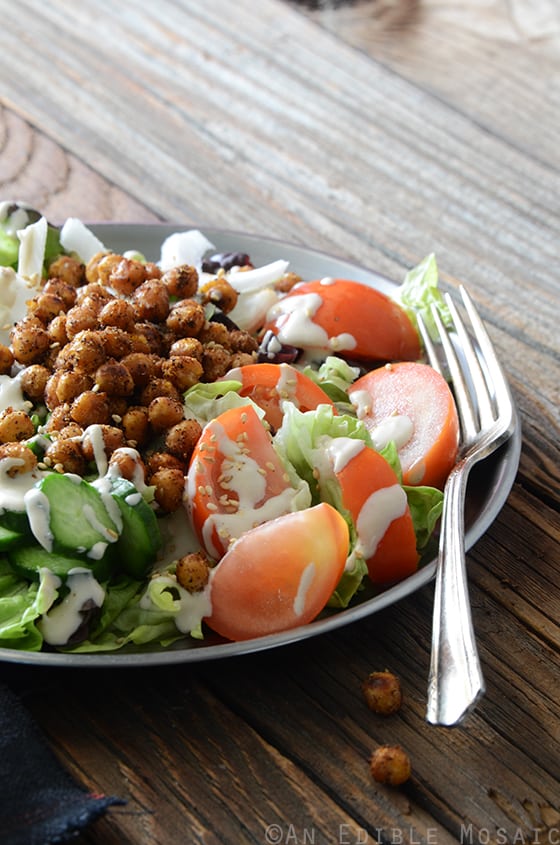 Like spring cleaning for the house, I know quite a few people who do an annual detox every spring. I've done one for the past three years, usually around the beginning of April, but this year I'm a little late (yeah, oops). Being in Kuwait and having the weather already feel like the hottest part of summer back home, it just doesn't feel like it's time for a spring detox.
But since the heat naturally drives me to eat veggie-based meals for most of my daily meals, I figure it's not all bad.
I love me a good salad, and I love finding new ways to keep salad exciting. Gone are the salads of my childhood that were (and I promise I'm not exaggerating) just a bowl of iceberg lettuce with two tomato slices, three cucumber rounds, a tiny sprinkling of shredded carrot, and store-bought Italian dressing. (Ugh! No wonder most kids think they don't like salad.)
Adding exotic or seasonal fruit (like mango, coconut, or cherries), different seeds or nuts (think walnuts, cashews, or almonds), various kinds of beans (even roasted!), whatever leftovers I have on hand, and/or switching up the dressing keeps salads interesting for me.
Remaking something that isn't salad (like falafel) into salad is always fun too. Last week I shared my recipe for Falafel-Spiced Roasted Chickpeas, which are perfect in this salad. Don't skimp out on the dressing though! Tahini sauce is a classic pairing with falafel and I think it makes the salad.
Falafel-Spiced Roasted Chickpea Salad with Tahini Dressing
Ingredients
Dressing:
2½ tablespoons tahini
1½ teaspoons fresh lemon juice
3-6 teaspoons cold water
⅛ teaspoon salt
⅛ teaspoon black pepper
Salad:
4 cups red or green-leaf lettuce, torn into bite-sized pieces
1 medium tomato, cut into wedges
2 Persian cucumbers (or ½ English cucumber), thinly sliced
1 small onion, halved and thinly sliced
1 batch Falafel-Spiced Roasted Chickpeas
1 teaspoon sesame seeds
Instructions
For the dressing, whisk together the tahini and lemon juice in a medium bowl. While whisking, add the water 1 teaspoon at a time until it reaches your desired consistency. Whisk in the salt and pepper.
For the salad, arrange the lettuce on 2 plates; top each with half of the tomato, cucumbers, onion, and chickpeas. Sprinkle the sesame seeds on top and drizzle on the dressing.
Serve immediately.