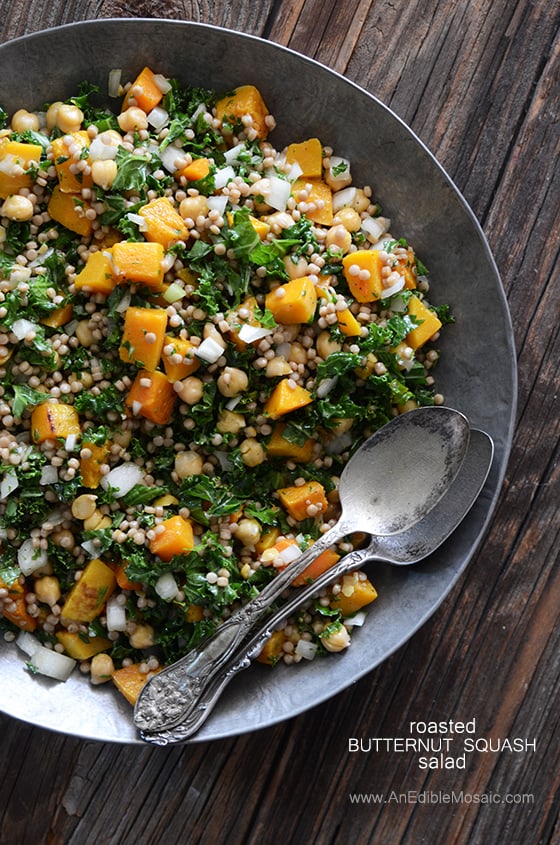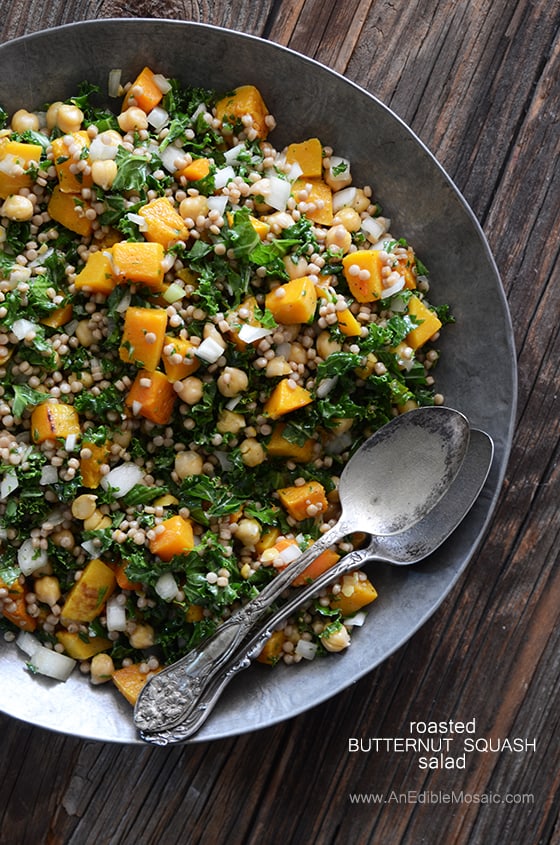 I've taken to calling our kitten (Elsa) butternut-butt.
What can I say? It's catchy and she's a butternut fiend.
Even though she makes the cutest little bird noises and climbs walls like a spider, she's really a bit of a piggy.
Any time I'm in the kitchen it doesn't matter where she is – she will come running to see what I'm up to. At dinner she tries to walk the length of the dining table sniffing around our plates looking for a stray piece of food to snag. And when I try to grab a quick lunch at my desk she'll get all up in my face for a piece of the action.
When I roasted the butternut for this salad (it was actually months ago when Mike and I were still living in Kuwait and I was trying to simulate how I'd be eating if we had a change of seasons in that climate; oh how I missed cold-weather food back then!), Elsa went completely nuts for it. She was literally howling at the smell as if it was driving her insane. (Which I totally get; roasted butternut squash is enough to drive me wild too.) So after that, butternut-butt got added to the ever-growing list of her nicknames.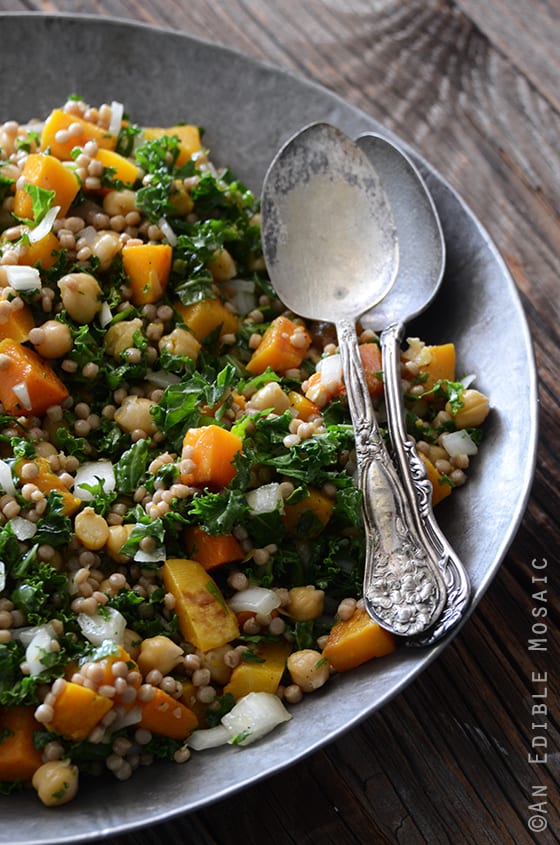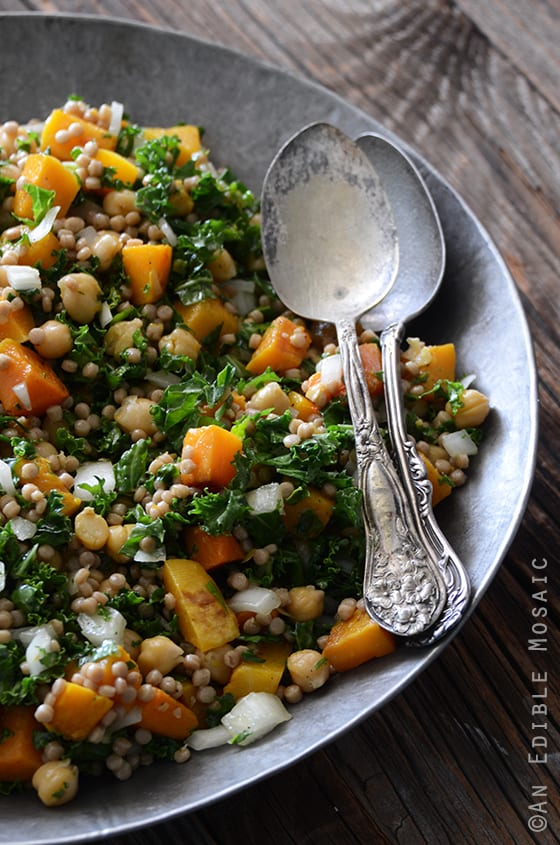 And this salad? Well, let's just say it's one of my favorites as well as Elsa's. Chickpeas and pearl couscous make a cute looking combo, but there's nothing cute about how hearty this dish is. It has some serious staying power. Plus it's perfectly fall-ish with roasted butternut and kale.
I know it is waaaaay too early to say so, but if you're a planner, no doubt you've realized that Thanksgiving is just next month. And on the off chance that you've started to at least fantasize about your menu, think about adding this pretty little number to the salads part of your festive spread.
Or invite a couple friends over for lunch (ladies always adore a festive salad for lunch!).
Or bring it to your next potluck.
You get it. Just make this salad and you won't be disappointed.
Roasted Butternut Squash Salad with Chickpeas, Kale, and Pearl Couscous
Prep time:
Cook time:
Total time:
Yield:
8 side dish servings, or 4 main course servings
Ingredients
Dressing:
2 tablespoons apple cider vinegar
2 tablespoon extra-virgin olive oil
1 teaspoon honey
1 teaspoon Dijon mustard
¼ teaspoon salt
⅛ teaspoon black pepper
Salad:
1 (1½ lbs/680 g) butternut squash, peeled, de-seeded, and cubed into ½-inch pieces
2 tablespoons olive oil
½ teaspoon salt, divided
⅛ teaspoon black pepper
1⅓ cups (315 ml) water
1 cup (170 g) whole wheat pearl couscous
1 medium sweet onion, diced
5 oz (150 g) kale, washed, de-stemmed, and finely chopped
1 (15.5 oz/439 g) can chickpeas, rinsed and drained
Instructions
Whisk together all ingredients for the dressing in a small bowl and set aside.
Preheat oven to 425F. Toss together the cubed squash, olive oil, ¼ teaspoon salt, and black pepper on the baking sheet and then spread the squash out in a single layer. Roast the squash until tender and golden in places, about 20 minutes, tossing the squash once halfway through. Cool.
Bring the water to a boil in a medium saucepan, then add the pearl couscous and the remaining ¼ teaspoon salt. Bring back up to a boil, then reduce heat to simmer; cover the pot and cook until the water is absorbed, about 20 minutes. Remove from heat and cool.
Add the butternut squash, pearl couscous, onion, kale, chickpeas, and salad dressing to a large bowl and gently toss to combine.
Serve or keep refrigerated for up to 2 days.