Crispy and golden outside, tender inside, and packed with savory flavor, these Keto Crispy Zucchini Slices pair well with just about any meal and are a real crowd-pleaser. They're a great low carb substitute for fries with just 6g net carbs per serving!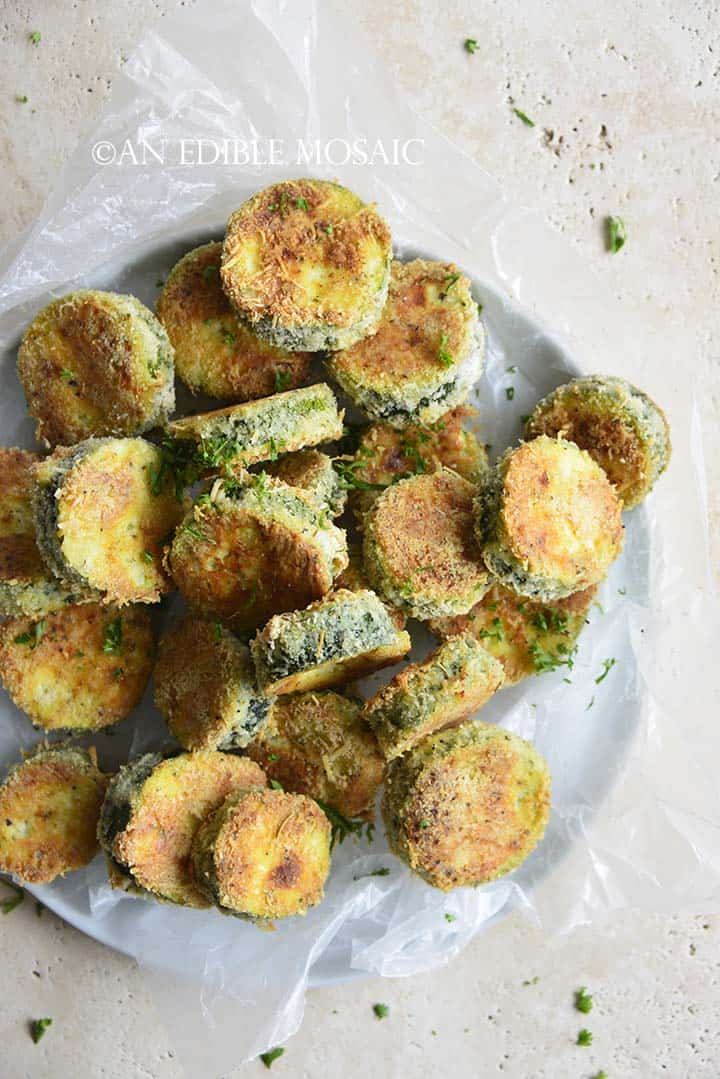 This recipe is my take on a favorite summer side dish my mom makes. My version hits all the right notes – crispy outside, tender inside, and full of flavor – but with much fewer carbs!
When I was younger my mom had a small vegetable garden, and zucchini was always one of the vegetables that thrived best.
If you grow zucchini you probably come to expect zucchini overload every summer! It's always good to have a few new recipes up your sleeve to help use up the bounty.
My Keto Crispy Baked Zucchini Slices recipe was inspired by my mom's fried zucchini! I made a few small changes: 1) keto-fied it, and 2) changed the cooking method from pan-frying to roasting because it's even easier.
My sister and I always looked forward to mom's breaded and pan-fried zucchini rounds. The breading outside was crispy and the zucchini was tender inside.
This side dish is unique enough to not be boring, but basic enough to go well with just about anything you cook on the grill (burgers, chicken breasts, steak, etc.).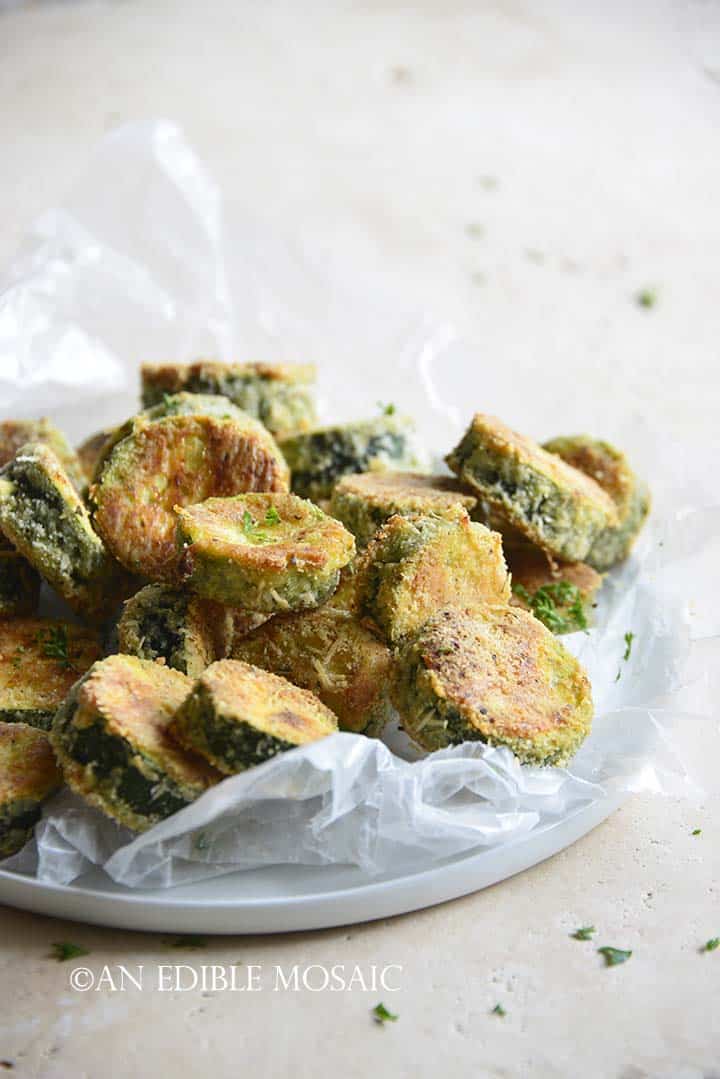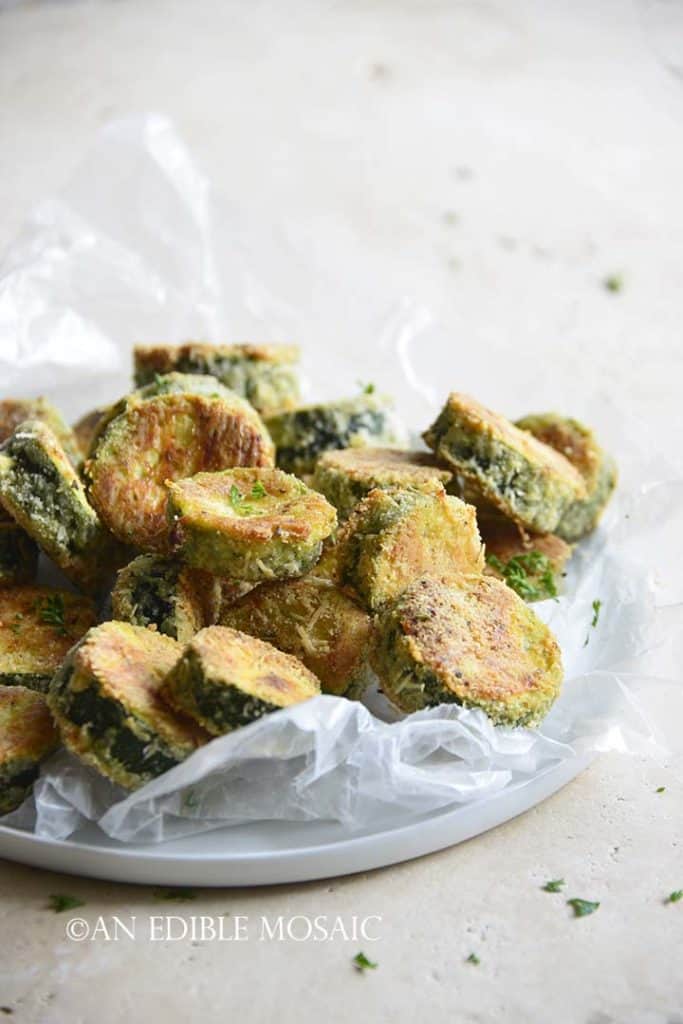 Keto Crispy Baked Zucchini Slices Recipe
To make this recipe keto, I leave out the breadcrumbs and instead use a mixture of almond flour, Parmesan cheese, and a few basic spices. Whip this one up and watch the whole family devour zucchini and ask for seconds!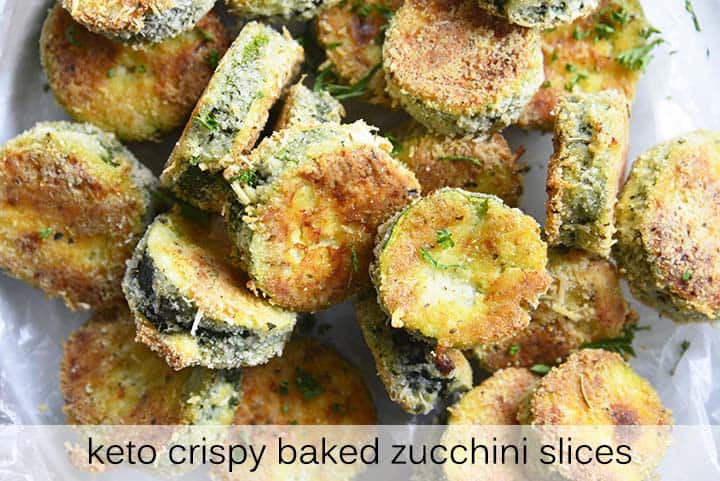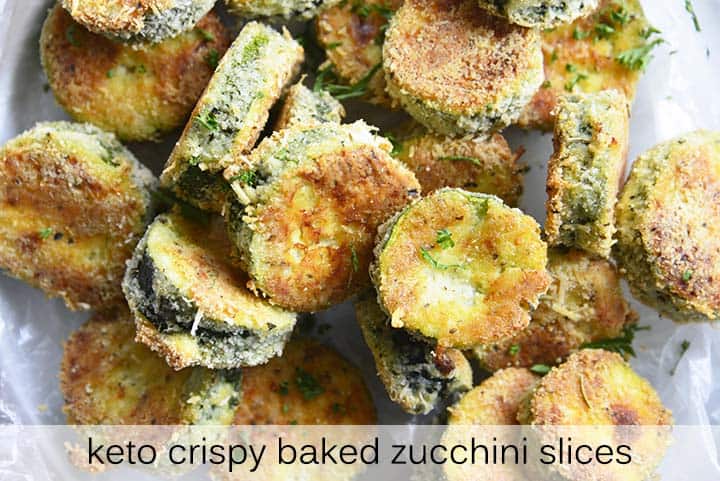 Breaded Zucchini Slices
This easy side dish recipe is sure to become a favorite. It's a great way to help use up some zucchini during summer when we have so much zucchini that it's coming out our ears, lol!
Ingredients in This Keto Crispy Baked Zucchini Slices Recipe:
Parmesan cheese
Eggs
Zucchini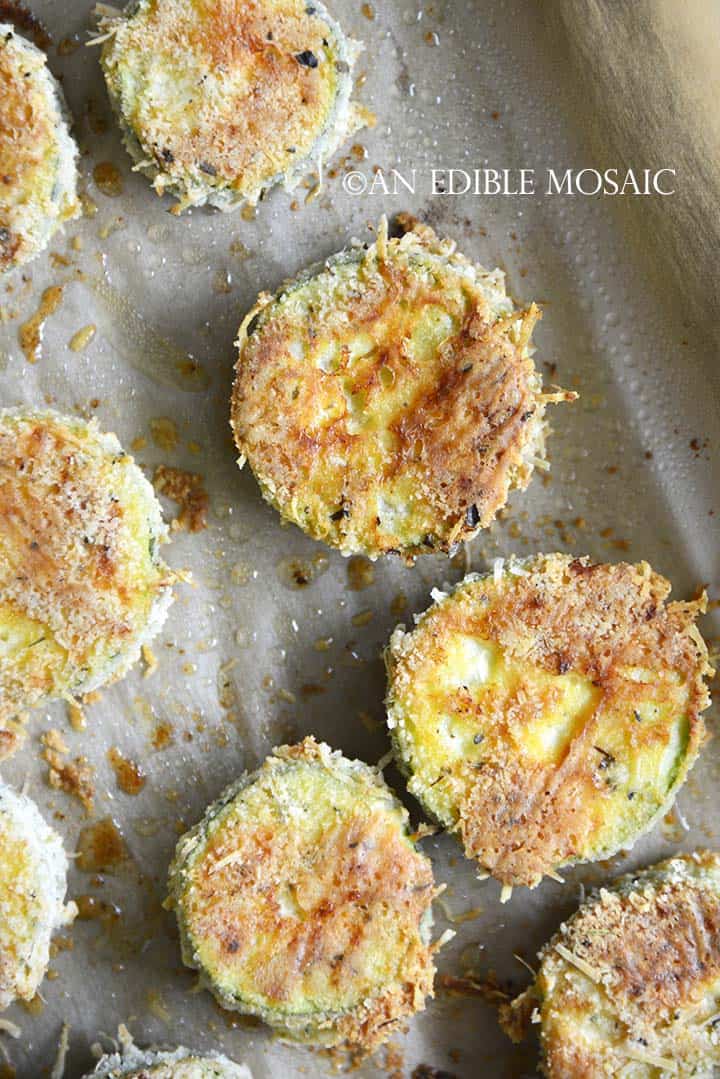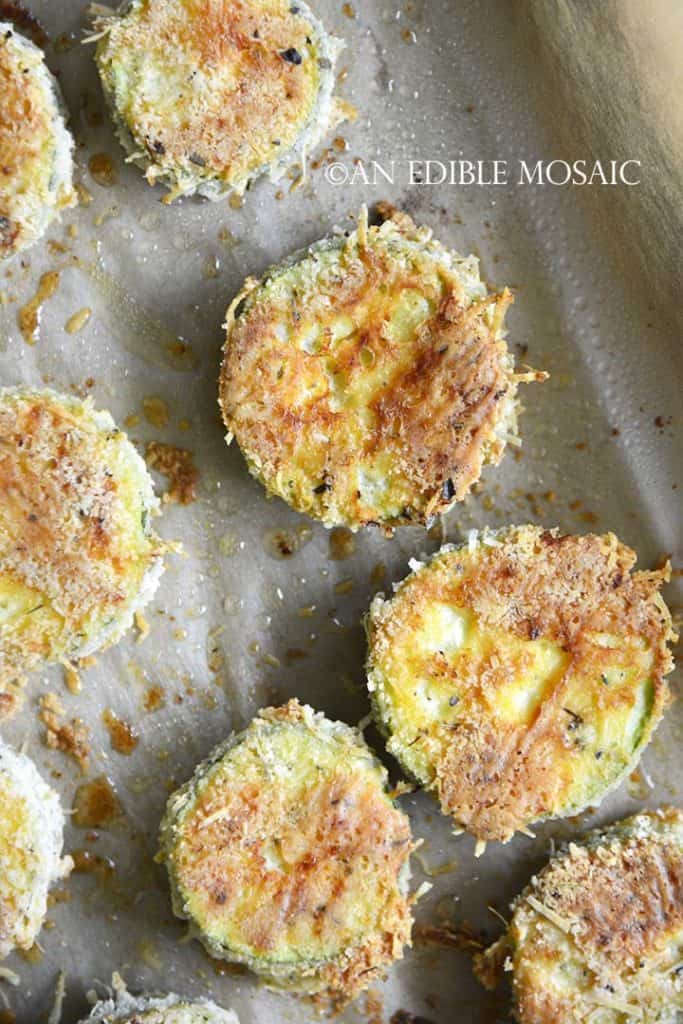 How to Make Keto Crispy Baked Zucchini Slices:
Stir together all ingredients for your keto breadcrumbs.
Whisk together the eggs in a separate shallow bowl.
Slice the zucchini into rounds, pat it dry, and toss it with coconut flour.
Dredge the zucchini in egg, and then in keto breadcrumbs.
Arrange it on a large baking sheet that's lined with parchment paper and sprayed with olive oil, and spray the tops of the zucchini slices with olive oil.
Bake until golden on both sides, about 25 minutes at 425F.
Enjoy!
Keto Breadcrumbs
Instead of using regular breadcrumbs, I use a mixture of keto-friendly ingredients to simulate breadcrumbs. Here's what I use in my keto breadcrumbs:
Almond flour
Parmesan cheese
Dried Italian herb seasoning
Garlic powder
Black pepper
Zucchini FAQ
Is Zucchini a Fruit?
Yes, zucchini is technically a fruit! However, it's typically cooked as a vegetable along with other savory flavors, such as garlic, onion, herbs, and spices.
Is Zucchini Keto Friendly?
Yes! According to the USDA Nutrition Database, each 1 cup of sliced zucchini has just 2.41g net carbs, making it a good choice for a keto diet.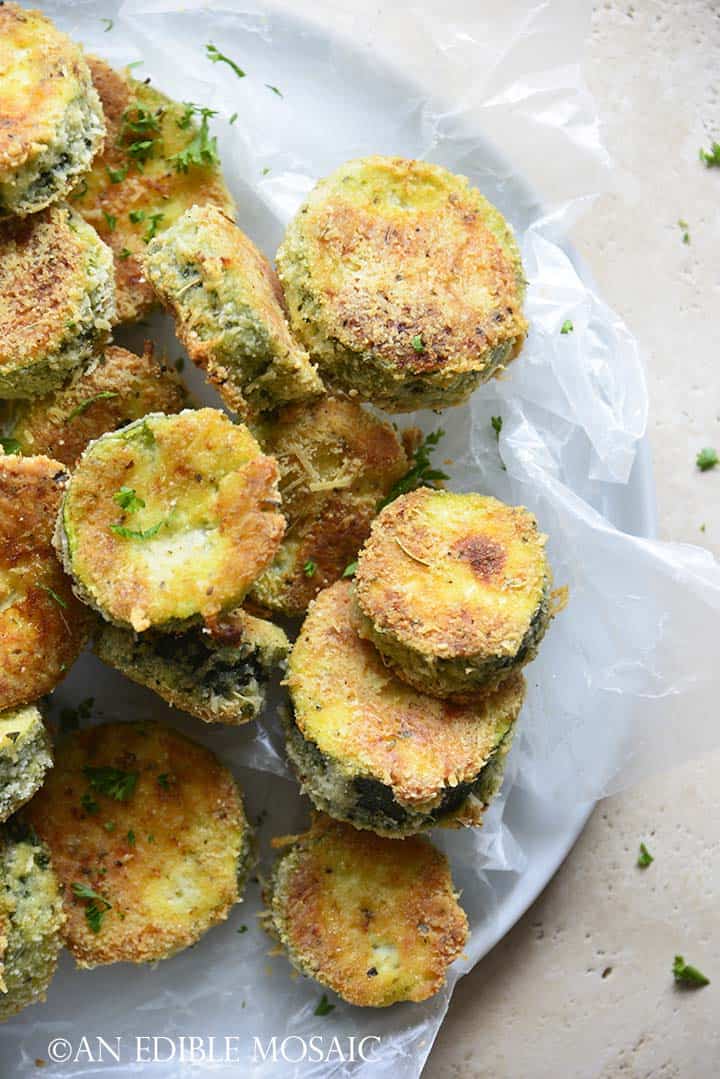 Can You Eat Zucchini Raw?
Yes, zucchini is ok to eat raw! Of course opt for organic whenever possible and give it a good rinse before eating it.
Here are a few delicious ways to eat raw zucchini:
Spiralized into "zoodles"
Thinly sliced and added to green salads
Cut into rounds or sticks and served with dip on a vegetable platter
Shaved into thin ribbons, tossed with oil and vinegar, and served as salad (feta and basil are delicious with this)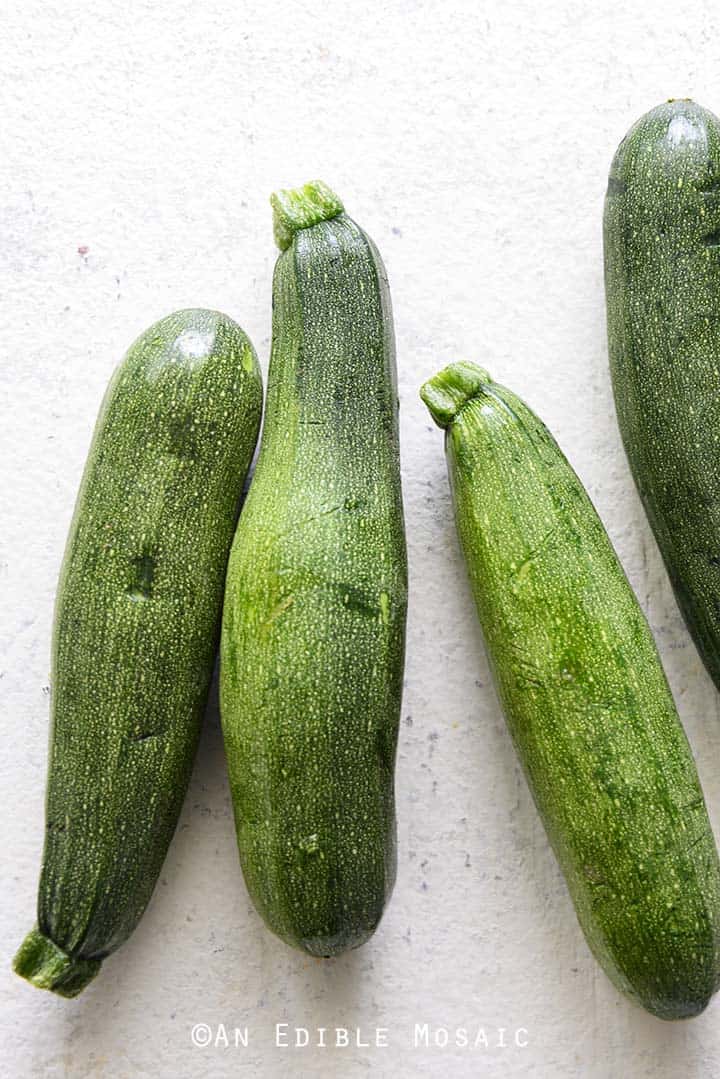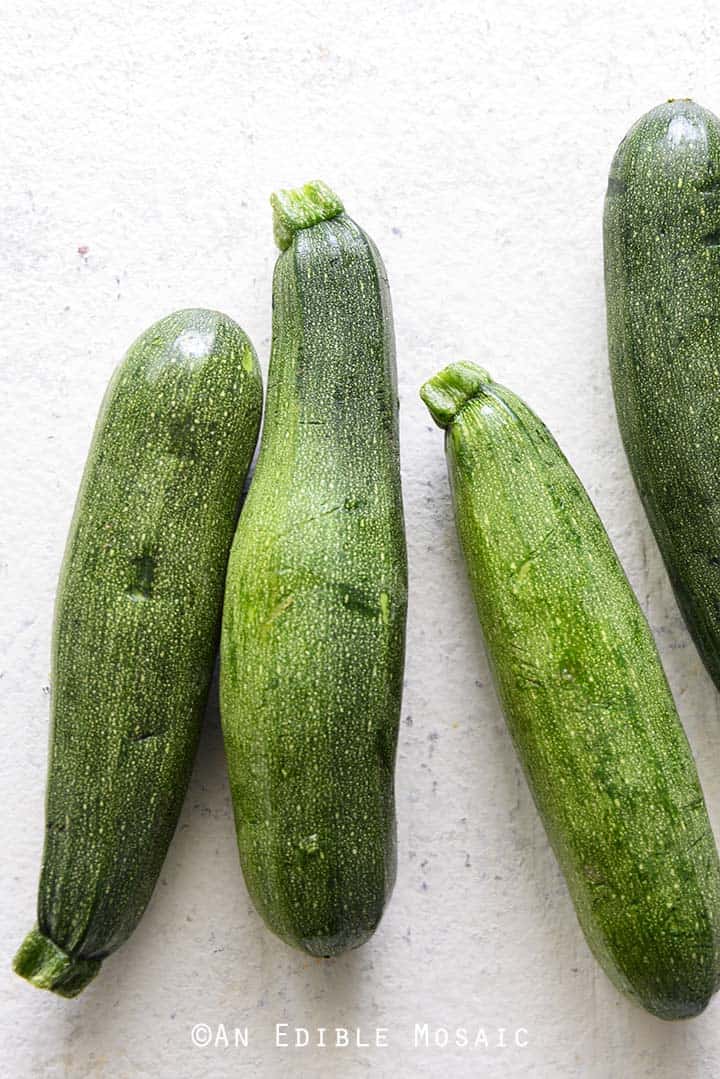 Zucchini Nutrition Information
According to the USDA Nutrient Database, 1 cup of sliced zucchini (113g) with the skin on has the following nutrition information:
19kcals
1.37g protein
.36g fat
3.51g total carbs
1.1g fiber
2.41g net carbs
More Low Carb and Keto Zucchini Recipe Inspiration: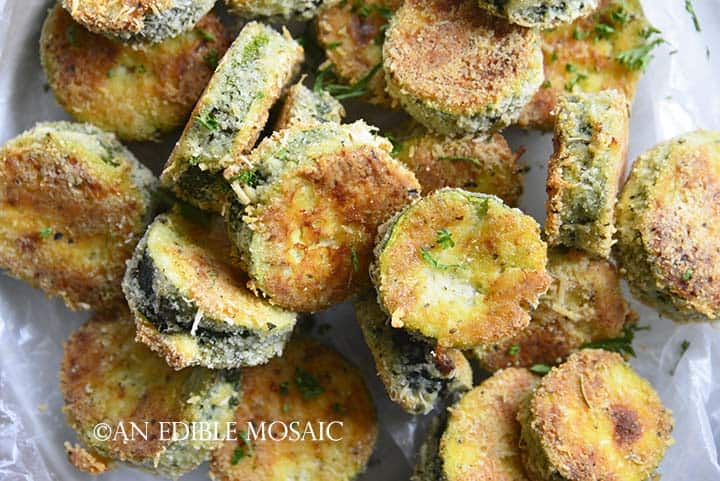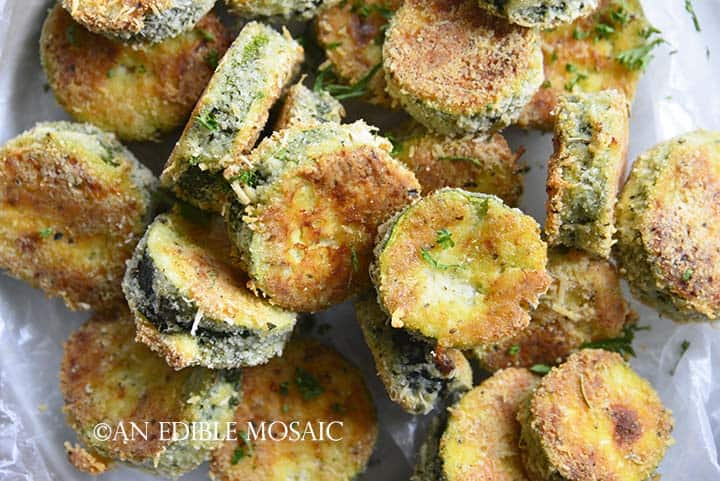 Did you make this recipe? Please rate it and leave a comment below because I love hearing from you! You can also tag @anediblemosaic on social media. To stay up-to-date FOLLOW ME on Instagram, Twitter, and Facebook. Xoxo, Faith
Keto Crispy Baked Zucchini Slices
This recipe for Keto Crispy Baked Zucchini Slices is crispy outside, tender inside, and full of flavor but with much fewer carbs!
Instructions
Preheat the oven to 425F; line a large baking tray with parchment paper and spray it with olive oil.

Stir together the almond flour, Parmesan, dried Italian herb seasoning, garlic powder, salt, and black pepper in a shallow bowl.

Whisk together the eggs in a separate shallow bowl.

Pat the zucchini dry and add it to a zip-top plastic bag along with the coconut flour. Seal the bag and gently shake it to coat the zucchini.

Dip the zucchini circles in the egg, letting the excess drip off, and then dip in the almond flour mixture to coat. Arrange them on the prepared baking tray. Spray the tops with olive oil.

Bake until golden on both sides, about 25 minutes, flipping once halfway through.

Serve warm.
Video
Faith's Tips
Net Carbs: 6g per serving
Patting the zucchini dry helps ensure that the coating will stick to it.
Be sure to bake until golden, these get deliciously crispy.
Low Carb Ranch Dressing is perfect for dipping!
Nutrition
Nutrition Facts
Keto Crispy Baked Zucchini Slices
Amount Per Serving
Calories 212
Calories from Fat 144
% Daily Value*
Fat 16g25%
Cholesterol 71mg24%
Sodium 173mg8%
Potassium 276mg8%
Carbohydrates 10g3%
Protein 12g24%
Vitamin A 345IU7%
Vitamin C 16.3mg20%
Calcium 179mg18%
Iron 1.8mg10%
* Percent Daily Values are based on a 2000 calorie diet.
Disclosure: This post contains Amazon affiliate links to products I believe in, which means that even though it doesn't cost you anything extra, I will receive a small amount of money from the sale of these items. Thank you for helping to support An Edible Mosaic!