This Sweet and Spicy Buffalo Buttered Pecans recipe combines two classic snacking favorites; it's perfect for munching anytime!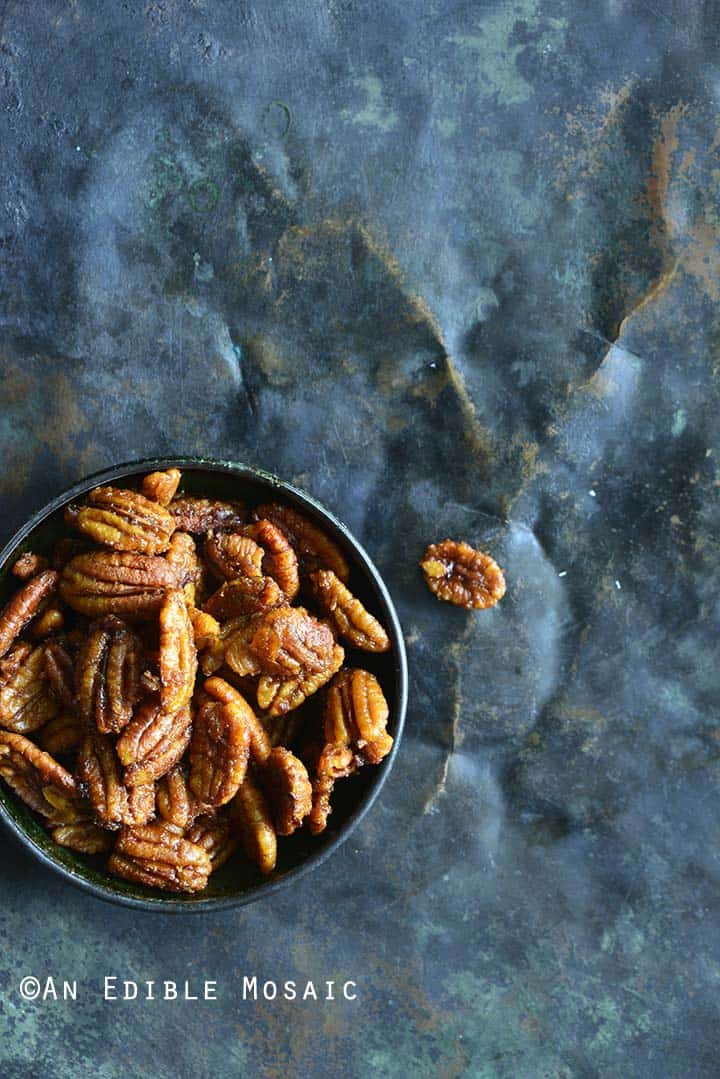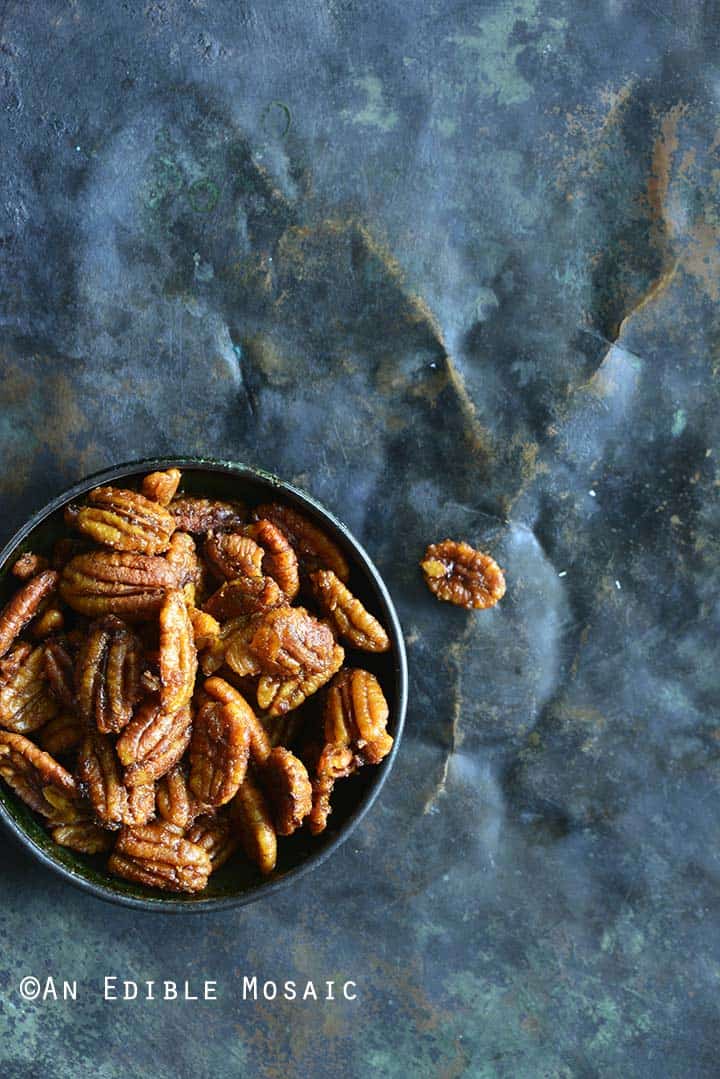 I'm the type of eater who would much rather nibble on five small meals throughout the day than sit down to three big ones. I like grazing; tasting a little of this and a bit of that, and also, I don't enjoy eating until I actually feel full (I much prefer to stop when I'm just satisfied), the way that can happen if you're eating fewer (but larger) meals. Truthfully, I'm usually just feeling snacky.
When the very talented Hannah of BitterSweet Blog recently reached out to me asking if I wanted to help her celebrate the release of her latest cookbook, Real Food, Really Fast, I immediately wanted in. Hannah is one of the most talented bloggers, photographers, and recipe developers I have gotten to know through blogging.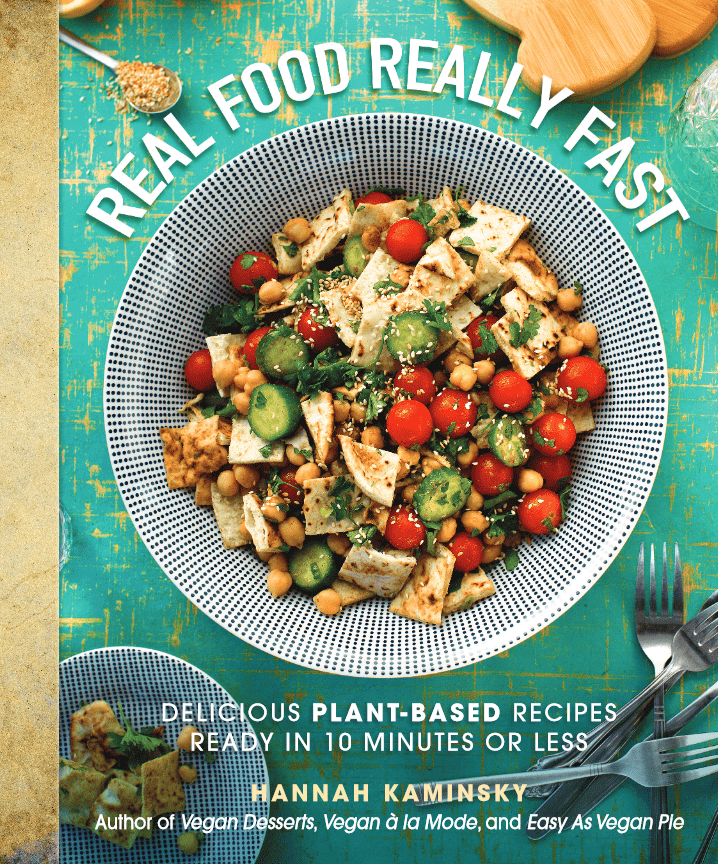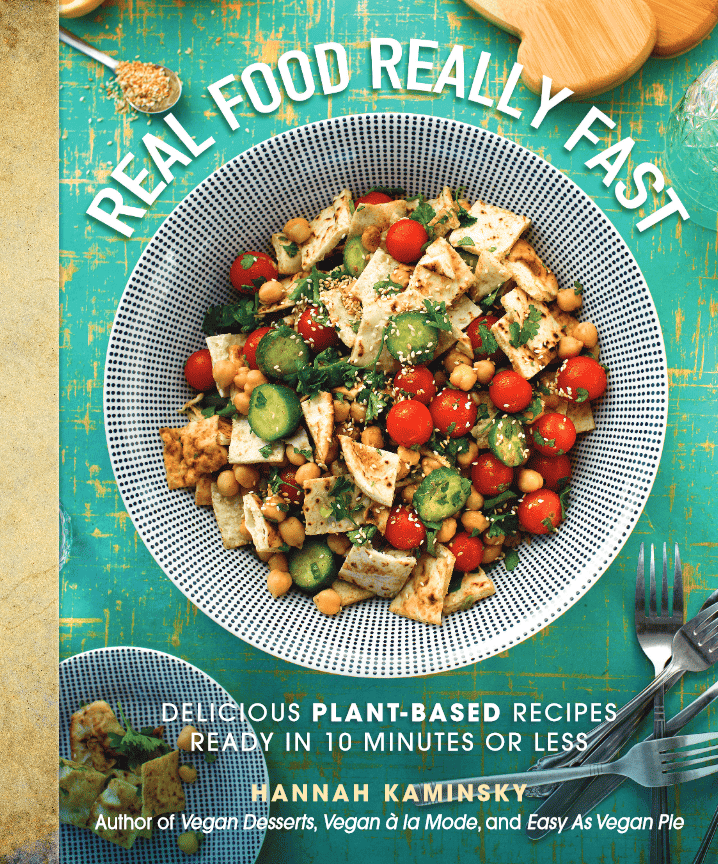 Hannah's vegan recipes always entice me, making me certain all over again that I don't need to eat meat (or animal products) every day to be satisfied. She makes the best crunchy cheesy snacks, her shawarma-style platter is screaming my name, she's as big a fan of coconut as I am, and her glass-like pumpkin pie has me swooning. Let's just say I'm a fan.
In her cookbook, Hannah talks about being an intrepid cook, moving with intention and grace as you explore new culinary territory, and I couldn't agree more! It's been my own personal experience that reading a recipe from start to finish before I even start is integral to its success. She gives tips and tricks on what to keep stocked in your pantry, what kitchen equipment will truly make your life easier, and even a few kitchen hacks that I can't wait to try (her method for breaking up broccoli and cauliflower into florets is nothing short of genius, and bonus, sounds therapeutic too, lol!).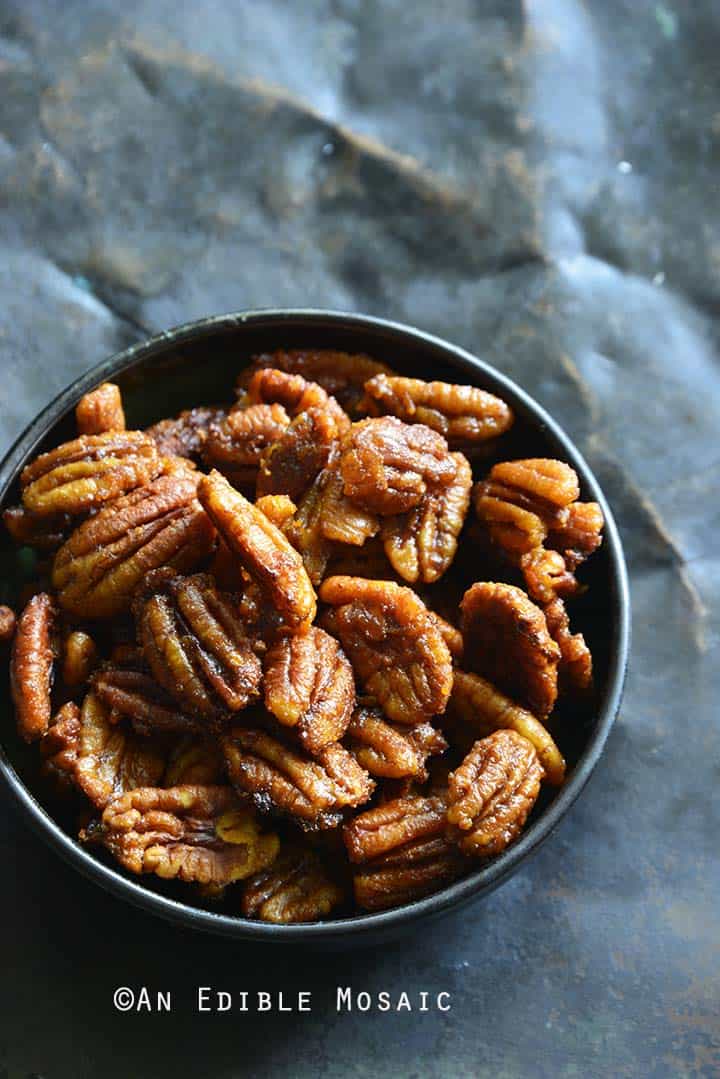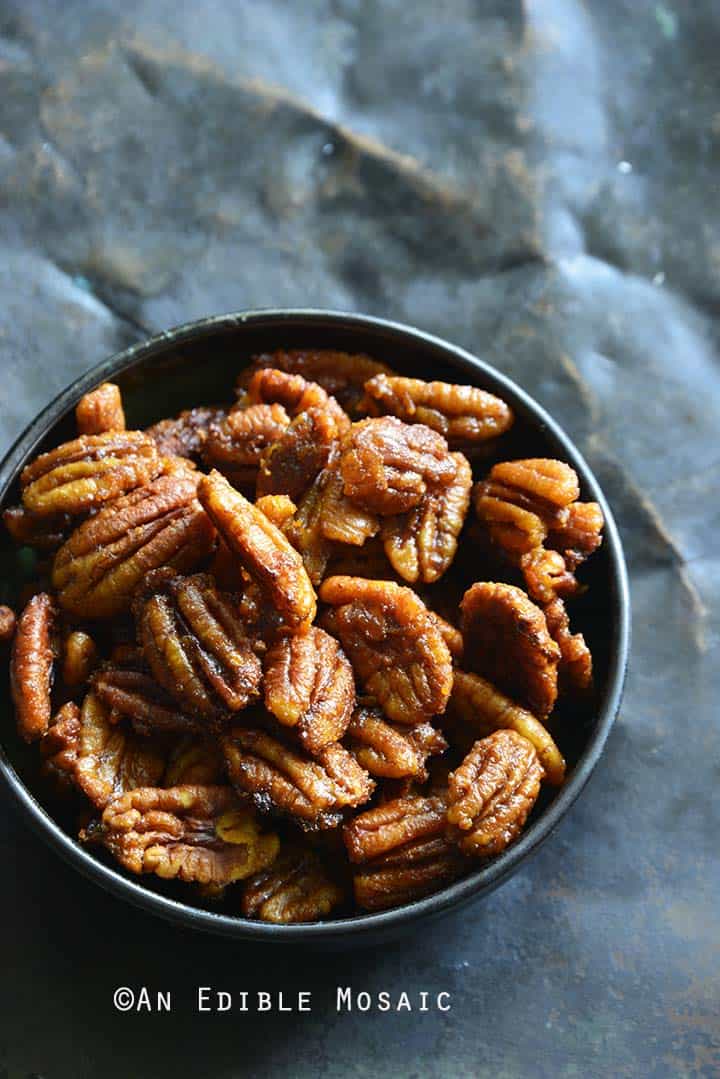 I saw Buffalo Buttered Pecans listed in the table of contents and knew they'd be happening in my kitchen sooner rather than later. Being a Buffalo native I'm drawn to anything that claims to be "Buffalo"; I knew this recipe was legit when I saw that Hannah recommended Frank's RedHot by name (as a Buffalonian, there truly is no other option).
I whipped up these nuts, let them cool slightly and innocently swiped one. Almost ¼ of the batch later I realized how addictive they are. Their nutty crunch combined with their sweet/spicy flavor profile makes them irresistible. They're perfect movie-watching food, Super Bowl food, party food, or even just snack food in general. I also love them as a salad topper for added crunch and flavor.
A few of the other recipes from Real Food, Really Fast that caught my eye include:
Exploded Wonton Soup
Everything Bagel Salad
Hurricane Popcorn
Artichoke Barbacoa
Cashew Scampi
Walnut Bolognese
Palak Paneer Panini
Black Forest Skillet Crisp
Speculoos Paneforte
What's your favorite Buffalo-flavored food?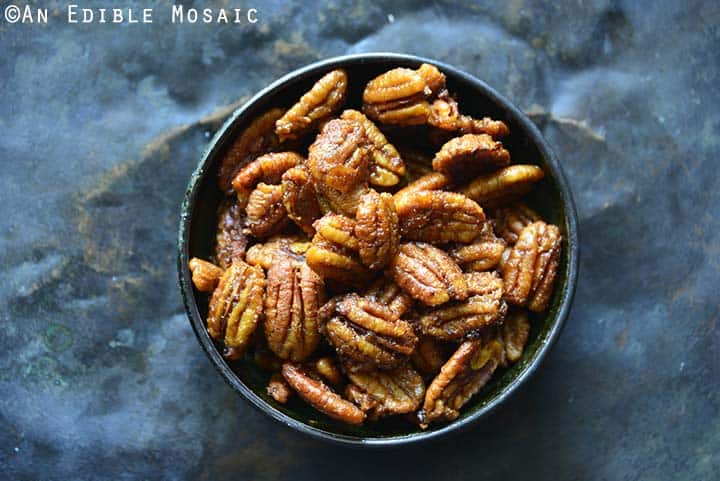 Sweet and Spicy Buffalo Buttered Pecans
Prep time:
Cook time:
Total time:
This Sweet and Spicy Buffalo Buttered Pecans recipe combines two classic snacking favorites; it's perfect for munching anytime!
Ingredients
2 tablespoons unsalted vegan butter
2 cups pecans
3 tablespoons Frank's RedHot sauce
2 tablespoons sugar
1 teaspoon garlic powder
1 teaspoon vegan Worcestershire sauce
¼ teaspoon salt
Instructions
Melt the butter in a medium-large skillet over medium to medium-high heat. Once melted, add the pecans, hot sauce, sugar, garlic powder, Worcestershire, and salt.
Cook until the nuts are toasted and aromatic, and the liquid is cooked off, about 8 minutes.
Spread the nuts out on a cookie sheet to dry.
Store in an airtight container at room temperature for up to 1 week.
Notes
Recipe adapted slightly from the recipe for Buffalo Buttered Pecans in
Real Food, Really Fast
by Hannah Kaminsky.
Disclosure: This post contains Amazon affiliate links to products I believe in, which means that even though it doesn't cost you anything extra, I will receive a small amount of money from the sale of these items, which helps me keep this site alive – thank you for helping to support An Edible Mosaic!