If you're like me and have a the-darker-the-better mindset when it comes to chocolate, you're probably wondering why on earth I used white chocolate to make this drink. I'm with you, trust me, I am.
Although I don't enjoy white chocolate on its own (it's just so sweet!), somehow in this drink it really works. Make it and you'll see what I mean.
If you prefer a darker version of this drink, check out my recipe for regular hot chocolate, or for a lighter version, I definitely recommend my skinny caramel hot cocoa.
Or if chocolate mousse or velvety smooth dark chocolate custard is more your thing for V-day, I've got you covered there too.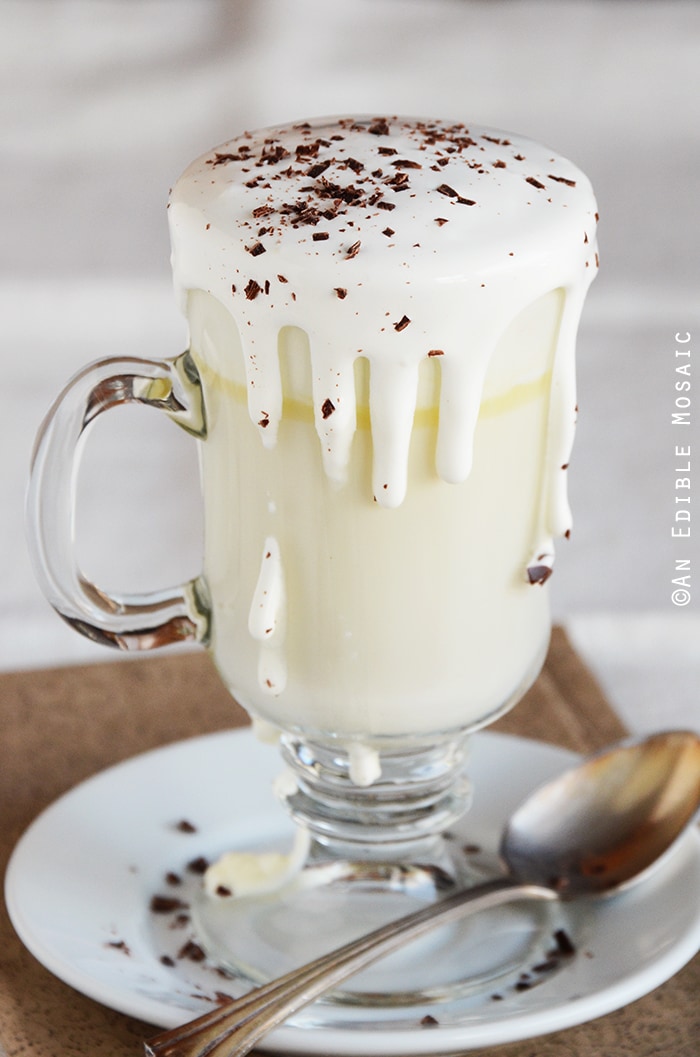 White Hot Chocolate
Prep time:
Cook time:
Total time:
Ingredients
1 cup whole or reduced-fat milk (or half and half, if you want to be really indulgent)
2 oz good-quality white chocolate
1 pinch sea salt
½ teaspoon pure vanilla extract
Lots of hipped cream, for topping
Dark chocolate shavings, for garnish
Instructions
Combine the milk, white chocolate, and salt in a medium saucepan over medium heat.
Bring up to a simmer, and continue simmering gently 2 minutes, whisking frequently (turn the heat down as necessary to keep it at a simmer).
Turn the heat off and stir in the vanilla.
Serve hot, garnished with whipped cream and dark chocolate shavings.
Notes
If You Like Yours Frothy: Use an immersion blender or carefully pour the hot chocolate into a blender and process until frothy.