This Marry Me Chicken Recipe features juicy pan-seared chicken in a rich savory sauce with garlic, sundried tomatoes, and fresh herbs, and it takes less than 15 minutes to make!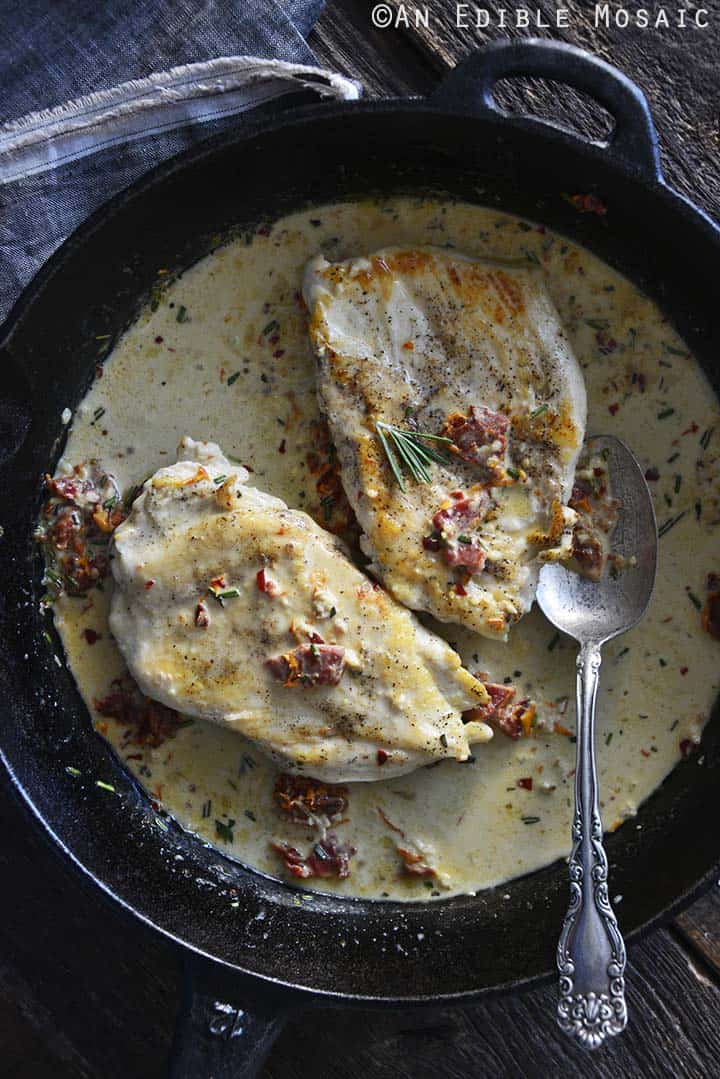 If you're looking for romantic date night dinner ideas for two, you've come to the right recipe.
Marry Me Chicken has minimal ingredients, but packs a punch of flavor. And no matter what your skill level is in the kitchen, you'll easily be able to tackle this dish!
Despite being easy to make, this recipe is elegant and impressive. It's the perfect thing to whip up for that special someone, whether it's for Valentine's Day, a birthday, or any date night at home. Everyone goes crazy for it!
Chicken cutlets get a quick sear in a hot skillet, and then you build the sauce right in the same pan. Garlic, fresh herbs, sundried tomatoes, chicken stock, and heavy cream come together in a lusciously dreamy sauce that looks like it took way more effort than it actually did.
Make it a meal and serve up Marry Me Chicken with a green vegetable and something to sop up all that delicious sauce!
The Origin of Marry Me Chicken
The interesting name of this chicken recipe has a fun backstory. When Delish editors tasted this recipe, supposedly they started saying things along the lines of this chicken being marriage material and "I'd marry you for that chicken!" (You can read more about Marry Me Chicken on Yahoo and find the original Marry Me Chicken recipe on Delish.)
I can't speak to whether or not this chicken has actually been the catalyst for a marriage proposal. But what I am sure of is that it's pretty delicious!
The Original Marry Me Chicken Recipe
The original Marry Me Chicken features chicken thighs in a creamy sundried tomato and thyme sauce.
I made a couple changes. The biggest difference is that I use chicken cutlets instead of thighs. This helps keep the recipe extremely quick to cook. My version comes together in less than 15 minutes!
The other change I made is that I use rosemary instead of thyme because I love its woodsy aroma paired with garlic and sundried tomatoes. Both rosemary and thyme are delicious here, so use whichever you prefer. Just be sure to use fresh instead of dried for maximum flavor.
The Ingredients in My Twist on the Marry Me Chicken Recipe
Chicken cutlets
Salt
Black pepper
Extra-virgin olive oil
Garlic
Fresh rosemary
Sundried tomatoes
Crushed red pepper flakes
Low-sodium chicken stock
Heavy whipping cream
Parmesan cheese
Pro Tip: If you can't find chicken cutlets at your grocery store and you don't have time to head to a butcher shop, you can easily make them yourself. Get 1 large boneless, skinless chicken breast (about 1/2 pound), and place it between 2 pieces of parchment paper. Use a meat mallet to pound the chicken breast thin until it's about doubled in size. Cut the cutlet into 2 pieces, and voila, you have 2 chicken cutlets!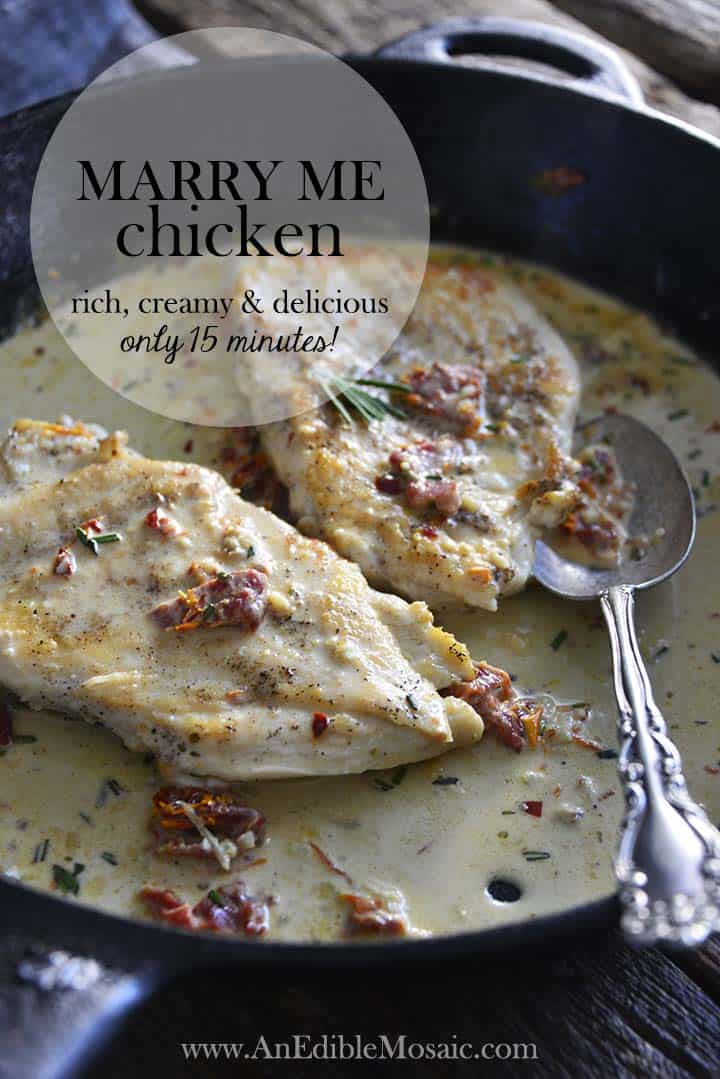 How to Make This Marry Me Chicken Recipe
Measure out all the ingredients.
Pan-sear the chicken cutlets.
Remove the chicken and make the creamy sauce.
Add the chicken back to the skillet, douse it with sauce, and serve!
Marry Me Chicken FAQs
What is Marry Me Chicken?
The original recipe from Delish editors consisted of chicken thighs served in a creamy sundried tomato and thyme sauce.
What Should I Serve with Marry Me Chicken?
This dish has a savory creamy sauce built right in, so it's wonderful served with something to soak up the sauce. Rice, pasta, or potatoes are all good choices. And you can add garlic bread for sopping up the sauce if you want.
Additionally, to round out the meal I like to serve Marry Me Chicken with a green vegetable. Steamed green beans are my first choice, but broccoli is also great.
Is Marry Me Chicken Keto?
Yes! Without sides, one serving of this Marry Me Chicken Recipe has just 4g net carbs.
Here are a few side dish serving suggestions to keep the full meal low carb and keto friendly:
More Chicken Cutlet Recipes to Make
Did you make this recipe? Please rate it and leave a comment below because I love hearing from you! You can also tag @anediblemosaic on social media. To stay up-to-date FOLLOW ME on Instagram, Twitter, and Facebook. Xoxo, Faith
Marry Me Chicken Recipe
This Marry Me Chicken Recipe features juicy pan-seared chicken in a rich savory sauce with garlic, sundried tomatoes, and fresh herbs, and it takes less than 15 minutes to make!
Instructions
Lay the chicken out on a cutting board and season both sides with the salt and black pepper.

Heat the oil in a large cast iron skillet over medium-high heat. Once the oil is hot, add the chicken and turn the heat down to medium. Cook until the chicken is browned on the outside and fully cooked inside. This takes about 3 to 4 minutes on the first side and about 2 to 3 minutes on the second side. Transfer the chicken to a plate and drape a piece of foil on top.

Turn the heat down to low. Add the garlic to the same cast iron skillet and cook 10 seconds, stirring constantly. Add the rosemary, sundried tomatoes, crushed red pepper flakes, chicken stock, and heavy whipping cream. Let it come up to a boil, and then cook for 1 minute, stirring constantly.

Remove from the heat and add the chicken cutlets into the creamy sauce.

Top with grated Parmesan cheese and fresh rosemary or basil if desired. Serve.
Faith's Tips
Net Carbs: 4g per serving (half of recipe)
Nutrition
Nutrition Facts
Marry Me Chicken Recipe
Amount Per Serving
Calories 335
Calories from Fat 207
% Daily Value*
Fat 23g35%
Cholesterol 117mg39%
Sodium 539mg23%
Potassium 658mg19%
Carbohydrates 5g2%
Protein 28g56%
Vitamin A 631IU13%
Vitamin C 4mg5%
Calcium 96mg10%
Iron 1mg6%
* Percent Daily Values are based on a 2000 calorie diet.
Disclosure: This post contains Amazon affiliate links to products I believe in, which means that even though it doesn't cost you anything extra, I will receive a small amount of money from the sale of these items. Thank you for helping to support An Edible Mosaic!