This Grilled Chicken Salad with Corn, Peaches, Blue Cheese, and Balsamic-Honey Syrup is full of summer flavors!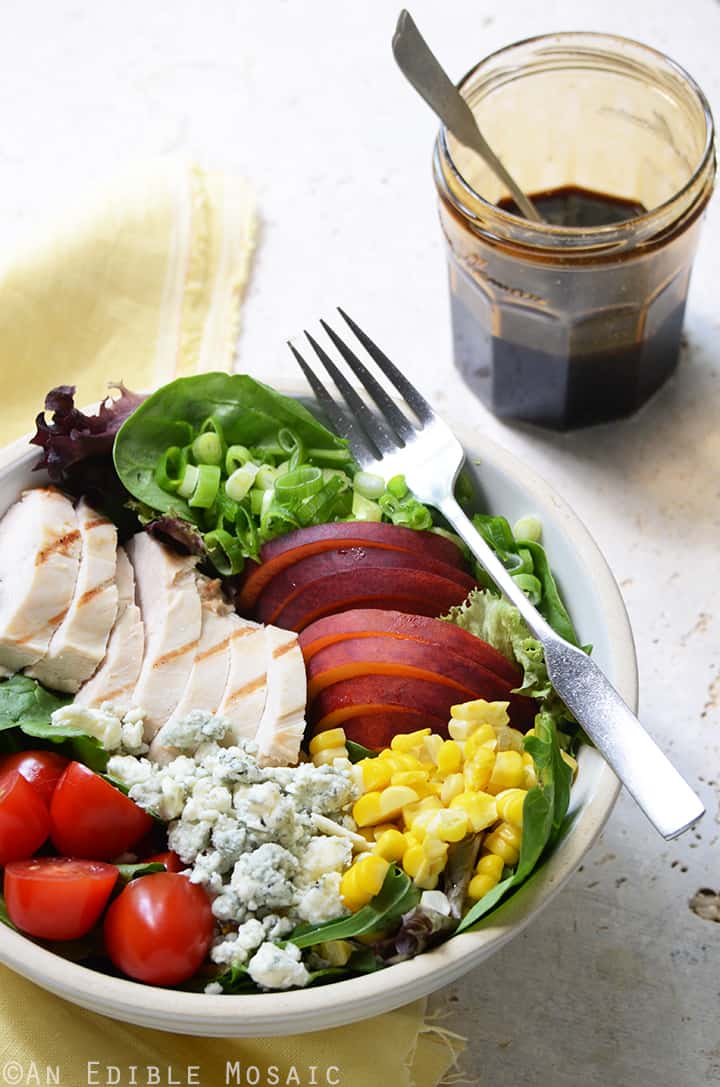 Until about a year ago I was completely grill-lazy. Which was strange because I went through a grill-all-the-time phase where I wouldn't even let my hubby touch the grill. (Ok, that's a stretch…I insisted on being the primary griller, but far be it from me to completely stand between a man and his fire.)
Now I'm back to being in on the grilling fun, especially when it's something I'm making "for the blog" as Mike likes to say (but really, it's also what's for dinner), and it needs pretty grill marks. Or at least, the chicken needs to not look like it was dragged in by wild animals (don't ask…you'd be surprised at the mangy-looking, nearly-shredded chicken breast he pulled off the grill one time. Let's just say, that one didn't make it to the blog).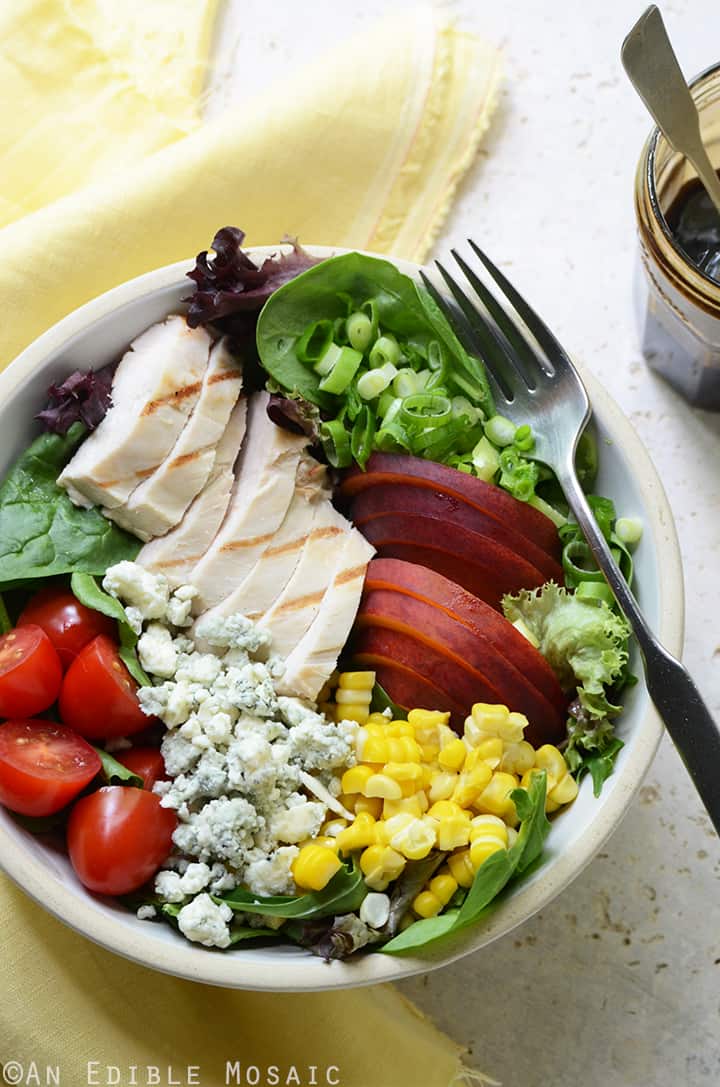 These salads are everything a good salad should be: balanced in flavor with tangy/sweet syrup (our "dressing"), salty with blue cheese, and full of fresh flavors and textures. Peaches are a nice surprise addition and fresh corn takes these salads over the top.
If your family is the type to ask "will I be full?" when you tell them salad is what's for dinner, this meal will leave them very satisfied.
Grilled Chicken Salad with Corn, Peaches, Blue Cheese, and Balsamic-Honey Syrup
Prep time:
Cook time:
Total time:
You'll love the balanced flavor profile of this salad: sweet/tangy balsamic drizzle, salty blue cheese, and lots of fresh summer produce!
Ingredients
Balsamic-Honey Syrup:
3 tablespoons good-quality balsamic vinegar
3 tablespoons extra-virgin olive oil
1 tablespoon honey
¼ teaspoon fine salt
⅛ teaspoon ground black pepper
Salad:
8 cups spring mix
1 lb (450 g) grilled chicken breast, sliced cross-wise
2 ears corn on the cob, grilled or steamed, and corn cut off the cob
2 peaches, pitted, halved, and sliced
1 cup cherry or grape tomatoes, halved
3 scallions, green and white parts, thinly sliced
4 oz (115 g) crumbled blue cheese
Instructions
Whisk together all ingredients for the Balsamic-Honey Syrup in a medium bowl.
For the salad, divide the spring mix between 4 bowls or plates. Top with all remaining salad ingredients.
Drizzle the syrup on top of the salads and serve immediately.