Thank you to Mahatma Rice for sponsoring this post. I am happy for the opportunity to share brands that I believe in with my readers, and I hope you enjoy my recipe. As always, opinions stated are my own.
Turkey Taco Rice Salad Bowls with Creamy Tex-Mex Dressing make the perfect party food; you can set up a "taco bowl bar" and let everyone add their favorite toppings.
Who doesn't love a good salad bowl, right? Part of the appeal of a salad bowl is being able to pick and choose the components that go into it, which is why salad chains are becoming increasingly popular. But most of us don't think about making a salad bowl topping bar at home!
The fun thing about putting together a taco bowl bar at home is that you can get the whole family involved. It's basically a form of tacos, and we all know tacos have nearly endless variations. Maybe one kid's favorite topping is guacamole, and maybe it's shredded cheese for another. The real beauty of this lies in the fact that a) they're eating healthy foods, and b) they're getting involved in making it!
There are a couple of components to these salad bowls that need to be cooked, but they both require minimal effort to whip up and making them from scratch really makes all the difference. The first thing is the taco meat; I used turkey here, but ground beef is also delicious. Onion, garlic, tomato paste, and a few spices (including taco spice mix) are the main flavorings for the meat, and we're basically just browning up the meat and letting the mixture thicken for a couple minutes.
The other part of this meal that is cooked up is the rice; not to fear though, rice is incredibly easy to make! I have a couple tricks: 1) I always soak my rice before cooking it to help remove some of the excess starch coating the grains (so the rice is fluffier, and not as sticky) and to help prevent the grains from breaking apart, and 2) I toast the rice in a little ghee before cooking to give it a slightly nutty aroma and flavor. I used Mahatma Organic White Rice, which I recently found out is the top-selling brand of rice in the US! Take a look at their store locator to see where you can buy it.
The other thing about these salad bowls that bears noting is the dressing. I typically make my own dressing because I like to customize it around the salad I'm making, but you can go with your favorite store-bought dressing (something with a southwest flair would be great here) to shave a couple minutes off the prep time.
These salad bowls are great party food, and if you're a basketball fan, they would be fun for March Madness. You can use smaller-sized bowls for appetizer portions or bigger bowls for a full meal. It's definitely crowd-pleasing food!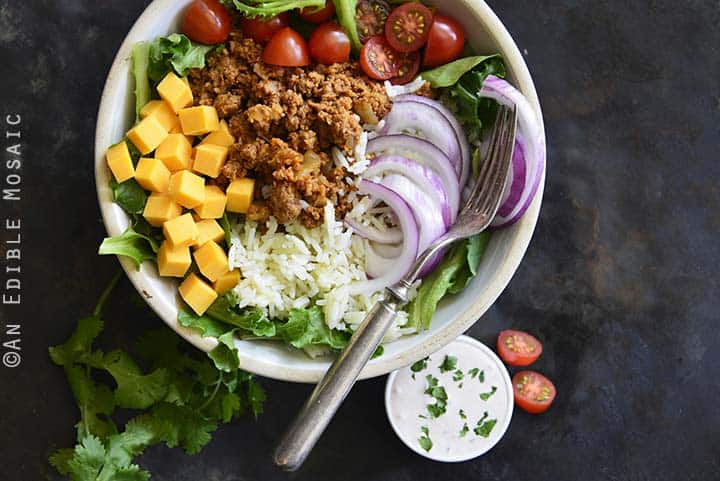 Turkey Taco Rice Salad Bowls with Creamy Tex-Mex Dressing
Prep time:
Cook time:
Total time:
Turkey Taco Rice Salad Bowls with Creamy Tex-Mex Dressing make the perfect party food; you can set up a "taco bowl bar" and let everyone add their favorite toppings.
Ingredients
Rice:
1 cup Mahatma Organic White Rice
2 tablespoons clarified butter (ghee), or an oil with a high smoke point
½ teaspoon salt
1¼ cups (300 ml) boiling water
Turkey Taco Meat:
2 tablespoons olive oil
1 lb (450 g) ground turkey
1 medium onion, diced
4 large cloves garlic, crushed
1 teaspoon taco spice mix (see Note)
1 teaspoon ground cumin
½ teaspoon salt
2 tablespoons tomato paste
1 teaspoon apple cider vinegar
Creamy Tex-Mex Dressing (or use your favorite store-bought dressing):
½ cup mayo
½ cup heavy cream
2 tablespoons salsa
2 tablespoons minced fresh cilantro
½ teaspoon taco spice mix (see Note)
½ teaspoon onion powder
¼ teaspoon garlic powder
Salad:
8 cups mixed baby greens
1 cup cherry tomatoes, halved
1 small red onion, thinly sliced
4 oz (115 g) cheddar, shredded or cubed
Optional Topping Ideas:
Salsa
Guacamole
Chopped olives
Fresh chopped cilantro
Instructions
For the rice, add the rice to a medium bowl and cover by 3 inches with tepid water. Soak the rice for 20 minutes, changing the water a couple times, and then drain well through a fine mesh sieve. Add the ghee to a 3-quart saucepan over medium-high heat. Once hot, add the rice and cook until it starts to smell nutty, about 2 to 3 minutes, stirring constantly. Add the salt and boiling water. Cover the saucepan, turn the heat down to low, and cook until the liquid is absorbed, about 10 minutes (don't open the pot during this time). After cooking, let the rice sit covered in the saucepan for 10 minutes before fluffing with a fork.
Meanwhile, make the taco meat. Add the oil, turkey, and onion to a medium-large skillet over medium-high heat. Cook until the meat is browned, about 5 to 8 minutes, stirring occasionally. Add the garlic, taco spice mix, cumin, salt, and tomato paste and cook 2 to 3 minutes more, stirring constantly. Turn off the heat and stir in the vinegar.
Whisk together all ingredients for the dressing and refrigerate until using.
To assemble the bowls, divide the baby greens between 4 bowls, and top with the rice, taco meat, tomatoes, onion, and cheddar. Serve along with the dressing to spoon on top.
Notes
Taco Spice Mix: You can use store-bought or make your own blend (my blend has ancho chili powder, chipotle chili powder, cumin, oregano, onion powder, garlic powder, and black pepper).