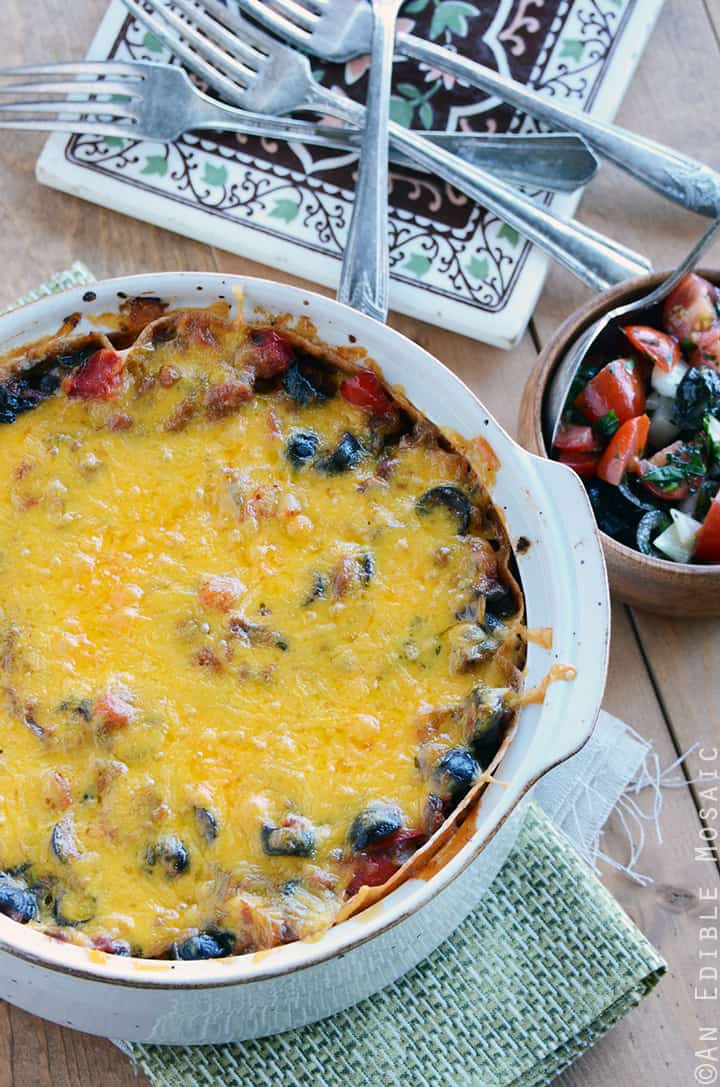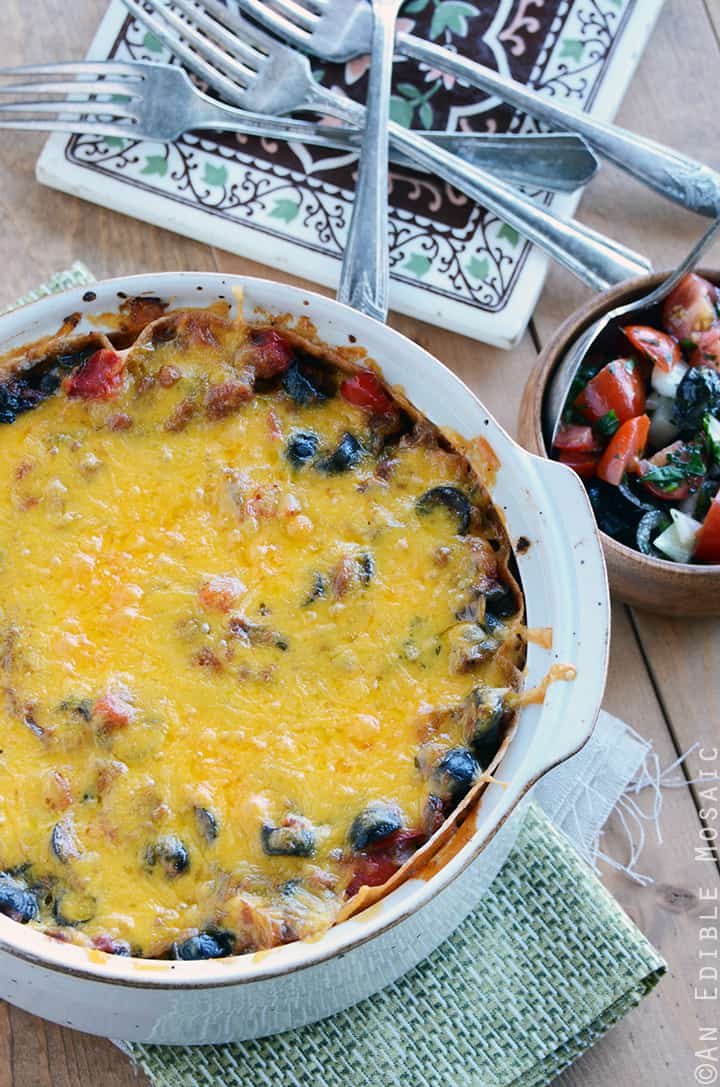 It's not every day you see two nine-year-old kids inhale a meal full of veggies and then opt for a second helping instead of dessert (which was chocolate cake), but that's exactly what my niece and her friend did last weekend. Any meal that has that kind of power is just plain magic.
Tacos are always a fantastic way to get kiddos to eat more veggies. Beef and cheese topped with lettuce confetti and tomato sprinkles…what kid doesn't love that? (I remember my brother went through a "taco only" phase when he was about four years old; it was kind of a pain – especially when we'd eat out at a restaurant that didn't offer tacos on the menu so they'd have to make them especially for him – but definitely pretty cute.) Anyway, since this taco pie contains veggies that kids sometimes aren't familiar with (like kale!) it is an even better way than regular tacos to get those extra veggies in.
The great thing about sneaking veggies into a meal that's sure to be a hit is that once your picky eaters eat a food and realize that they love it, you can tell them what's in it! And next time you won't have to sneak those veggies in.
I developed this recipe as part of the National Taco Day Sidecar Event sponsored by California Ripe Olives and Kitchen PLAY, and I wanted to come up with something that would be a hit with kids as well as adults, which this really is! If you really want to spice it up to suit adult tastes, once the meat/veggie mixture is cooked, you can add cayenne pepper and/or crushed red pepper flakes to taste. Be sure you don't skip the Olive Salsa; it adds a burst of fresh flavor (and even more veggies), and is much lighter than other common taco toppings like sour cream or additional cheese.
Kid-Friendly Veggie-Heavy Taco Pie
Prep time:
Cook time:
Total time:
This kid-friendly cheesy beef taco casserole boasts tons of veggies!
Ingredients
Taco Pie:
Butter, to grease the dish
½ lb lean ground beef
1 (3.8 oz) can sliced California ripe olives, divided
2 tablespoons olive oil
1 medium-large onion, diced
1 medium red bell pepper, cored and diced
6 oz kale, rinsed, tough center ribs removed, and chopped
¾ cup water, divided
3-4 large cloves garlic, minced
1 (14.5) oz can no-salt-added diced tomatoes, with juices
3 tablespoons tomato paste
1½ teaspoons chili powder
1½ teaspoons cumin
½ teaspoon oregano
½ teaspoon salt
¼ teaspoon black pepper
6 oz sharp cheddar cheese, shredded
3 (8-inch) whole wheat soft tortillas
Olive Salsa:
¼ cup sliced California ripe olives (reserved from the 3.8 oz can)
½ cup chopped cherry tomatoes
¼ small onion, diced
2 tablespoons minced fresh parsley
1 teaspoon lemon juice
1 teaspoon olive oil
1 pinch black pepper
Instructions
Preheat oven to 375F; lightly butter a 6 cup/1.5 liter capacity casserole dish (I used a round dish about 8 inches in diameter so the tortilla shells fit in nicely).
Brown the meat in a large skillet over medium-high heat, about 5 minutes, using a wooden spoon to break up the meat as it cooks. Drain the meat (discarding the fat) and set aside.
Rinse and drain the olives, then measure out ¼ cup and set aside.
Wipe out the skillet that the meat was cooked in and add the olive oil; heat the skillet over medium heat, and add the onion and bell pepper. Cook until the veggies start to soften, about 5 minutes, stirring occasionally. Turn heat up to medium-high and then add the kale and ¼ cup water; cover the skillet and cook 5 minutes, stirring occasionally. Add the garlic and cook 1 minute, stirring constantly. Stir in the remaining ½ cup water, olives (except the reserved ¼ cup), canned tomato, tomato paste, chili powder, cumin, oregano, salt, and black pepper. Turn heat down to medium and cook until the liquid is mostly evaporated, about 10 minutes, stirring occasionally.
To assemble the casserole, spread about ½ cup of the meat/veggie mixture in the bottom of the prepared dish. Place 1 tortilla shell on top, spread ⅓ of the remaining meat/veggie mixture on top of the shell, and sprinkle ⅓ of the cheese onto the meat/veggie mixture. Place the 2nd tortilla shell on top and repeat with the meat/veggie mixture and the cheese, then place the 3rd tortilla shell on top and repeat with the last of the meat/veggie mixture and the cheese.
Bake until the cheese on top is melted and starting to brown, about 20 minutes. Let stand 5 minutes before cutting and serving along with the Olive Salsa for topping.
While the casserole is baking, combine all ingredients for the Olive Salsa and refrigerate until serving with the casserole.
Join 
Kitchen PLAY
, 
California Ripe Olives
 and some of your favorite food bloggers for a Twitter Party on October 16
th
, 7:00 PM EDT. Learn about this tasty, nutritious and versatile food. Have fun testing your olive knowledge. Win great olive prizes! Register 
here
.
Beginning October 1, read all ten posts at Kitchen PLAY celebrating National Taco Day with California Ripe Olives for clues. Each post contains an "olive fact" that may appear as a trivia question during the Twitter Party. A new post and fact will be revealed each day, Monday through Friday, until October 12.
My California Ripe Olive fact: Olives are actually a fruit.
Disclaimer:  Compensation for this post was received; however, as always, the opinions stated are my own and were not influenced by such compensation.