These cold school lunch ideas are crave-worthy enough to have you (and your kiddos) excited for lunchtime! They're packed with flavor and a hefty dose of nutrition to fuel you up until dinnertime. Make them ahead of time, so weekday mornings are a breeze.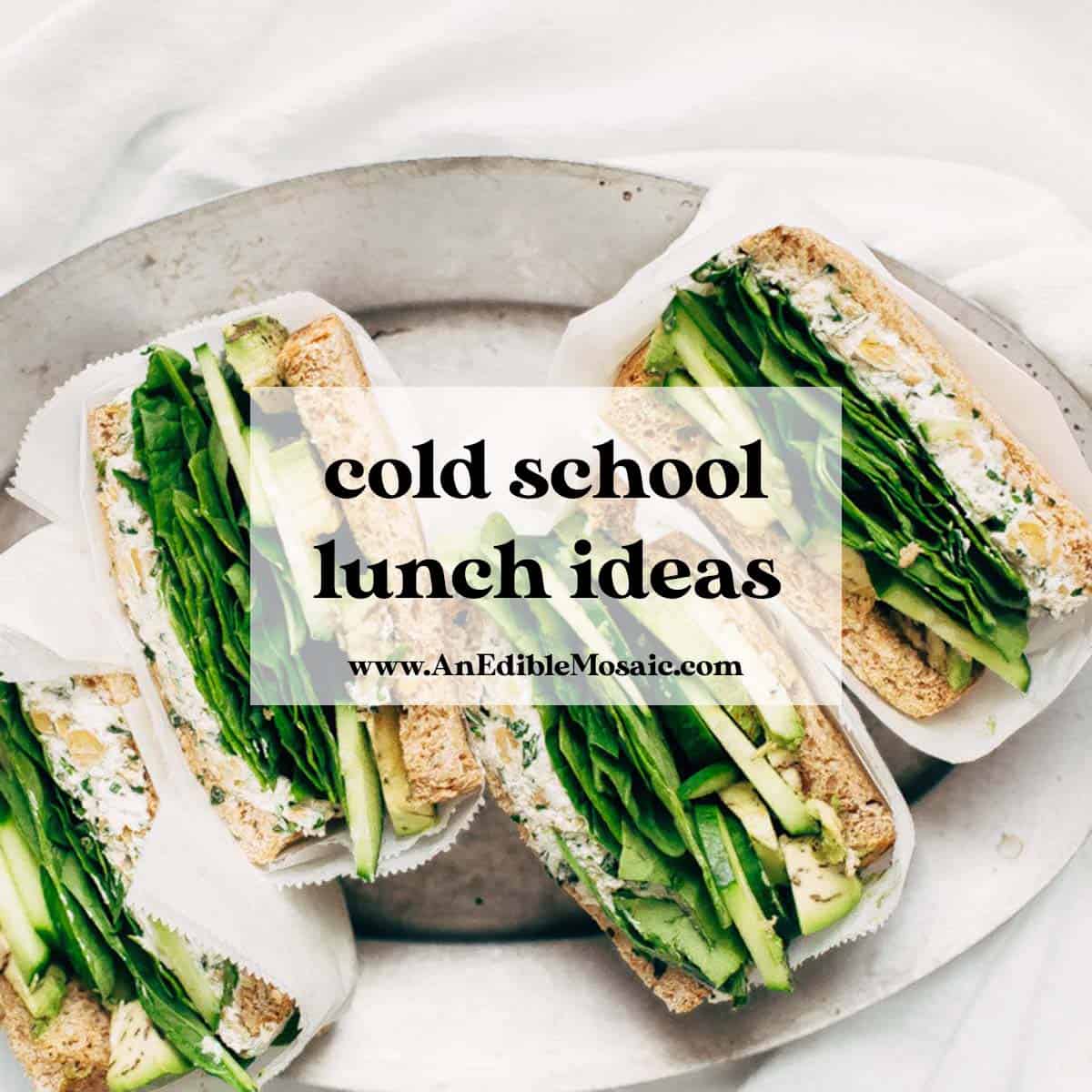 Let's keep lunchtime interesting! Whether you're a sandwich person or salad is your go-to, we all need a few cold school lunch ideas up our sleeves for those times when we can't heat it up. And heads-up, all of these options work just as well for work lunches as they do for school!
These sandwich and salad ideas and great for your teenagers in high school or for your spouse who likes a packed homemade lunch. And if you work from home, these are some deliciously healthy lunch options that you can meal prep in advance so you don't have to take time in the middle of the day to whip up a meal.
Also, a lot of these lunch ideas are cheap and budget-friendly without sacrificing flavor or nutrition!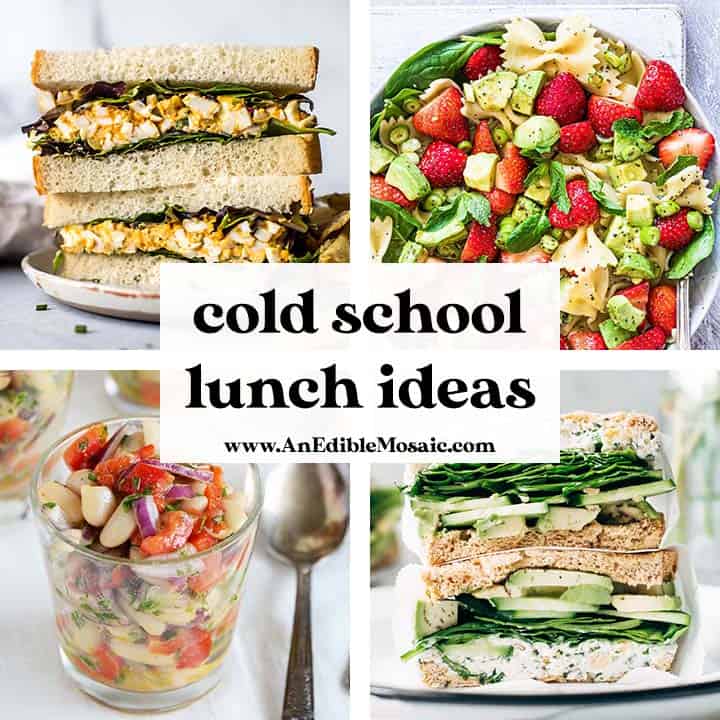 Sandwich Ideas
Sandwiches are the quintessential lunch item, right?!
Growing up, the base of the school lunches that my mom packed for my sister and I was always a sandwich, usually tunafish or pb&j. Keep your midday meal exciting with these fresh sandwich ideas.
These sandwich fillings work great for packed lunches for school or work. And I'm going to let you in on a little secret: most sandwich fillings are also delicious served with crackers, vegetable sticks, or even on their own! I'm the girl who enjoys things like tuna salad and egg salad with a spoon, and turkey and Swiss cheese rolled up, lol.
These sammies are all great served at room temperature, so you don't have to worry about reheating them. If you have a cold pack, just stash it in your lunchbox and you're good to go!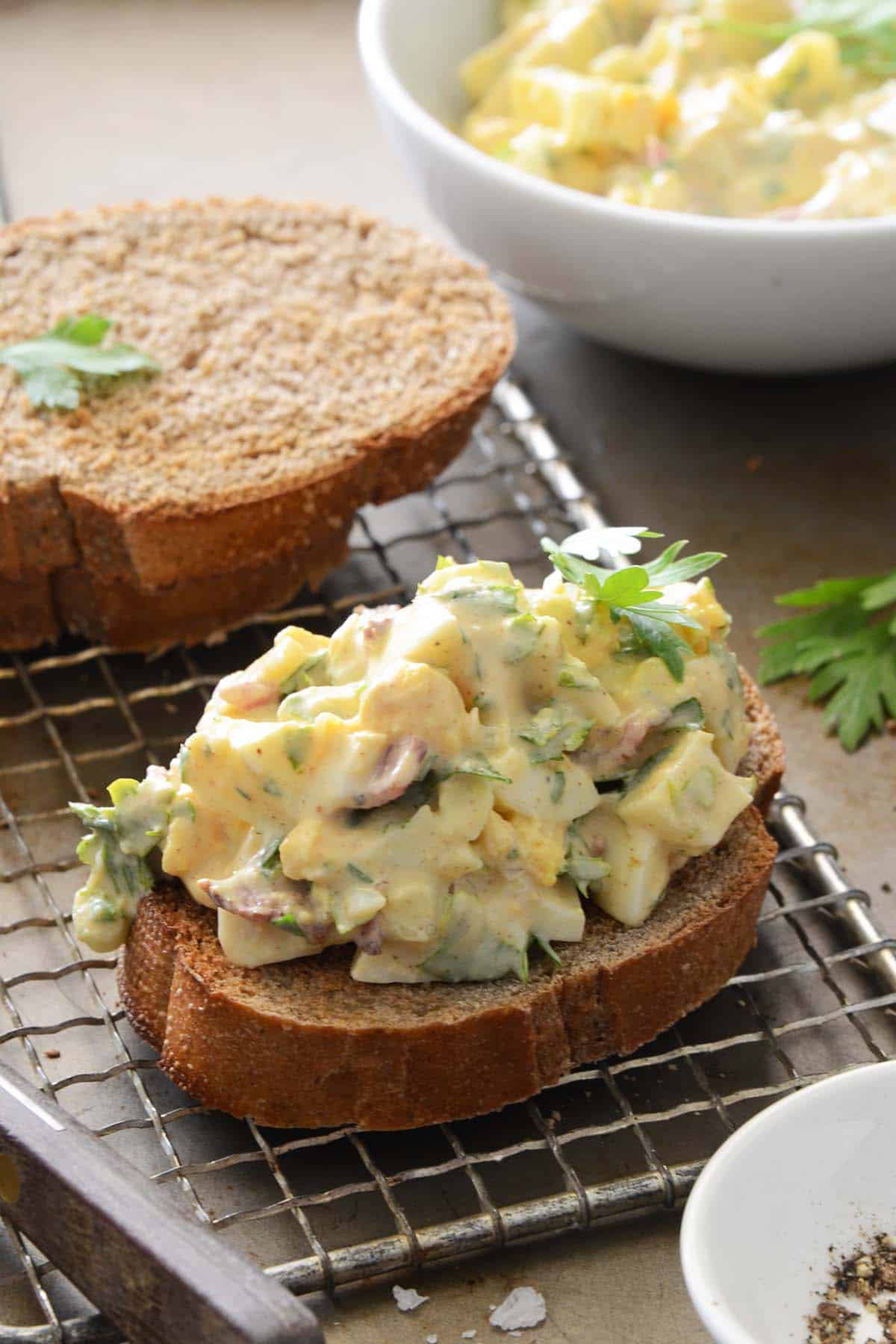 If you're tired of egg salad, it's time to switch things up a little. Adding bacon and honey mustard is the way to go! I like to make a double batch of this and eat it throughout the week because it really is that good.
As far as easy school lunch ideas go, egg salad is always a winner. And it's a great (easy) recipe to have the kids help you make!
Pro Tip: To serve this egg salad as an open-face sandwich, pack the bread and egg salad separately and assemble your sammie right before eating.
Get the recipe for Egg Salad with Creamy Honey Mustard Dressing.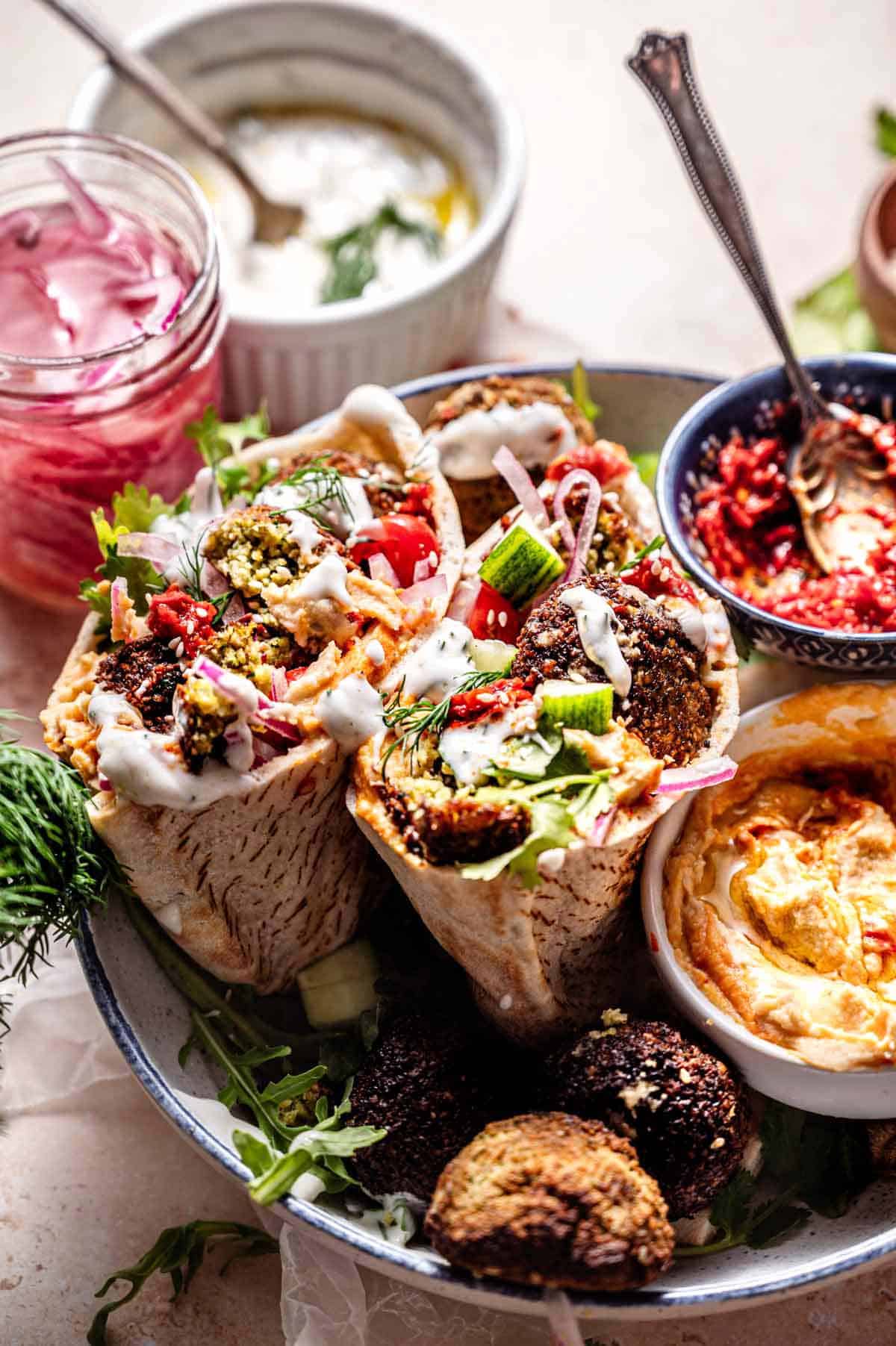 This falafel pita sandwich is perfect for meal prep, an easy dinner, or lunch for back-to-school. It's packed with fresh herbs, hummus, homemade falafel, and lots of veggies. Don't forget a side of your favorite sauce for dipping!
Get the recipe for Crispy Falafel Pita Sandwich with Hummus on Thank you Berry Much.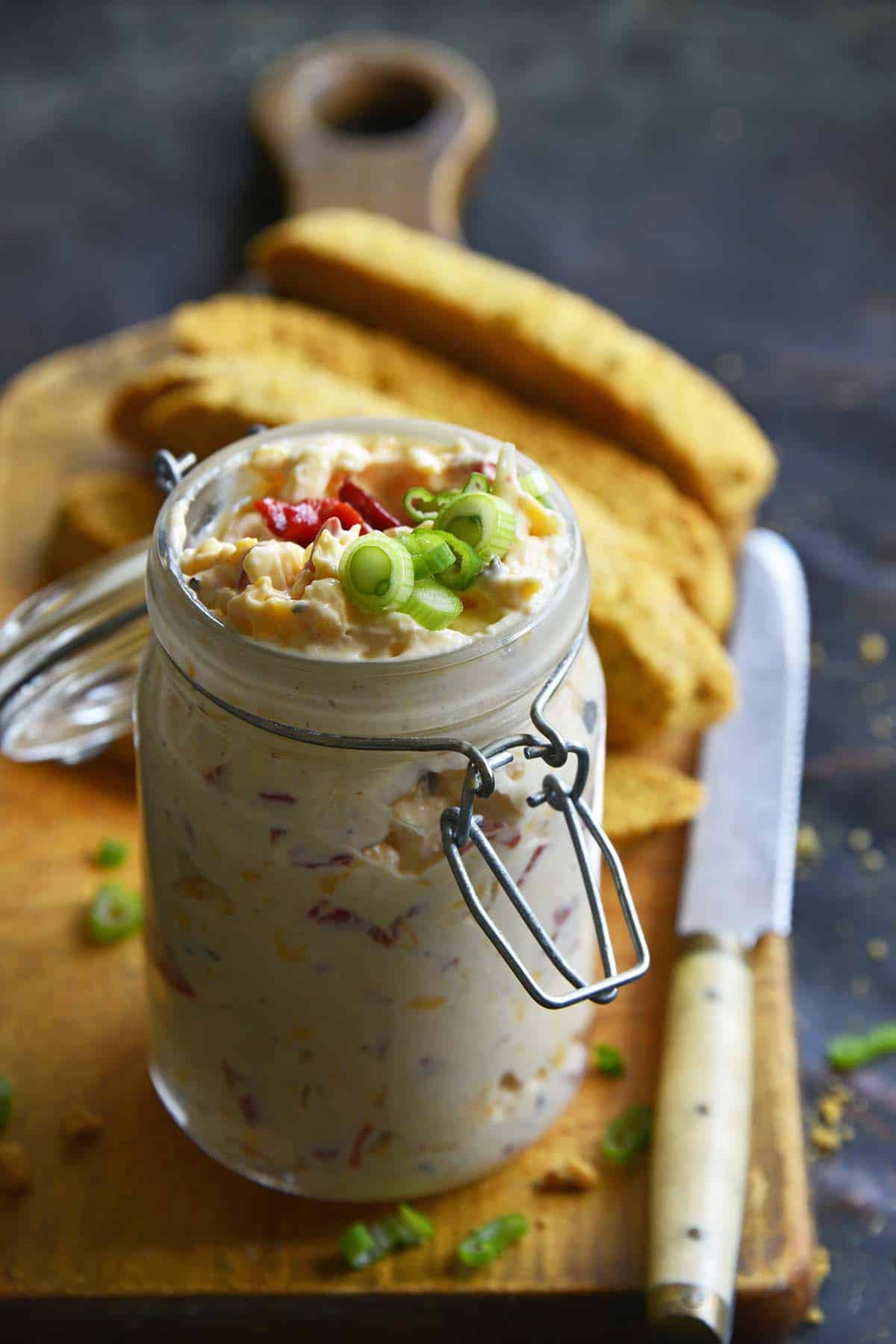 Invented in New York but now a classic Southern staple, a great pimento cheese recipe is a true work of art. And if you're looking for a great pimento cheese recipe, this is it!
Two kinds of cheddar along with a combination of roasted piquillo peppers, cream cheese, mayo, and a select few herbs, spices, and seasonings make this something special.
Pro Tip: A pimento cheese sandwich is great, but to keep the carbs down, pack your pimento cheese along with a couple Garlic and Herb Savory Gluten Free Keto Biscotti and some celery sticks for dipping.
Get the recipe for Pimento Cheese.
If you're looking for healthy school lunches, these sandwiches are it. For these gorgeous green goddess sammies, we smash the chickpeas and combine it with softened goat cheese and fresh chopped herbs. The fun doesn't stop there; then we slather it between two slices of bread with tons of fresh green veggies like spinach, cucumber, and avocado!
Pro Tip: Use vegan cream cheese instead of goat cheese here to make these sandwiches vegan.
Get the recipe for Smashed Chickpea Green Goddess Sandwiches on Little Spice Jar.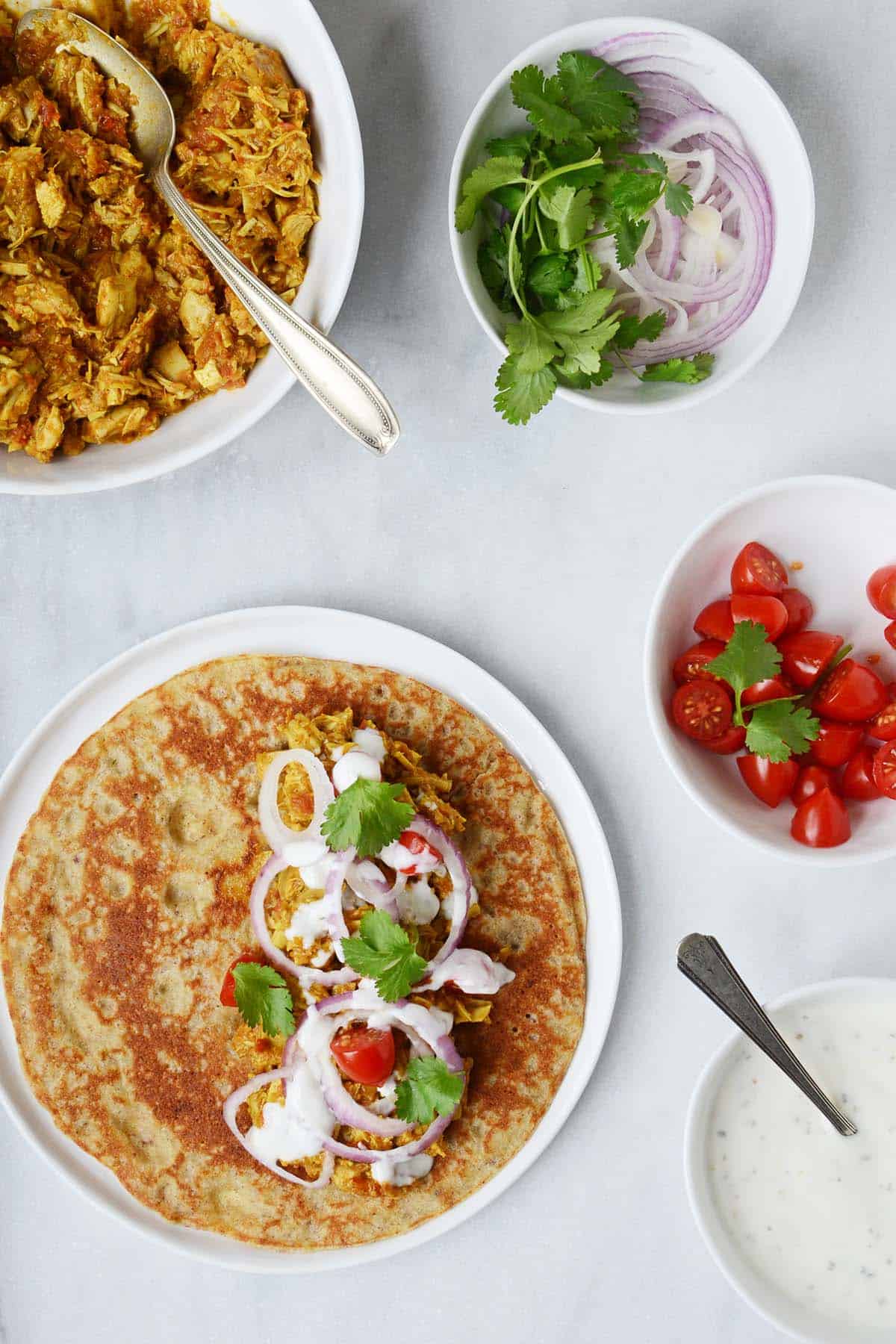 If you like Indian food, this will be your favorite new lunch! And bonus, you can use leftover chicken or turkey (or rotisserie chicken) to make it.
You can enjoy this turkey or chicken masala mixture as wraps, pita pockets, or sandwiches. Or keep it low carb and serve it on a bed of greens!
Pro Tip: The wrap in the photo above is my Paleo Flatbread!
Get the recipe for Easy Turkey or Chicken Masala Wraps.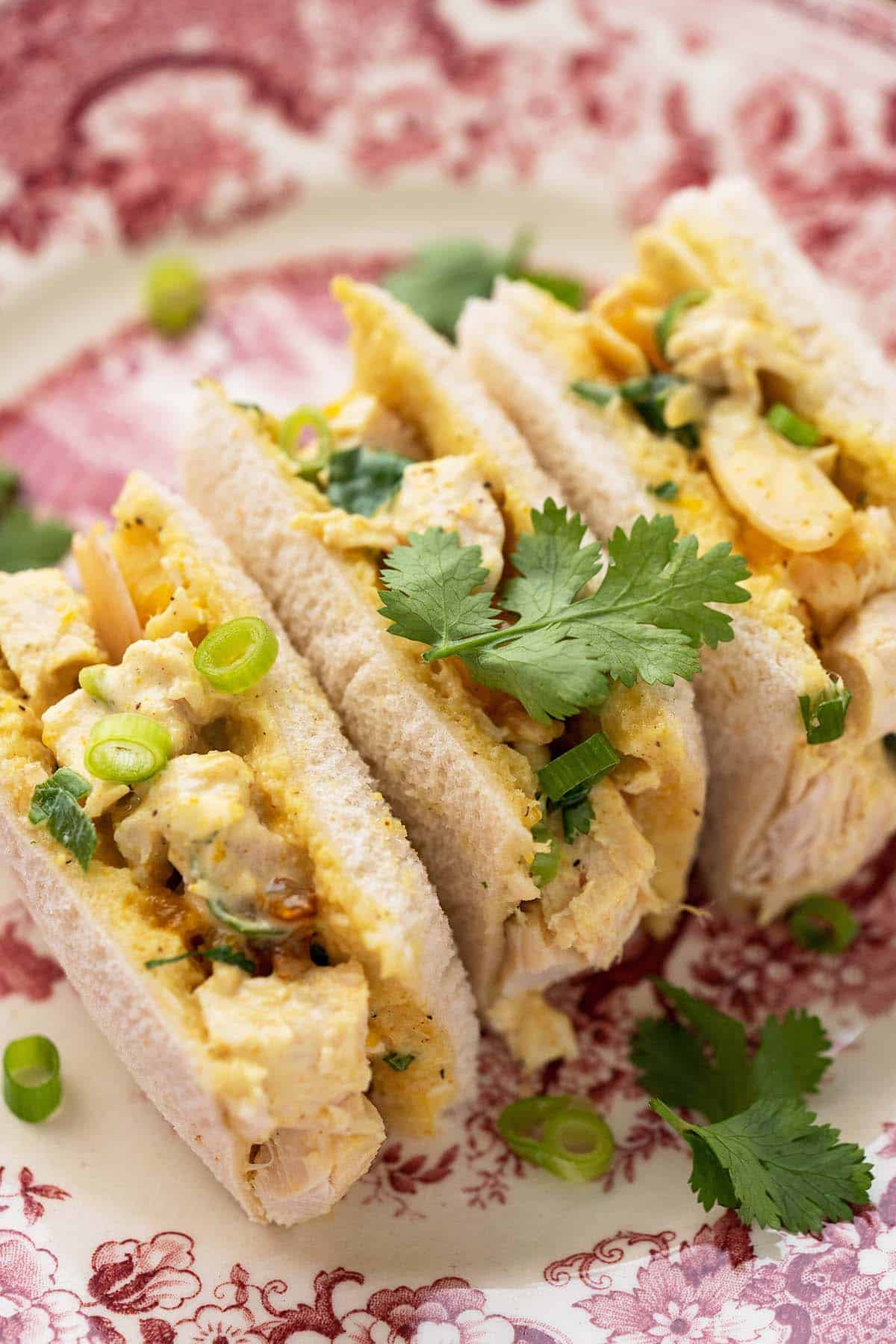 Curried chicken salad (also known as coronation chicken) combines tender chicken with a creamy mayo-based dressing, curry, sweet and spicy mango chutney, dried apricots, and crunchy almonds.
It has a complex, well-balanced flavor profile, and whips up in just 10 minutes, which means it's perfect for weekday lunches! Serve it on a bed of lettuce, as a sandwich, or made into finger sandwiches.
Get the recipe for Curried Chicken Salad.
This tasty egg salad sandwich is a great way to get a nice hit of protein midday! Kick up a classic egg salad with a touch of tangy flavor, a hint of Dijon mustard, and a bit of smoked paprika.
Get the recipe for Simple Egg Salad Sandwiches on Killing Thyme.
Salad Lunch Ideas
Salads are the epitome of healthy school lunches, and these salad lunch ideas are great for teenagers and adults. Make them for your high-schooler or for your own work lunch!
Just like sandwiches, I recommend storing these salads with a cool pack in a lunchbox to keep them chilled. And don't forget to pack a fork!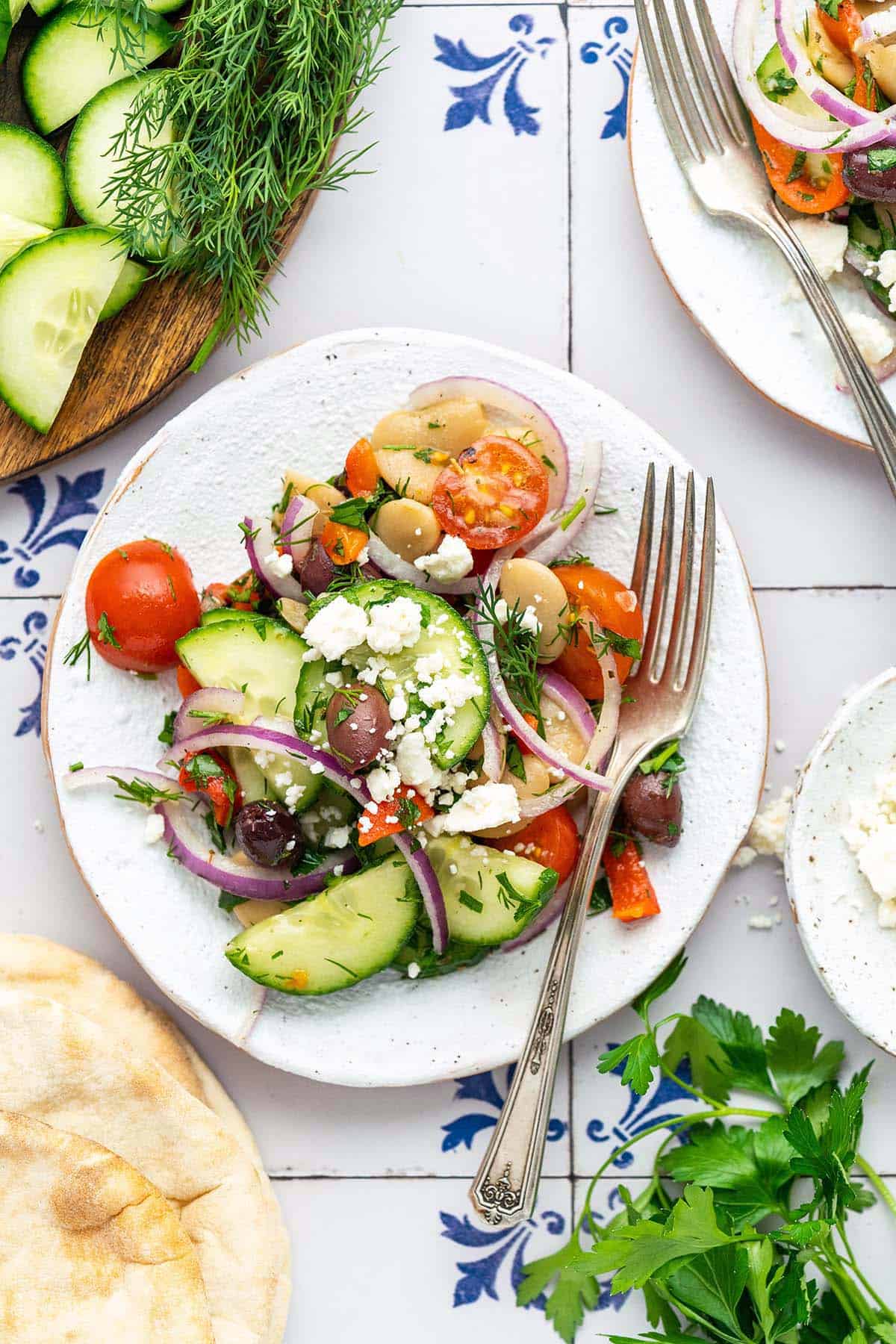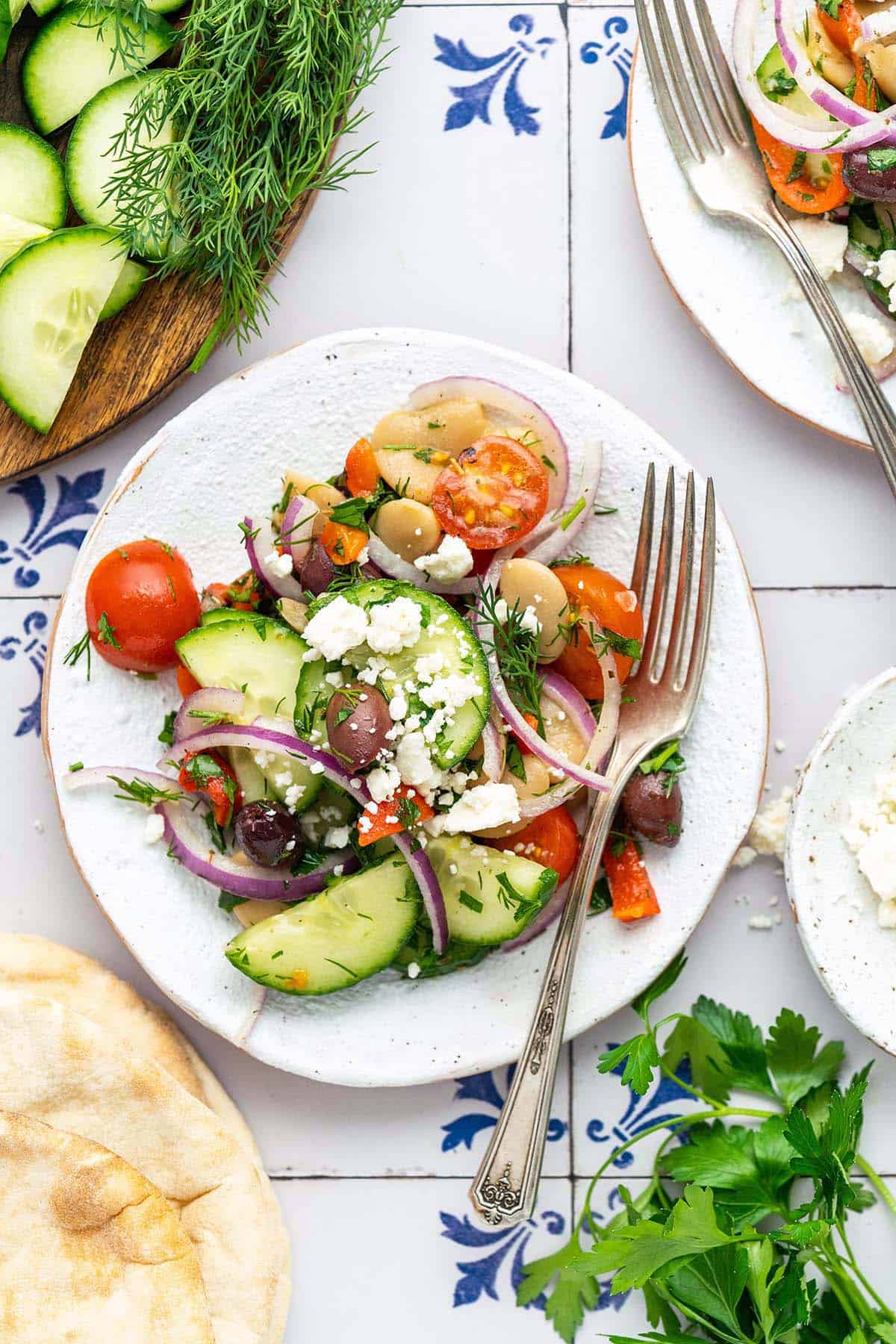 The bold flavors in this salad will make lunchtime something to get excited about! As far as salad lunch ideas go, this is one of my favorites. Not only is it packed with flavor and nutrition, but it's perfect for meal prep.
Mediterranean bean salad whips up in just 10 minutes and lasts 5 days in the fridge. Make in on the weekend and you have lunches for the week (<-- that right there is reason alone to make it, lol). Not to mention, with a base of beans this salad is a very affordable lunch option!
Pro Tip: This salad is equally delicious served on its own or stuffed inside pita bread.
Get the recipe for Mediterranean Bean Salad.
If creamy tuna sandwiches are a lunchtime staple at your house, you have to try a chicken salad sammy. You're going to love the sweet/tart flavor of dried cranberries and the nutty crunch of walnuts here!
This chicken salad has a similar texture as tunafish, but a completely different flavor profile. And this version is great for fall with the cranberry + walnut combo!
Get the recipe for Creamy Cranberry Walnut Chicken Salad.
Lentil salad with fresh herbs is a hearty dish that's easy to make! It works well for lunches, dinners, and side dishes.
Tender lentils are dressed in an aromatic oil, then tossed with lemon, fresh herbs, toasted nuts, and arugula. It's a 30-minute meal that's bursting with refreshing, mouth-watering flavors!
Get the recipe for Lentil Salad with Fresh Herbs on Rainbow Plant Life.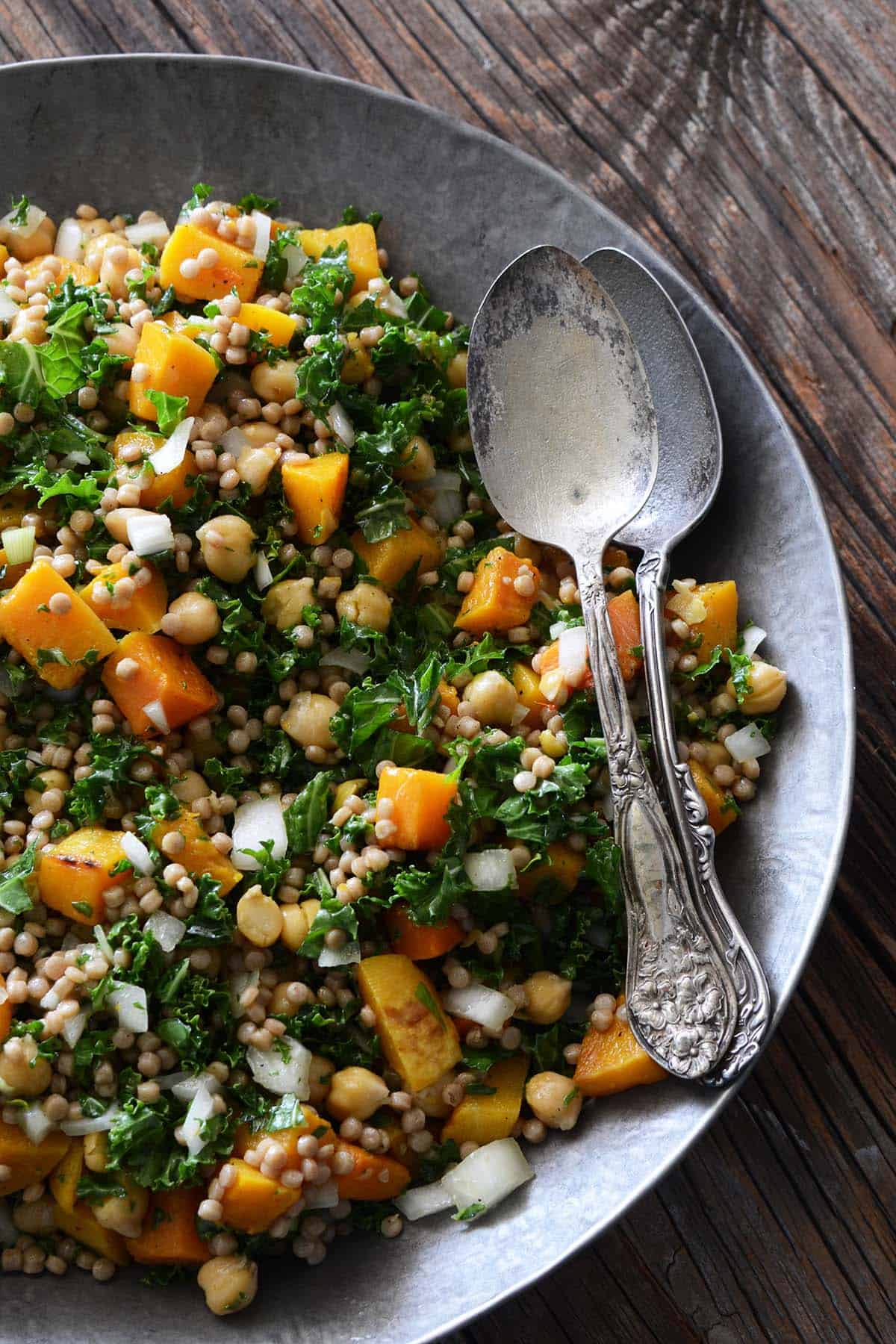 Yum. Just yum.
What really takes this salad over the top is the addition of roasted butternut squash, which adds a touch of earthy sweetness. You can swap out the pearl couscous for higher-protein quinoa, regular couscous, or even pasta. And use any kind of beans you like!
Pro Tip: If you're meal prepping this salad, mix everything together except the roasted butternut squash. Store that in a separate container and add it right before serving. Glass meal prep containers with two compartments work well.
Get the recipe for Roasted Butternut Squash Salad with Chickpeas, Kale, and Pearl Couscous.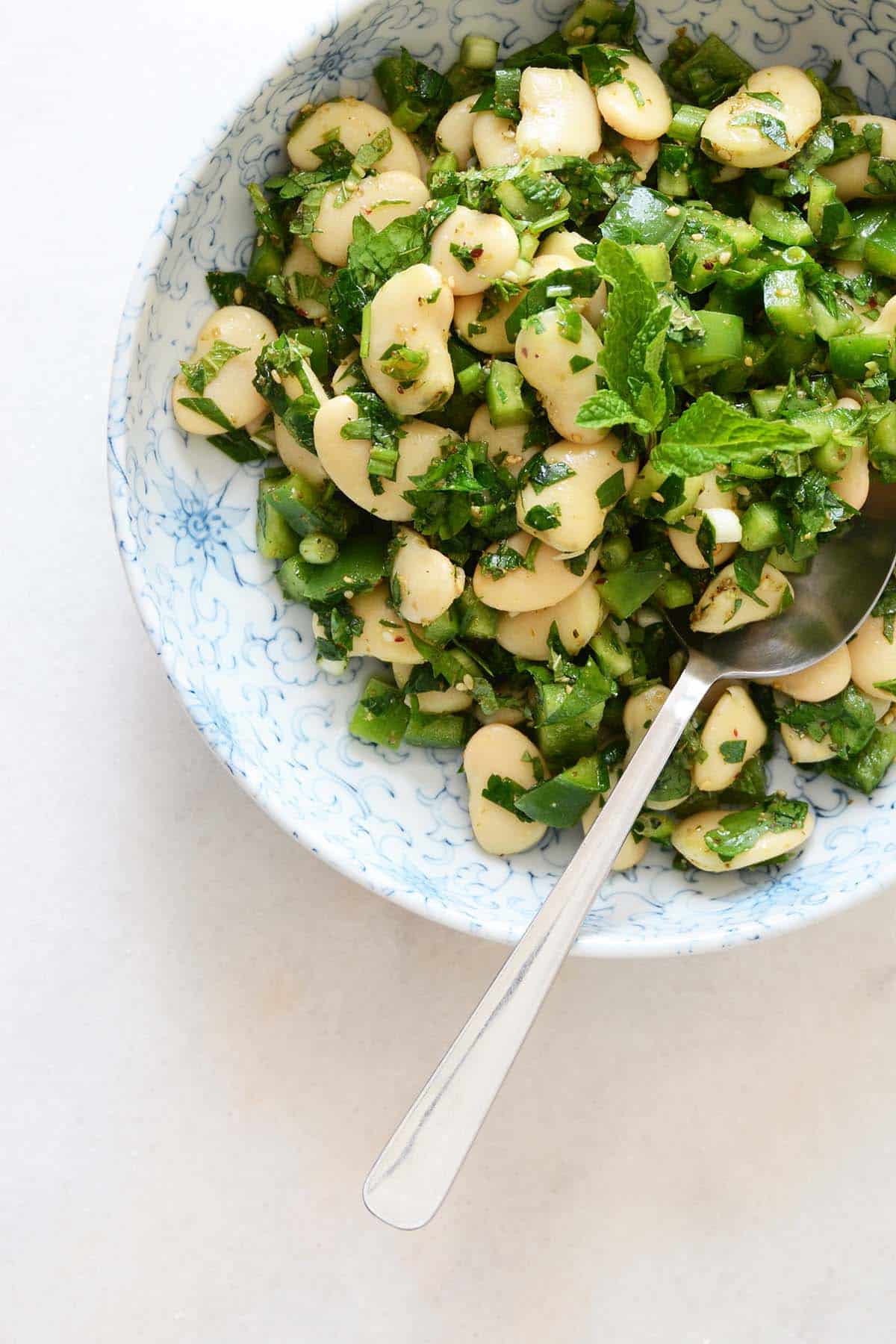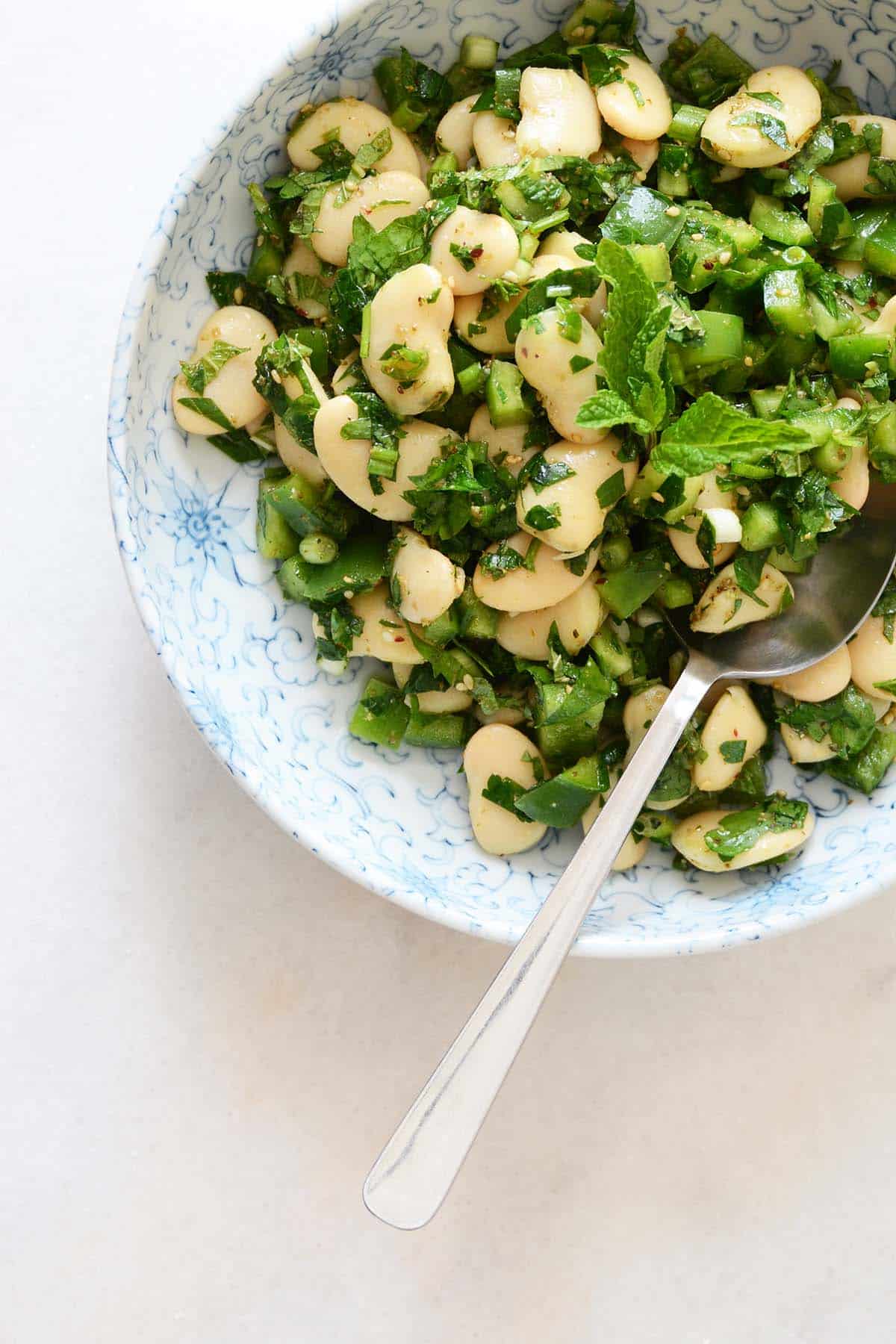 This fresh and bright vegan salad is a nice balance of flavors and textures. Butter beans add creamy texture, green pepper adds crunch, za'atar adds complexity, and fresh herbs brighten everything up!
Pro Tip: If keeping it vegan isn't a concern, this salad is fantastic with a sprinkle of crumbled feta or goat cheese on top.
Get the recipe Za'atar and Mint Butter Bean Salad.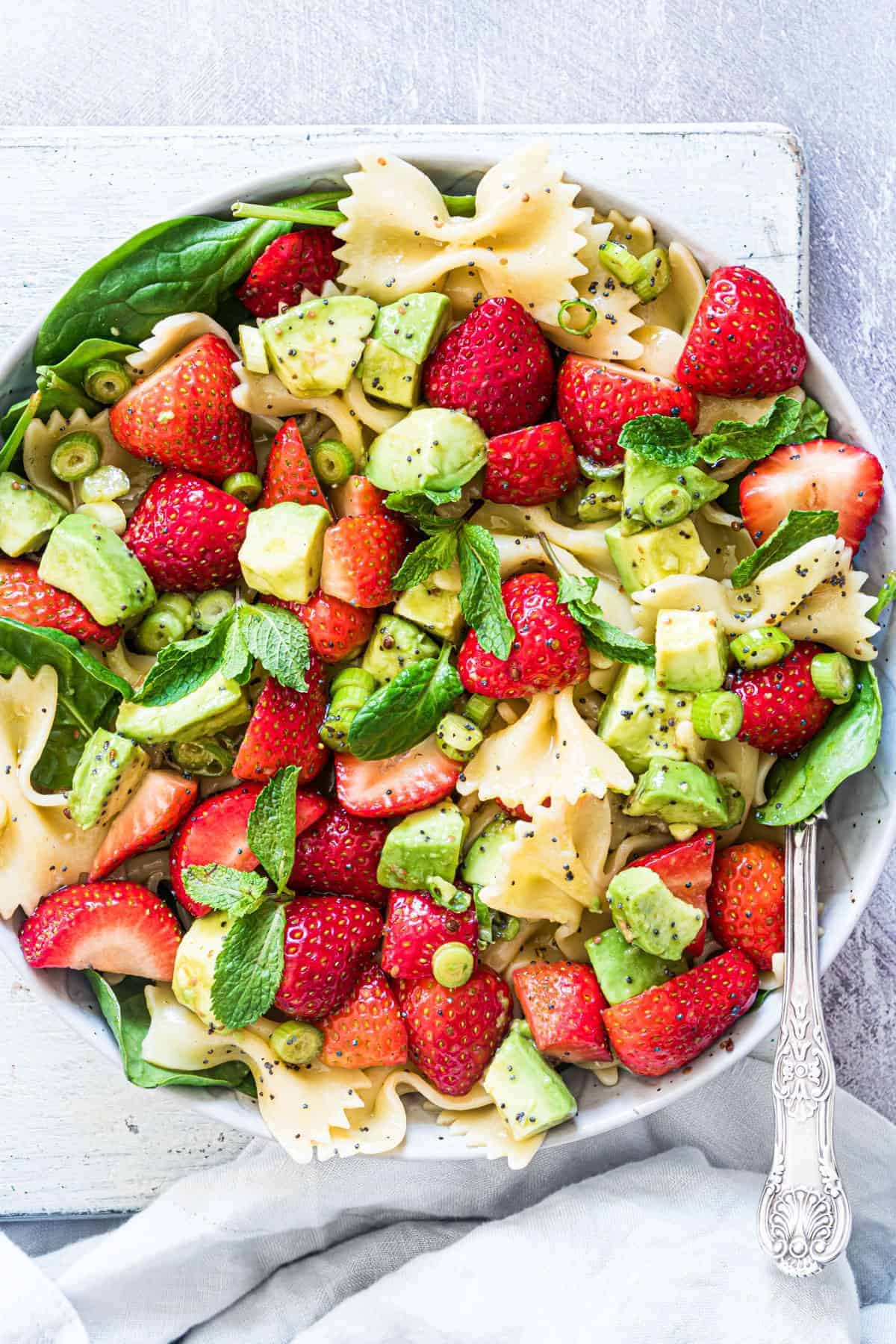 Strawberry avocado pasta salad is sweet, tangy, and fresh! With poppy seeds, balsamic, vinaigrette, and fresh mint it's a delicious and refreshing combination of flavors to fill you up without weighing you down. And it's ready in under 20 minutes for a great back to school lunch!
Get the recipe for Strawberry Avocado Pasta Salad on Budget Delicious.
Nine times out of ten when I'm looking for an easy weekday lunch salad that I can whip up on the weekend and stash in the fridge for lunches all week, this salad is it!
The roasted red peppers really bump up the flavor here. And if you're running short on time, just grab a jar of roasted red peppers instead of roasting them yourself.
Pro Tip: Add ½ cup of chopped fresh mint leaves along with the parsley to make this salad even more flavorful and refreshing.
Get the recipe for White Bean Roasted Red Pepper Salad.
Taco salad bowls are so much cheaper when you make them instead of buying them at your favorite fast food chain! And they really couldn't be easier to make. You can swap out the turkey for ground beef if you prefer, and add any taco fixings you like.
Pro Tip: This taco salad lunch bowl is also perfect for layering in a salad mason jar! To do so, put the cooked meat on the bottom, and then the cooked rice, followed by the tomatoes, onion, salad greens, and finally the cheese. Keep the dressing on the side (or in the top compartment if you're using a salad mason jar) until you're ready to serve.
Get the recipe for Turkey Taco Rice Salad Bowls.
Cold School Lunch Ideas FAQs
What Can I Pack Instead of Sandwiches?
If you like a particular sandwich filling (for example, chicken salad), think about serving it another way instead of as a sandwich. Wraps are a great option. Or you can spread it on crackers, or use sliced cucumbers, bell pepper strips, carrot sticks, etc. for dipping.
And if deli meats are your favorite, serve them rolled up with cheese and veggies.
However, if sandwiches (or sandwich fillings) just really aren't your thing, go with a salad instead. Lunch can be a great opportunity to load up on veggies. Bean salads in particular are an affordable and healthy lunch option!
How Long Can I Leave Food Out?
According to the USDA, food shouldn't be left out without refrigeration for longer than 2 hours.
If you don't have access to a fridge, you might want to think about getting a cold pack for your lunchbox.
What Are Some Good Lunch Desserts?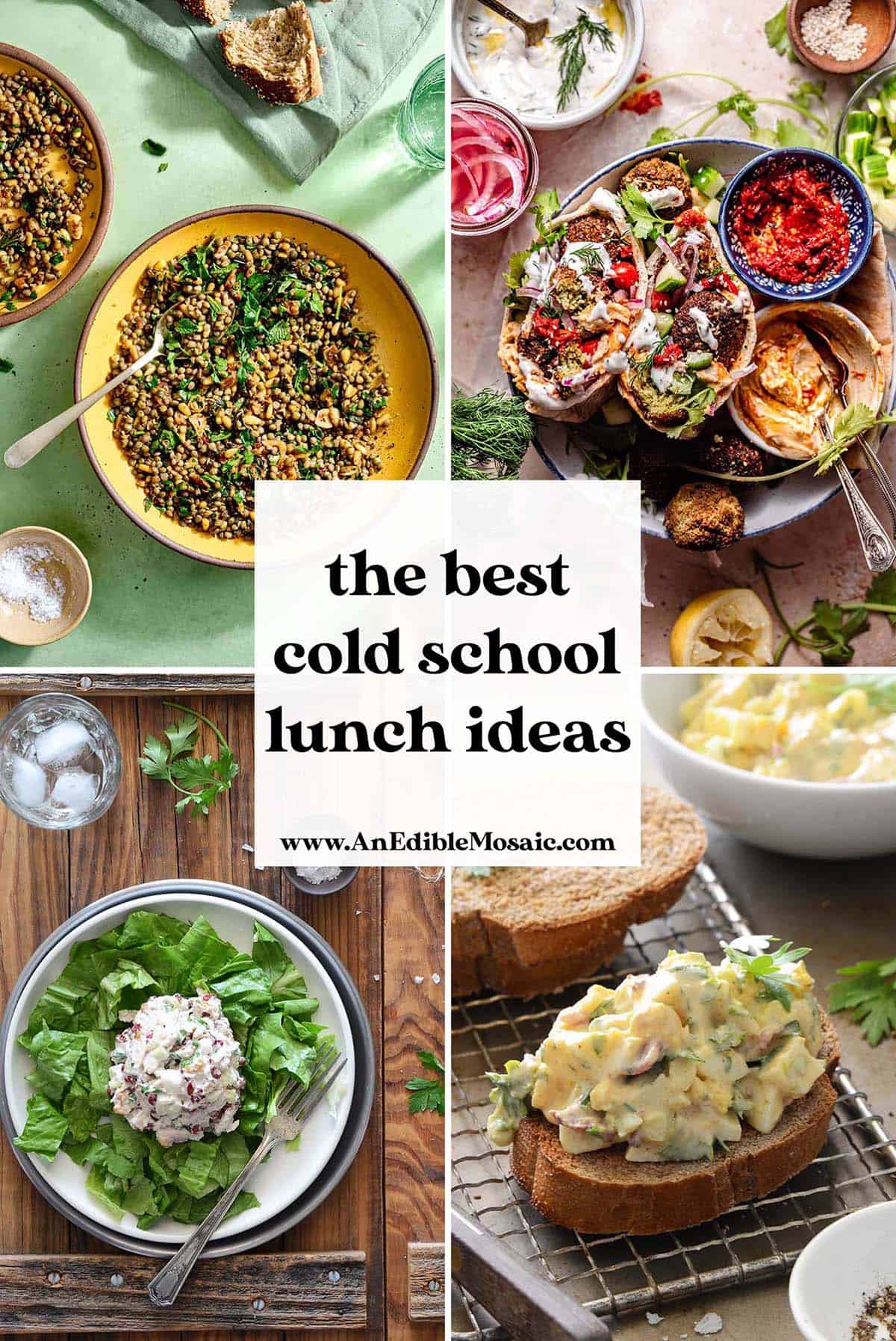 Let's Connect


Did you enjoy this post? Please let me know in the comments below. You can also tag @anediblemosaic on social media.
To stay up-to-date, follow me on Facebook, Instagram, Pinterest, and Twitter!