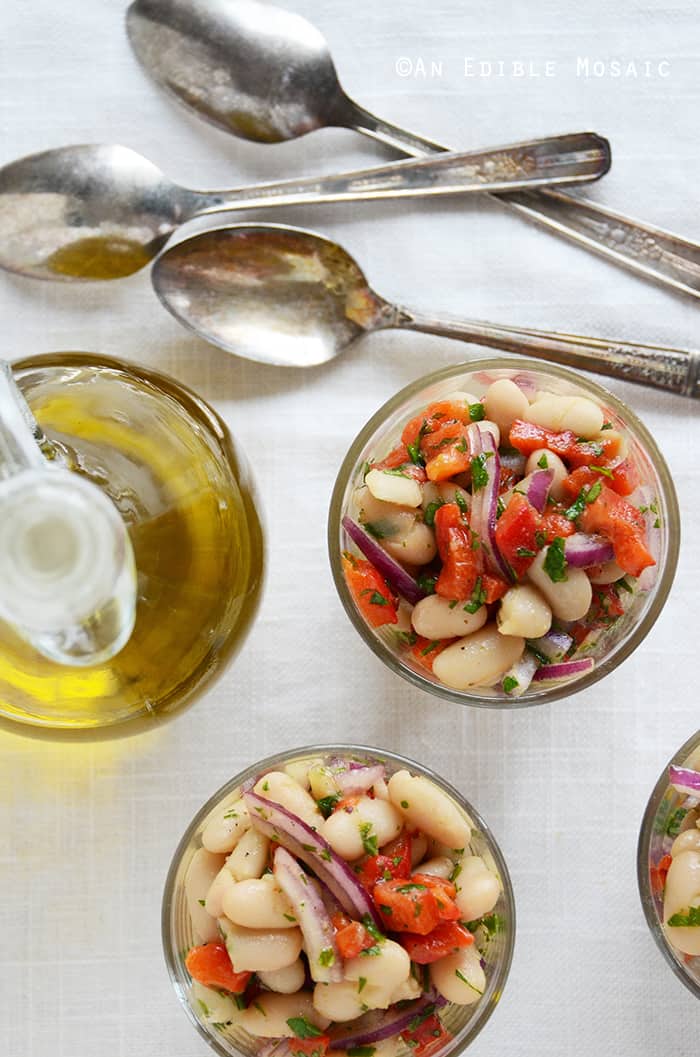 This salad really couldn't be simpler, and it's just the thing I've been craving lately.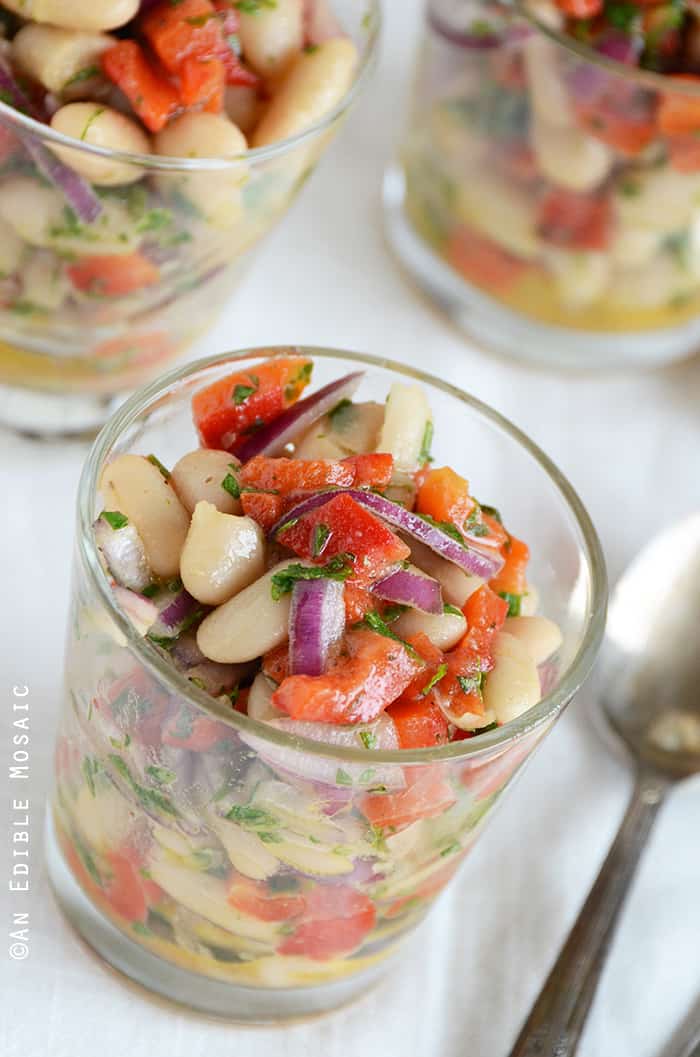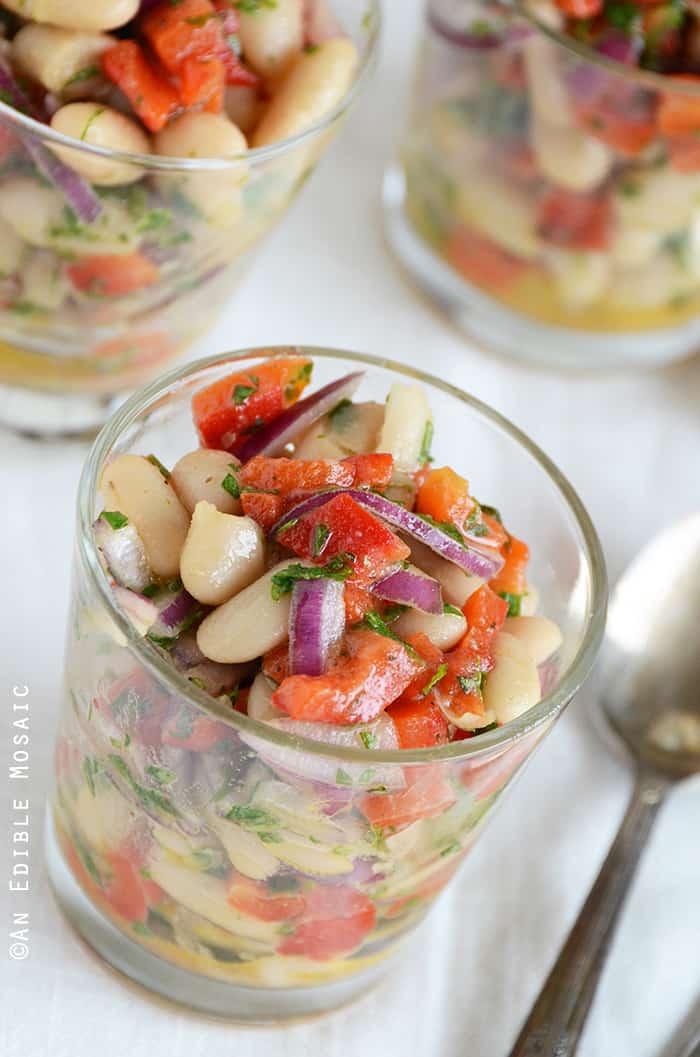 I used a basic vinaigrette to dress white beans, roasted red bell pepper, and a bit of red onion. There's a sprinkling of parsley (mostly for color), but of course for a bit of flavor too. The real ingredient that makes this salad's flavor pop is a touch of garlic. Garlic and white beans is a combo you really can't go wrong with…just be sure you don't go overboard! (It is raw, after all.) Use a small clove and be sure to grate it on a microplane so you won't have large chunks of garlic in your salad.
Just a heads-up, White Bean-Roasted Red Pepper Salad is perfect picnic food since it's dairy-free. (After all, Memorial Day will be here in less than a month!) It's great for any party though, and looks really cute portioned out little glasses for individual servings.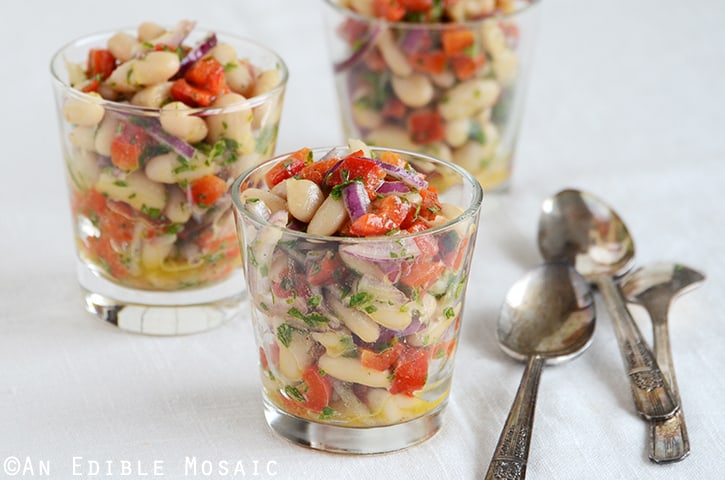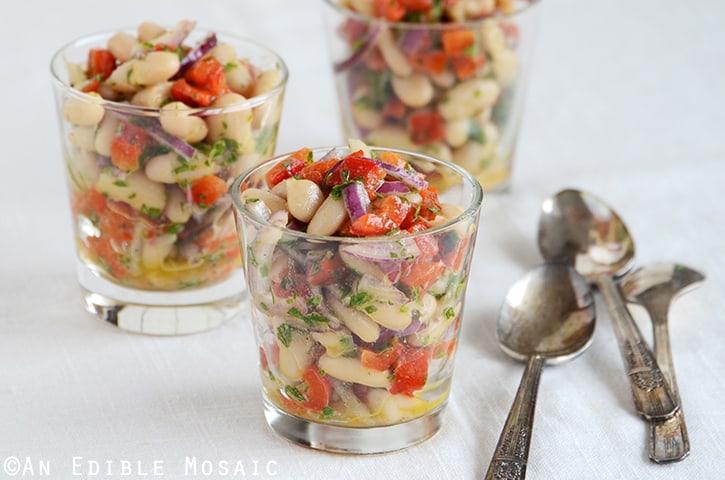 White Bean-Roasted Red Pepper Salad
Yield:
4 side dish-sized servings or 2 lunch-sized servings on top of a bed of salad greens
Ingredients
1½ tablespoons olive oil
1½ teaspoons apple cider vinegar
1 teaspoon honey
½ teaspoon Dijon mustard
¼ teaspoon salt
⅛ teaspoon black pepper
1 small clove garlic, grated on a microplane
1 (16 oz) can cannellini beans, rinsed and drained
1 roasted red bell pepper, chopped (homemade or store-bought)
¼ small red onion, thinly sliced
3 tablespoons minced fresh parsley
Instructions
Whisk together the olive oil, vinegar, honey, mustard, salt, pepper, and garlic in a medium bowl.
Stir in all remaining ingredients; refrigerate until serving.