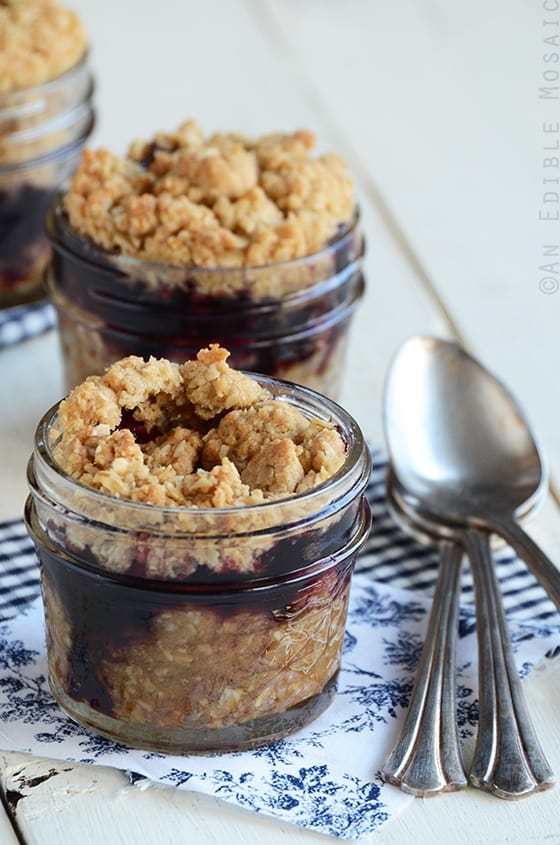 Fresh, seasonal produce is one of life's simplest pleasures.
I can't think of anything I'd rather eat all day long on a crisp fall day than ripe concord grapes straight off the vine. (In fact, this is exactly what I do once a year on my grape-picking pilgrimage.) Last year I made concord grape jam with my loot, so I've been able to savor concord grapes and the memory of picking them all year long.
Recently, I was in the mood for pie, but wanted something much quicker; jam bars came to mind and I thought it would be a great use for my homemade concord grape jam. (Store-bought jam will also work, but if you have homemade, why not use it, right?)
Making individual-portioned jam bars in little jars is so much fun too. Not only are they the perfect size, but they're also super cute. They're a lovely dessert to bring along on a picnic.
So, until strawberry season (which isn't until mid-June where I live!), I will enjoy my grape jam bars.
Grape Jam Bars in a Jar
Prep time:
Cook time:
Total time:
Ingredients
Top and Bottom Crust:
¼ cup slivered almonds
½ cup brown sugar, lightly packed
¾ cup all-purpose flour
¼ teaspoon baking soda
⅛ teaspoon salt
½ cup (1 stick) unsalted butter, softened but not fully melted
1 teaspoon pure vanilla extract
¾ cup rolled oats
Filling:
½ cup grape jam (store-bought or homemade)
3 tablespoons white sugar
2 tablespoons cornstarch
4 tablespoons cold water
Instructions
Preheat oven to 350F; arrange 6 half pint-sized jars on a foil-lined baking sheet.
Toast the almonds; put them in a small skillet over medium-low heat and cook until they're fragrant and golden in places, about 3 minutes, occasionally shaking the pan. Cool slightly.
While the nuts cool, make the filling. Combine all filling ingredients in a small saucepan and bring to a boil over medium heat, stirring frequently. Once boiling, turn heat down slightly and cook until thickened, but still pourable, about 2 to 4 minutes, stirring constantly. Cool slightly.
Pulse the toasted almonds and brown sugar together in a food processor until there are just a few larger pieces of almonds (it will look like sandy meal with a few larger pieces); then pulse in the flour, baking soda, and salt a couple times to combine. Add the butter and vanilla, and pulse a couple times until it forms a ball of dough, and then pulse in the oats a few times.
Divide the dough in half (half is for the top and half is for the bottom). Divide the first half of dough into 6 portions and crumble each into the bottom of each jar, pressing down only very lightly. Spoon the filling into each jar on top of the bottom layer of dough. Divide the remaining half of dough into 6 portions and crumble each on top of the jam layer.
Bake until they're puffed and golden on top, about 25 minutes.