Have you started to feel spring in the air yet?
It's literally just a week away, so if you've had an exceptionally cold/snowy winter, hang in there because the end is in sight.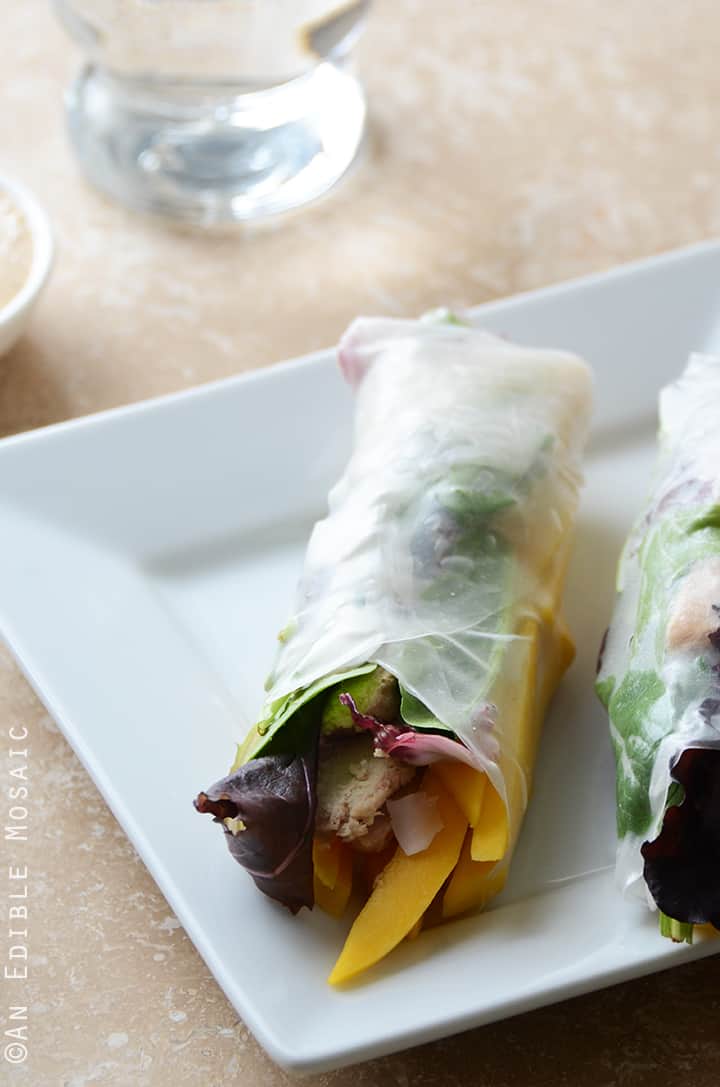 With spring right around the corner, this is a great time of year to clean up. Your home (ugh, I have been dreading cleaning out that cupboard in my kitchen…you know, the junk cupboard with mix-matched plastic containers, large utensils, old sheet pans, glass jars, and generally anything else that doesn't seem to fit somewhere else), your wardrobe, your eating…everything. What better time to do an overhaul or even just make a few minor adjustments?
With the weather (slowly) turning warmer, I'm starting to crave lighter fare. Less of things like hearty casseroles, pot roast, and comforting stews, and more of things like lighter brothy soups, grilled chicken and fish, and main-course salads.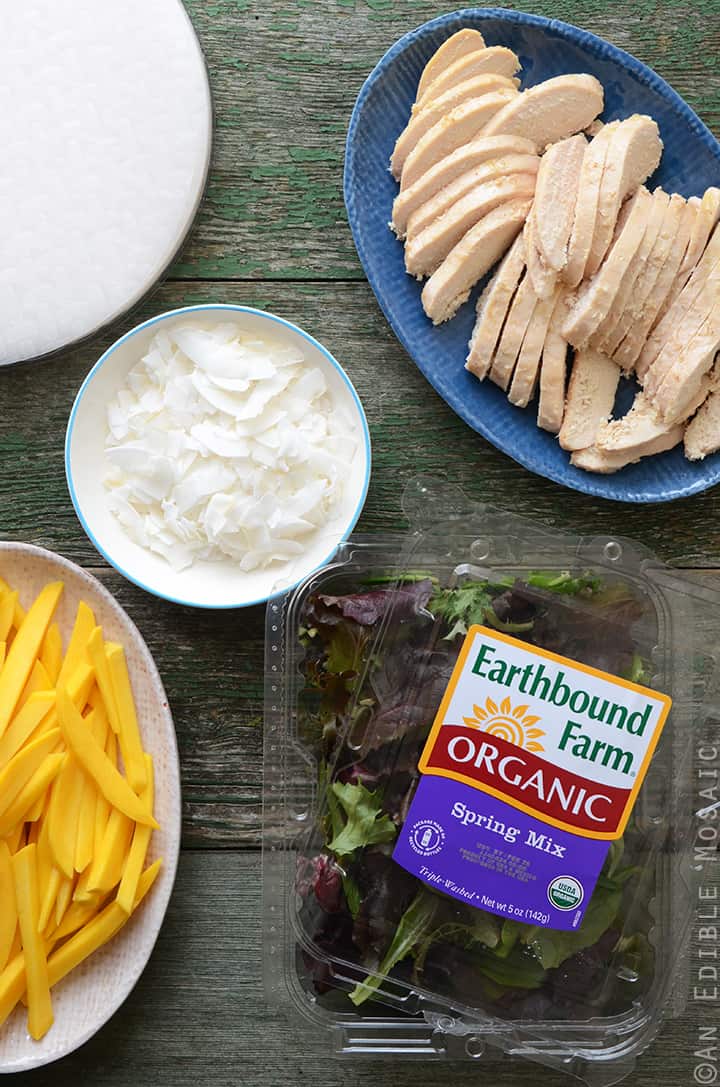 At Earthbound Farm, spring is real cause for celebration. Did you know that they were the first to successfully launch prewashed, packaged salad for retail sale back in the '80's? Their first blend was Mixed Baby Greens, followed by Baby Spinach Salad, Asian Salad Mix, and Baby Romaine Salad; because of their success, Earthbound Farm is credited with popularizing spring mix salads. Something that resonates with me – in The Earthbound Cookbook, Myra Goodman talks about how the flavor of greens should be celebrated in a salad. Gorgeously fresh and flavorful lettuce is something to celebrate indeed, and it's even better when you know you're serving your family lettuce that was grown organically without toxic chemical pesticides or fertilizers.
I wanted to make something light and fresh with Earthbound Farm Organic Spring Mix to usher in spring, and Vietnamese summer rolls came to mind. While spring rolls are typically deep-fried, summer rolls are made with rice paper wrappers that aren't cooked (the rice paper is briefly soaked in warm water to make it pliable). Summer rolls are served cold and are full of fresh, bright flavors.
These Mango Coconut Chicken Rolls with Spring Mix and Sesame-Ginger Sauce are a total fusion dish: tropical flavors wrapped up in Vietnamese-style summer rolls paired with Japanese-inspired dipping sauce. It works though.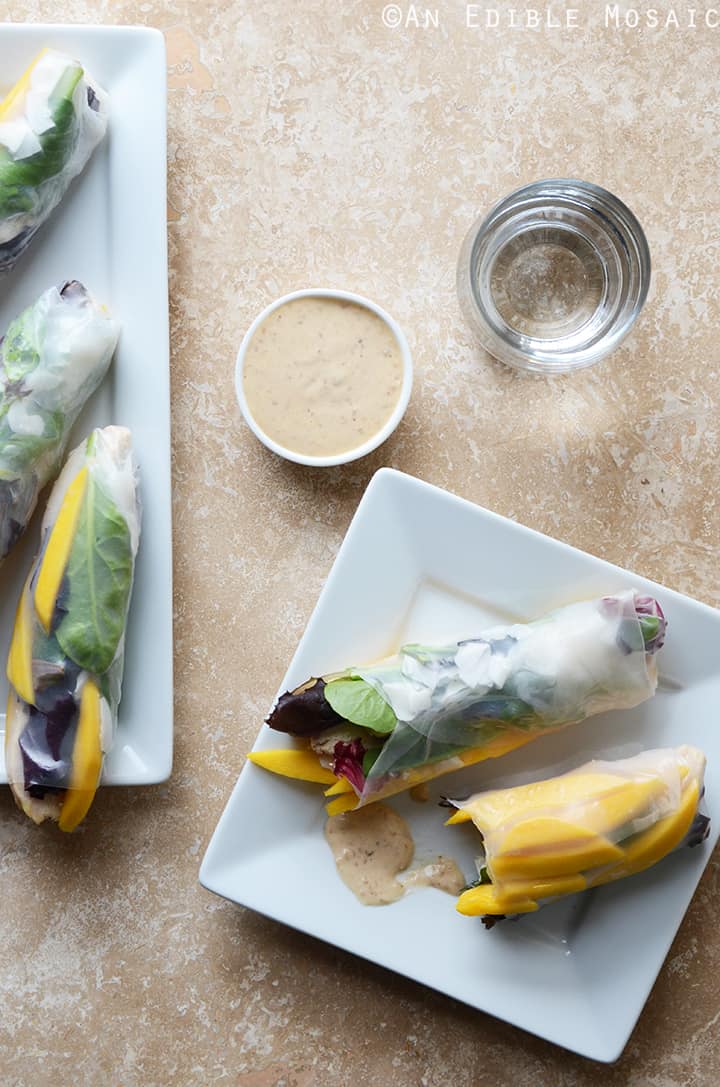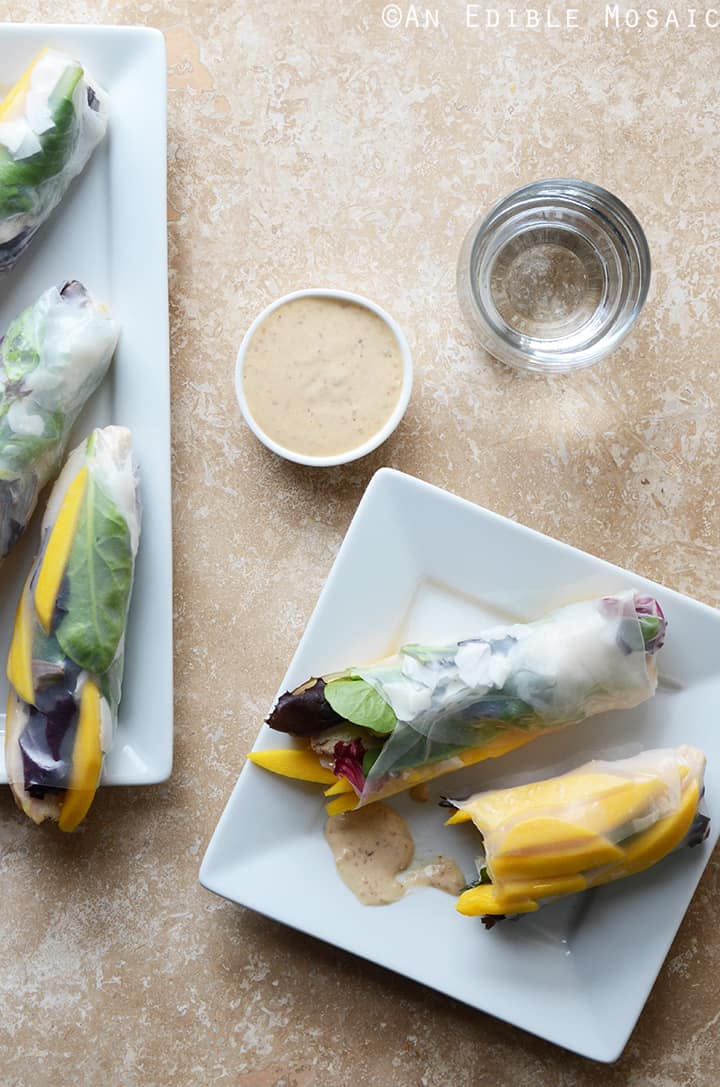 Here I paired a few simple ingredients (mango, coconut, chicken, and spring mix) with an over-the-top flavorful sauce. (Because in addition to how light summer rolls are, one of my favorite things about them is that they're always served with dipping sauce!) I was inspired by the sauce that's used as salad dressing and dip at my favorite local Japanese restaurant; last time we were there I asked the waitress what was in the salad dressing and she said people always think it's peanut, but it's actually sesame! I've been dying for an excuse to try my hand at a homemade version.
In the recipe below, I give instructions on how to fold the rolls so that one end is left open, but if you prefer, you can roll them so that both ends are closed. And if you're more of a visual person, be sure to check out How to Wrap Rice Paper Rolls on Viet World Kitchen because Andrea shares photos of the entire process.
Cheers to spring! I say we toast over spring-like summer rolls.
And for more spring mix fabulousness, check out these recipes:
Spring Salad with Shrimp, Peanuts, Pineapple, and Avocado Tarragon Dressing from One Hungry Mama
Toast with Ricotta and Spring Mix Pesto from Eating Made Easy
Mango Coconut Chicken Rolls with Spring Mix and Sesame-Ginger Sauce
Prep time:
Cook time:
Total time:
Yield:
8 rolls/4 servings
Ingredients
Sesame-Ginger Sauce:
6 tablespoons mayo
2 tablespoons white sesame seeds, ground until pulverized (but not paste) in a food processor or using a mortar and pestle
1 tablespoon honey
1 tablespoon rice vinegar
1 teaspoon dark sesame oil
1 teaspoon soy or tamari sauce
1 teaspoon fresh-grated ginger
½ teaspoon hot sauce (more or less to taste)
Chicken:
1 lb (450 g) boneless, skinless chicken breasts
2 tablespoons Sesame-Ginger Sauce
1 tablespoon fresh lemon juice
Other:
8 (8½-inch diameter) rice paper wrappers
1 mango, peeled, pitted, and thinly sliced
⅔ cup unsweetened coconut flakes
4 cups Earthbound Farm Organic Spring Mix
Instructions
For the chicken, stir together 2 tablespoons Sesame Ginger Sauce and the lemon juice in a bowl. Add the chicken and toss to coat; refrigerate 4 hours or overnight. After marinating, fully cook the chicken (there should be no pink in the center) on the grill (about 12 to 15 minutes) or in the oven (375F for about 30 minutes). Cool the chicken completely and then thinly slice across the grain.
To assemble the rolls, lay out all ingredients you'll need (the cooked chicken, sliced mango, coconut flakes, and spring mix).
Get out a medium skillet and fill it with ½-inch of warm water; put it on the stovetop over very low heat to keep the water warm, but not so hot that you can't touch it.
Working with 1 rice paper wrapper at a time, dip the wrapper into the warm water for 5 seconds, continuously rotating as you do so. Do not leave it in the water longer than that because it will become mush. Once it has been dipped in water, place the rice paper wrapper onto a ceramic plate (or other non-porous flat surface). Let it sit for about 5 seconds because it will continue softening. Place ⅛ of the mango, chicken, coconut, and spring mix on 1 side all the way over so it's touching the outside on the lower ⅓ of the wrapper. Fold the bottom ⅓ of the wrapper up over the filling, then fold the side of the wrapper over onto the filling; continue rolling up from the bottom until you get a nice little package (one side will be open). Once rolled, place the summer roll onto a plastic wrap-lined tray and immediately cover it with plastic wrap to prevent it from drying out. Repeat this process 7 times with the remaining ingredients; don't let the rolls touch each other on the tray because they have a tendency to stick together.
Serve the rolls immediately with the sauce, or wrap them well and refrigerate for up to 4 hours.
Disclosure: I received the Earthbound Farm product that I used in this recipe for free, and I also received compensation for this post. I am happy for the opportunity to share brands that I believe in with my readers, and I hope you enjoy my recipe. As always, opinions stated are my own. This post contains Amazon affiliate links to products I believe in, which means that even though it doesn't cost you anything extra, I will receive a small amount of money from the sale of these items, which helps me keep this site alive – thank you for helping to support An Edible Mosaic!