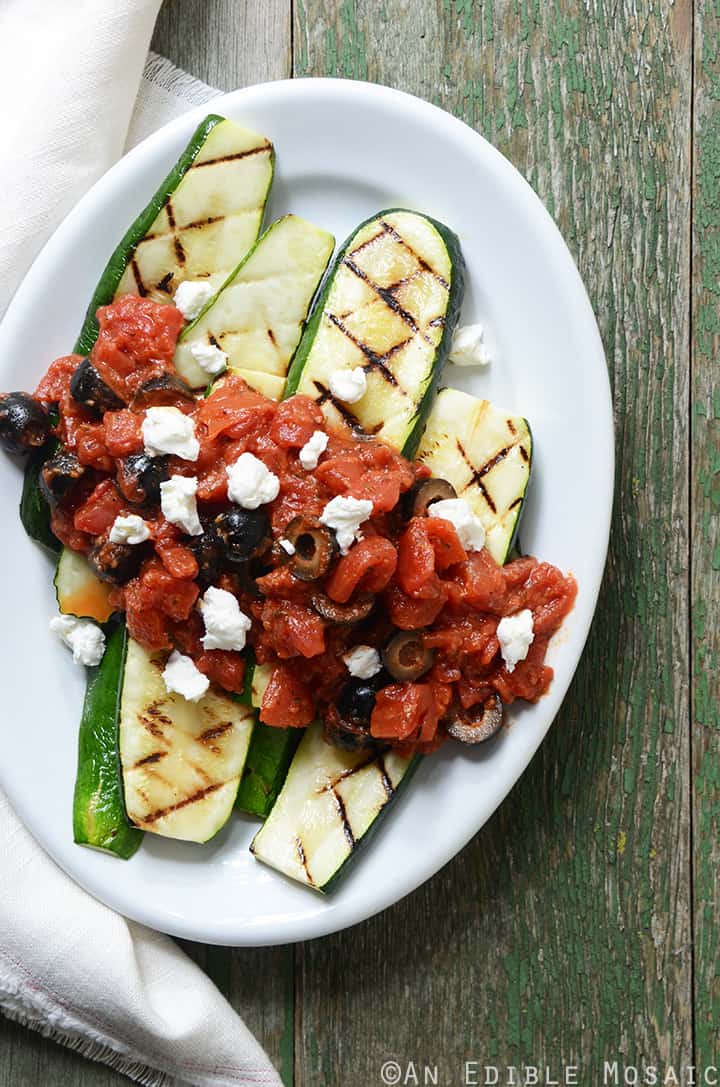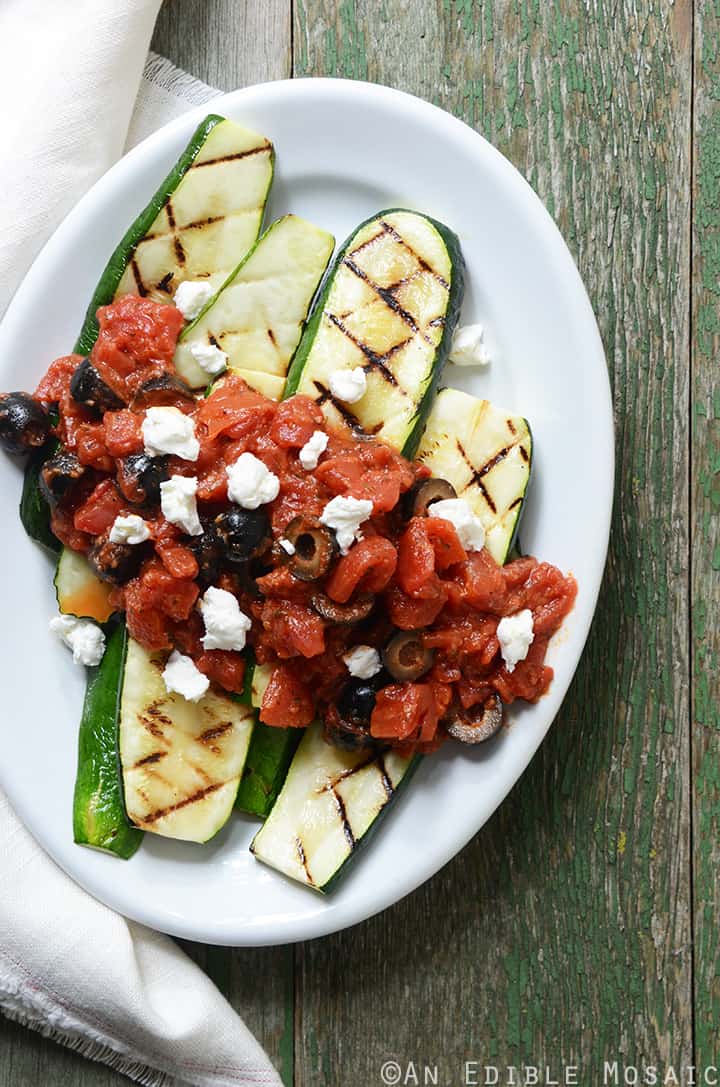 Mike and I decided years ago that we just aren't campers.
Actually, it was after our first camping trip that we sort-of had an inkling that it just wasn't our cup of tea, but after our second trip we outright swore off camping altogether.
(It's not the bugs, or the snakes, or even the uncomfortable bedding that gets me. What kills it for me is the fact that I can never just get clean, lol. Dirty feet and sticky fingers are the stuff my nightmares are made of.)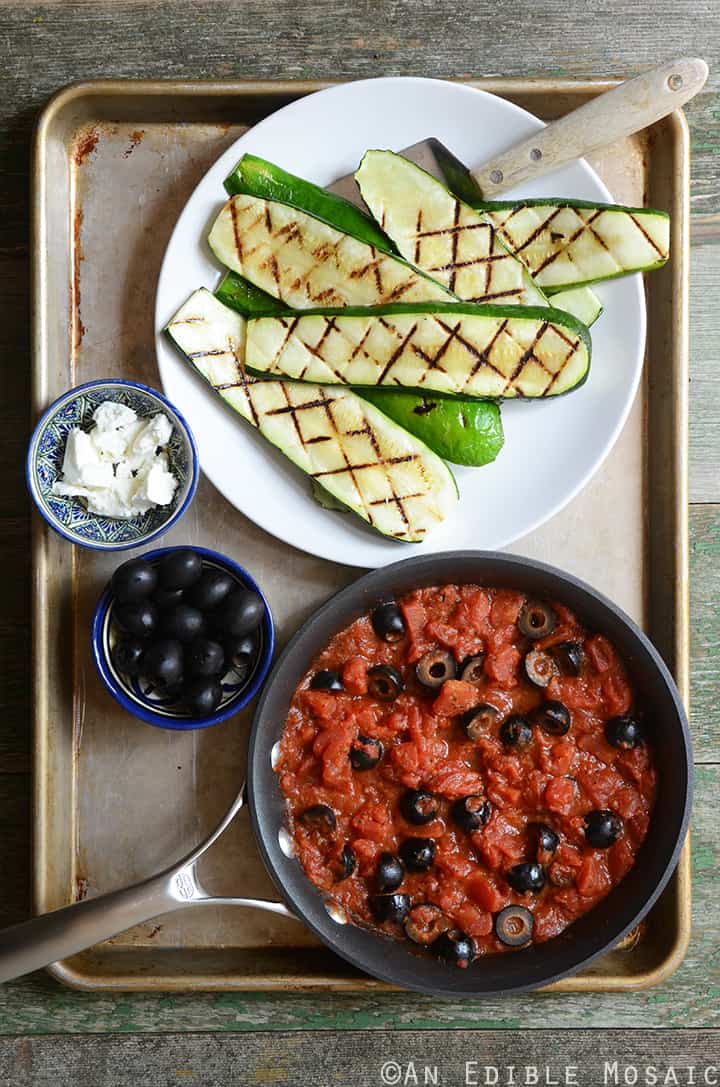 Glamping though? That I'm all for.
A couple years ago, we glamped in the Adirondacks in this beautiful vintage-meets-shabby-chic-style cottage right on a lake, and this lovely little zucchini dish was on the menu. Thinking back on that trip reminded me of it and how delicious it is.
It's an easy summer side because the zucchini just gets tossed on the grill with whatever meat you happen to be grilling up. The tomato sauce is bursting with the flavors of garlic, oregano, and black olives, and it literally cooks up in five minutes on the stovetop. It's an incredibly easy way to class up zucchini.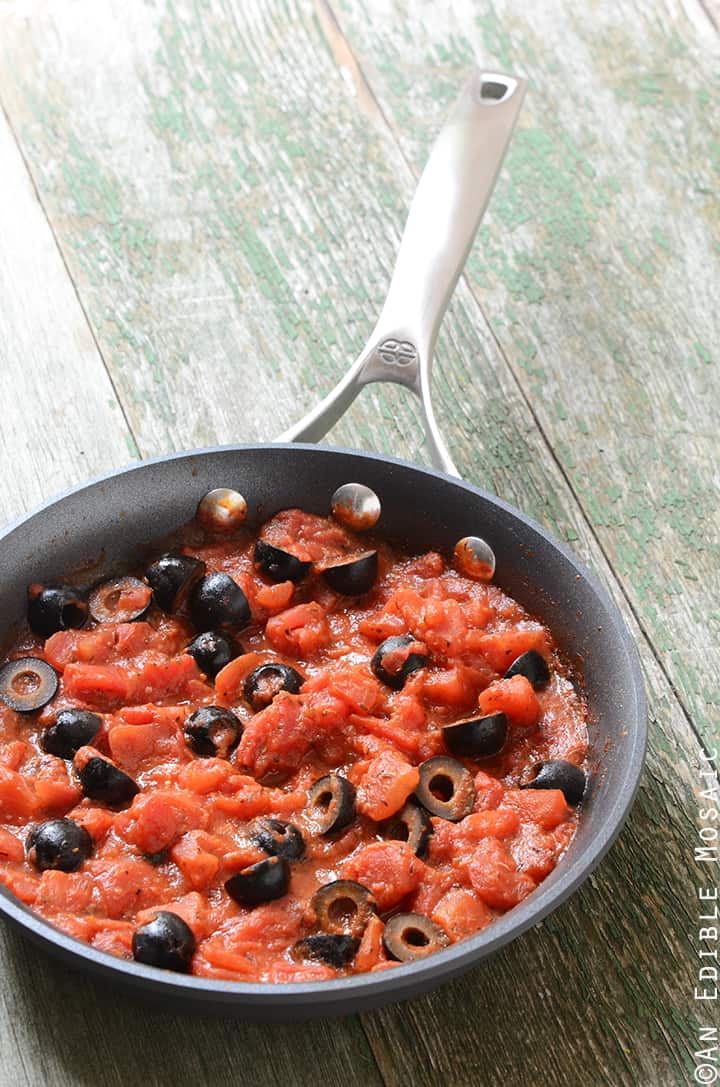 Olives are the secret ingredient here. They are always in my kitchen, but olives are something I don't think of actually cooking with often enough…I'd like to start! California Ripe Olives are a great choice; they're packaged at their peak to preserve nutrients, and they contain vitamin E, iron, vitamin A, and fiber. Plus, they're versatile; use black olives as a pizza topping, sprinkle them onto salads, and toss them in your favorite pasta. Olives are a good source of healthy fat, and are considered an essential part of the Mediterranean diet. For more nutrition details, here is the California Ripe Olives nutrition label...
What's your favorite way to add olives to your cooking?
Grilled Zucchini with Quick Tomato-Olive Sauce and Feta Cheese
Prep time:
Cook time:
Total time:
This five-minute tomato sauce is bursting with the flavors of garlic, oregano, and black olives, and is the perfect way to dress up simple grilled zucchini.
Ingredients
Grilled Zucchini:
2 medium-large zucchini (about 1¼ lbs/570 g), ends trimmed off and sliced lengthwise into ¼-inch thick planks
Olive oil
Salt and black pepper
Quick Tomato-Olive Sauce:
2 tablespoons olive oil
2 cloves garlic, crushed or grated
1 (14.5 oz) can diced tomatoes, with about ¼ of the juices drained off
¾ teaspoon dried oregano or 1½ teaspoons minced fresh oregano
¼ teaspoon sugar
⅛ teaspoon salt
⅛ teaspoon ground black pepper
½ cup California Black Ripe Olives, drained and halved
Other:
2 oz (60 g) crumbled feta cheese
Instructions
For the zucchini, lightly brush each plank with olive oil and sprinkle with a little salt and pepper. Grill briefly until golden grill marks form and it starts to soften, being careful not to overcook or it will get mushy.
For the sauce, add the olive oil to a medium skillet over medium heat. Add the garlic and cook 1 minute, stirring constantly, then add the tomato, oregano, sugar, salt, and black pepper. Bring up to a boil, then cook until thickened, about 3 minutes, stirring frequently. Turn off the heat and stir in the olives.
Transfer the zucchini to a serving platter, top with the tomato sauce, sprinkle on the feta, and serve.
I was selected for this opportunity as a member of Clever Girls and the content and opinions expressed here are all my own.