Creamed Cabbage makes a delicious side dish for just about any main course!
Right before New Year's, I shared a post with photos of a few recipes that I made, but never blogged for various reasons. In that post was a picture of Creamed Cabbage; the picture itself was not my favorite, but the dish was fantastic. It's one of those things you can eat every day for a week, and when it's gone, still wish you had made a bigger batch.
I don't blame you for bombarding me via email for the recipe.
So, I made it again and re-shot the pictures (I'm telling you, the last set really didn't do the recipe justice). And then I made it again so I could test out a grain-free version (which, I am thrilled to say, turned out delicious).
This dish is creamy and comforting, but is also fairly light with no cream; instead, a touch of butter adds richness and a little bit of flour is used to thicken milk. The bulk of the dish is cabbage, which makes it hearty and healthy, and onion, garlic, and turkey bacon add depth of flavor. Sometimes I'll add a can of rinsed and drained white beans because they go so well with cabbage (and if you do so, you can probably serve 8 as a side dish or 4 as a main course with this recipe). Also, browned sausage is a nice switch-up for bacon. It's a pretty versatile dish!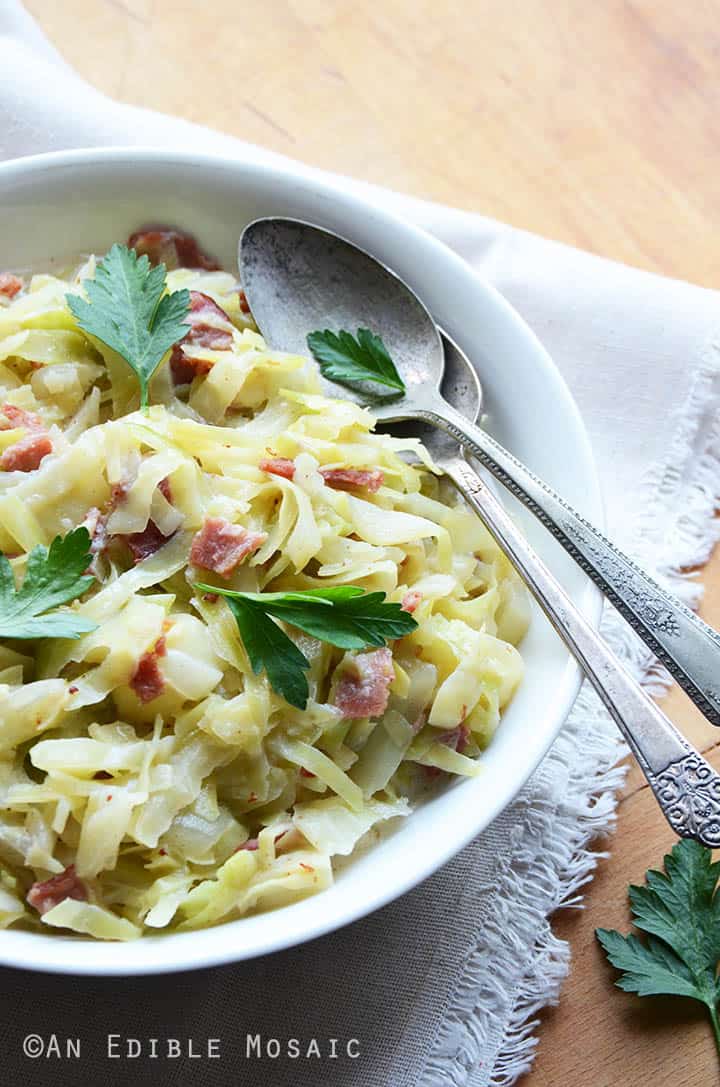 If you haven't tried Creamed Cabbage, you are definitely in for a treat with this recipe…it's a great way to sneak healthy cabbage into rich-tasting comfort food!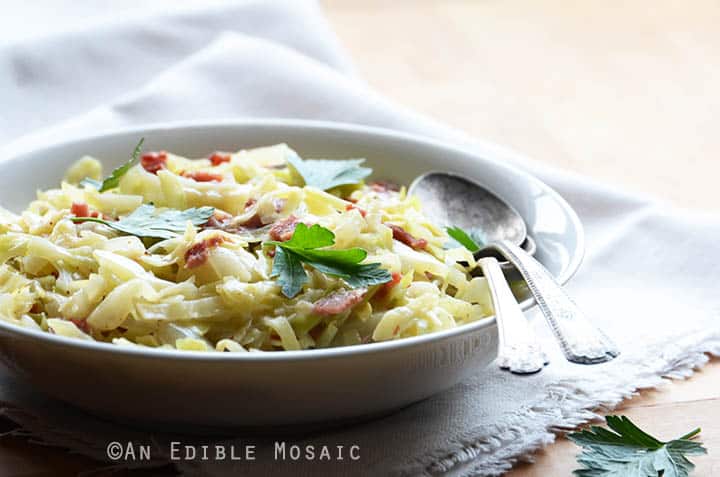 Creamed Cabbage
Prep time:
Cook time:
Total time:
Yield:
6 side dish servings or 3 main course servings
Ingredients
2 tablespoons butter
4 slices turkey bacon, chopped
1 medium-large onion, thinly sliced into half-moons
1½ lbs (680 g) green cabbage, sliced into thin shreds (about 1 small head)
1 large clove garlic, crushed
¾ teaspoon salt
¼ teaspoon black pepper
¼ cup (60 ml) water, plus more as needed
2 tablespoons all-purpose-flour
1½ cup (355 ml) milk (I used 1%)
1 handful fresh parsley leaves, for garnish (optional)
Instructions
Heat the butter in a large deep-sided skillet over medium heat. Once melted, add the bacon and cook until crispy, about 5 to 7 minutes, stirring occasionally. Use a slotted spoon to transfer the crisped bacon to a paper towel-lined plate to drain off excess butter.
To the same skillet, add the onion, cabbage, garlic, salt, black pepper, and water; cook (covered) until the cabbage is tender, about 15 minutes, stirring occasionally. Add a splash of water if the pan starts to get too dry.
Add the flour and cook 1 minute, then add the milk and cook about 2 minutes more, stirring constantly. Turn off the heat and stir in the bacon.
Transfer to a serving dish and top with the parsley, if using.
Notes
Grain-Free Version: Omit the flour and milk. Once the cabbage is tender, add 1 cup canned light coconut milk (or full-fat for a richer dish) and bring to a simmer. Transfer to a serving dish and top with the parsley.

To Make This Recipe Into 4 Servings: Add 1 (16 oz/450 g) can rinsed and drained white beans when you add the milk.