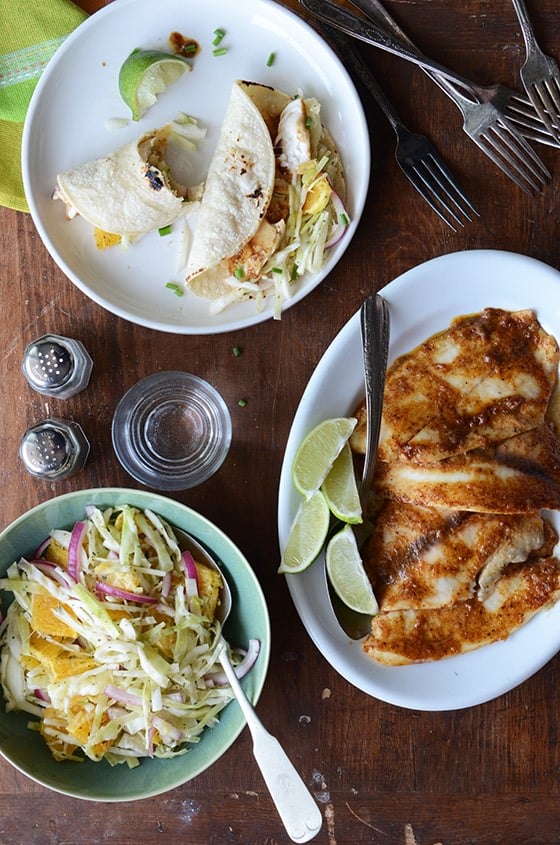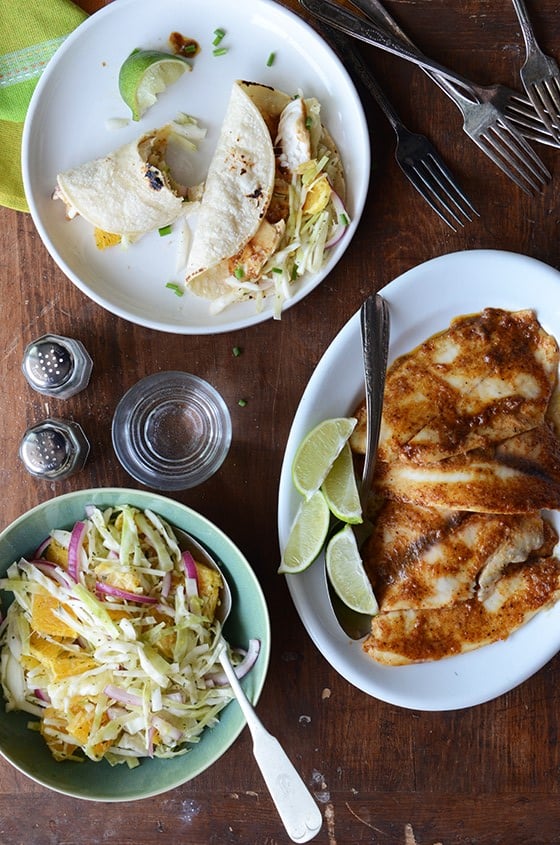 This recipe was developed for #McCormickTacoNight and this post is sponsored by McCormick; as always, opinions are my own.
We all know it's not polite to stare at people eating, but have you ever stolen a glance? Truthfully, it's hard not to notice the way a person eats when they're sitting next to or across from you; it's interesting, and I think you can tell a lot about someone by the way they make and eat a plate of food.
For example, my mom always places neatly scooped servings of each component (protein, vegetable, etc.) onto her plate so they don't touch; then she eats all of one item, bite by bite, before moving on to the next. My niece takes this one step farther and likes to use a lunch tray to keep her food from touching (of course it might just be the cute ladybug tray that she likes though). On the other end of the spectrum, I've seen my brother take several beautiful meals (including Thanksgiving dinner) and mash every component together into a messy pile on his plate so that it looks like baby food, or worse.
I wonder if the way you arrange your plate and eat your food can be used like handwriting to determine your personality? My mom can definitely be meticulous and methodical when it comes to certain things…and my brother is definitely more of a fly-by-the-seat-of-your-pants kind of guy. So, maybe.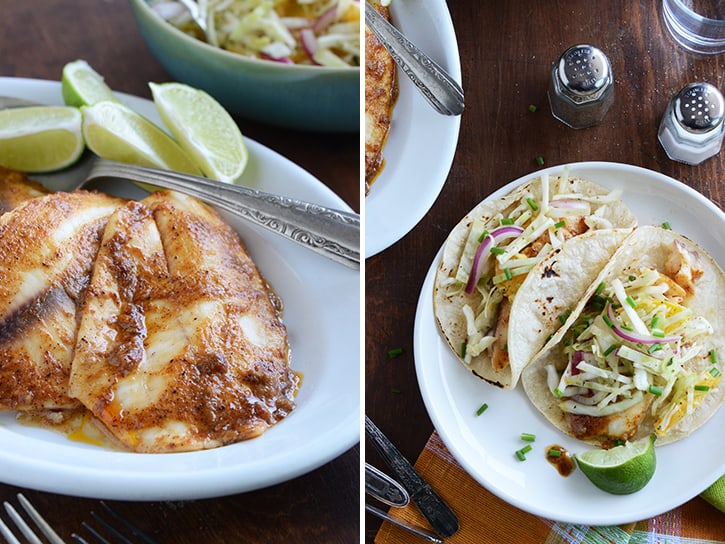 I'm somewhere in the middle: I don't mind my food touching, but I don't like it mashed together. I like mixing up my bites in what I like to think of as the quest for the perfect bite: I pair a bit of veggies with a bit of meat or something else. And I'm a condiment kind-of girl, so if there's a sauce involved (like BBQ), you know I'll be dipping too. Tacos are one meal that I've always enjoyed because each bite already has a little bit of everything in it and there's no need for me to work at putting together the perfect bite!
Fish tacos are a personal favorite of mine. In this recipe I season the fish with an ancho-garlic sauce, and then bake the fish (instead of frying) to keep the meal light. The refreshing slaw has both sweet and savory going on, providing tons of flavor along with crunch. These flavorful tacos really hit the spot…family taco night, anyone?
Ancho-Garlic Fish Tacos with Citrus-Mint Cabbage Slaw
Prep time:
Cook time:
Total time:
Ingredients
Ancho-Garlic Fish:
2 tablespoons olive oil, divided
1 tablespoon red wine vinegar
1 tablespoon pure maple syrup
1 tablespoon Dijon mustard
2 medium cloves garlic, crushed using a mortar and pestle or grated on a microplane
1 teaspoon McCormick Gourmet Collection Ancho Chile Pepper
½ teaspoon salt
⅛ teaspoon ground black pepper
1 lb/455 g (about 5 small-medium fillets) tilapia fillets, patted dry
Citrus-Mint Cabbage Slaw:
2 tablespoons olive oil
3 tablespoons red wine vinegar
1 medium clove garlic, crushed using a mortar and pestle or grated on a microplane
2 teaspoons dried crushed mint
½ teaspoon salt
¼ teaspoon ground black pepper
1 lb/455 g cabbage, cored and thinly sliced into shreds (about 5 cups sliced)
2 navel oranges, peeled and chopped
½ medium white onion, thinly sliced
½ medium red onion, thinly sliced
Other:
12 small (about 5 to 6-inch) corn tortillas
Fresh minced chives, for garnish (optional)
Fresh lime wedges, for squeezing on top (optional)
Instructions
For the fish, preheat oven to 350F. Brush the inside of a 9 by 13-inch casserole dish with ½ tablespoon olive oil; arrange the fish in the prepared dish. Whisk together the remaining 1½ tablespoons olive oil, red wine vinegar, maple syrup, Dijon, garlic, ancho chile pepper, salt, and black pepper in a small bowl; pour the sauce evenly over the fish. Bake the fish until fully cooked (it will be opaque and flake easily with a fork), about 12 minutes.
Toss together all ingredients for the slaw in a large bowl; cover and refrigerate until ready to use (this can be made the day ahead).
While it's optional, I like to char the tortillas a little bit. I (carefully!) do this by using a pair of tongs to hold a tortilla over my gas burner and rotating it around until it blackens in places. This can also be done by placing the tortillas onto a grill or hot grill pan, or putting them under a hot broiler. No matter what method you use, be very careful and watch them closely!
To put the tacos together, put some fish onto a charred tortilla and top with some slaw and repeat. I serve 3 tacos per person along with about 1 cup of slaw as a side dish (in addition to the slaw on top of the tacos).
Notes
For a Spicier Version: For the fish, use McCormick Gourmet Collection Chipotle Chile Pepper instead of McCormick Gourmet Collection Ancho Chile Pepper and add about ½ teaspoon crushed red pepper flakes to the slaw.