This Layered Corn, Avocado, and Tomato Salad with Herbed Sour Cream features the best of summer produce and is sure to be a hit at your summer picnic or potluck.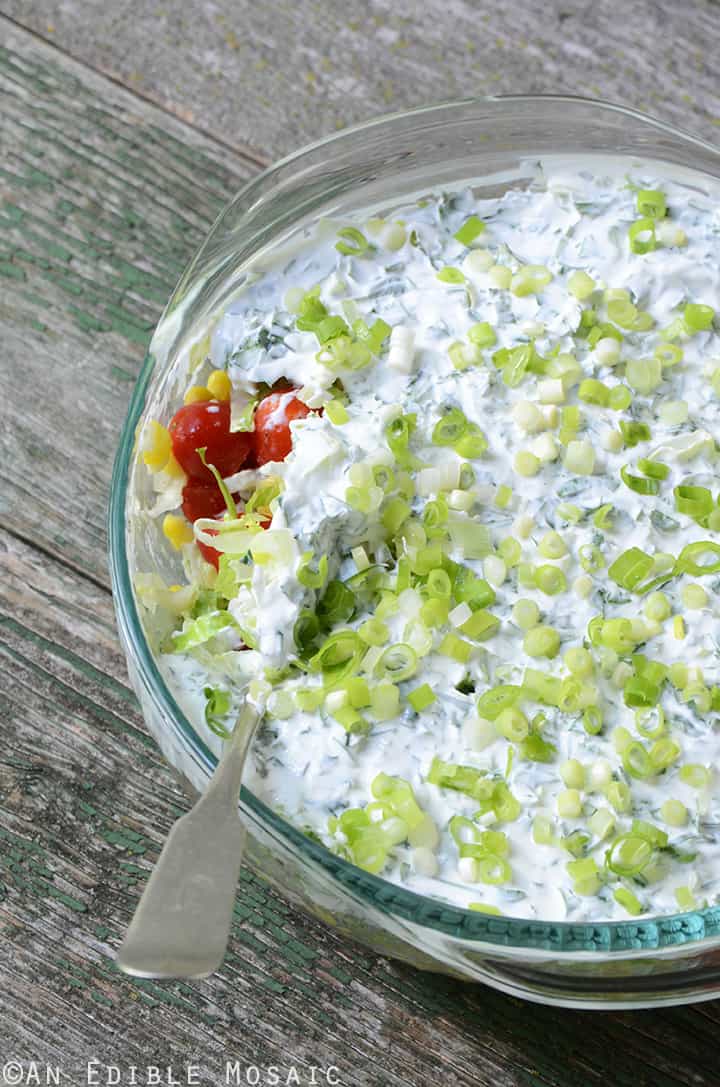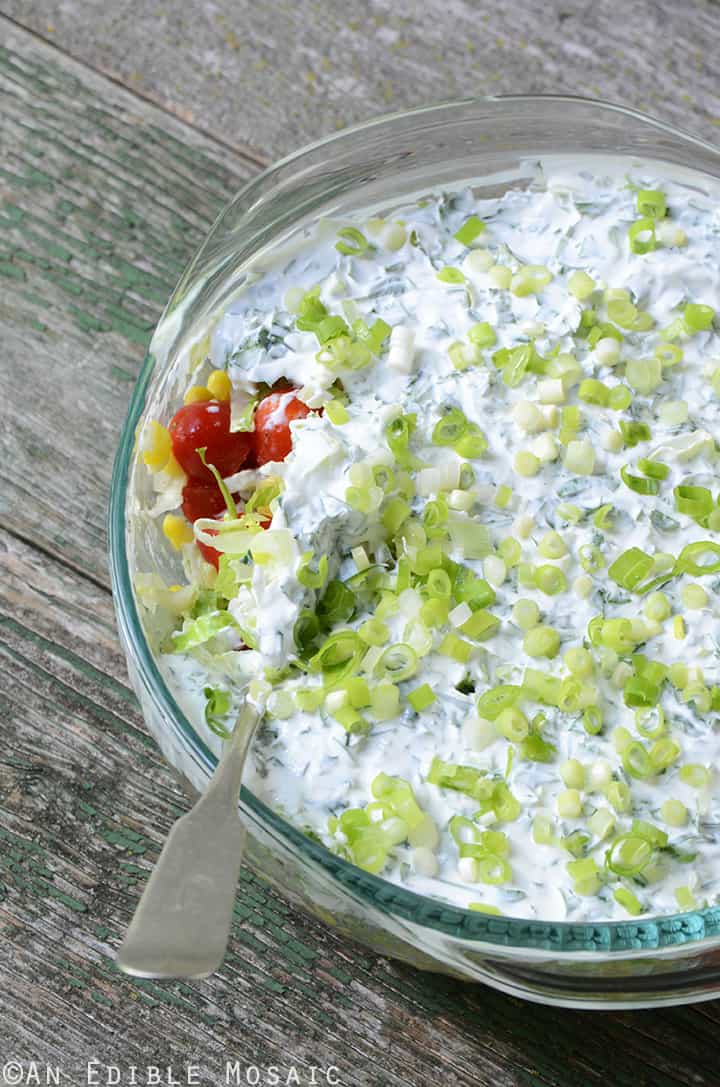 At the beginning of summer, one of Mike's favorite coworkers moved to Hawaii.
(It was a sad day when we said goodbye to her, not only because she was funny and sweet and smart, but also because she makes the best brownies I've ever put into my mouth. She's like some kind of evil brownie magician because I swear her recipe is irreplicable despite my 25 pathetic attempts.)
But anyway, we invited her over for dinner before she left and this salad was my parting gift to her. Avocado is totally her thing (she's a girl after my own heart), and I wanted to come up with a way to feature it other than the obvious choice (guacamole). So I thought, why not add the best of summer produce – sweet ripe tomatoes and corn – along with an herbed sour cream?
In the words of Ina Garten, How bad can that be? Not bad at all. In fact, take this surprisingly delicious little gem of a recipe to your next summer party and no doubt you'll have a few people ask you for the recipe. Pass it off as yours, they'll never be the wiser. ;)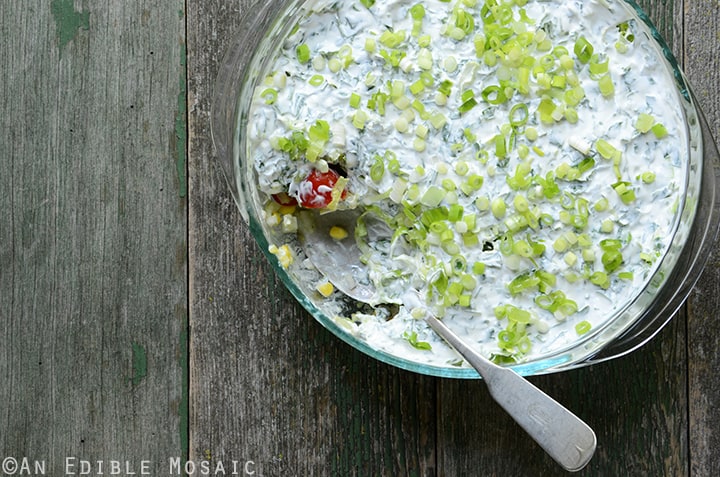 Layered Corn, Avocado, and Tomato Salad with Herbed Sour Cream
Prep time:
Cook time:
Total time:
The best of summer produce comes together in this layered salad.
Ingredients
Herbed Sour Cream:
1 (8 oz/227 g) sour cream
¼ cup fresh chopped parsley
¼ cup fresh chopped cilantro
Dressing:
2 tablespoons extra-virgin olive oil
2 tablespoons fresh lemon juice
1 small clove garlic, minced or grated
½ teaspoon salt
⅛ teaspoon black pepper
Salad:
2 medium-large ears corn on the cob, steamed, cooled, and corn cut off (about 1¼ cups corn)
1 cup grape or cherry tomatoes, halved
1 small onion, diced
2 avocados, peeled, pitted, and chopped into large pieces
1 small head Romaine lettuce, thinly sliced
Other:
2 scallions, green and white parts, thinly sliced
Instructions
Stir together all ingredients for the herbed sour cream in a small bowl and set aside for now.
Whisk together all ingredients for the dressing in a large bowl and gently stir in the corn, tomato, onion, and avocado. Pour the veggie mixture into a 2.5-liter glass bowl or casserole dish (I use glass so you can see the layers). Spread the lettuce out on top of the veggies. Spread the herbed sour cream out on top and sprinkle on the scallion.
Serve chilled.