Preserve the essence of summer with Vanilla-Scented Peach Jam…the perfect topping for your morning toast, yogurt, or oatmeal.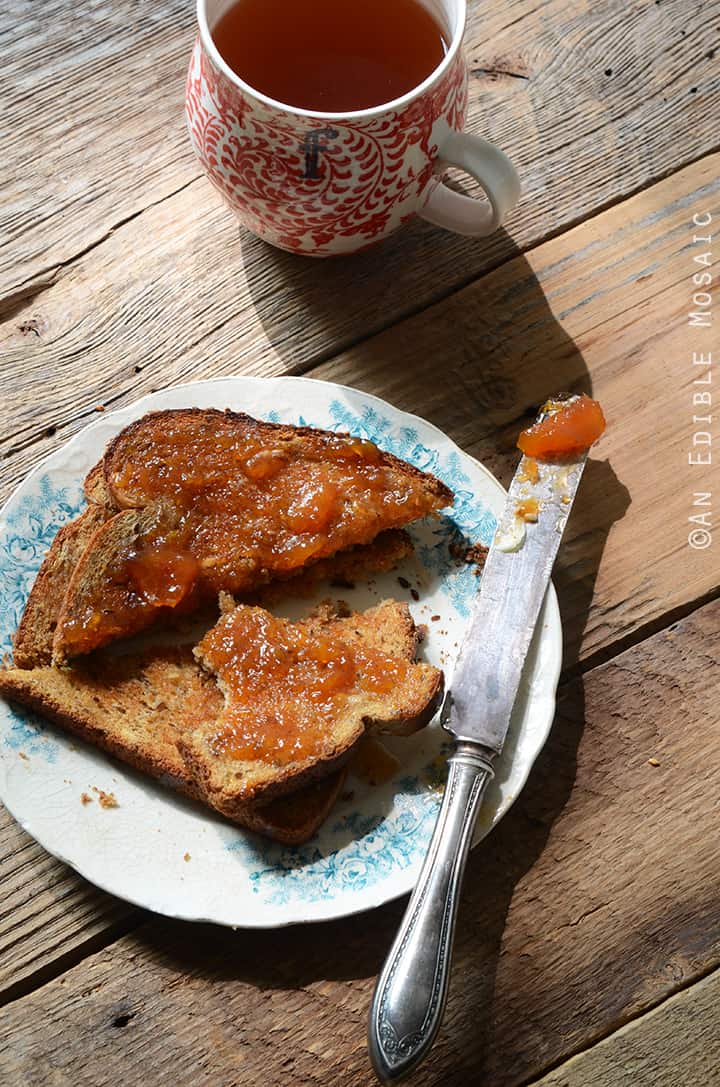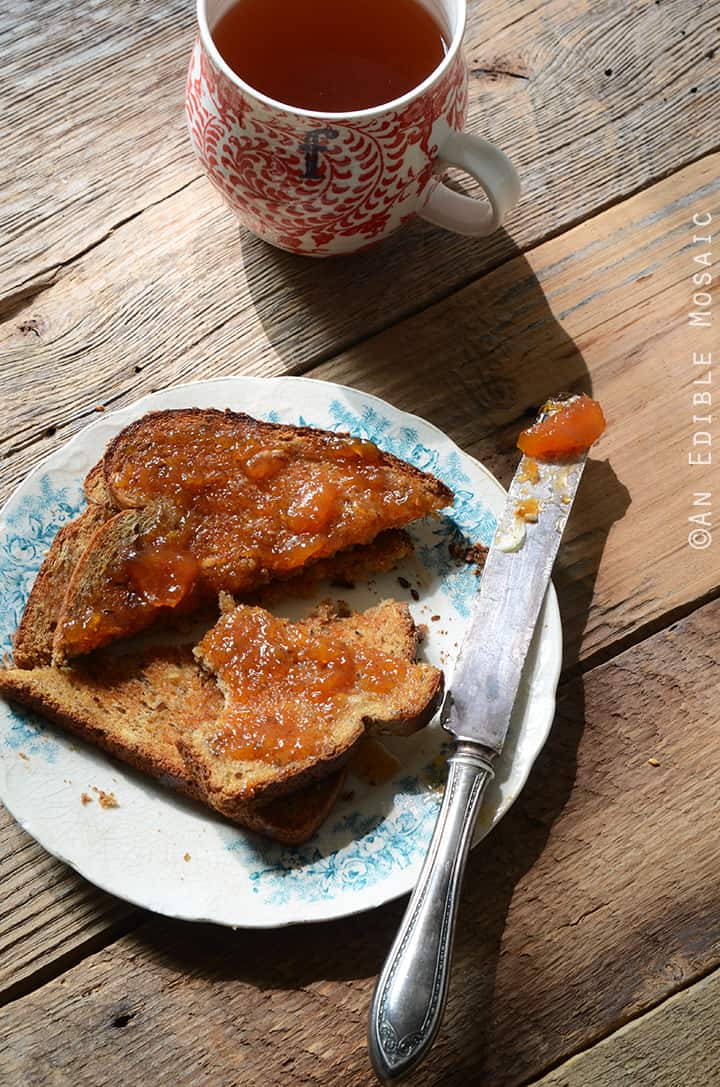 Peach jam always reminds me of August.
Days are still hot, but nights start to cool off a little; summer begins to wind down and it's time to start thinking of ways to preserve its bounty. Enter peach jam.
Jam is one of those things that I eat once or maybe twice a month, at most, usually stirred into yogurt. In general, I'm not really a toast person, but every now and then I'll get a serious toast craving and when that happens, only buttered toast with jam will due (that's when my Best Paleo Sandwich Bread recipe comes in handy...it makes fabulous toast!).
What I really love about jam (and canning in general), is its ability to capture the essence of summer so you can enjoy it and share it with your loved ones long after the growing season has ended. And if you're into homemade holiday gifts, there's nothing like the squeal of delight you'll hear when you hand someone a jar of homemade peach jam in December.
This jam is perfectly sweet, but not overly so, bursting with peach flavor and subtly scented of vanilla.
Vanilla-Scented Peach Jam
Prep time:
Cook time:
Total time:
Yield:
About 12 to 14 cups, or enough jam to fill 6 to 7 pint-sized jars
This fruity peach jam scented of vanilla captures the flavor of summer to enjoy year-round.
Ingredients
6½ lbs (2.95 kg) peaches
5 lbs (2.27 kg) sugar
¼ cup (60 ml) fresh lemon juice
½ teaspoon sea salt
1 tablespoon vanilla bean paste
Instructions
Wash, peel, and coarsely chop the peaches.
Add the chopped peaches, sugar, lemon juice, and sea salt to a large stockpot. Bring the jam to a rolling boil over high heat; turn the heat down to keep it at a boil but prevent it from boiling over. (Use a slotted spoon to skim off any foam from the top.)
Let the jam simmer vigorously (stirring frequently) until it's reduced in volume by about half; this usually takes about an hour for this jam, but I like to start testing it for doneness after about 40 minutes. (See Notes on how to test for doneness.)
Once the jam is done, turn off the heat and stir in the vanilla bean paste.
Transfer the jam to sterile jars; the jars should be preserved through canning or stored in the refrigerator.
Notes
How to Test Jam for Doneness:1) The Temperature Test:
The jam should be at 220F (this is the magic number if you're at sea level, like me); a cheapie candy thermometer works fine here.
2) The Sheet Test:
Dip a wooden spoon into the jam and hold it sideways over the pot; the jam should fall off in a sheet, or the last jam to drip off should hang off the spoon in a bulging drop but not fall. (You can see what this should look like in
this post
.)
3) The Freezer Test:
Freeze a plate, then put a little jam onto the frozen plate and put it back into the freezer for a few minutes; the jam should gel and not run.