This creamy Stovetop White Cheese Macaroni and Cheese with Broccoli comes together quick for the perfect kid-friendly meal.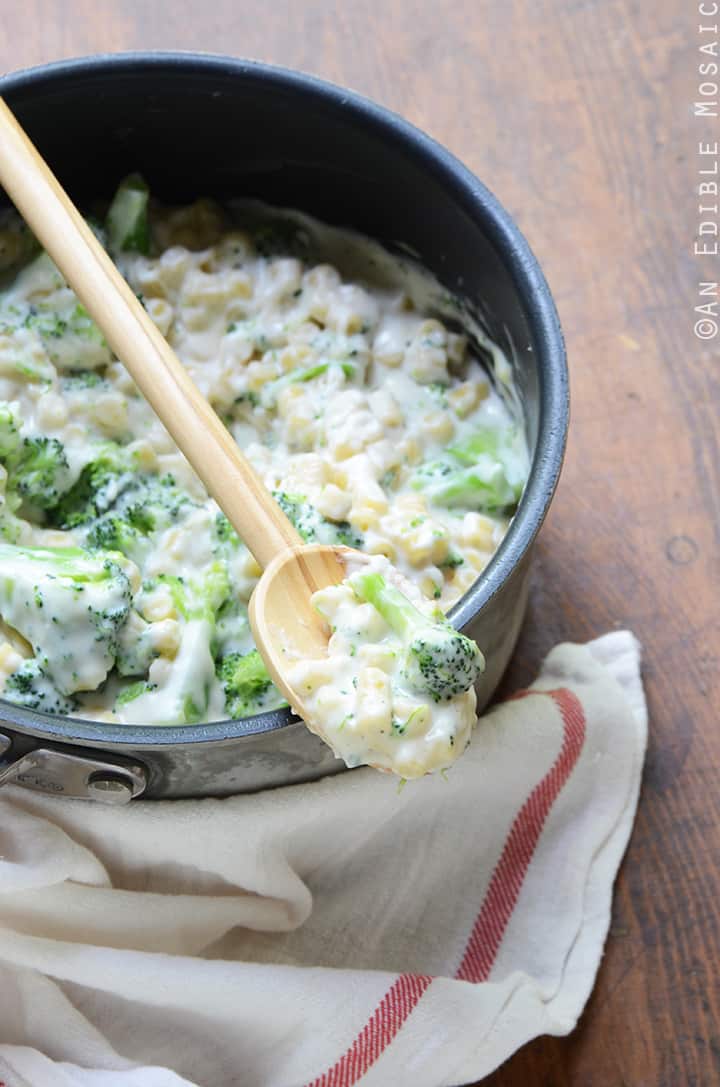 Looking through my site, I noticed that I don't have a lot of kid-oriented recipes.
(Mostly because Mike and I don't have kids (yet) and the only kid in my life (my niece) has a more grown-up palate than most grown-ups I know. From the age of five she insisted on ordering for herself at restaurants, and for a good long stint her meal of choice was broiled fish with steamed vegetables…a girl after my own heart.)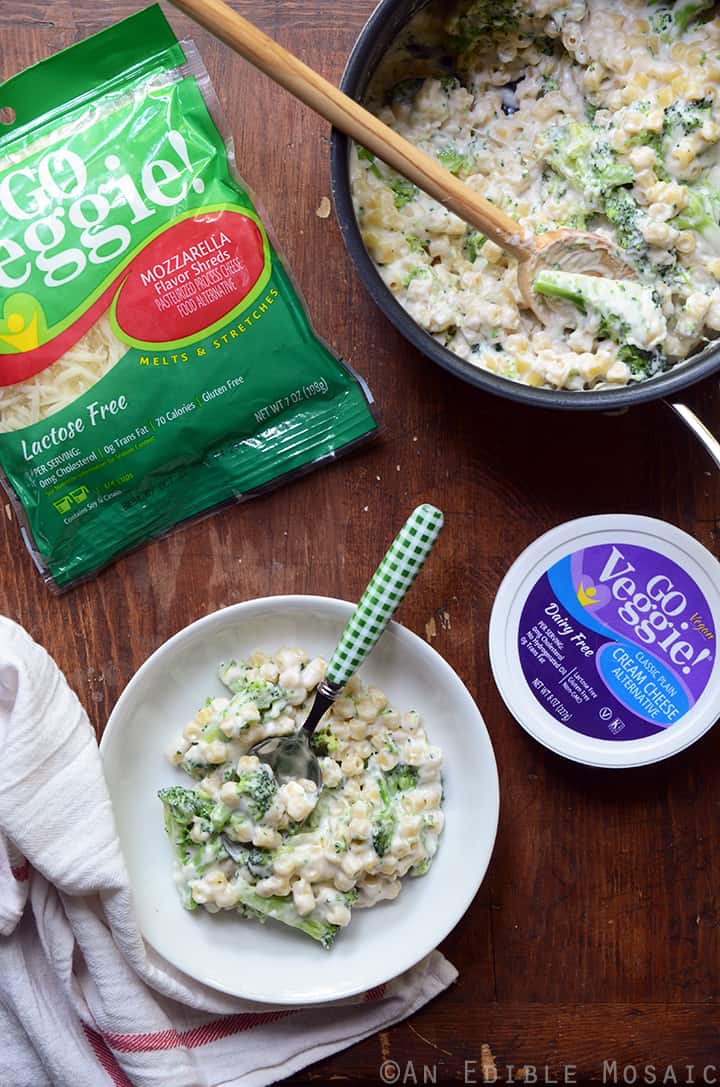 But that isn't the reality with most children. Trust me, I get it…when your kid's favorite meal is the blue box mac and cheese, it can be hard to put a healthy spin on it. This dish makes it easy though.
My Stovetop White Cheese Macaroni and Cheese with Broccoli appeals to even the pickiest eaters (convince them the broccoli "trees" are cool and you're all set), and comes together in about the same amount of time that it takes to whip up the boxed kind of mac and cheese.
A combo of GO Veggie! Lactose Free Mozzarella Shreds and GO Veggie! Dairy Free Classic Plain Cream Cheese make this dish super creamy, and also keep it lactose free with less calories, fat, and saturated fat than regular cheese. I kept the flavors pretty basic here (read: appealing to kiddos), but if you or your kids are a little adventurous, add a clove or two of crushed garlic along with the oil and sprinkle on a little GO Veggie! Lactose Free Parmesan Grated Topping to give this dish more of an alfredo-like flavor.
I think even your pickiest eaters will like this more than the stuff from the blue box. ;)
Stovetop White Cheese Macaroni and Cheese with Broccoli
Prep time:
Cook time:
Total time:
This super creamy macaroni and cheese satisfies even the pickiest of eaters and is a good way to get your kids to eat broccoli.
Ingredients
8 oz (225 g) small pasta (use any shape you like; I used Ditalini)
12 oz (340 g) broccoli, cut into florets
2 tablespoons light olive oil
3 tablespoons all-purpose flour
1½ cups (355 ml) dairy-free "milk", at room temperature
½ teaspoon salt
⅛ teaspoon ground black pepper
1 (7 oz/198 g) pack GO Veggie! Lactose Free Mozzarella Shreds
1 (8 oz/227g) container GO Veggie! Dairy Free Classic Plain Cream Cheese
Instructions
Cook the pasta to al dente according to the package directions. When the pasta has 3 minutes left to cook, add the broccoli to the pot to cook along with the pasta. Drain the pasta and broccoli.
Heat the oil in a medium saucepan over medium heat. Whisk in the flour and cook 1 minute.
Add the milk, salt, and black pepper, and stir until the sauce is lump-free. Turn the heat down to medium-low, cover the pot, and bring to a simmer, stirring occasionally.
Add the mozzarella shreds and cream cheese, and whisk until the cheese is completely melted.
Stir the cheese sauce into the pasta and broccoli.
Serve.
Disclosure: I received the GO Veggie! products that I used in this recipe for free, and I also received compensation for this post. I am happy for the opportunity to share brands that I believe in with my readers, and I hope you enjoy my recipe. As always, opinions stated are my own.