Banana bread-lovers, this Piña Colada Banana Bread is a must-try if you enjoy the tropical flavors of pineapple and coconut!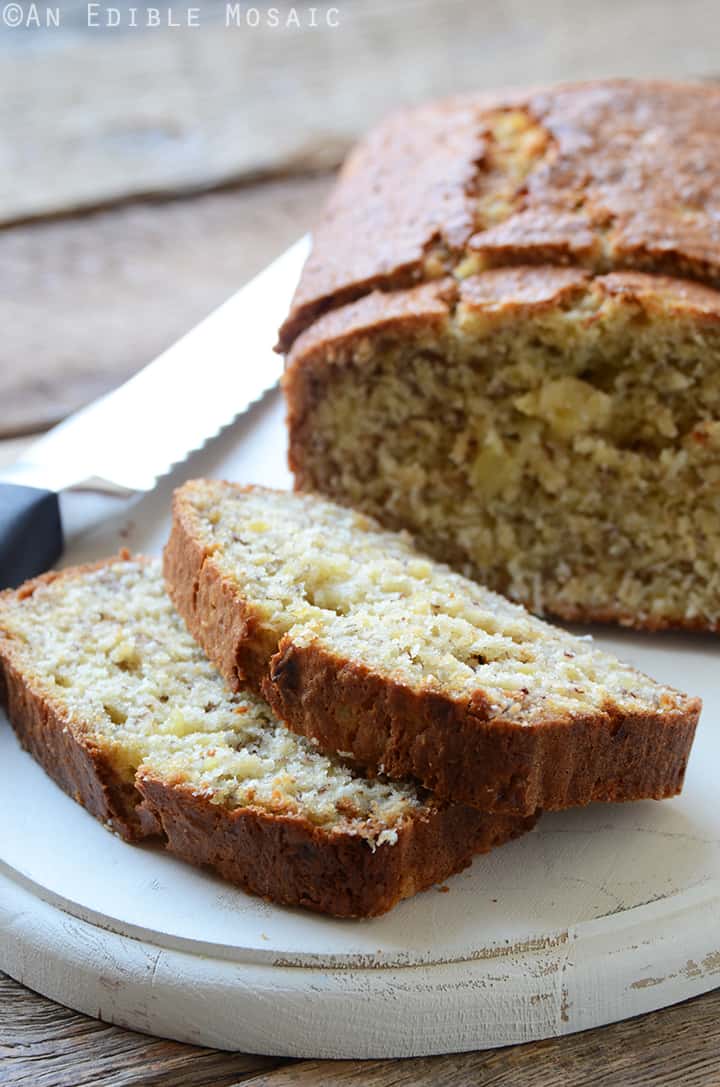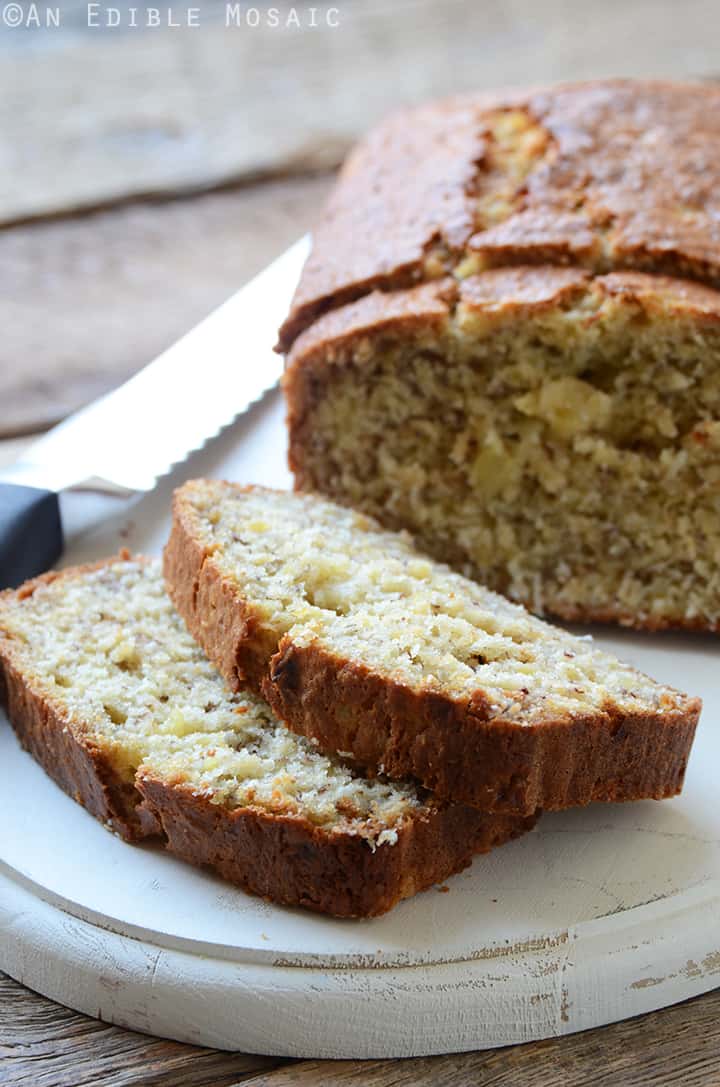 I'm weird in that I don't like bananas much.
I buy them for two reasons: 1) they're one of my hubby's favorite fruits (not surprising, since we have pretty much opposite tastes in food), and 2) to let them ripen to near-rotting (yup, I love them super sweet) and either freeze them to use in smoothies or make banana bread. See? I'm weird.
(But I've found banana bread to be one of the most versatile baked goods to play with, and if you're a food blogger, odds are you enjoy playing in the kitchen.)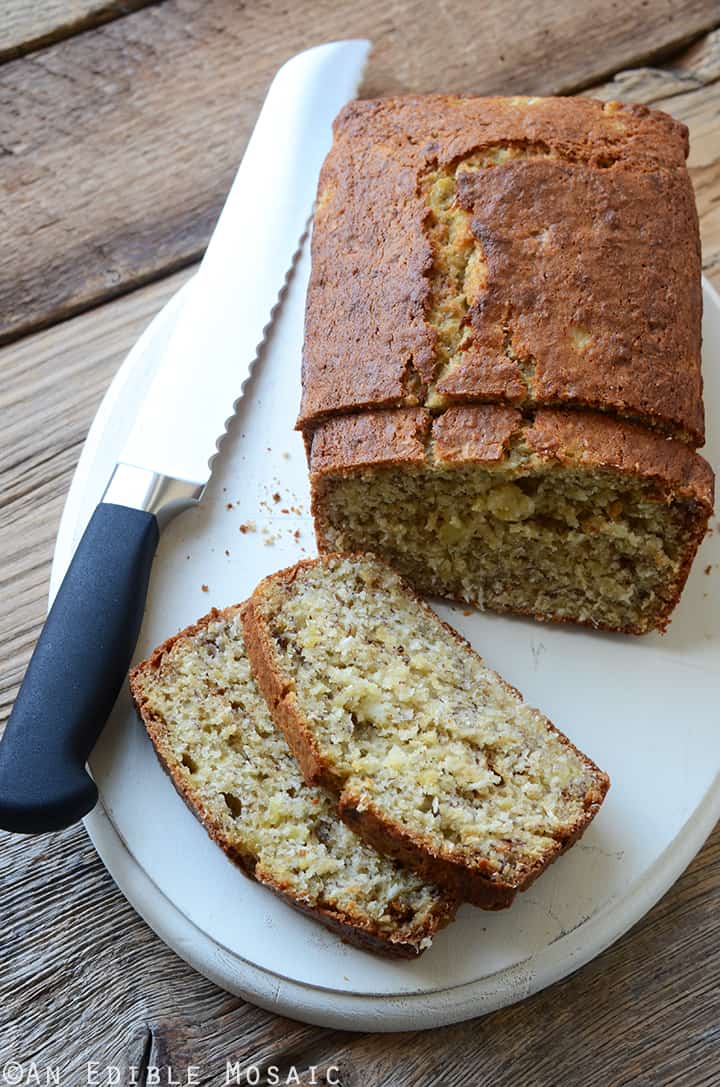 This banana bread is lighter and fluffier than most. The magic of pineapple and coconut combine in a sweetly aromatic loaf that's completely enticing. A touch of rum extract is optional, but a nice way to round out the piña colada flavor.
What's the craziest flavor of banana bread (or banana bread-flavored food) you've ever tried?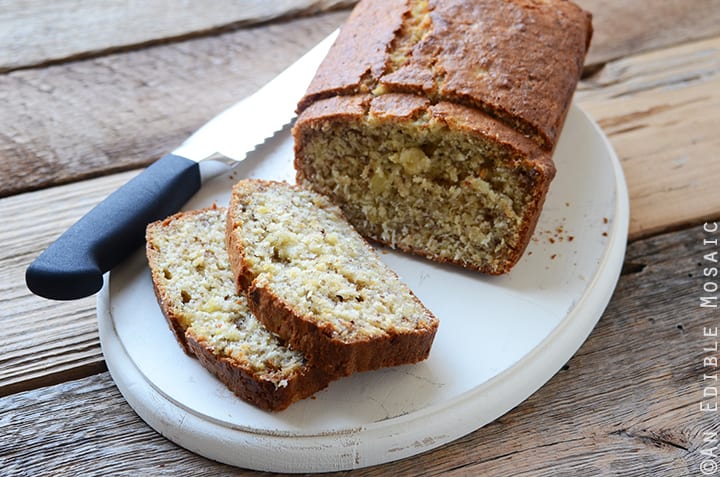 Piña Colada Banana Bread
Prep time:
Cook time:
Total time:
Yield:
1 (8½ x 4½-inch) loaf; about 12 servings
Light and fluffy banana bread is kept moist with pineapple and is sweetly aromatic with coconut.
Ingredients
2 cups (255 g) all-purpose flour
¾ cup (60 g) unsweetened shredded coconut
¾ teaspoon baking soda
½ teaspoon salt
1 cup (200 g) sugar
¼ cup (55 g) unsalted butter, at room temperature
2 large eggs
1 cup mashed ripe banana (about 2 medium bananas)
1 (8 oz/226 g) can crushed pineapple, with juice
2 teaspoons vanilla extract
¾ teaspoon rum extract (optional)
Instructions
Preheat the oven to 350F. Grease a 9 by 5-inch or 8½ by 4½-inch loaf pan with butter and set aside.
Whisk together the flour, shredded coconut, baking soda, and salt in a medium bowl.
Place the sugar and butter in a large bowl and beat with a mixer at medium speed until well blended, about 1 minute. Add the eggs 1 at a time, beating well after each addition. Beat in the banana, pineapple with juice, vanilla extract, and rum extract.
Use a wooden spoon to stir in the flour mixture, being careful not to over-mix.
Pour the batter into the prepared loaf pan and bake until a wooden pick inserted in center comes out clean, about 1 hour.
Cool the bread 10 minutes in the pan on a wire rack, then remove from the pan and cool completely on a wire rack before slicing.
If you're craving more banana bread recipes…
Peanut Butter Banana Bread Whoopie Pies
Banana-Sour Cream Coffee Cake with Brown Sugar Pecan Swirl
And here are a few notable banana bread recipes from around the internet that are calling my name…
Banana Bread Brownies with Vanilla Caramel Glaze from Averie Cooks
Banana Bread Dip from Mother Thyme
Blueberry-Lemon Banana Bread with Cream Cheese Glaze from Cooking Light
Caramel Rum and Banana Bread Pudding from Bakers Royale
Hot Fudge Fluffernutter Banana Bread from Crazy for Crust
Peanutty Chocolate Chip Banana Bread from Taste and Tell