Banana-Sour Cream Coffee Cake with Brown Sugar-Pecan Swirl takes ordinary banana bread to the next level!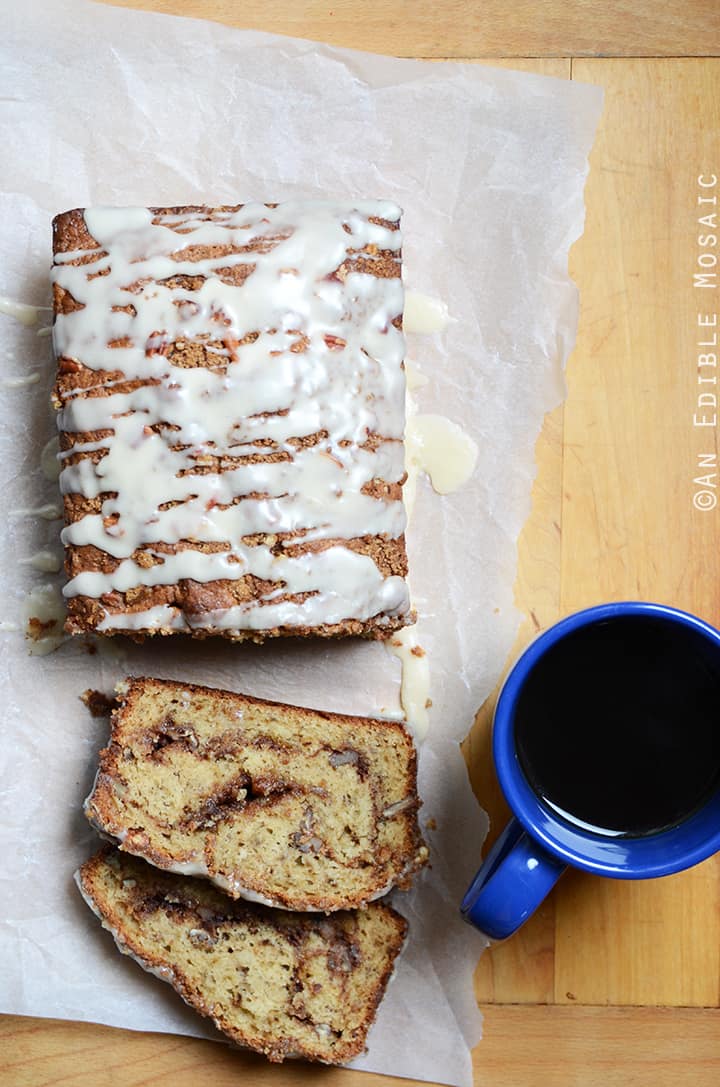 I'm not really a shopper, at least not in the sense that most ladies are.
I steer clear of the mall unless absolutely necessary (darn Apple Store with its only location in the mall…and double darn Cheesecake Factory with its fabulous cheesecake!). Anyway.
An afternoon at the mall would be tantamount to torture to me, but an afternoon wandering through an old open-air market or even a farmers' market leaves me longing for another afternoon to shop. So I guess I really am a shopper at heart.
Banana bread is another conundrum for me.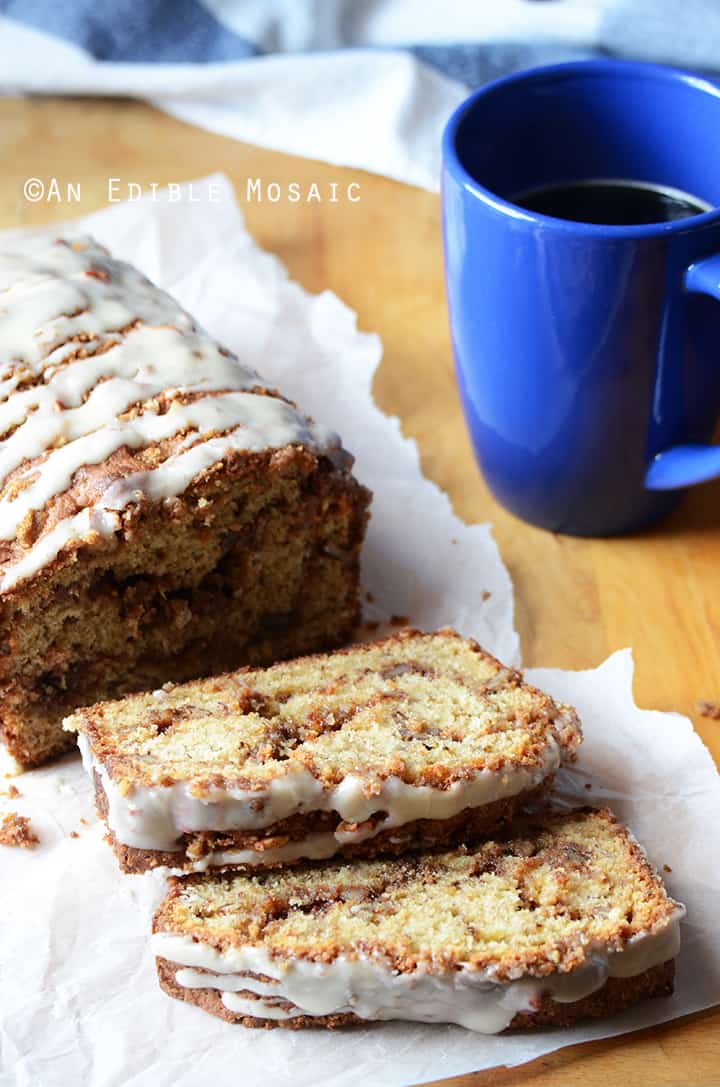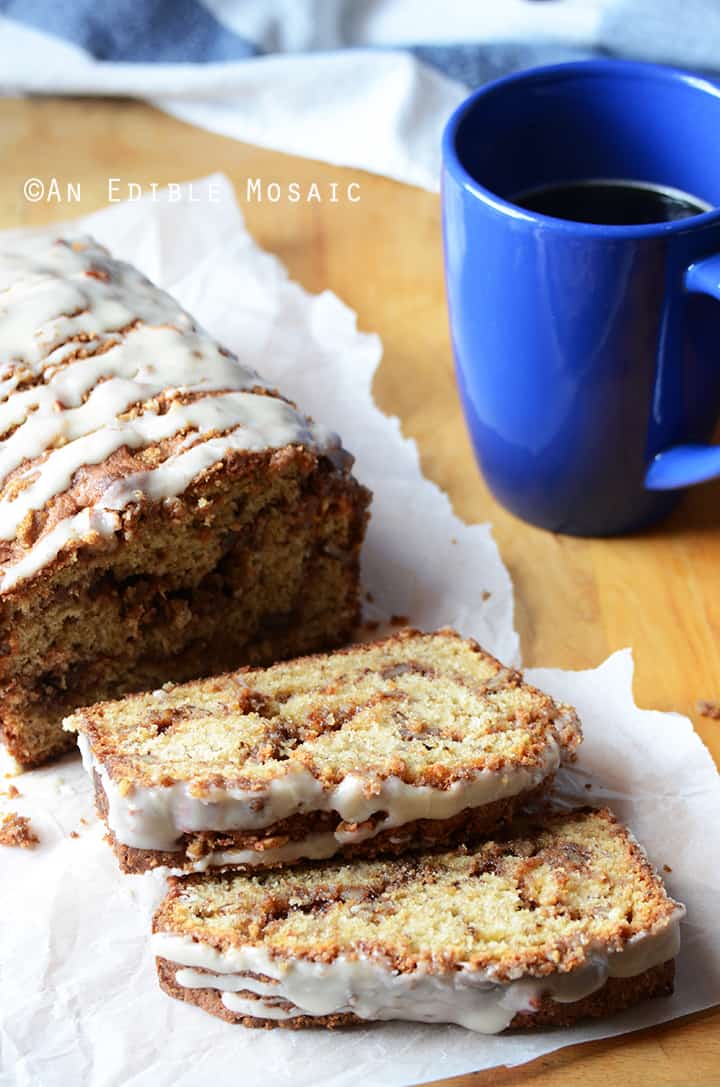 I am so weird about my banana bread…this Best Banana Bread recipe is pretty much the only kind of banana bread I'll eat. (So if you've offered me banana bread in the past and I've made some bogus excuse like I had a big dinner last night, know that it's me, not you.)
But that ended one day when I found a bunch of over-ripe bananas on the counter (which inevitably happens at least once a month), and decided it was time to play with banana bread. This lovely loaf is an amped up combo of banana bread and sour cream coffee cake. It's moist and fragrant, with a gorgeous brown sugar-pecan swirl. The swirl looks impressive, but couldn't be easier to make; just layer cake batter with crumbly filling and it bakes up into the prettiest swirl bread ever.
So now that I've broadened my banana bread horizons a bit, I'll probably try whatever you want to pass my way. ;)
(For more banana bread inspiration and coffee cake ideas, check out Cooking Light's Best Banana Breads and Healthy Coffee Cake Recipes.)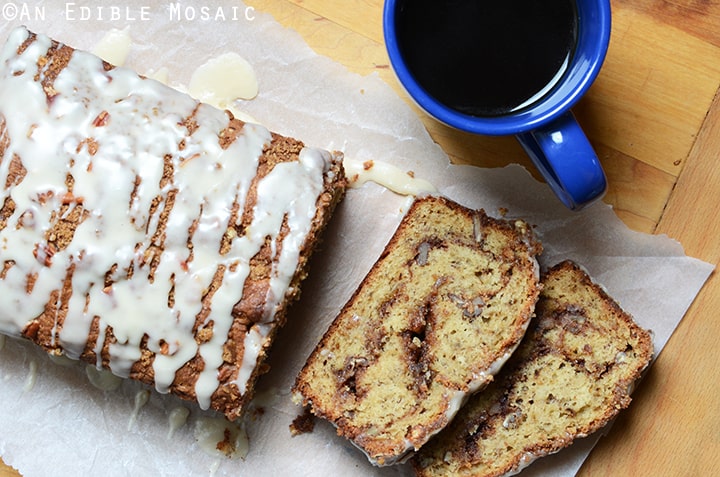 Banana-Sour Cream Coffee Cake with Brown Sugar-Pecan Swirl
Prep time:
Cook time:
Total time:
Yield:
1 (9 by 5-inch) loaf or about 10 servings
Ingredients
Filling:
½ cup (110 g) light brown sugar, packed
½ cup (80 g) chopped pecans
2 teaspoons ground cinnamon
Cake:
2 cups (255 g) all-purpose flour
1 teaspoon instant espresso powder (optional)
¾ teaspoon baking soda
½ teaspoon salt
4 tablespoons unsalted butter, softened
1 cup (200 g) sugar
2 large eggs
¾ cup (180 g) sour cream
½ cup mashed banana (about 1 medium ripe banana)
2 teaspoons pure vanilla extract
Glaze:
1 tablespoon unsalted butter, melted
½ cup (60 g) powdered sugar
½ teaspoon pure vanilla extract
3-4 teaspoons milk
Other:
Butter, to grease the loaf pan
Instructions
Preheat oven to 350F; generously grease a 9 by 5-inch loaf pan with butter.
For the filling, combine all ingredients in a medium bowl and set aside.
For the cake, whisk together the flour, espresso powder (if using), baking soda, and salt in a medium bowl and set aside.
Cream together the butter and sugar, and then beat in the eggs until light and fluffy. Beat in the sour cream, banana, and vanilla.
Add the dry ingredients to the wet all at once and use a wooden spoon to stir just until incorporated, being careful not to over-mix.
Spread ⅓ of the batter on the bottom of the prepared loaf pan, and then sprinkle ⅓ of the filling on top of the batter. Repeat this 2 times, ending with a layer of the filling on top.
Bake until the loaf is golden and a toothpick inserted into the center comes out clean or with just a couple crumbs, about 55 to 60 minutes.
Cool the bread in the loaf pan on a wire rack. Once cool, whisk together all ingredients for the glaze (adding the milk gradually as needed). Remove the loaf from the pan and drizzle the glaze on top.
Allow the glaze to set before slicing.