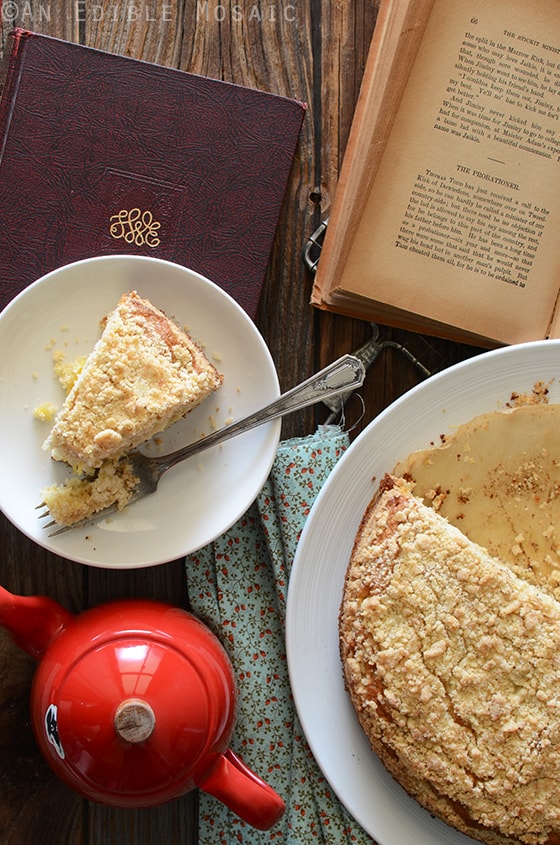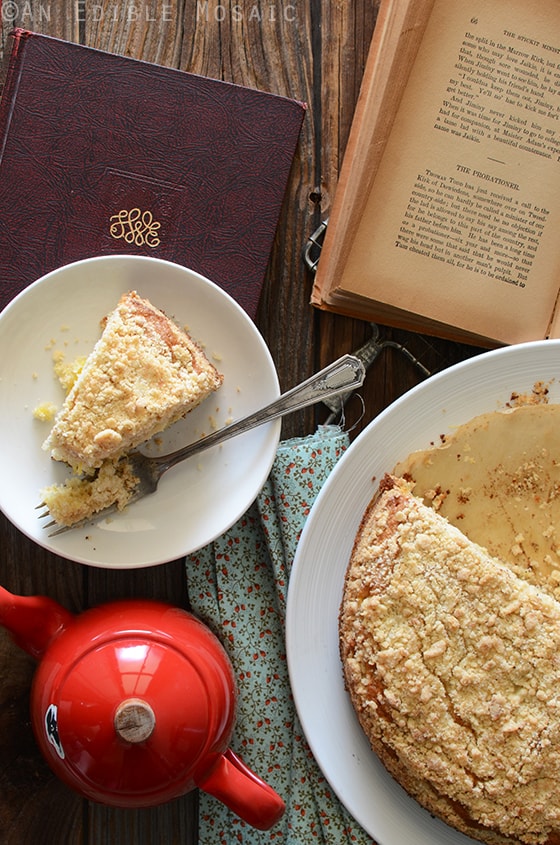 For years I was the girl who only ordered New York-style coffee cake at coffee shops.
Once I saw that mile-high topping on display, I wouldn't even waste a passing glance at anything else.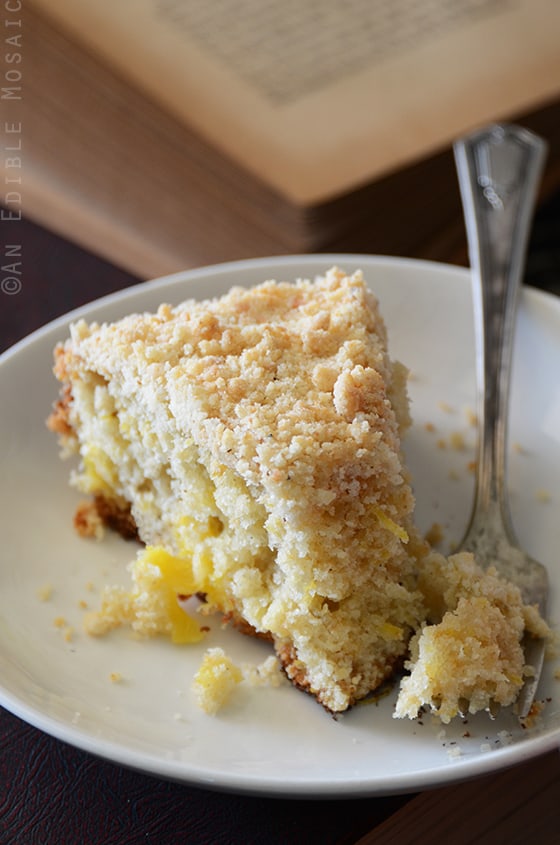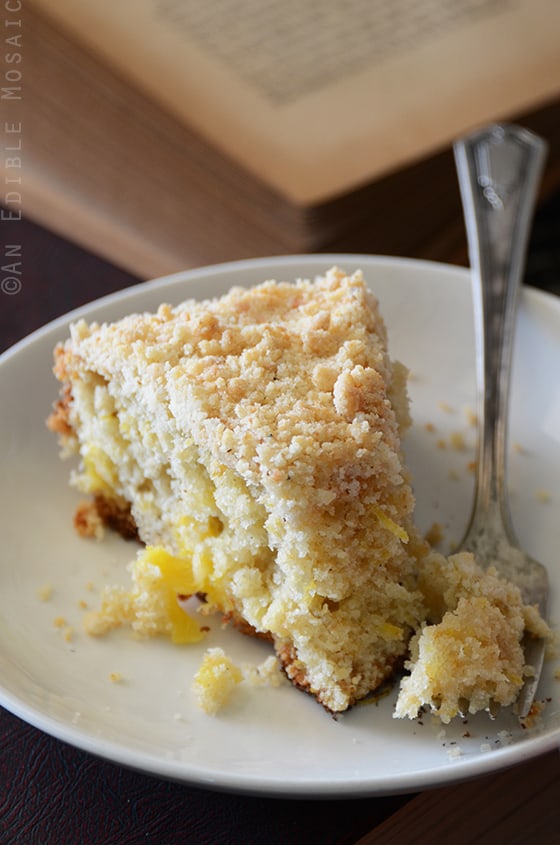 But then something crazy happened…I learned how to make New York-style coffee cake/crumb cake at home. And suddenly – although it was still as delicious – it wasn't quite the commodity it had previously been for me.
So after I learned how to make that, all other types of coffee cake were a piece of cake (pardon the corny pun), and I found out that experimenting with them is oh so much fun.
This variety features tropical flavors, but not in an in-your-face kind of way. I included pineapple, cardamom, and coconut, but in the end, the flavors blend really cohesively so that it's hard to identify and pull out individual flavors (except of course when you see a chunk of pineapple in the cake).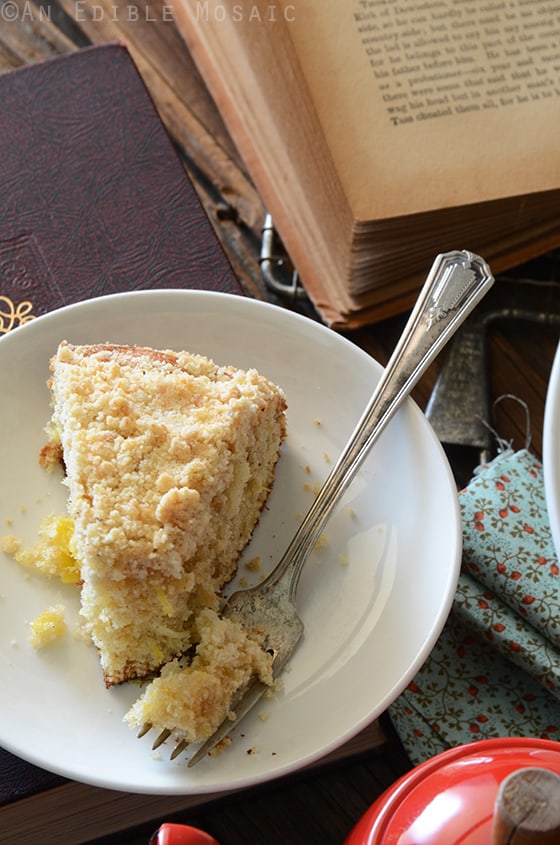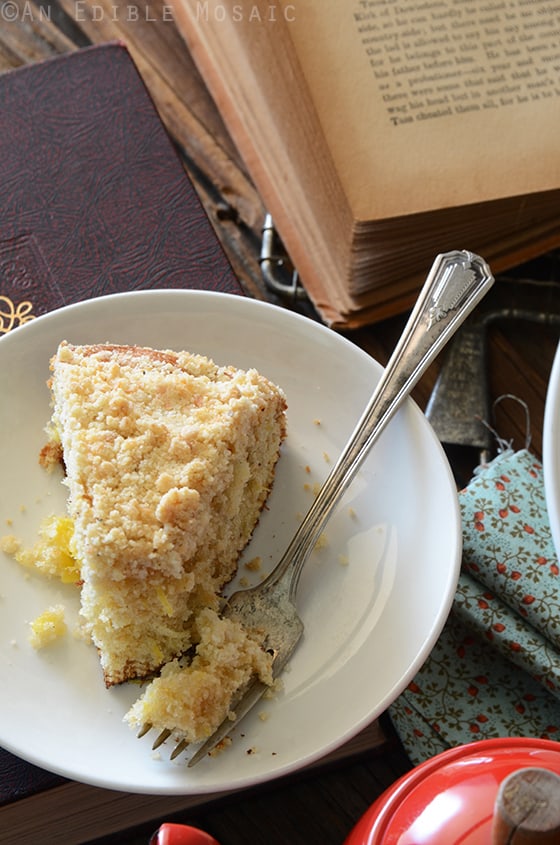 I also used a bit of both vanilla extract and vanilla bean paste to flavor the cake (if you don't have vanilla bean paste, you can add more extract, but I like seeing the pretty black flecks of vanilla bean, and if feel like the paste really makes the vanilla flavor pop). Something fun about this cake is that it is customizable; in addition to vanilla, you can also add almond extract, coconut extract, or rum flavor for a bit more depth of flavor. Or play with a combo of any of those flavors.
This is the sort of cake I love to bake on a lazy day so I can delve into a good book while the cake's aroma perfumes the air. And of course so I can dive into a piece of this cake!
After all, a good book needs a good cup of coffee, and what pairs better with coffee than coffee cake? ;)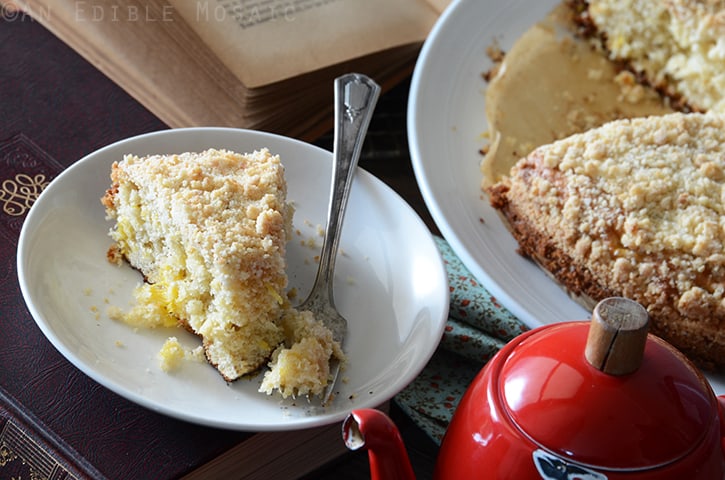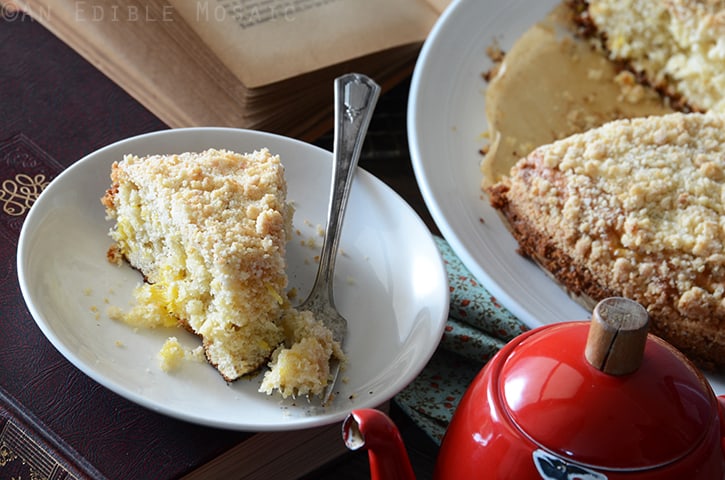 Pineapple Cardamom Coffee Cake with Coconut Crumb Topping
Prep time:
Cook time:
Total time:
Yield:
1 (9-inch) cake, or about 12 servings
Ingredients
Coconut Crumb Topping:
3 tablespoons unsalted butter, softened
4 tablespoons sugar
½ cup (65 g) all-purpose flour
½ cup (40 g) unsweetened, desiccated coconut
¼ teaspoon vanilla bean paste
⅛ teaspoon salt
⅛ teaspoon ground cardamom
Pineapple Cardamom Cake:
Oil or butter, for the pan
2 cups (255 g) all-purpose flour
1 cup (120 g) almond meal or flour
¾ teaspoon ground cardamom
¾ teaspoon baking soda
½ teaspoon salt
2 large eggs
¾ cup (150 g) sugar
⅓ cup canola oil
⅓ cup (80 g) sour cream
1½ teaspoons pure vanilla extract
1 teaspoon vanilla bean paste (or an additional 1 teaspoon pure vanilla extract)
1 teaspoon almond extract, coconut extract, or rum flavor (optional)
1 cup (200 g) fresh pineapple, chopped small (including any juice from it)
Instructions
Preheat oven to 350F. Brush the inside of a 9-inch round or square cake pan with oil, or generously grease it with butter. I like to fit a piece of parchment paper on the bottom of the dish; if you do so, grease the parchment paper as well.
For the topping, add all ingredients to a medium bowl and use a fork to mix until it looks like coarse meal and there are a few pieces the size of peas.
For the cake, whisk together the flour, almond meal, cardamom, baking soda, and salt in a medium bowl; set aside.
Whisk together the eggs and sugar in a large bowl until pale yellow colored and the mixture falls off the whisk in thick ribbons. Whisk in the oil, sour cream, vanilla extract, vanilla bean paste, almond extract (or whatever extract you're using), and pineapple.
Add the dry ingredients to the wet half at a time and stir just until incorporated, being careful not to over-mix.
Pour the batter into the prepared pan and sprinkle the crumb topping evenly on top.
Bake until a toothpick inserted inside comes out clean or with just a couple crumbs, about 40 to 45 minutes.
Cool, then slice and serve.