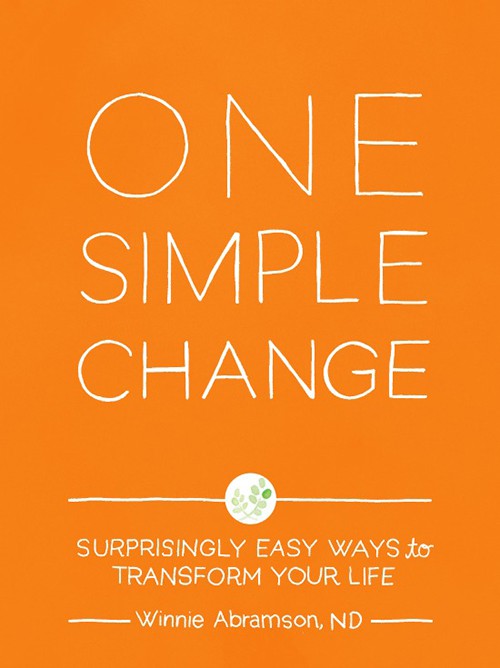 I know a lot of people who think perfectionism is a good thing.
(Perfectionists always seem to be on top of their game…they never have to use the excuse that the dog ate their homework and never wonder whether they'll be late for an appointment or a deadline because they're always early.)
But being a perfectionist can also mean being way too hard on yourself, to the point where a small mistake becomes a big deal. And sometimes, if life doesn't go exactly as planned, it's a source of undue stress. For example, extra traffic en route to an appointment that makes you 20 minutes late wrecks your day, or a single bite of cake sabotages your whole diet.
I speak from experience when I say that perfectionism is both a blessing and a curse.
What most perfectionists don't realize because of their "all-or-nothing" approach is that change can start small and still have lasting impact. You don't need to overhaul your life overnight and you don't need to wait for January to make a change. One small step at a time will do just fine, and if you have a minor setback, well, tomorrow is a new day, even if it's just a random Friday in July. That's why I so thoroughly enjoyed Winnie Abramson's (of Healthy Green Kitchen) book One Simple Change.
In her book, Winnie says, "All you have to do to get started with One Simple Change is commit to changing one thing. See how it goes, then change another. Remember that it's your body and you are in charge; also remember that nothing in this book is do or die. If you fail at something today, you can still succeed tomorrow. Every time you get up in the morning, you have a new day in front of you, and each new day is an opportunity for change."
Winnie gives 50 different changes in her book, ranging in topic from exercise, to culture, to green living, to name just a few. Food and nutrition are at the core of several different changes she lists, which makes good sense because nutrition has such a huge impact in our lives. If we aren't fueling our bodies properly, how can we expect to get the most out of life, right? Filling our bodies with food that is devoid of nutrition is like expecting a car to run on milk instead of gasoline (although I'm all for alternative energies…maybe someday cars will run on milk, but until they do, you get what I mean). If you feed your body junk or don't give it enough of what it needs, just like a car running on the wrong fuel, you're likely to feel sluggish, sick, and foggy-minded.
One of the changes listed in Winnie's book is to have a proper breakfast.
During undergrad, I went through a semester where I had myself convinced that I absolutely didn't have time for breakfast. I remember sitting in my 8AM biochemistry class with hunger pains and a loudly growling stomach. There was no way I could focus on anything but my hunger. I eventually gave up my crazy idea that I didn't have time for breakfast (it doesn't get much quicker than a handful of nuts and a piece of fresh fruit) and wasn't hungry in the morning (because I so obviously was). After eating a healthy, balanced breakfast, I find that not only do I have a more steady level of energy throughout the rest of the day (instead of spikes and dips), but I make healthier choices throughout the rest of the day.
Winnie recommends incorporating protein, real-food carbohydrates, and healthy fat into breakfast, and I've found that this works great for me as well. I love sharing my breakfasts on my Instagram feed in hopes that someone else will be inspired to eat a healthy breakfast, and I thought it would be fun to share a few of my favorite Instagrammed breakfasts here…
Sautéed cabbage hash topped with fried eggs.
Greek yogurt topped with local organic strawberries, walnuts, honey, and a sprinkling of homemade granola.
Avocado toast and green tea for two (unpictured: 1 hard-boiled egg per person).
Zucchini, onion, and garlic omelet with black olives on the side.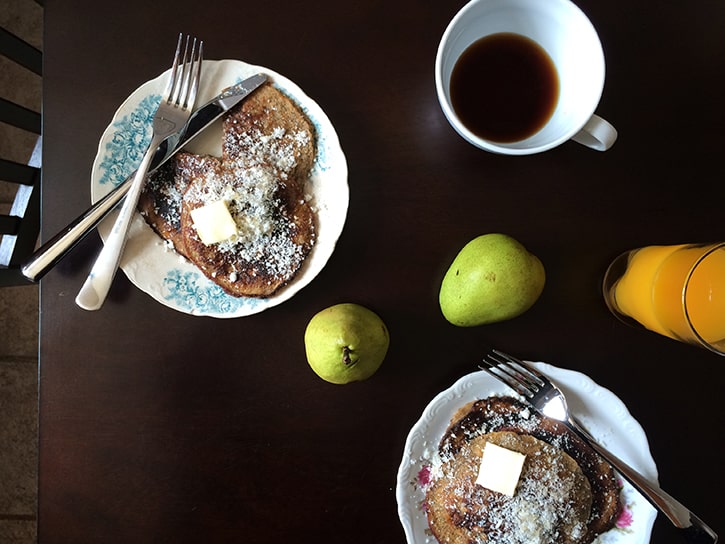 Paleo pancakes topped with coconut, plus pears, fresh orange juice, and coffee.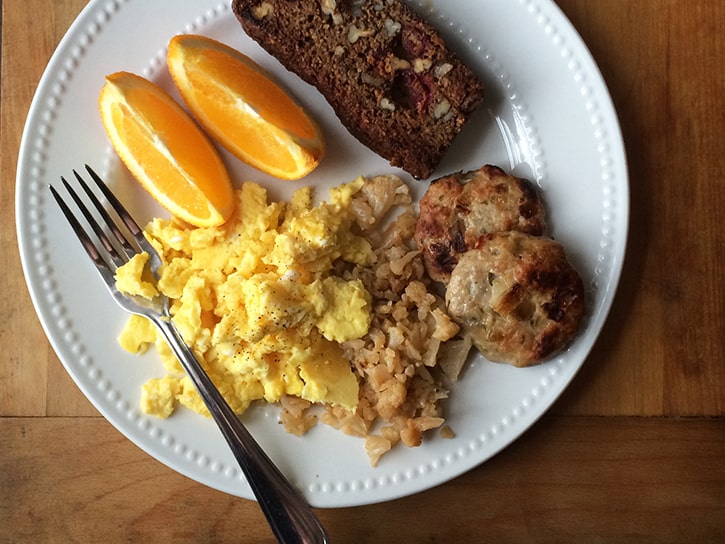 Scrambled eggs, cauliflower hash, homemade apple-onion chicken breakfast sausage, and toasted grain-free cranberry-pecan bread.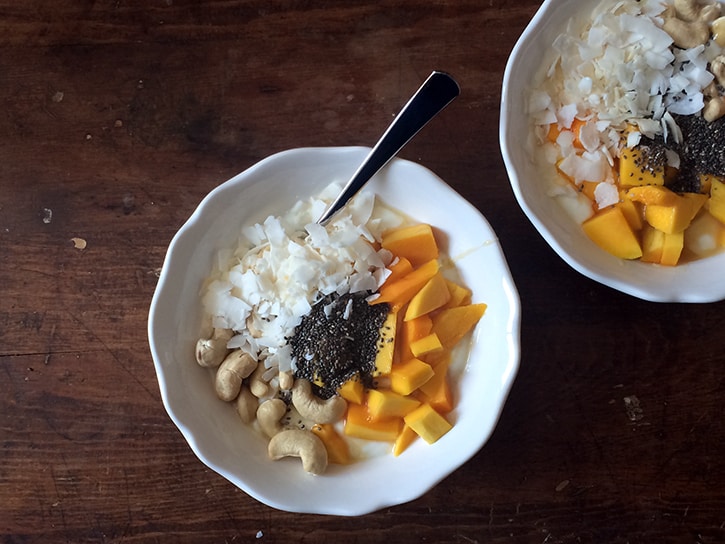 Yogurt with fresh mango, flaked coconut, cashews, chia seeds, and a drizzle of honey.
I hope that you find something in there that inspires you. And for more inspiration on many aspects of positive change, be sure to check out Winnie's book!
Disclosure: I received a free review copy of One Simple Change (Chronicle Books; December 2013); as always, opinions are my own. This post contains Amazon affiliate links to products I believe in, which means that even though it doesn't cost you anything extra, I will receive a small amount of money from the sale of these items, which helps me keep this site alive – thank you for helping to support An Edible Mosaic!