He looks absolutely regal, doesn't he?
One of the main reasons for our trip to Thailand was that Mike has wanted to be able to play with tigers for forever. Between the two of us, my husband is the expert on the topic, so I left all the research to him. There are several tiger parks in Thailand where you can see tigers up close and personal, but he decided he wanted to go to Tiger Kingdom in Phuket, so that's what we did.
If you're not familiar with it, Tiger Kingdom is a park where you can touch and play with tigers in enclosures without chains. The branch we visited in Phuket is actually the third branch, and it opened about a year ago. (The first branch, Ubon Zoo, opened in 2000 and is located in Ubon Ratchathani; the second location, also called Tiger Kingdom, opened in 2008 in Chiang Mai.)
Being in such close proximity to such amazing animals is an incredible experience.
There are different ages/sizes of tigers to see, and pricing is based on that (note that visits to all tiger sizes lasts 10 minutes):
Smallest (2 to 4 months): 1,000 Thai Baht
Small (5 to 10 months): 900 Thai Baht
Medium (11 to 15 months): 800 Thai Baht
Big (16 to 36 months): 800 Thai Baht
(To give you an idea of the money conversion, as of 6/30/2014, 100 Thai Baht equals $3.08 USD.)
The cubs are absolutely adorable; they alternate between sleeping and being really playful, like a domestic cat. For a better idea of how big they are, a 2 ½ month old male cub here weighs 82 lbs/37 kg.
We got to bottle-feed the cubs when we were there, which was my favorite part.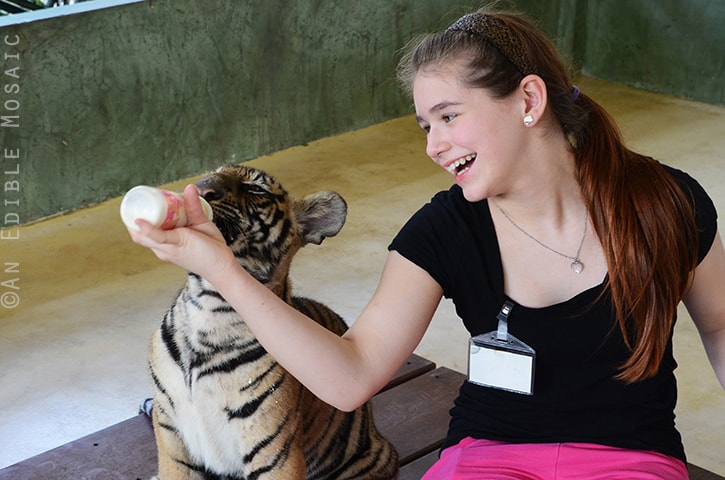 It's recommended to bring your camera, but no worries if you forget it. For 500 Thai Baht per cage (i.e., per animal size), you can have a photographer take photos of you with the tigers.
After seeing the cubs, we visited the medium-sized tigers…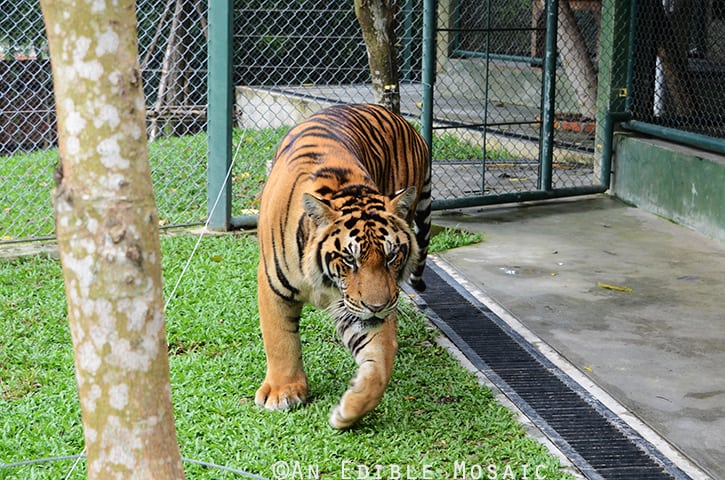 The photo below depicts how staff trains the tigers. Staff members all hold a stick like this and use it to guide the tigers.
We got to see just how playful the tigers are. A staff member had tied a bunch of leaves together on the end of a stick, which he dangled in front of the tigers (sort-of like how you would dangle a piece of string in front of a kitten). The tigers had so much fun playing with it, and I thought it was nice to see that staff members do things like this to keep up the tigers' quality of life.
Speaking of playful, a staff member told us that the tigers are so playful with each other that they sometimes scratch each other. To prevent infection in the wounds, they put a purple medicine on the tigers' cuts, which you can see in some of the photos.
Now moving on to the big tigers…
Just to give you an idea of how big they really are, there is a male tiger here who weighs 397 lbs/180 kg.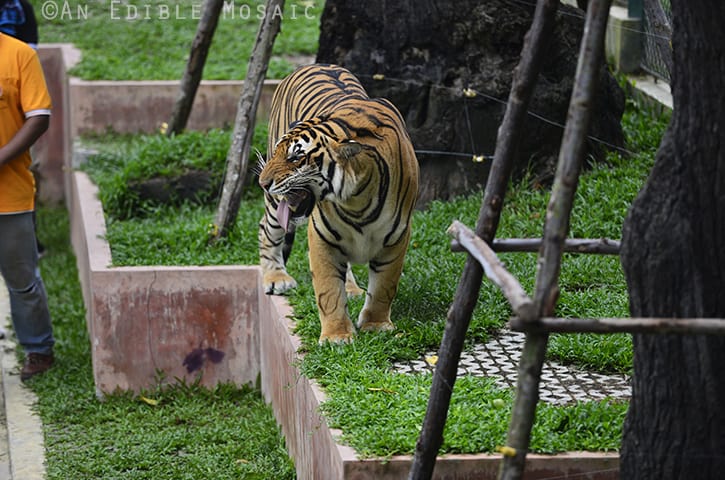 Check out the fangs on this guy…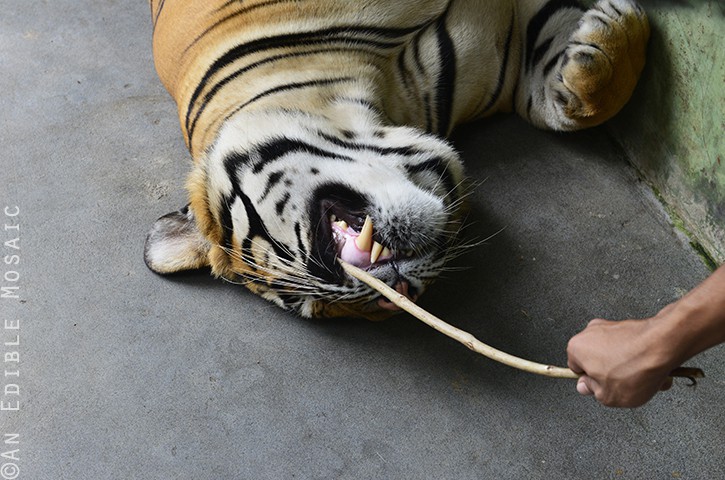 These two were so cuddly and sweet with each other…
This pretty lady was my favorite; she was having a great time keeping herself occupied chewing on a log.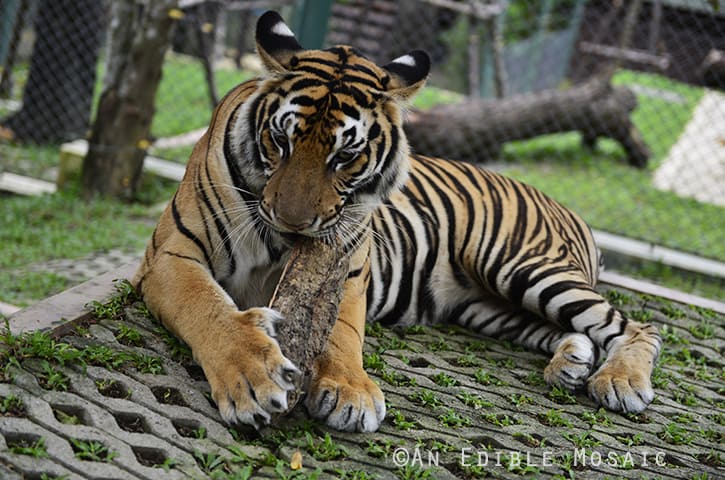 Isn't she gorgeous?
There are various areas where the tigers can just relax and cat nap.
But if you're a real tiger-lover, you'll probably want to cuddle up with one of the big guys.
We had a lot of fun at Tiger Kingdom and would definitely recommend it to any tiger or animal-lover. The experience of being able to touch a tiger is like nothing I can describe.
Also, the staff is engaging, friendly, and willing to answer your questions.
I loved this photographer's hat and he was nice enough to let me take his picture…
We had the opportunity to talk with the Chief Tiger Keeper, an incredible man named Toni, whose passion for tigers really shone through when he talked about the animals he cares for.
This is Toni, the Chief Tiger Keeper...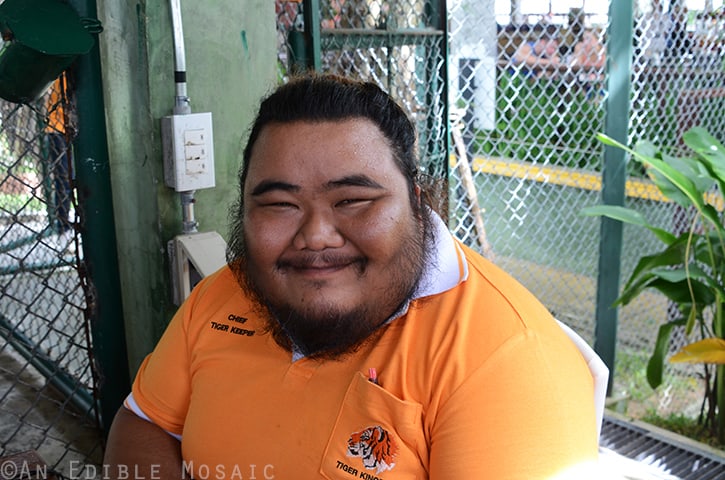 Here are a few things Toni told us about Tiger Kingdom and the tigers there:
There are about 40 Indochinese tigers at this location; about 16 are "active", which are the ones tourists see. The rest of the tigers are kept in enclosures on-site that visitors don't have access to.
Tiger Kingdom's goal is to make a not-for-profit foundation where they can send older tigers once they're no longer active. It would be sort-of like a tiger zoo, where people can visit and pay a donation instead of an entrance fee.
They breed the tigers on-site.
Cubs spend about two weeks with their mother before being separated (mainly because female tigers born in captivity don't have the same motherly instincts that female tigers in the wild have); after that, the cubs are bottle-fed.
The adult tigers at Tiger Kingdom eat about 11 lbs/5 kg of meat a day, which is split between the morning and evening feedings. All the tigers eat chicken (never any red meat) to avoid foul smells that emanate from their pores and waste when these animals eat red meat. (And I can vouch that this method really works; Tiger Kingdom did not smell dirty or even have that "animal smell" like a normal zoo does!)
They train their tigers to be calm by handling them when they're very young to get the tigers used to being around people. Trainers build a trust-based relationship with the tigers and use a reward system of repetition to get the tigers to behave the way that the trainers want them to behave.
Tips for visiting the tigers:
In general, tigers can smell humans from about 1 km/.6 mi away; don't wear strong perfume when you visit them, as the smell can irritate them.
Don't approach a tiger from the front.
Gently stroking a tiger will feel ticklish to them (especially when they're sleeping), so it's best to either cuddle up with them or firmly stroke the big cat.
A big question in your mind right now might be whether or not the tigers are drugged. Mike and I felt very strongly that we didn't want to visit a park where they keep the animals sedated, or where they breed tigers to sell on the black market. After Mike did the research on which tiger park was best to visit, he told me that there's no way to really be 100% certain of their practices, but unlike a few other places, Mike didn't think Tiger Kingdom participates in these practices. After visiting Tiger Kingdom in person, I agree with his assessment. On the Tiger Kingdom website, they address the question of whether their tigers are drugged by saying: "Most visitors come and spend a relatively short time in Tiger Kingdom. They frequently find that our tigers are sleeping, but cats are cats, and they sleep up to 18 hours a day, just like cats at home. Please do not assume our cats are drugged."
Tiger Kingdom Trakarn Co., Ltd. (Phuket Branch)
118/88 Moo7, Kathu, Phuket, Thailand 83120
Tel: +66(0)76 323311
Email: [email protected]
I visited Tiger Kingdom as a guest, but this post is NOT sponsored and I did not receive monetary compensation for it. As always, all opinions stated are my own.